Lebanon rises up against Iran
Iran's proxy militia, Hezbollah, is now running scared of the Lebanese revolt.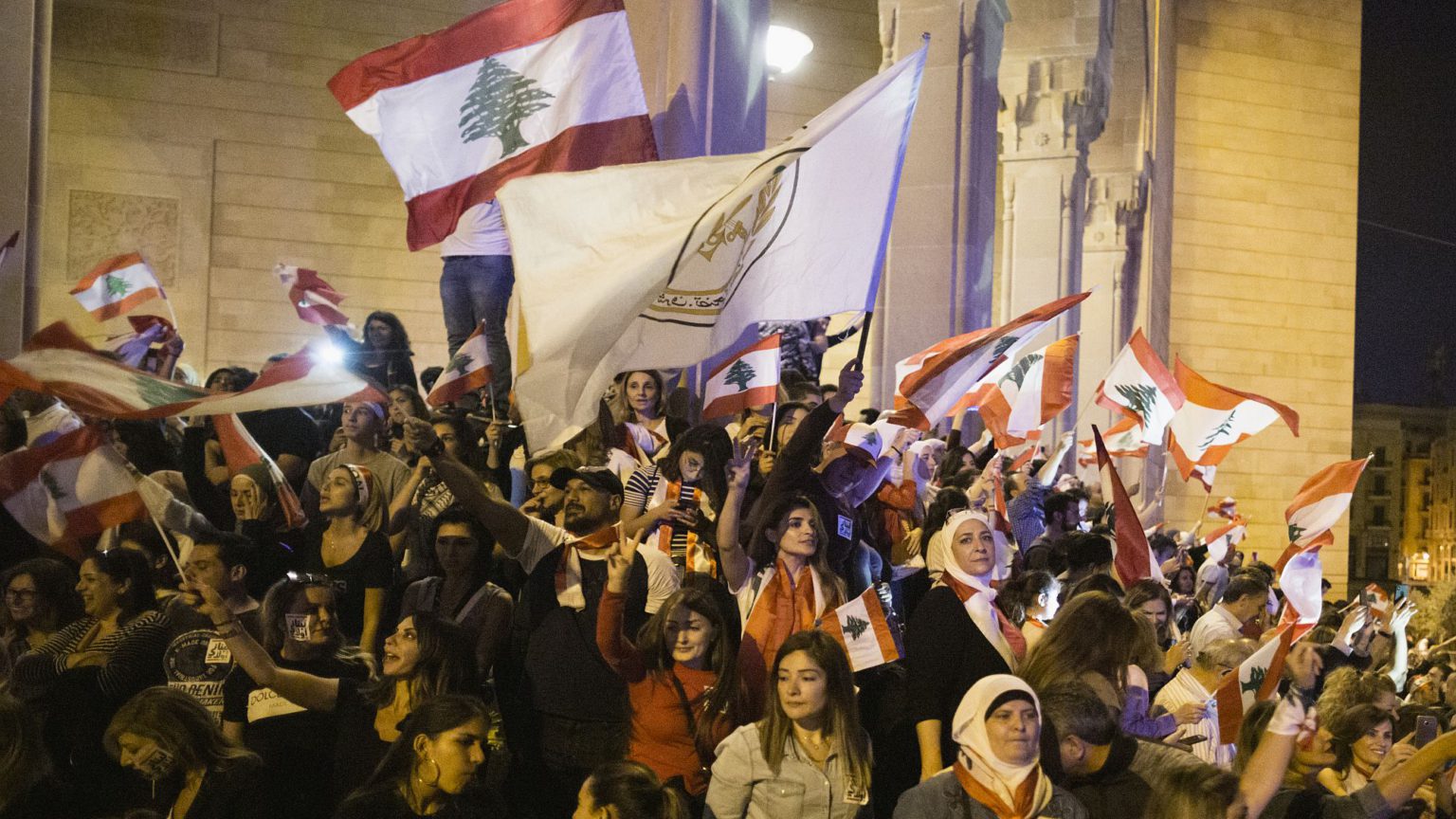 Due to its banking sector and snow-capped mountains, Lebanon was once known as 'the Switzerland of the Middle East'. But those days are long gone. Today, Lebanon ranks low on world and regional economic freedom and high in corruption.
Public anger has escalated in recent years over electricity and water shortages, as well as the government's failure to manage Lebanon's economic and environmental crises, including October's unprecedented wildfires in the western mountains. Imposing a tax on Whatsapp calls on 17 October was the drop of water that made the vase of public discontent overflow.
Mass protests against the political elite erupted all over the country and have continued for almost two months now. The main slogan of the protests has been 'all of them means all of them' – a demand for the overthrow of all of the ruling figures who have dominated the Lebanese political scene for decades. And that includes Hassan Nasrallah, the secretary general of Hezbollah.
No wonder, then, that Nasrallah has opposed these attacks on the government. Hezbollah has worked hard to infiltrate the government and hold power. It fears losing those hard-won gains.
And it might well lose them. On 29 October, Lebanese prime minister Saad Hariri tendered his resignation – as well as that of the government – to the president, Michel Aoun. This came on the day Hezbollah and Amal thugs attacked peaceful protesters in Beirut.
Hezbollah's actions were to no avail. Aoun accepted the government's resignation. But a revolution is a camel with two humps. The Lebanese have scaled the first one, but scaling the second one – getting the government they want – is going to be more difficult.
Protesters are demanding an independent, largely technocratic government. It means that not only will Hezbollah be excluded from any new government, but so, too, will its allies.
For example, take the case of caretaker minister of foreign affairs, Gebran Bassil. One of the most reviled politicians in the country, Bassil has been the subject of insults and crude humour throughout the protests. He also happens to be an ally of Hezbollah.
Bassil has long been doing whatever pleases Hezbollah. He accepted a used rocket as a gift from Hezbollah, and paraded with it through Christian-majority towns to propagate the idea that Christians in Lebanon praise Hezbollah. He has been trying to normalise relations with Bashar al-Assad's regime in Syria, and defends Hezbollah on Western media and in conferences abroad.
It will now be very difficult for Bassil to return in the new government, without provoking the wrath of protesters. That's because they are now a threat to the political system that has protected Hezbollah since the Cedar Revolution of 2005.
Since Hezbollah has not able to ride the wave of protests, it has tried to ruin the protests instead. Nasrallah has accused protesters of getting paid by foreign embassies. The revolutionaries did not take Nasrallah's accusations lying down. 'I am funding the revolution', became a trending hashtag in response to Nasrallah's speech.
When the conspiracy theories failed to undermine the protesters, Hezbollah and its allies tried to push a civil-war narrative to scare them instead. They demonised the protesters, and used terms that were prevalent during the Lebanese Civil War (1975-1990). For instance, they launched a hashtag that translates as 'militias are blocking the roads', to remind the public of the days when militias from all sects used to block the roads and ask for money to let drivers pass.
But protesters refute the accusations. They insist that this generation is different. Slogans such as 'they cannot divide us anymore', and 'revolution against fear', have been graffitied on walls across Lebanon.
In turn, Hezbollah has resorted to more violent tactics. It has terrorised protesters, and demonised the brave Shias protesting in what are considered Hezbollah strongholds, such as the cities of Baalbek and Nabatieh. Amal and Hezbollah thugs have also attacked peaceful protesters with metal rods and knives, held journalists hostage, burned parked cars, destroyed private property and stoned the army when it formed a human barrier to prevent the thugs from reaching the protesters. The Hezbollah side chanted 'Shia, Shia, Shia', and 'We want another 7 May' – a reference to the 2008 Hezbollah armed takeover. On the other side of the army barrier, protesters shouted, 'Hezbollah is terrorism', and 'This is Lebanon, not Iran'.
Hezbollah and Amal loyalists also tried to attack peaceful protestors and residents in Ein El Remmaneh, a Christian-majority neighbourhood in Beirut, where the Lebanese Civil War first started. The aim was to stir up sectarian conflict in order to discredit, and ultimately ruin, the protest movement. But it was to no avail. The next day, women marched, holding Lebanese flags and white roses, from Ein El Remmaneh to Chiyah, in west Beirut, all the while chanting against sectarianism and violence.
What cards are left for Hezbollah and its allies to play? Will they go back to assassinating the opposition? It would prove difficult, given the leaderless, decentralised nature of the protests. After all, who would they assassinate?
Furthermore, it's not the best time for Hezbollah to get more blood on its hands when its great patron, Iran, is struggling thanks to crippling US sanctions, and when anti-Iranian government uprisings are sweeping through Iran and neighbouring Iraq.
These are potentially momentous times. Hezbollah is stuck. If the protesters win, it loses its power; if it suppresses the protesters, it loses its support. And, in turn, the Islamic Republic of Iran is also losing its grip in the two nations where it had hitherto exerted such an influence: Iraq and Lebanon.
Romy Haber is a journalist from Lebanon.
Picture by: Getty.
To enquire about republishing spiked's content, a right to reply or to request a correction, please contact the managing editor, Viv Regan.