Brexit, Actually
Sorry, Hugh Grant, but the era of smug tossers is over.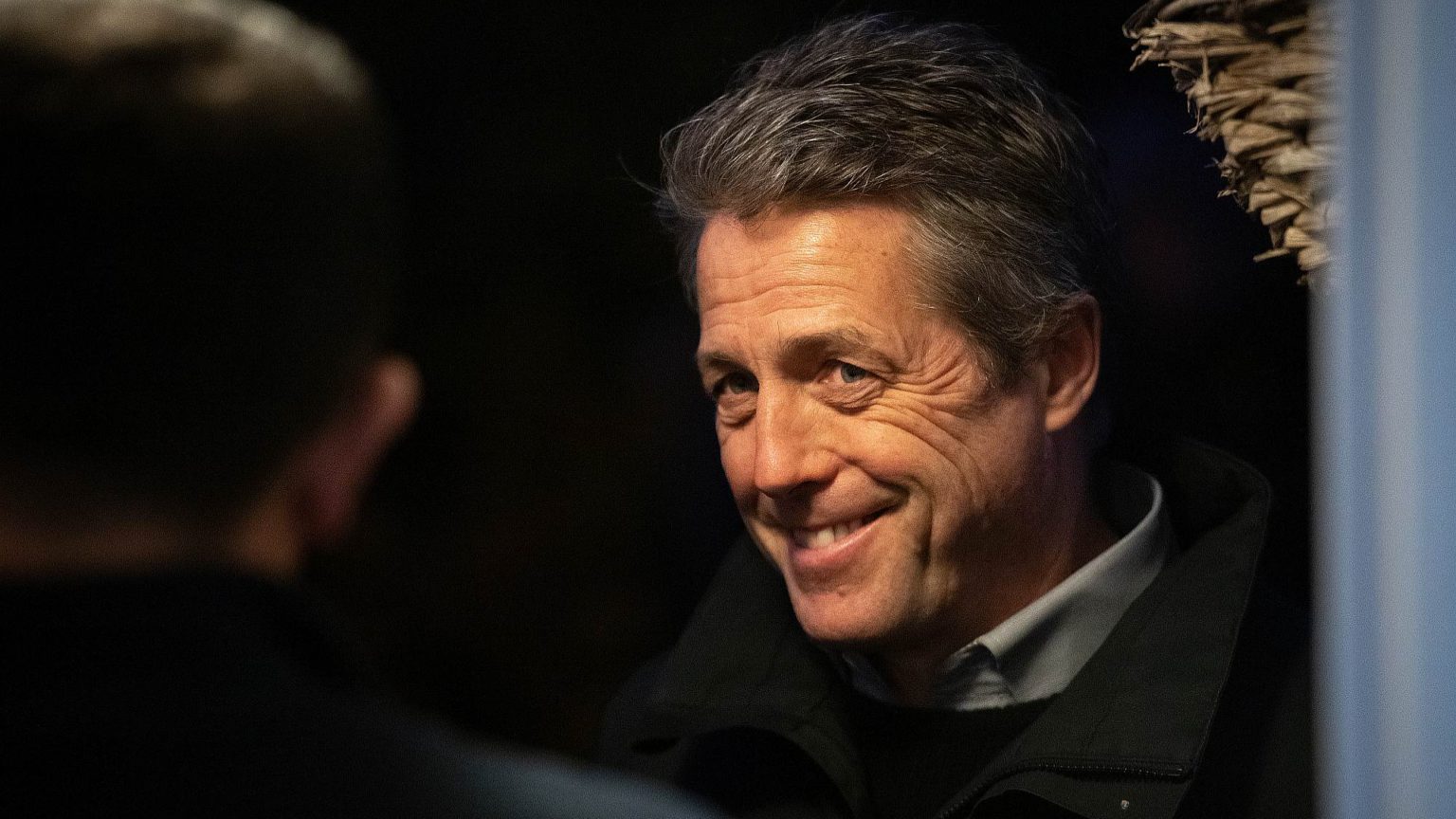 Oh God, Hugh Grant is morphing into the prime minister character he played in Love Actually. You remember his PM in Richard Curtis's godawful film. He was a bumbling but loveable super-liberal wanker who danced through the stuffy rooms of Downing Street. If you thought this fictional PM who stands up to an evil American president (Billy Bob Thornton) and falls in love with his tea lady (Martine McCutcheon) was just a Richard Curtis wet dream about how this country must be governed by nice, socially aware, middle-class people like him, you were half right. It was, of course, but now that dream is becoming a nightmarish reality. Now Hugh Grant really is knocking on people's doors and spouting chattering-class platitudes at them.
Grant is on a mission to stop Brexit. Yes, tired of agitating against press freedom, now he's agitating against democracy. What a swell guy. What's his next target: the right to trial by jury? He's campaigning with the Lib Dem Luciana Berger and the Labour hopeful Faiza Shaheen because both of them are as horrified by the masses' dumb vote to leave the EU as Grant and his posh chums are. And some observers are fainting with glee at the fact that fiction has become reality. 'Hugh Grant is recreating Love Actually scenes to try to stop Brexit', gushes Glamour. He's just like 'Prime Minister David', it says, no doubt fanning itself at the very thought.
In Love Actually, Grant's PM visits the home of Natalie — the McCutcheon tea lady — and says he needs her for important 'state business'. In truth he just wants to shag her. Now, the real Hugh Grant is out and about with Ms Berger and Ms Shaheen, 'throwing his weight behind the liberal parties in the hope that they'll stop Brexit', as Glamour says. '[T]his time he's not knocking on doors searching for a woman — he's supporting one', Glamour continues. That noise you can hear is me cringing violently.
It will come as a shock to literally no one that virtually everyone who was involved in inflicting Love Actually on the world is equally Brexitphobic. Grant's co-star Emma Thompson says Brexit is 'madness'. Curtis himself thinks the UK, and especially its art sector, has been 'severely weakened' by Brexit. Indeed, his little Love Actually sequel that he made for Comic Relief in 2017 was, he said, inspired by Brexit and Trump and the question of 'whether love still is actually all around us'. Oh, piss off, Rich.
It makes perfect sense that the people who gave us Love Actually — when we never did anything to them — should loathe Brexit. Because, in some ways, Brexit is a revolt against Love Actually. No, not against the movie, but against that entire era; against that period in the 1990s and 2000s when Third Way bores, post-ideological technocrats and — how can I put this politely? — smug tossers dominated everything. Dominated politics, dominated public debate, dominated culture. Love Actually, the most painfully middle-class thing ever foisted on the cinema-going public — and I'm including the Merchant Ivory films — summed up the colonisation of culture and opinion by the tosser brigade. To watch Love Actually is to get a glimpse into a world where only the views of well-educated, Arts Council-funded, pro-EU, Blair-loving but Blair-disappointed Hampstead types matter, while the rest of us are, at best, loveable tea ladies who might get a shag from Hugh Grant if we're lucky.
Let's talk about Natalie, actually. Martine McCutcheon's character summed up the Curtis / Blair / tosser era's view of the little people. Of course Curtis got the character entirely wrong. When PM David knocks on her door, Natalie says 'fuck' a lot despite the fact that her nan is standing next to her. Working-class girls don't say fuck in front of their grandmothers, Richard. But more importantly, she is notably just a colourful, cutesy, exotic creature, whose only role in life is to flatter the right-on credentials of Curtis's posh fantasy prime minister — much as all of us were viewed in that era of smug tossers.
Brexit is a revolt against this smug set; against that 1990s reduction of ordinary people to bit-part players in the cultural elite's political fantasies; against Blairisim and Clintonism and Brussels and fucking Love Actually. No wonder Curtis, Thompson and Grant hate it — it rips up everything they stand for. Look, Hugh, I'm sure you're a nice guy, and not a smug tosser at all, but the gig is up. The days when infinitesimally small numbers of cultural bigwigs could set the agenda are over. We all want a voice now. The millions matter. The tea ladies matter. Our votes matter. There's a new force in town: it's not love — it's Brexit actually.
To enquire about republishing spiked's content, a right to reply or to request a correction, please contact the managing editor, Viv Regan.