Corbyn and Blair: two cheeks of the same arse
Both represent the middle-class desire to reform and control the masses.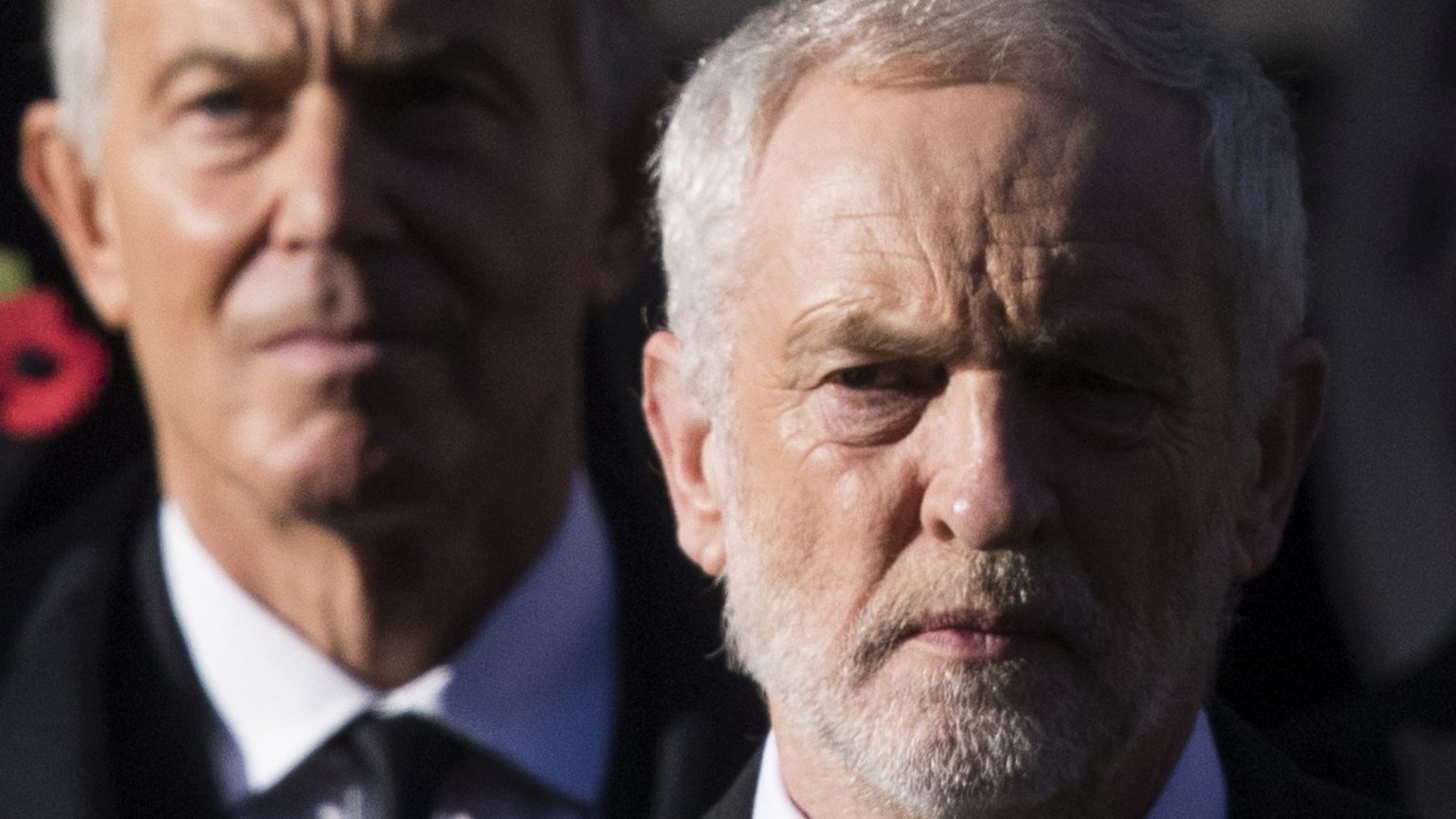 There have been many wild claims from Labourites about why the party lost so heavily in last week's General Election. While some correctly recognise that it was Brexit which sunk the party, many in the Blairite wing claim that a pro-Brexit stance would have cost Labour more seats because more people in general voted for Remain parties. That same wing also argues that Labour needs to rediscover Blairism and the Third Way if it is ever to return to power.
Of course, Jeremy Corbyn's leadership was also called into question – to put it politely – on doorsteps. Yes, the bountiful list of endless giveaways was unconvincing to many, but polling has consistently shown many of Labour's flagship policies to be popular in isolation. It was not these policies that disconnected Labour from its heartlands. On the contrary, it was Labour's reliance on continuity Blairism.
There are a number of key aspects to Tony Blair's Third Way that Corbyn and Momentum carried forward. Both wings of the party believe that an interventionist state should correct the supposedly dysfunctional behaviour of the poor, mostly to ease middle-class fears. Corbyn and his followers went further in some ways, for instance by calling for the tabloid press to be tamed in order to correct the poor's 'reactionary' beliefs – an outlook that has been amplified again following the party's recent drubbing.
Furthermore, while Blair made coded references to the white working class being a key source of racism in British society, Corbynistas have been explicit and relentless in their libelling of large swathes of the working class as racist thugs.
Another key point of agreement among Blairites and Corbynistas is the replacement of class solidarity with multiculturalism, diversity and identity politics. While left-wing anti-racism once sought to overcome racial oppression and divisions within the British working class, the ideology of diversity encourages identity-based division and undermines social solidarity. This is why the word 'white' has become a pejorative and is used by Corbynistas to denigrate and attack the majority of workers. Racial identity politics has created a narrative of suspicion and, at times, outright hostility towards Labour's traditional constituencies.
But the most obvious continuation of Blairism is, of course, the replacement of Labour's traditional Euroscepticism with outright Europhilia. This key Blairite (and pro-capitalist) position is miles away from Labour's old left stance and from the views of its traditional voters in the north and Wales. Labour's collapse into an extension of the People's Vote campaign following the EU elections was the final and most explicit betrayal of its old constituencies who have rightly pummelled the party at the ballot box.
Caroline Flint, the ousted Labour MP for Don Valley, is right to argue that the backlash to Labour has been a long time coming. In 1997, New Labour managed to unite middle-class voters and working-class Labour loyalists. But working-class support drained away from the New Labour project, making the middle-class vote key to keeping Labour in power. Added to this, trade-union militancy had been in open decline since the late 1980s. The more that working-class concerns could be ignored by Labour, the more the working class became objects of reform and correction instead.
Labour's hectoring culture war against its old constituencies reached its zenith in New Labour's final term. This was the period of smoking bans in pubs, price hikes on beer, parenting classes, and increasing officiousness towards day-to-day behaviour. Britain became a far more restrictive place to live and working people started to feel resentful. It is notable how much the Corbynistas also back these kinds of policies.
When Boris Johnson surprisingly won the London mayoral election in 2008, this was the first indication that cracks in New Labour's hegemony were appearing. The Gillian Duffy moment a year later – when Labour prime minister Gordon Brown asked an aide 'Who was that bigoted woman?' – was emblematic of the disconnect. Labour's subsequent defeat in the 2010 election signalled that older Labour voters were becoming restless. Both the EU referendum result – an enormous rejection of the Blairite project – and Labour's determined efforts to overturn the result have finally sealed the party's fate.
Some commentators seem surprised that working-class Labour voters and the Tories have become political bedfellows. But it is often forgotten that Blairism (and later Corbynism) was a culture war against two major social classes in Britain: it expressed disgust not only for the supposedly supine and idiotic working classes but also the supposedly corrupt capitalists and toffs. It is no surprise that such a decisive backlash – in England and Wales, at least – has taken the form of a posh and prole alliance.
Labour does not need a return to 'moderate' Blairism. It needs to abandon its drive to reform the masses along priggish, middle-class lines. The reaction to Labour's defeat suggests this is not about to happen anytime soon. But then, what does it matter, anyway? The obliteration of the woke-ing classes by the working classes is an exhilarating way to end the decade.
Neil Davenport is a writer based in London.
Picture by: Getty.
To enquire about republishing spiked's content, a right to reply or to request a correction, please contact the managing editor, Viv Regan.