The demand for democracy cannot be ignored
The Hong Kong rebels are not giving up any time soon.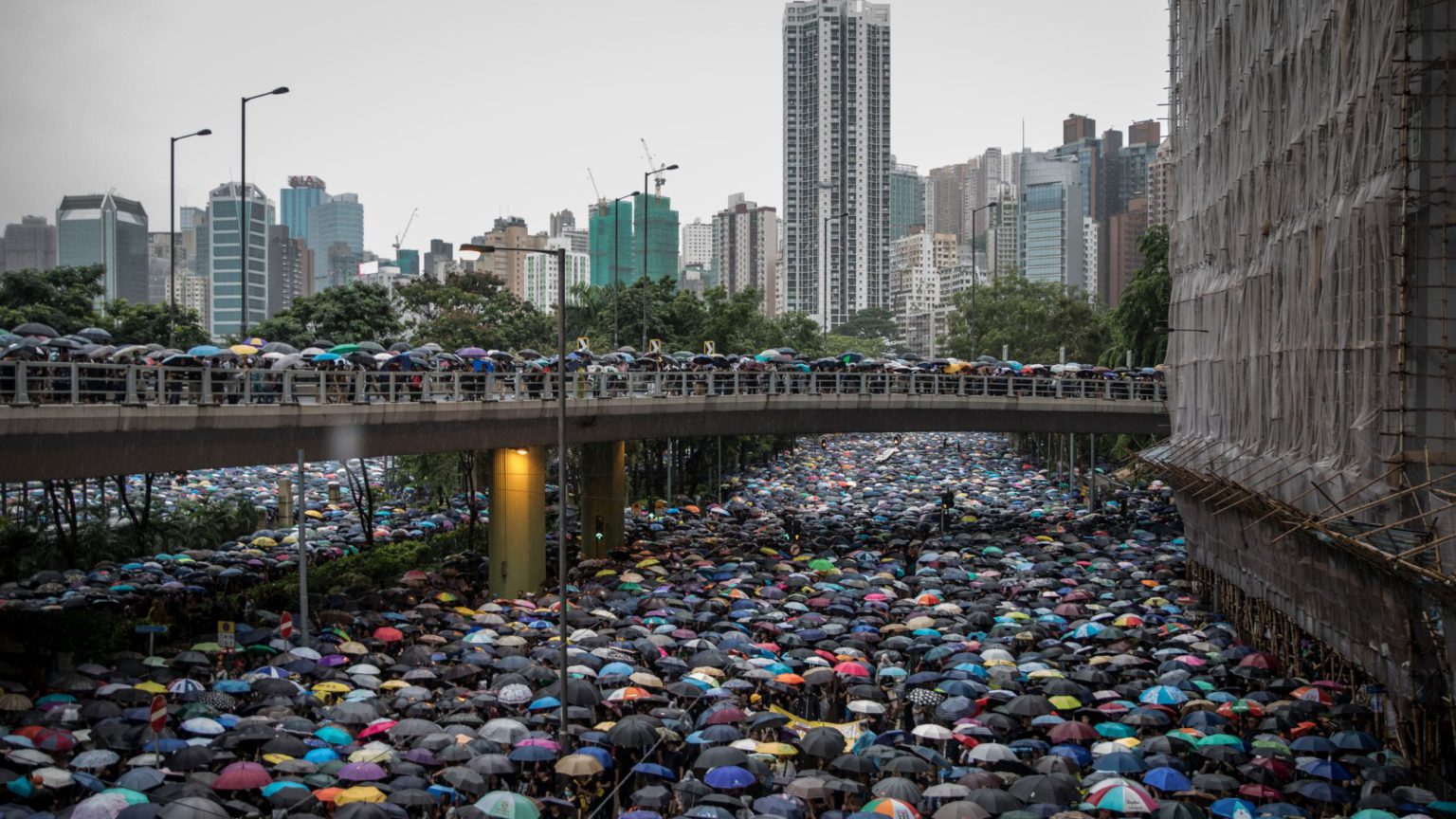 The coming year is likely to be a protracted stalemate between Hong Kong's pro-democracy movement and the stubborn elites protected by a thuggish police force. The public looks likely to keep the pressure up with more demonstrations. The democracy camp is also likely to make serious breakthroughs in the upcoming Legislative Council (LegCo) elections. Nevertheless, concessions are not on the cards. Hong Kong's government, courts and police have been giving clear signals to the public about how far they will bend to demands for more democracy and accountability – that is, not at all.
Chief executive Carrie Lam knows she can carry on trying to insulate Hong Kong and China's elites from democracy with the full backing of Beijing. In a recent meeting, she was praised by President Xi Jinping. Prime minister Li Keqiang also gave his backing. He told her that the government must not only end violence and 'chaos' but 'must also study with urgency the deep-rooted conflicts and problems in Hong Kong's socio-economic development and safeguard the city's long-term prosperity and stability'.
The Hong Kong government has proposed an independent review committee to look into the causes of the protests, but its tasks are ill-defined and the body would not have powers to force people to give evidence. Demonstrators want a trustworthy inquiry into police brutality, but the committee leaves that to the police watchdog, the Independent Police Complaints Council (IPCC). The foreign observers to the IPPC's panel have resigned, believing the process to be totally ineffective.
It is typical that the elites would try to pin the blame for Hong Kong's uprising on social inequality and poverty rather than the simple demand for democracy. It would be easy to dismiss this as a cynical ploy to divert attention from the real issues and demands, but Hong Kong's rulers seem to have genuinely misread the situation.
After pro-democracy candidates won a massive landslide in district council elections, the supposedly non-partisan Lam held a meeting with ousted councillors in which she reportedly apologised to them and promised them posts on government committees. This was a real insult to voters. Apparently, deluded voters made the wrong decision by voting on the government's record, rather than the merits of each councillor and their work on bread-and-butter issues, Lam seemed to suggest. For Lam, Hongkongers could and should only care about their livelihoods. Such are the limits of her political imagination.
Beijing's continued backing for the inept Lam might seem surprising. But replacing her would require an election which would put the rottenness of the system back in the firing line. Only vetted candidates can stand for election and they are chosen by a panel of 1,200 worthies. By supporting her for her full term, China sidelines that problem until 2023.
Hongkongers will have another chance to make their mark at the ballot box as LegCo is up for election in September 2020. The election is likely to be fiercely contested by the pro-democracy camp, unless the government finds a way of halting the election altogether. The results are likely to give Lam a signal that even she can understand – that the public values democracy above all else. Even though the LegCo has limited powers to approve or stall government-proposed legislation — members can introduce their own bills but they require the consent of the chief executive to do so — a victory for the democracy camp would nonetheless be highly symbolic.
The LegCo is composed of 35 geographical constituencies, voted on by any Hongkonger over 18, and 35 functional constituencies, made up of representatives of various industry bodies. If not overtly pro-Beijing, these industry representatives tend to be pro-stability and conservative. But even this bulwark against popular pressure is not enough for the Hong Kong elites. There are persistent efforts to oust pro-democracy legislators and disenfranchise the people who voted for them. To date, eight pro-democracy legislators have been disqualified by courts – two were ejected earlier this month.
The pro-Beijing members of LegCo mainly belong to parties that were massacred in the recent local elections. Protesters are already looking forward to the likes of Regina Ip of the New People's Party and Starry Lee of the DAB party following in the footsteps of Jo Swinson, Anna Soubry and Chuka Umunna, who were rejected in the British General Election for their anti-democratic tendencies.
Hongkongers are also planning to continue applying extra-parliamentary pressure on the elites, with more protests already planned for the year ahead. Although the level of protest has dropped off since the district council elections and the end of the siege of Hong Kong's universities, one recent rally saw a turnout of 800,000 people and passed without incident. Police have responded to most other protests with tear gas, rubber bullets and pepper spray.
Recently, journalists have been in the firing line. Protestors were gathered at shopping malls to encourage boycotts of shops with known pro-Beijing owners. One student journalist covering the protest was lucky to avoid being blinded by a projectile that hit his cheek, just below his right eye. Video footage shows another journalist being surrounded and beaten by police, despite wearing a white helmet clearly labelled 'press'.
Hongkongers have also turned to outsiders for help. The Hong Kong Human Rights and Democracy Act was signed by President Donald Trump in November. This strategy could well backfire. Some seem to be placing more faith in Trump and US legislators than is wise. The Act promises an annual review of Hong Kong's political situation and of any human-rights abuses. It might currently suit the US to pressure Beijing via Hong Kong in its trade war, but, equally, US support for Hong Kong could become just another chip on the table. The Act also plays into the hands of Beijing, whose propaganda portrays the protests as a CIA-sponsored colour revolution.
There is much more hope closer to home. With an election coming in Taiwan, the island's incumbent president, Tsai Ing-wen, has taken a pro-protestor stance. She has offered refuge and assistance to Hongkongers who have fled the city after taking part in protests. In neighbouring Macau, campaigners have applied for permits to protest in solidarity with Hong Kong, although these have been denied. Worryingly for Beijing, the Financial Times reports that the Hong Kong demonstrations have inspired protests in mainland China. As the movement progresses, the solidarity of ordinary citizens is likely to be more reliable and resilient than any help from the West.
Martin Barraclough is a writer based in Hong Kong.
Picture by: Getty.
To enquire about republishing spiked's content, a right to reply or to request a correction, please contact the managing editor, Viv Regan.