Meet the North Korean resistance
These 21st-century dissidents are as mysterious and strange as the dictatorship they oppose.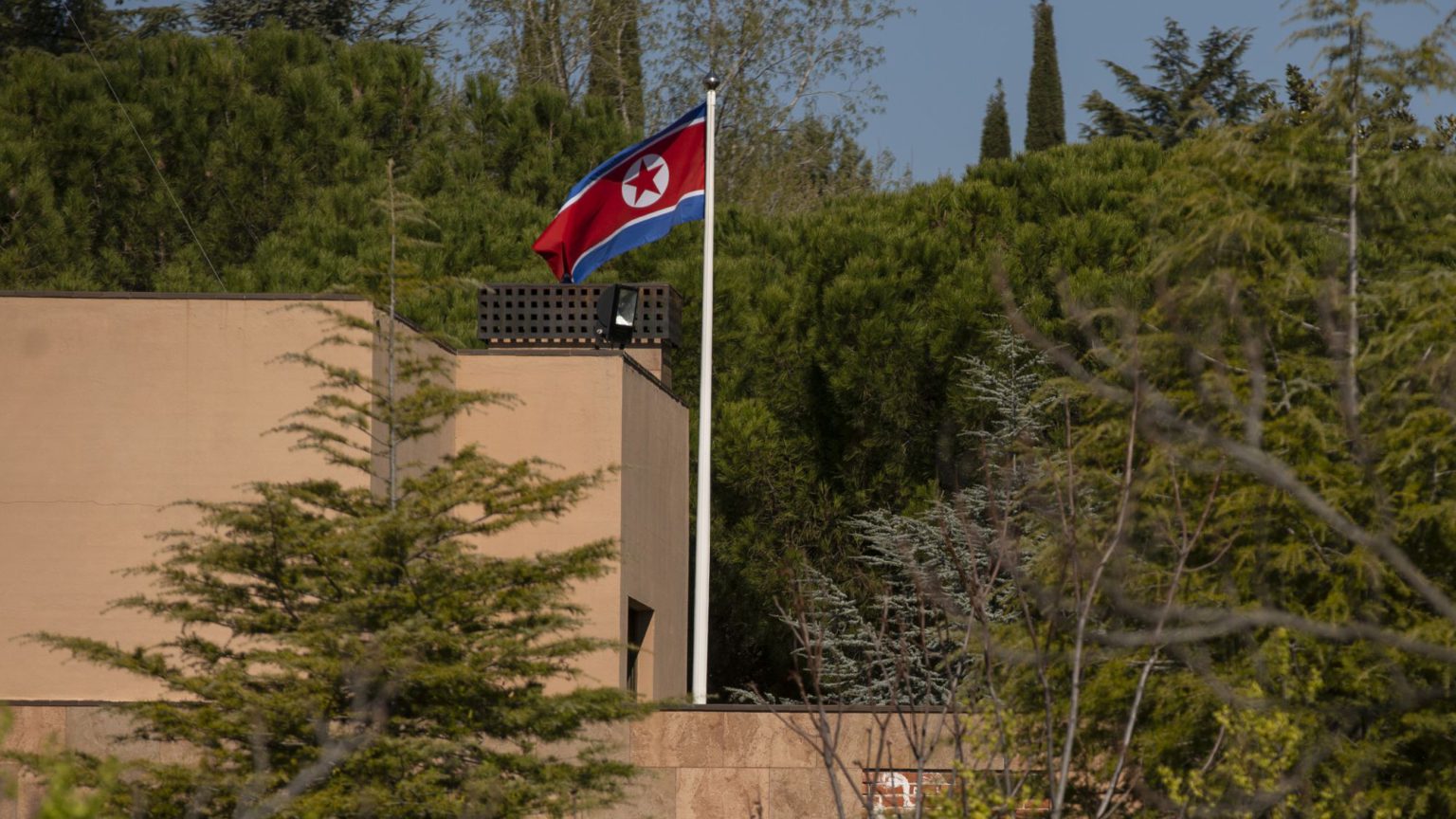 Christopher Ahn is awaiting extradition from the US to Spain. He is accused of a crime that he doesn't necessarily deny taking part in. According to Ahn, a former US marine, in February last year, he and 10 other people were invited into the North Korean embassy in Madrid by a senior official who wanted to defect from the regime. But according to the Spanish and North Korean governments, Ahn and his group forced their way into the embassy with guns, tied up the staff and vandalised the offices.
Adrian Hong, the alleged leader of the embassy invasion, has been in hiding since April. His lawyer says that Hong, a Yale-educated Mexican of Korean descent, has also been targeted for assassination by North Korea.
Both men are part of a group calling itself the Provisional Government of Free Joseon (Free North Korea). On its cryptically austere website, Free Joseon acknowledges that it was present at the North Korean embassy in Madrid when it was allegedly invaded, but insists that it was not an attack:
'We responded to an urgent situation in the Madrid embassy. We were invited into the embassy, and contrary to reports, no one was gagged or beaten. Out of respect for the host nation of Spain, no weapons were used. All occupants in the embassy were treated with dignity and necessary caution.'
Free Joseon accuses North Korea's ruling Kim family of using its foreign embassies as fronts for the Kim regime, of trafficking in drugs and weapons all over the world, of cyber-attacks, and of a host of kidnappings and assassinations. These accusations are echoed by governments around the world, including the US and China.
Free Joseon's most high-profile public action to date immediately followed an assassination in Malaysia in 2017, allegedly ordered by North Korea. Kim Jong-nam – brother of current leader Kim Jong-un, original heir to the throne of North Korea (and CIA informant) – fell victim to a cartoonish murder plot. It involved VX nerve gas wielded by two women who supposedly thought they were on a YouTube prank show. Free Joseon takes credit for ferreting the murdered man's family to safety.
Free Joseon may be the first organised opposition group to the Kim family, which has ruled North Korea since the nation's founding in 1948. 'Joseon' means Korea and is how North Koreans refer not only to their country, but also to the entire Korean peninsula. In the Kim regime's view, there is no 'South' Korea, just a rogue government that will eventually be brought back under the rule of 'true' Korea again. Reminiscent of China's attitude to a certain large island, there is only one Korea: Joseon. The name derives from the last Korean dynasty to rule the peninsula before it was annexed by the Japanese in 1910.
Free Joseon wraps itself in history, myth and symbolism. Its original name, Cheollima Civil Defense, paid homage to a magical pegasus-type creature found in myths all over east Asia, but with added significance in North Korea. The country's founder (and technically still president, even though he has been dead for 25 years), Kim Il-sung, named his nation's version of the Great Leap Forward the Chollima Movement. Chollima monuments can be found throughout Pyongyang, North Korea's capital city. Chollima is also the nickname of the national football team.
In March, following the embassy raid in Madrid, Free Joseon took credit for graffiti on the walls of the North Korean embassy in Malaysia, which appeared on the same day that the Malaysian government pardoned one of Kim Jong-nam's accused assassins.
A few days later, Free Joseon published a video on YouTube, filmed during the embassy raid the previous month in Spain. In the video, an unidentified and digitally obscured man smashes framed pictures of Kim Il-sung and Kim Jong-il, North Korea's first two leaders. Every home, office and business in North Korea has these two pictures on its walls. In North Korea, such disrespect results in punishment for three generations of a dissenter's family.
Free Joseon claims to be in regular contact with reformers and rebels inside North Korea, as well as maintaining a significant network of allies and financial supporters throughout the world. It claims credit for at least two safe North Korean defections. On top of asking for donations, Free Joseon employs a uniquely 21st-century fundraising technique. It sells 'anonymous blockchain visas to visit Free Joseon upon liberation'. The tactic has been so successful it seems that Free Joseon had to ask its supporters to slow down their orders.
Free Joseon is also suspected of threatening a North Korean official in New York City last year, as revealed in a recent United Nations report. A senior North Korean diplomat received a letter demanding his cooperation with a secret organisation. Non-compliance, it said, would endanger his personal safety.
Free Joseon's membership, allies, base of operations and donors are all unknown. Its website says that it has 'never received funding from foreign government agencies'. In investigating the raid, Spanish intelligence reportedly contacted American counterparts for information about Hong and Ahn. The CIA denied any involvement in Free Joseon or the embassy raid, but the Spanish reportedly found the denial 'unconvincing'.
Spain's incredulity is understandable, given that Hong has spent over 10 years working with the US State Department in various ways to undermine the Kim family. Thirteen years ago, six North Korean defectors were smuggled into the US with Hong's help. A few years later, the US government helped him get out of China after he was arrested there for helping North Korean refugees there. Hong has been a member of multiple groups that have received US government funding through the National Endowment for Democracy.
On top of everything, Hong gave all the hard drives, laptops, flash drives and cell phones that Free Joseon had taken from the North Korean embassy to the FBI. That the Bureau didn't volunteer this information to the Spanish authorities is enough to justify their mistrust of the US. For its part, Free Joseon strongly denies any assistance or coordination with any element of the US government in the planning and execution of the embassy raid. It has, for what it's worth, also apologised to the Spanish government.
Kim Jong-un has not responded to any of Free Joseon's activities, or even acknowledged its existence (and he is unlikely to do so any time soon). Whether or not he should take it seriously is an open question. We can probably be assured that the North Korean authorities already know everything they can about Adrian Hong, including the fact that Hong had travelled to Libya after Gaddafi's demise, which he described as 'a dress rehearsal for North Korea'.
Free Joseon and its members are breaking new ground for 21st-century dissidents. Adrian Hong has done everything from hosting TED Talks to testifying before the Canadian Parliament. Free Joseon uses YouTube, cryptic colour-coded messages on its website, graffiti and blockchain to get its message out there.
The world's strangest dictatorship has produced the world's quirkiest revolutionaries, too.
Thomas Brown is a history teacher and recovering political consultant hiding out in the American South. His thoughts can be found in the Swamp, the Bipartisan Press, Alaska Native News, GEN, Human Events, Times of Israel and Dialogue & Discourse. Follow him on his Medium page and argue with him on Twitter: @reallythistoo.
Picture by: Getty.
No paywall. No subscriptions.
spiked is free for all.
Donate today to keep us fighting.
Donate online
To enquire about republishing spiked's content, a right to reply or to request a correction, please contact the managing editor, Viv Regan.