Extinction Rebellion is an extremist group
This green group is nuts. But that doesn't mean it should be included on any police lists.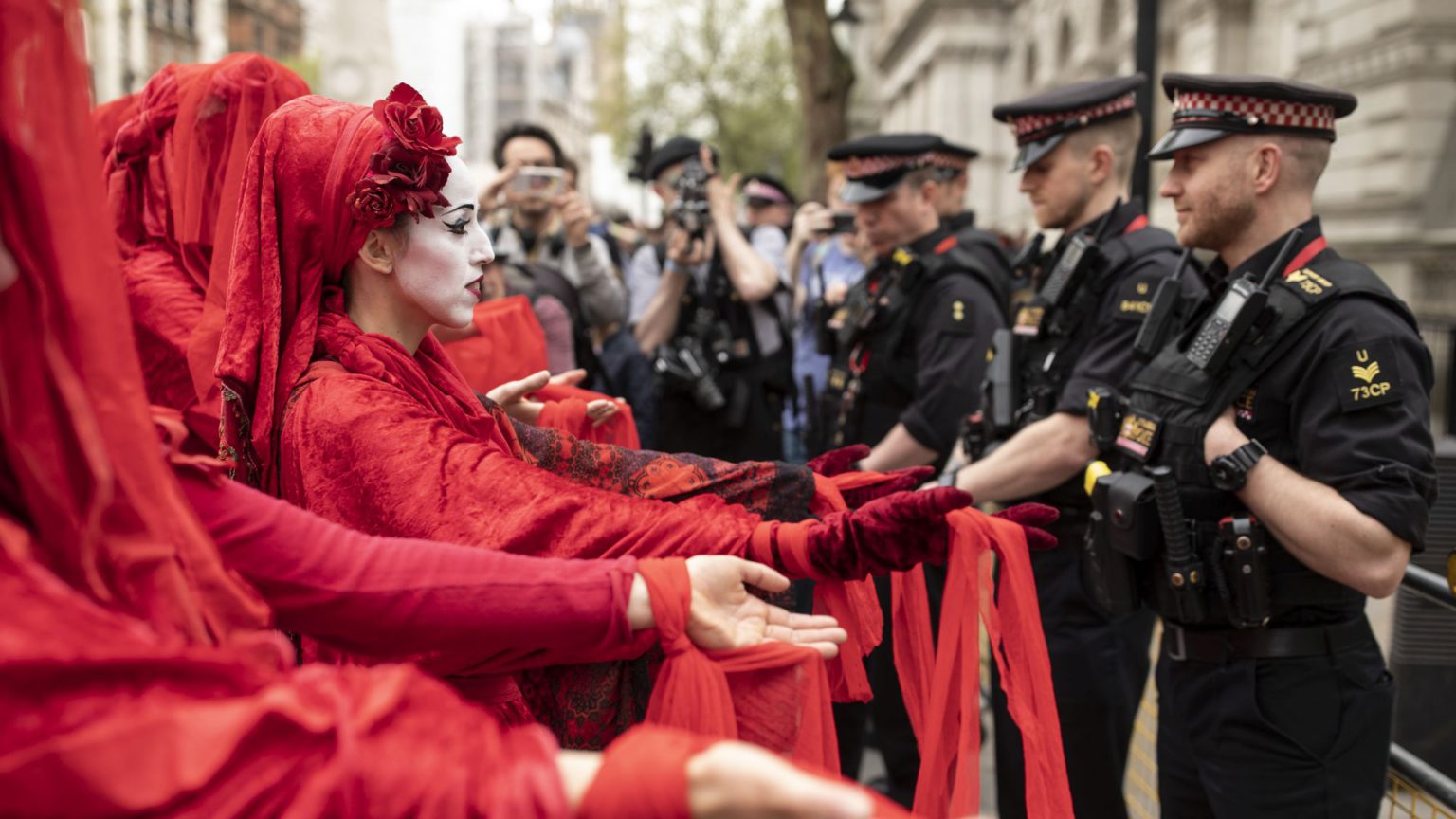 The hissy fit over the inclusion of Extinction Rebellion on a police list of 'extremist ideologies' is hilarious. It is so obviously a case of protesting too much. 'How dare you call us extremists!', cry the leaders of this movement that says billions of people will die as a result of climate change and that the only way to stop this calamity is by putting a halt on modernity and forcing human beings to live in wigwams on a diet of nuts and seeds. Sorry, guys, but you can't go around preaching that the end is nigh like a medieval self-flagellating cult and then moan about being called bonkers. If it walks like a nutter and quacks like a nutter, it's probably a nutter.
This is the news that XR – last seen marching through London and warning its inhabitants that their use of motorcars and consumption of meat would cause billions of people to die – has been included in a coppers' report about extremist activism. The report, collated by Counter Terrorism Policing South East, is designed to '[safeguard] young people and adults from ideological extremists'. Those ideological extremists include far-right groups like National Action, a couple of mad Islamist outfits, right-wing identitarian loons like Generation Identity, and Extinction Rebellion. Guess which listing has sent the chattering classes into meltdown? Yep, XR's, which right-on types have described as an offence against good sense and liberty. Home secretary Priti Patel's partial defence of the inclusion of XR in the list of extremists has further inflamed the debate. 'How dare she!', greens cry, echoing the messianic leader of their crazed death cult, Greta Thunberg.
There are two things to say about this controversy. The first is that the cops should not be drawing up lists like this at all. Police should only interfere with groups that have carried out violent acts or which are plotting to carry out violent acts. Every other political group should be left completely and utterly alone. They should not be monitored. They should be free to associate. And they should be free to march in public. That goes for the racist dweebs in Generation Identity, the Islamist hotheads in myopically anti-Western Islamo-groups, and the green hysterics of Extinction Rebellion. Freedom demands that these groups be allowed to organise and talk shit as they see fit. They should only be interfered with if there is a solid suspicion that they are crossing the line from agitation to violent action.
Strikingly, though, the hip pretend-liberals of the pro-XR lobby aren't kicking up a fuss about the inclusion of, say, Generation Identity in this list of extremists. Even though Generation Identity has also not done anything terroristic. If you were a consistent liberal, someone who believed that every organisation and individual has the right to express themselves publicly and to protest publicly – as spiked believes – then you would be as outraged by GI's inclusion on this McCarthyite list as you are by XR's. But clearly, this isn't about the principle of liberty – it's about protecting the loons of the green cult from any kind of criticism or ridicule.
But here's the thing: XR is extremist. It's about as extremist as it gets. It is a deranged, classist, authoritarian outfit that chants and sings about the end of the world and which lies – openly – about billions dying from climate change. It is anti-modern, anti-progress and anti-human. Its members dress in red and mope through the streets while wailing about meat-eating and industry. It depicts mankind as a plague on the planet and calls for the kinds of restrictions on modern life that would plunge vast swathes of society into darkness and penury. It is against industrialisation, against meaningful development and against comfort. These are extremist ideas.
Should it be watched and censured by the state? Absolutely not. Let the loons do whatever they want to do. Back off, cops. You too, Priti. But are they mental? Yes, they are. Totally mental.
Brendan O'Neill is editor of spiked and host of the spiked podcast, The Brendan O'Neill Show. Subscribe to the podcast here. And find Brendan on Instagram: @burntoakboy
To enquire about republishing spiked's content, a right to reply or to request a correction, please contact the managing editor, Viv Regan.