Spain's not-so-radical left
The new left-wing coalition government looks destined to achieve little.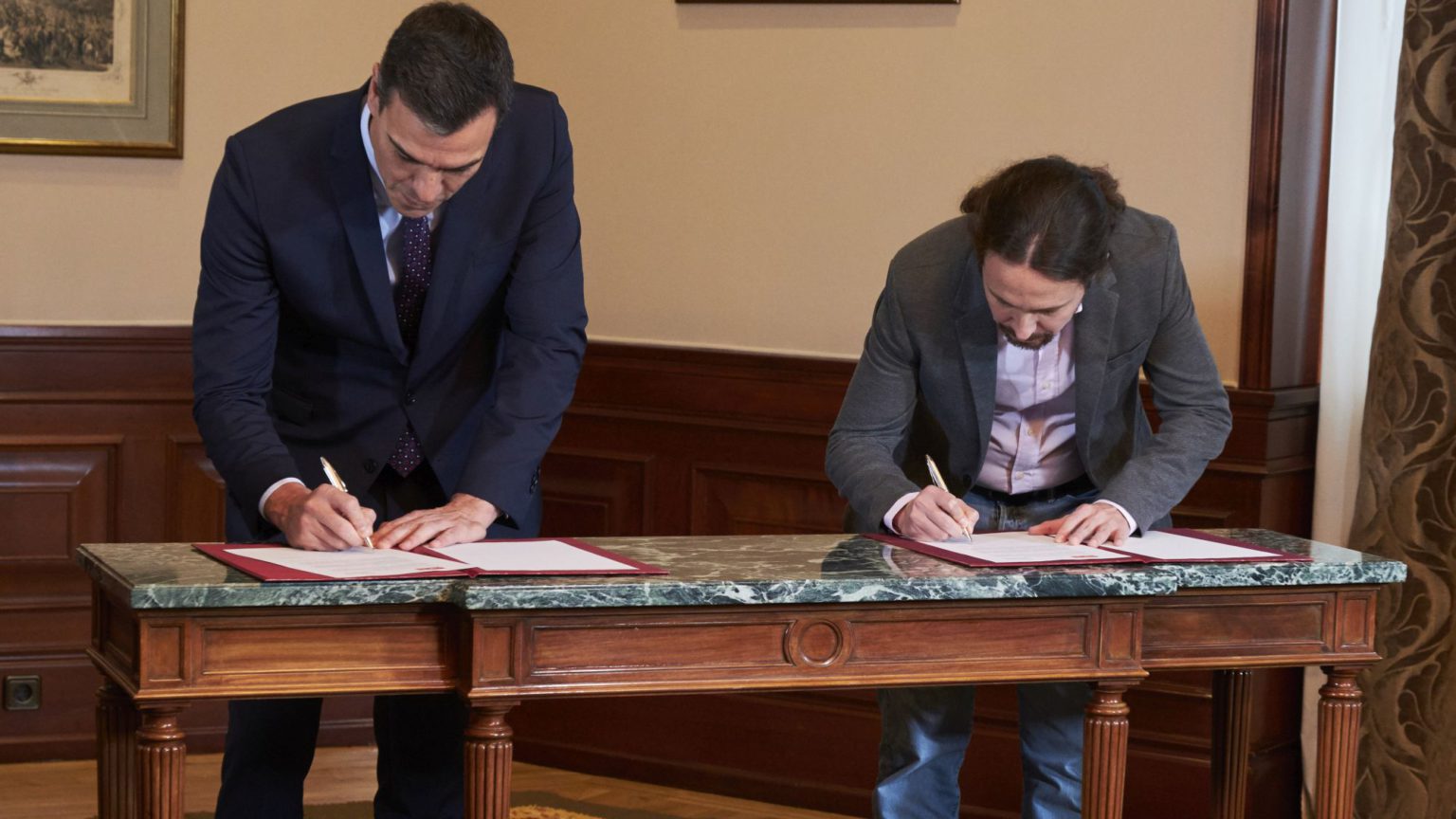 After several months of deadlock following Spain's General Election in November, Spanish prime minister Pedro Sánchez, of the Socialist Workers' Party (PSOE), was finally able to form a government this month. It will be a coalition government with the radical left Unidas Podemos (United We Can) – which is itself an alliance of Podemos, United Left and other left-wing parties. But even with a coalition deal in place, Sánchez still doesn't have a majority in parliament. Abstentions from a number of Catalan and Basque separatist MPs allowed him narrowly to win the confidence vote required to form the government.
While the centre-left PSOE is the senior partner, the participation of Unidas Podemos in the ruling coalition has excited some commentators. This is the first time since the 1930s that an overtly left-wing party or electoral alliance is in government in Spain.
On paper, Unidas Podemos's policies represent a serious break with the centrist consensus that has reigned in Spain since 1977, when the first free elections took place after the fall of fascism. Some of the more interesting positions the parties in Unidas Podemos have taken include direct democracy, soft Euroscepticism, socialism and republicanism.
But Spanish voters looking for a radical shake-up are likely to be short-changed. The government's lack of a working majority will make it difficult to pass any laws at all, let alone implement the junior coalition partner's more eye-catching proposals.
November's election should have been the left's for the taking. But both the PSOE and Unidas Podemos actually lost seats. The losses for Unidas Podemos were particularly pronounced: it came fourth, winning just 35 seats, down seven from April's election. In the 2016 election, it won 71 seats, enough to nip at the heels of the much more established PSOE.
One of the reasons for Unidas Podemos's waning popularity is that its leader, Pablo Iglesias, is now seen by many as a champagne socialist (or perhaps a 'cava communist'). In 2018, Iglesias was labelled a hypocrite for buying a €600,000 house (complete with swimming pool) when a few years earlier he had railed against the then economy minister, Luis de Guindos, for buying a house of that exact value. The charge of hypocrisy has dogged Iglesias ever since.
Recent bouts of infighting have also put voters off the radical left. One major blow was the departure of Íñigo Errejón, widely considered to be the brains behind the Podemos project and its second-most important figure. He quit in January last year and his new electoral platform, Más País, won three seats in the November election.
If the electoral shocks of the past few years are anything to go by, virtue-signalling tends to fall flat with voters. Yet both the PSOE and Unidas Podemos have become expert virtue-signallers. The latter rebranded itself last year from the linguistically unisex Unidos Podemos to the feminine Unidas. Unsurprisingly, this pseudo-feminist stunt did very little to excite the public.
One of the new coalition's first moves has been to appoint four deputy prime ministers (previous Spanish governments have only had one or two) to produce a gender-balanced leadership. It has also revived the Ministry of Equality (tasked with gender and race issues), which had been merged with the Ministry of Health since 2010. All the signs so far point to a government that will make liberal and progressive noises but will not be genuinely radical.
A major obstacle for the current government is the still-simmering Catalan crisis. ERC-Sobiranistes, the largest Catalan separatist group in parliament, allowed the government to form by abstaining in Sánchez's investiture vote. The alliance, which is the fifth-largest in parliament in terms of seats, wants to secure a legal referendum on Catalan independence, which the PSOE is currently against. If the ERC-Sobiranistes does not get its way, it could frustrate government bills.
Domestic politics isn't the only blockage. On the rare occasions when the left has come to power in Europe, such as under Alexis Tsipras's Syriza government in Greece or António Costa in Portugal, it has had to shelve more radical economic policies due to EU rules and diktat. The need to satisfy the EU's strict public-spending limits has helped to make 'left populism' a spent force.
The ongoing political stalemate may not be a total disaster, however. The economy was relatively strong during Spain's 10 months without government in 2016. But voters hoping for radical change are likely to be disappointed. The new left-wing coalition is unlikely to shake up the status quo.
William McGee is a writer.
Picture by: Getty.
To enquire about republishing spiked's content, a right to reply or to request a correction, please contact the managing editor, Viv Regan.