Why the #YangGang was a good thing
UBI is not the answer. But Andrew Yang's campaign was still a breath of fresh air.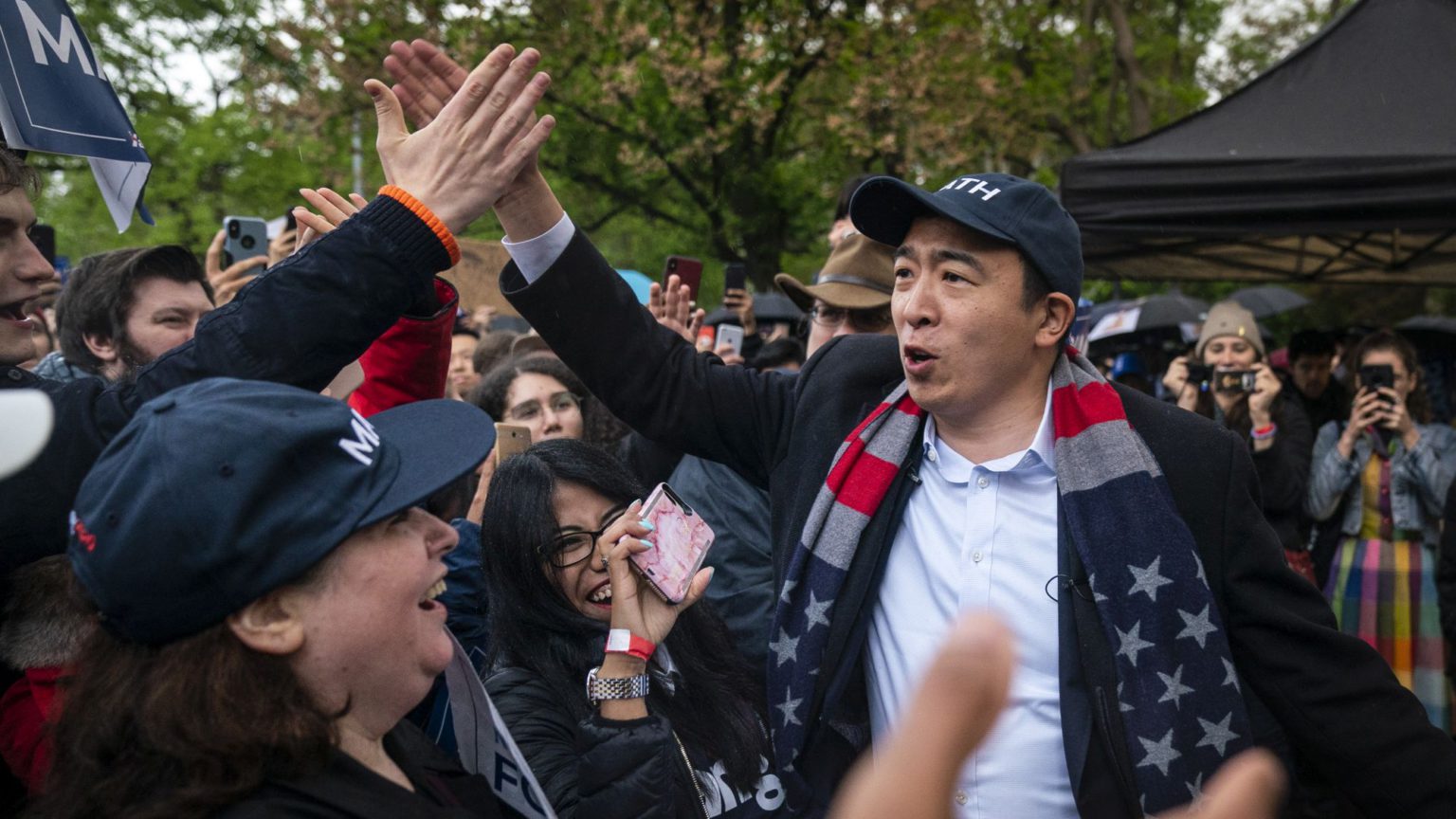 So Andrew Yang, the Asian-American entrepreneur turned unlikely Democratic presidential candidate, has pulled out of the race, after he finished in eighth place, with 2.8 per cent of the vote, in the New Hampshire primary.
Before the primary, he said he needed a fourth-place finish to justify staying in the race. 'I am the math guy, and it's clear from the numbers we're not going to win this campaign', he said last night, nodding to his slogan, Make America Think Harder, and his supporters' MATH campaign caps.
With this ends one of the more curious but charming candidacies for the presidency in recent years. The MATH thing might sound a bit condescending, but Yang's self-effacing manner drew surprising support from former Trump voters, as well as independents.
His 'very online' campaign far exceeded expectations, using mega-podcasts like The Joe Rogan Experience to reach millions of people legacy media couldn't. But while Yang did remarkably well, outlasting former establishment favourites like Kamala Harris, his support was inevitably much wider than it was deep.
Yang made universal basic income the key plank of his campaign. His so-called 'freedom dividend' would give $1,000 to every US citizen, no questions asked, every month. The aim was to phase out existing welfare programmes and insulate people from the threat of automation.
In this, he embodied the kind of techno-pessimism and low horizons that tend to characterise the automation debate. UBI would not liberate ordinary people, it would make them the permanent recipient of state handouts, of crumbs from the table.
But strange as it may sound, you don't have to be a UBI convert to think Yang was a positive influence in recent months.
The stifling politics of identity has infected the Democratic race so far. Candidates have been subtly and not-so-subtly accusing their opponents of racism (Harris v Biden) and sexism (Warren v Sanders). Warren, Harris, Buttigieg and Castro (remember he/him?) even announced their pronouns.
Meanwhile, Yang weaved his UBI policy into a message about common challenges. 'Able-bodied, special needs, white, black, old, young, rural, urban, we're all going to get run over by this automation freight train', he told a recent rally. 'We need to human up and stop focusing on relatively trivial distinctions.'
He also deflected mad accusations that his passionate online army of supporters (the #YangGang) were all alt-right trolls / Russian bots with ease, and weathered ludicrous 'controversies' around lightly un-PC jokes he made at events. (His comment that 'I am Asian, so I know a lot of doctors', made in a TV debate, has ludicrously been trotted out time and again.)
In all this, Yang was a good example of how being comfortable with diversity also means being able to talk (and occasionally joke) about it. This is perhaps part of the reason he got a late-stage celeb endorsement from comedian Dave Chappelle, a man once loved for poking fun at difference but who has in recent years become a kind of heretic.
Yang even went so far as to urge forgiveness for a Saturday Night Live writer who had made offensive racial jokes about Asians and Yang himself.
None of this qualifies him to be president, of course. But it did make him a breath of fresh air.
Tom Slater is deputy editor at spiked. Follow him on Twitter: @Tom_Slater_
Picture by: Getty.
To enquire about republishing spiked's content, a right to reply or to request a correction, please contact the managing editor, Viv Regan.