No, the floods are not caused by climate change
We need better flood defences, not more green panicking.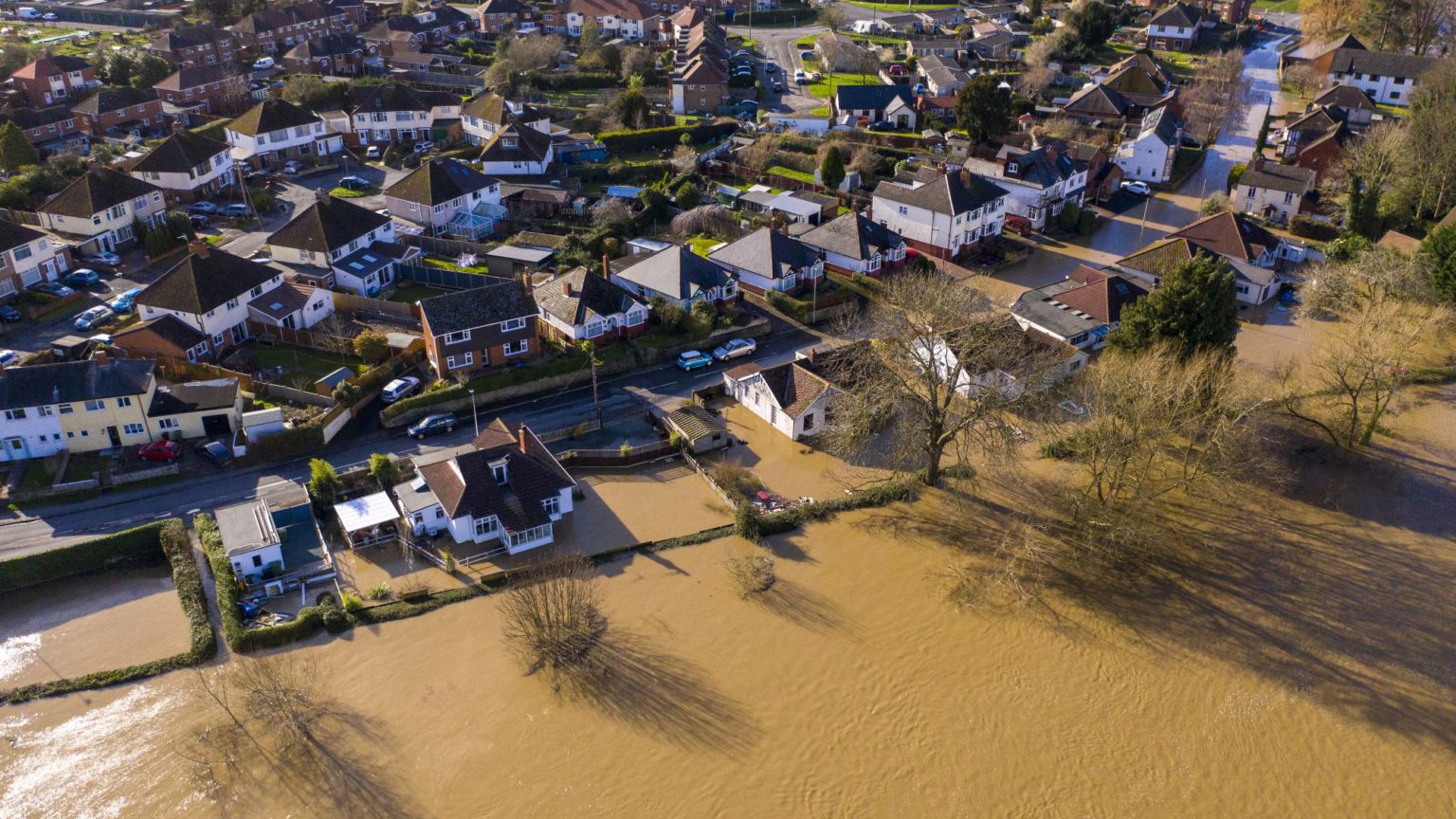 Twice in the past week or so, the football pitch in my local park has looked more fit for water polo than for a kickabout. The River Tweed runs down the side and has been so swollen that adjacent fields have disappeared under the water. Still, Walkerburn has had it easy. Most of the village is well above the floodplain, so we can just marvel as the waters flow past, transforming the landscape. Many other parts of the UK have been much less fortunate.
The combination of Storm Ciara and Storm Dennis in quick succession has left many towns and villages under water. Where defences have been built since the last big round of floods, in 2015, they have mostly held. But even five years on, some of those projects weren't complete or have been overwhelmed by so much rainfall in just a few days – particularly with a short spell of wintry weather adding melting snow to the mix.
As ever, the first response has been to ask if climate change is to blame. The consensus seems to be that it is difficult to pin any particular weather event on global warming, but that warmer temperatures could lead to more intense spells of rain. So, there will still be flooding whatever we do about greenhouse gas emissions, but it could be worse in a warmer world. A report published last year, State of the UK Climate 2018, suggests that the UK is getting wetter: 'UK summers have been, on average, 11 per cent wetter than 1981-2010 and 13 per cent wetter than 1961-1990. UK winters have been five per cent wetter than 1981-2010 and 12 per cent wetter than 1961-1990.'
That said, looking over a longer term (see the graph below) suggests current conditions are not very much different from wet spells in the past.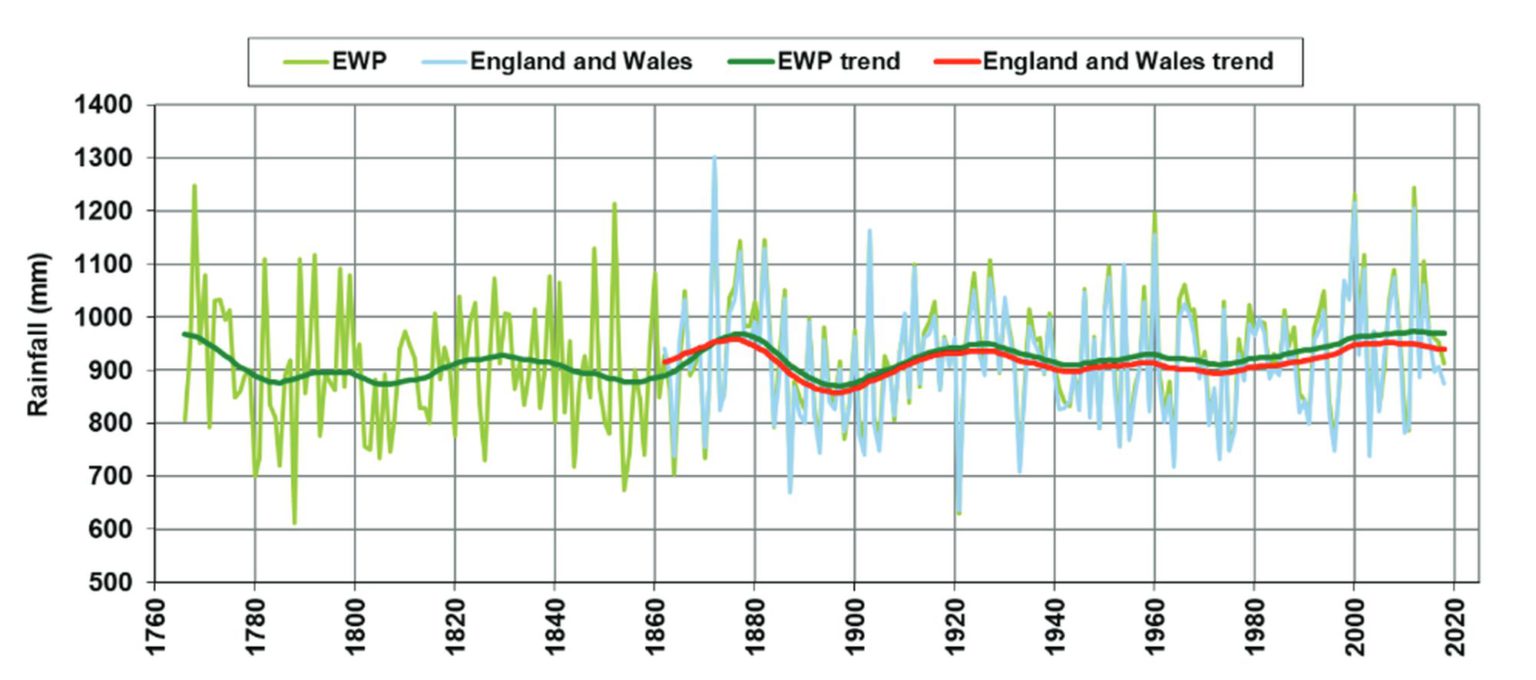 Trends in England and Wales precipitation – State of the Climate 2018
However, before we all cancel our flights, give up eating meat and start cycling everywhere, we should recognise that carbon emissions are going to keep going up, whatever we do in the UK. The fact that the UK government has committed to reaching 'net zero' emissions by 2050 is a foolish idea. It's just never going to happen, except perhaps with the authoritarian imposition of cuts in freedom and living standards. And most of the world's emissions – from China, America and beyond – are out of our control.
So rather than pissing money away in a quixotic attempt to stop it pissing down, we would do far better to spend some money to prepare better for flooding. Some of that will mean building better defences to stop settlements flooding at all, like raising river banks and walls. Measures to keep water up in the hills longer, through digging ditches and planting trees, may help to reduce the peak water levels, too. The government could do more to help those most at risk of flooding to prepare properties and keep them watertight. That need not involve huge sums of money, but could be done through giving advice on simple measures to keep the water out.
For those using the floods to demand reductions in the use of fossil fuels, we should remember that our ability to cope with bad weather, of whatever, kind is built upon oil, coal and gas – from powering the transport that rescues people flooded out to heating homes and driving pumps. Things would be far harder to cope with if we hadn't had the economic development that provides such things. Even access to insurance – basically pooling risks across society so that when something bad happens we can pay to clean up and replace what has been damaged or lost – is only possible thanks to having a wealthy economy.
The UK has always experienced floods and always will. We take severe weather in our stride far better now thanks to economic development. We won't diminish floods by slashing greenhouse gas emissions, but we might undermine our ability to cope with them. The best way forward is to carry on with sensible investments to minimise the disruption that flooding causes.
Rob Lyons is science and technology director at the Academy of Ideas and a spiked columnist.
Picture by: Getty.
To enquire about republishing spiked's content, a right to reply or to request a correction, please contact the managing editor, Viv Regan.