Labour members vs the trans tyranny
Joanna Williams reports from the 'Defend Me or Expel Me' rally in London.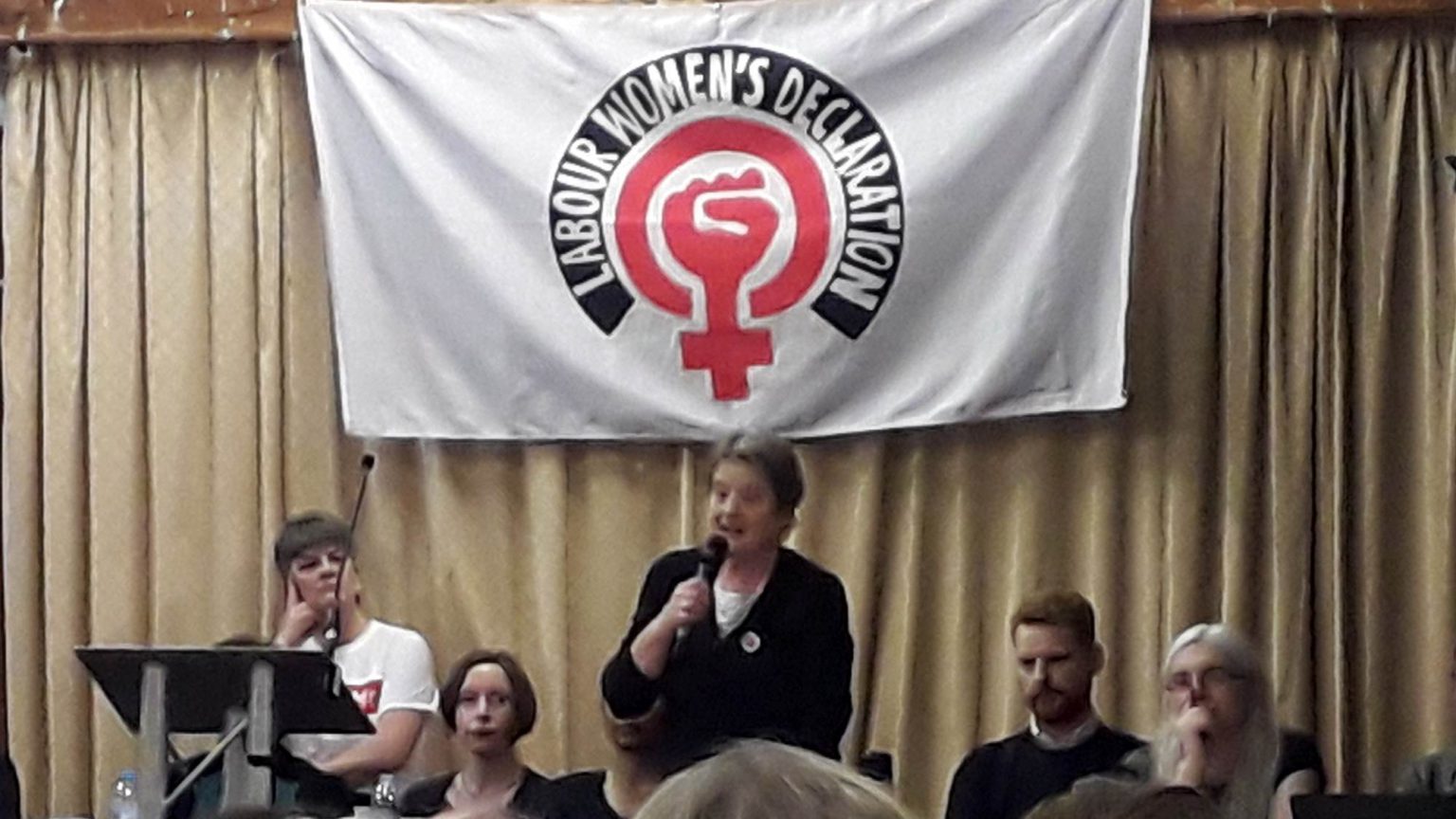 It might be 50 years since the emergence of the women's liberation movement, but women getting together to discuss being women is, today, a dangerous and subversive act. On Monday afternoon I was waiting on an email from the organisers of 'Defend Me or Expel Me', a rally organised by women in the Labour Party in response to two of the (female) contenders for the leadership signing a pledge calling for the expulsion of members deemed to be 'transphobic' and describing organisations such as Woman's Place UK and the LGB Alliance as 'trans-exclusionist hate groups'.
A last-minute email revealed the venue for the meeting – this information couldn't be released any earlier in case it was leaked to protesters. Any suggestion that this level of secrecy was overblown was expelled when we arrived at the venue. Chanting could be heard as we walked towards the shabby community centre. There, we were met by a crowd of about 50 protesters, complete with whistles, megaphones, placards and banners, shrieking 'Fuck off TERFs' and 'The T will not be silenced'. They seemed intent on blocking the entrance to the venue and we had to be escorted in by stewards. Inside were around 300 people, almost all women and most of them Labour Party members. The chanting permeated the hall and provided an ever-present soundtrack to the evening. It stoked the anger of speakers and audience members, and fuelled a powerful sense of solidarity and determination.
Trans activists and their allies, including senior figures in the Labour Party, would love nothing more than to write off those opposing their agenda as hysterics who talk about free speech only to fuel a right-wing agenda. But speakers at the meeting, including Selina Todd, Julie Bindel, Debbie Hayton, Paul Embery and Kiri Tunks, (co-founder of Woman's Place UK), positioned themselves firmly on the left and within the trade-union movement. Their fear is that the Labour Party is now in thrall to the trans lobby and that this threatens women's hard-won rights. When Dawn Butler can announce on national television that babies are born without sex, when leadership contenders fall over themselves in their rush to declare that trans women are women, and when the male Lily Madigan can become one of the party's national women's officers, these fears are clearly not groundless. As Debbie Hayton pointed out, being male is the defining feature of being a trans woman – and socialism is supposed to be built on material reality.
The ultimatum issued by this meeting to the Labour Party – defend me or expel me – was accompanied by a declaration, which aims to ensure that women's sex-based rights and protections remain at the heart of the party's policies. It insists that women have the right to freedom of belief, freedom of expression and freedom of assembly, 'to organise themselves, as a sex, across a range of cultural, leisure, educational and political activities'. Granting these rights on the basis of self-declared gender identity, rather than biological sex, renders them meaningless.
The importance of free speech was reiterated by many of the speakers. The declaration states, 'Women have the right to discuss policies which affect them, without being abused, harassed or intimidated'. There was anger that women's rights were being called into question, and that attempts simply to discuss this were routinely quashed. Some were clearly still shocked that Selina Todd, a professor at Oxford, had been effectively No Platformed from Oxford's International Women's Festival due to her gender-critical views. The noise of the protesters outside served as a helpful reminder that there's more than one way to stop debate.
Bev Jackson of the LGB Alliance used her right to free speech to point out that biological sex is binary and immutable, unlike gender, which is a social construct. She argued that lesbians, by definition, are attracted to members of the same sex. Groups like Stonewall that once fought for lesbian and gay rights are now at the forefront of arguing for gender self-identification, she argued – a move that defines lesbians out of existence. Stonewall – every mention of which was greeted by boos from the audience – also came under fire for the curriculum it has produced for teaching relationships-and-sex education in schools. These classes teach even the very youngest children that gender is an identity and has no relation to biology.
Booing at Stonewall was fun, but it underscored a very real sense of betrayal. Women on the left have long considered Stonewall, the Labour Party and the trade-union movement not just to represent them, but also to belong to them. Kiri Tunks traced the history of women's involvement with workers' struggles from the matchgirls' strike of 1888 through to the Dagenham dispute in the 1960s and Grunwick in the 1970s. Women's contribution to the labour movement, argued Tunks, was not incidental, but fundamental. Although, as she noted, 'these struggles took place before or in spite of the trade-union movement'. Nonetheless, her message to Labour's current hierarchy was clear: 'The disregard with which this movement has treated us is a disgrace. You ignore us at your peril.'
Lucy Masoud, one of the rally's organisers, said before the event that, 'Women only got the vote a century ago, and now our MPs are threatening us with a Stalinist purge for saying what a woman is… like the Suffragettes, we're challenging them to speak up and defend our rights, or cave in to the bullies and expel us'. This is powerful rhetoric, but it also raises questions. Why argue so vehemently for membership of a club that not only doesn't want you, but also goes out of its way to insult you? At what point do left-wing activists like Todd and Embery decide that fighting for the Labour Party to change is a fool's errand, and that their efforts would be better spent elsewhere?
It remains to be seen how committed new converts to the cause of free speech will be when it comes to defending those they disagree with. And there are surely pitfalls with arguing that women are strong and powerful agents of change yet, at the same time, 'subject to discrimination and oppression on the basis of their sex'. But then, just as I was formulating these criticisms, I learnt that the protesters outside had stopped chanting just long enough to let off smoke bombs as people were leaving the rally. All this at a venue overlooked by the charred remains of Grenfell Tower. Nothing could better illustrate just how utterly out of touch with reality trans activists are. I know whose side I'm on.
Joanna Williams is a spiked columnist and director of the think tank, Cieo.
Picture by: Joanna Williams.
To enquire about republishing spiked's content, a right to reply or to request a correction, please contact the managing editor, Viv Regan.