Coronavirus is nothing like the Second World War
War-time mobilisation rode roughshod over people's rights and caused genuine hardship.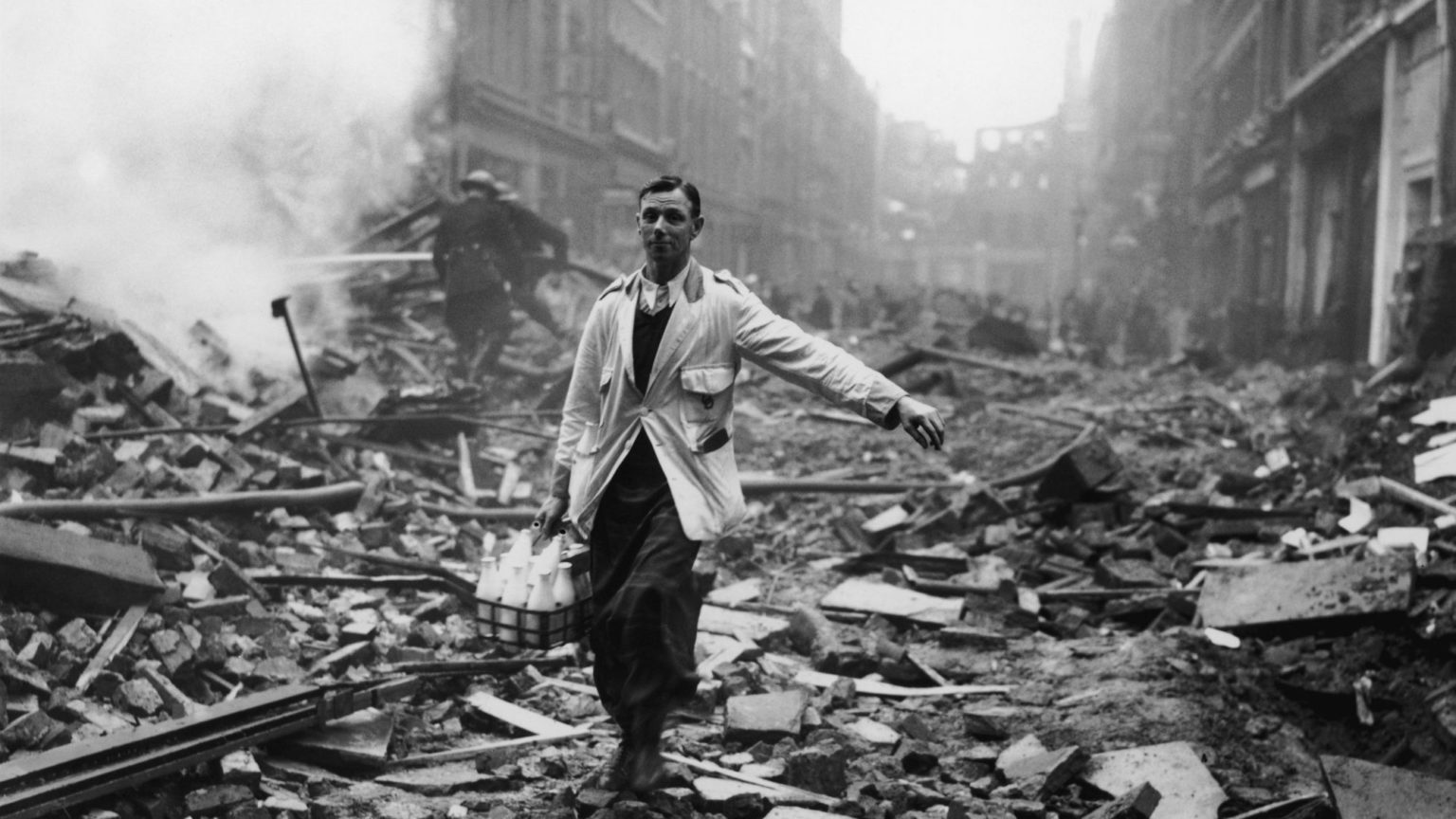 Responding to the outbreak of coronavirus, health secretary Matt Hancock appealed to the nation to remember the Blitz Spirit and our grandparents: 'Despite the pounding every night, the rationing, the loss of life, they pulled together in one gigantic national effort.' He is not the first British politician to have invoked the Blitz Spirit, and more than likely he will not be the last.
In a column in The Sunday Times, 84-year old Hunter Davies tried to explain to younger readers why not every elderly person was so terrified at the prospect of coronavirus that they would be 'self-isolating'. Davies quoted a friend: 'When you have lived through the last war, nothing is going to scare you any more.' He added that 'bombs, blackouts, air-raid shelters, sirens and rationing were real impositions, compared with the inconvenience of washing your hands'. The headline for Davies' column was: 'I'm 84. I survived rationing. I'm not scared of the coronavirus.'
Davies struck a nerve with millennials on social media who are convinced that they are the most put-upon generation in history. Southampton University history lecturer Charlotte Riley scoffed at the idea that rationing was a hardship, posting on Twitter that Davies survived rationing because that was 'the process by which the government ensured you didn't STARVE TO DEATH'.
Of course, the reason that the government stepped in to stop people from starving to death was that it had rededicated most of the country's labour and resources, which previously went towards making consumer goods, towards munitions and the army. Rationing was a system for sharing out a much smaller pie so that more of the country's resources could be dedicated to making shells and explosives.
My father-in-law, whenever he is asked what the war was like, always starts off by saying, 'We were hungry all the time'. My mother remembered lying in a cottage hospital, recovering from rheumatic fever and hearing Lord Woolton on the radio, extolling the virtues of nettle pie. She knew then that the public was being cheated. But then Riley knows that rationing was horrible. She even said so when she wanted to use it as an argument against imagined post-Brexit food shortages.
The exasperation expressed towards Hunter Davies and other oldies who are not taking the coronavirus panic too seriously is mostly a generational irritation. Many older people tend to have a more measured view of the likelihood of death, even though they are closer to it. We have had some time to think about it. We have also lived through a lot of panics, which were also billed as the likely end of all civilisation: from impending nuclear armageddon and YK2 to SARS and… Brexit (almost forgot).
Still, generalisations about generations rarely hold up. A lot of older people, particularly those who are frail, short of breath, or just dependent on others, are very frightened. For those people's wellbeing, it is important not to give too overwrought a telling of the challenge they face.
Comparisons with the Second World War can be useful, but the war is so often mythologised. The 'Blitz Spirit' was not quite as billed. When the bombing started, thousands of people ran away from London. 'London can take it' really was a propaganda line. Tragically, 173 people died in the crush as they tried to get to Bethnal Green underground station to avoid a bombing that did not happen. On the other hand, the Ministry of Information was convinced that British morale in the war would crack and was surprised that its regular opinion polling (innovative at the time) showed that morale held up pretty well.
Hancock's Second World War comparison has tempted a lot of people to contrast the overwhelming effort to win the war with what they see as an under-impressive response to coronavirus. In truth, chancellor Rishi Sunak's trillion-pound government budget is three times greater than the country's entire output (adjusted for inflation) in any given year between 1940 and 1945. Indeed, Britain is committed to spending almost as much on the NHS next year as its entire military budget in 1943. And that is before you even take into account Tuesday's emergency measures.
One lesson that the war ought to teach us is that you cannot mobilise the whole of society without riding roughshod over people's rights. One million people, 80,000 of them women, were issued with an 'Essential Work Order' telling them where they had to work by 1945. In 1943, 12,500 people were found guilty of refusing to work where they were told.
Freedom of speech was also curtailed. Members of the Peace Pledge Union, Independent Labour Party members, anarchists – and also fascists – were imprisoned under defence regulation 18b for voicing opposition to the war. Churchill said, 'I do not see why if Mosley is confined, subversives and communists should not be equally confined'.
Today many people are demanding that the government act decisively. Would those same people be willing to accept that their rights would be taken away, if government were to order people to stay at home or to turn up for allocated work? Already the government has proposed a £1,000 fine for those refusing to self-isolate. Would the government's critics be prepared for a modern-day equivalent of regulation 18b that prevented people from undermining the effort against coronavirus?
One interesting aspect of war mobilisation is that, even with extensive powers, the authorities found out that you could not make people do things that they did not believe in.
Evacuation is a topical example. The government ordered the evacuation of children from towns, claiming this was necessary to keep them from the danger of the Blitz. But the government had another motivation. The authorities hoped that if children were out of the way, people would work harder at essential war work. As many as a million-and-a-half people were moved from towns and cities in the first days of evacuation. But quite soon, most of the adult evacuees had returned. People voted against evacuation with their feet.
Today's coronavirus planners are well aware that lockdowns in British towns and cities might be observed initially. But quite soon, many – if not most – would be avoiding the strictures, just as they avoided evacuation during the war.
The most decisive consequence of wartime mobilisation for most people is that they had to work a lot harder than they did before. Women who did not work were sent to the factories, men were sent to the front, and working hours were cranked up to 50 and, in some cases, 60 hours per week. Everybody understood that to get more out, you had to put more in.
By contrast, most people today are planning to get through the emergency by watching Netflix and ordering from Uber Eats. Those demanding more extensive home isolation seem to have forgotten that a society cannot consume if it does not produce. As Karl Marx wrote to a friend back in 1868, 'Every child knows a nation which ceased to work, I will not say for a year, but even for a few weeks, would perish.' This is why the government has been reluctant to close schools, knowing that it would stop many parents going to work. Already people working in bars and hospitality are losing their jobs and their incomes – with great damage to their health along with everything else.
What the comparison with the Second World War ought to show us, most of all, is that we are not at war. Coronavirus is a health emergency and it will cause real hardship. But it is in no way comparable to the Second World War. Perhaps the best lesson to draw from 1940-45 is the one that Hunter Davies did – that people are pretty resilient and can cope with circumstances which are a lot worse.
James Heartfield is author of The Unpatriotic History of the Second World War, , published by Zero Books. Order a copy here.
To enquire about republishing spiked's content, a right to reply or to request a correction, please contact the managing editor, Viv Regan.