Stop snarking at those Illinois protesters
We should all be wary of the authoritarian consequences of lockdown.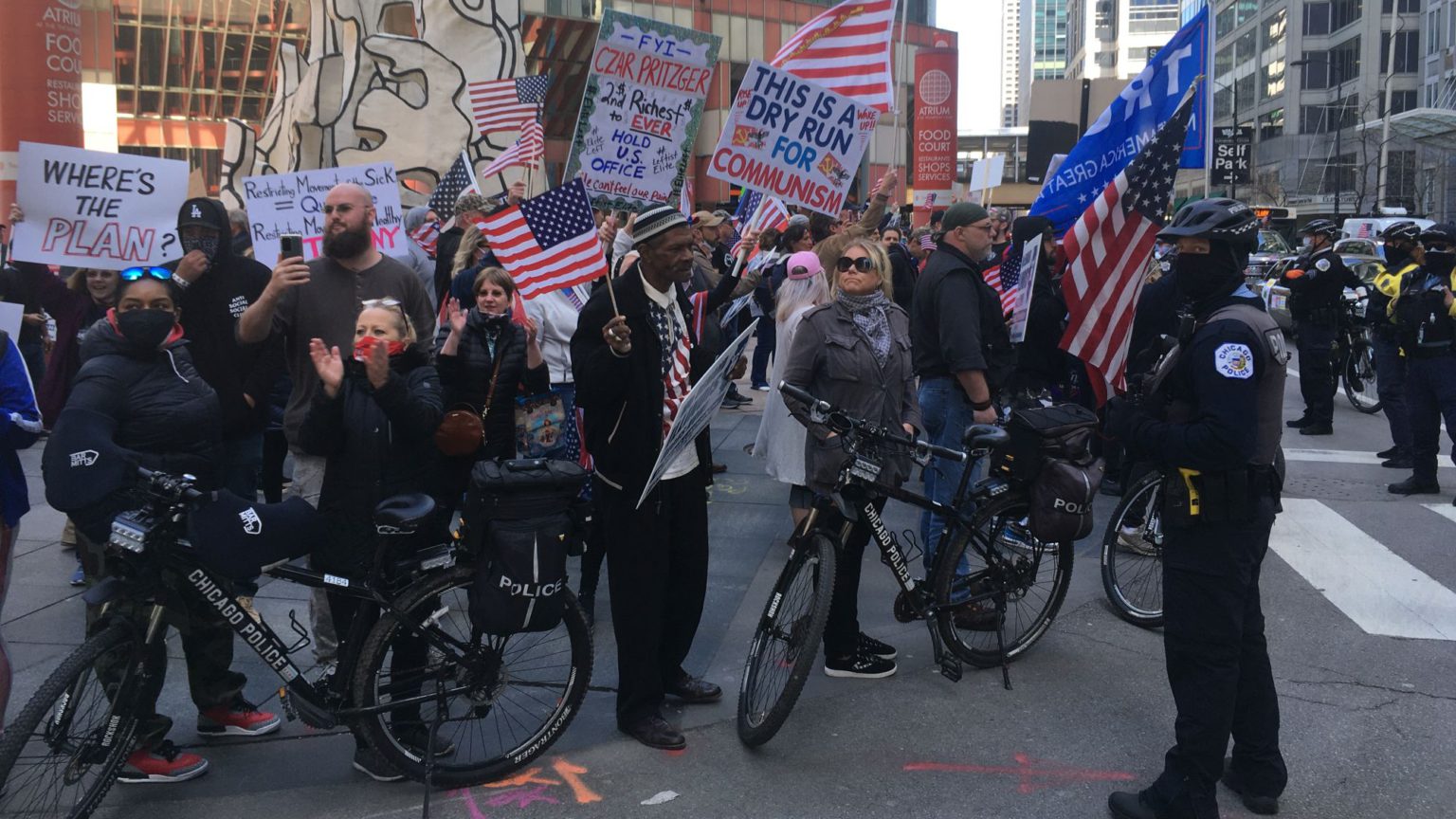 The spectre of Communism seemed to haunt the 'Re-Open Illinois' rally in Chicago, Illinois last week. Hundreds gathered to protest against the 30-day extension of the stay-at-home order issued by Governor JB Pritzker, which is intended to stop the further spread of Covid-19. Hundreds more were reported to have gathered in front of the state capitol in Springfield.
'This is a dry run for Communism', a prominently displayed banner read as family vans, pick-up trucks and Harley-Davidsons roared past the crowd, blowing their horns and roaring their engines in approval at the normally jammed intersection of Clark and Randolph in the city's famous Loop. Another sign, held up by local sports ticket broker Mark Savidge, declared that 'Socialism is death'.
It seemed that some in attendance were more concerned about creeping Communist dystopia than the lockdown itself. But despite the obvious prevalence of MAGA and otherwise Trump-themed gear, the centre of political gravity among the participants was not easy to pin down.
Members of the Trotskyist Socialist Workers Party (SWP) mingled among the crowd, selling copies of their newspaper, The Militant, for donations. Randy Jasper, a soybean farmer and fellow traveller of the SWP, had come south from the small village of Muscoda, Wisconsin, to participate – not necessarily out of sympathy with the protesters' politics, but to voice his opposition to mass layoffs and to call for better worksite protections. 'I don't want to go back to normal', he qualified, 'not under capitalism'.
The most audible counter-protest across the street was led by members of the equally anti-capitalist Revolutionary Communist Party, USA, a small sect held together since the 1970s by its guru, the elusive Bob Avakian. 'How do we get out of this mess?', intoned a masked RCP member through a bullhorn against the noise of the main rally. 'Revolution – nothing less', the other four responded.
Many other colours of contemporary American political opinion were noticeable throughout the rally, turning the affair into a potential petri dish of democratic experimentation – and hopefully nothing more.
'I expect a spark of cases', warned Paul Pater, who works as a nurse, and was among those countering the 'Re-Open Illinois' protest. Clad in personal protective gear, he and his fellow nurses predicted dire outcomes two weeks down the road from the rally. They stood by steadfastly at the margins, each at least six feet away from the other. Pater said he has seen colleagues succumb to Covid-19 and is afraid that another huge wave of cases would hit local hospitals as a result of the protest. His handmade sign reminded onlookers that the total number of fatalities from the virus in the US has far exceeded the number of American casualties during the Vietnam War. 'I guess America is great again', it concluded.
But science didn't seem to be on top of many protesters' minds. To most, Governor Pritzker's constitutionally questionable extension of the stay-at-home order, handed down by executive fiat with no legislative input, challenged their basic rights as citizens.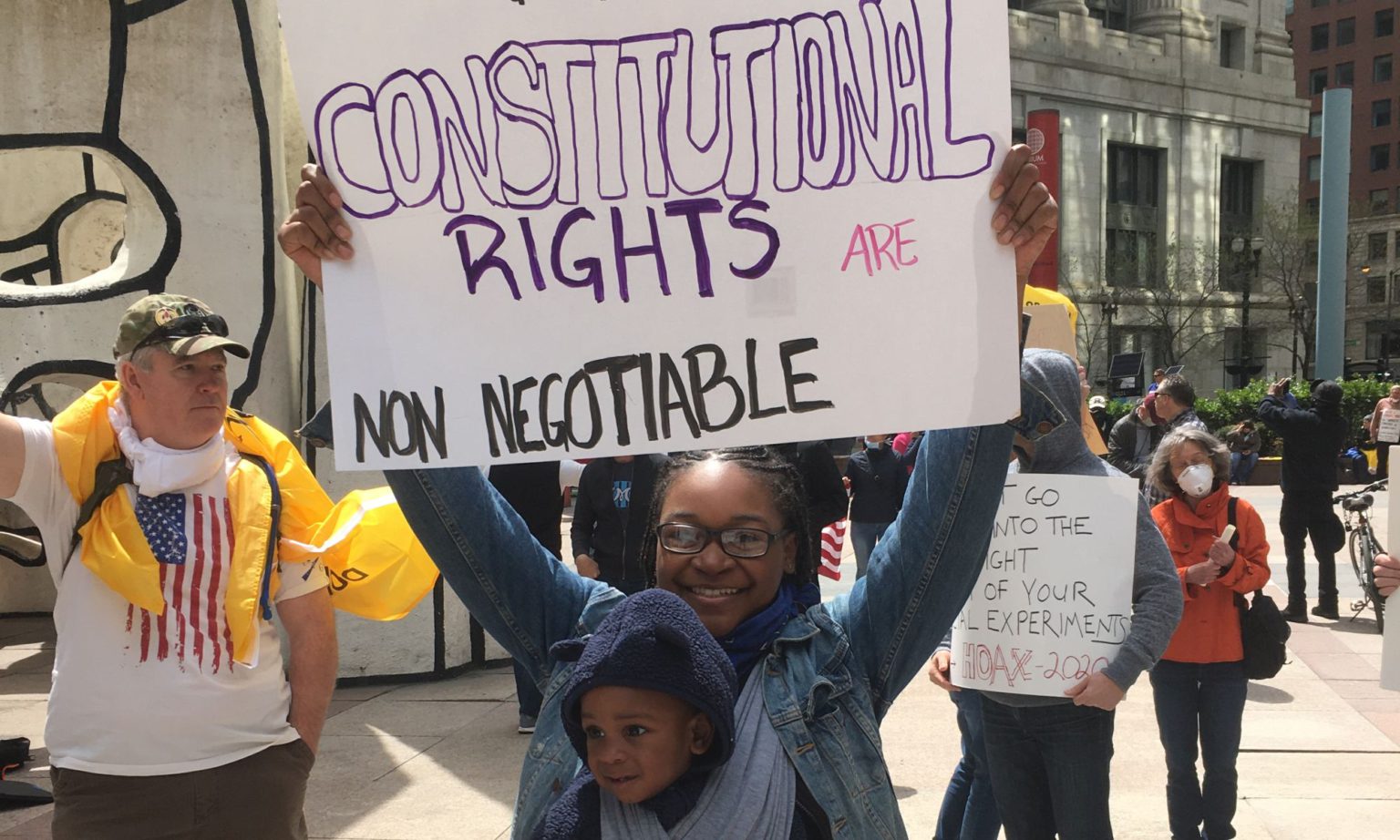 Lenise, a stay-at-home mom, at the 'Re-Open Illinois' protest in Chicago.
Lenise, a stay-at-home mom from the South Side of Chicago, was concerned first and foremost for 'my rights'. Rosie and Spencer, a young married couple from the trendy Logan Square neighborhood, agreed with the sentiment, but the libertarian-minded couple frowned at the prevalent MAGA attitude at the rally.
There are those who will snark at these protesters. But we should all be more wary of the autocratic tendencies of supposedly disinterested technocrats. Their claim to benevolent leadership has taken several beatings throughout the years, as rising inequality, a lack of democratic accountability, and senseless foreign-policy adventures have drawn the rightful ire of millions of people around the world.
Let's hope that estimates that Covid-19 is far less fatal than initially presumed will turn out to be correct, and that Paul Pater and his colleagues will be given a much deserved break – upon which we should immediately turn to the urgent task of reviving American democracy.
Gregor Baszak is a writer based in Chicago. Follow him on Twitter: gregorbas1
To enquire about republishing spiked's content, a right to reply or to request a correction, please contact the managing editor, Viv Regan.