The Scottish lockdown is costing lives
Nicola Sturgeon's callous insistence on lockdown is a sign of her deeply authoritarian instincts.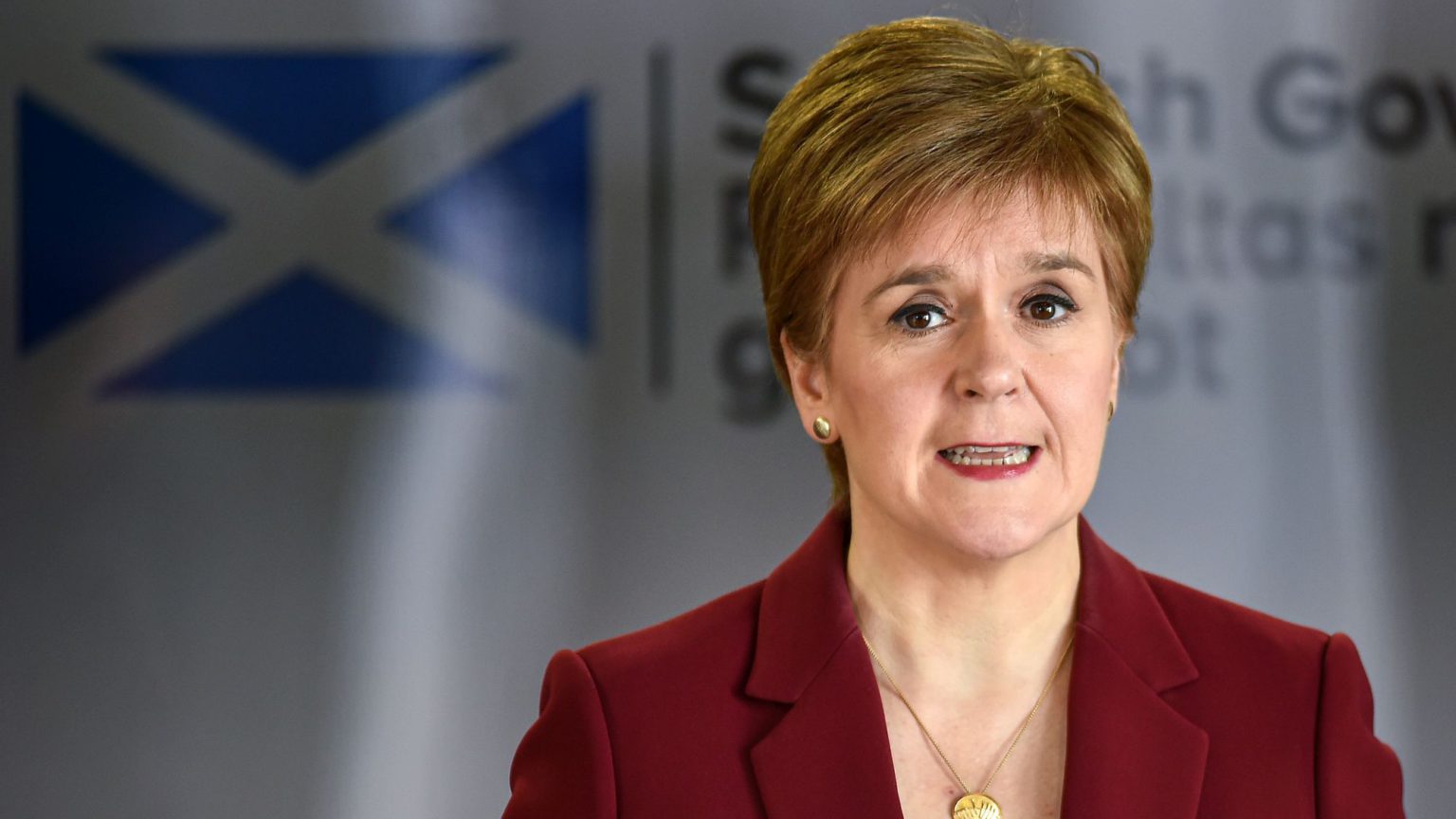 Some 26 days into lockdown, Scotland's first minister Nicola Sturgeon announced that it was the time to have an adult conversation with the Scottish public. At her daily briefing on 17 April, she announced the possibility that Scotland would be prepared to break with current Westminster policy on lockdown and begin to discuss the possibilities of an exit strategy:
'While we know the current lockdown measures are essential, we also know they bring serious consequences… I want to stress again that the government will be as open as we can be. To be blunt, I will treat you the public as the grown-ups that you are and will try to share the really difficult judgements and balances we will have to strike.'
For a brief moment, it genuinely seemed that rather than trying to contradict Westminster for contradiction's sake, the Scottish government was contemplating easing the conditions of lockdown in Scotland, based not upon 'silly political considerations' but on the evidence. There seemed a chance that the SNP might take a lead in easing society out of the Covid-enforced lockdown.
However, within a matter of days, that hope was firmly quashed. John Swinney, deputy first minister and education minister, announced that Scottish schools would remain closed for the 'foreseeable future' and may not open until at least the new school year (which in Scotland usually starts in the second or third week of August).
There is now acceptance within the scientific community that there have been no recorded instances of a child passing the virus to an adult. This would suggest that if one were to follow the science, a measured approach on opening schools could be a very realistic option in moving out of lockdown. However, the Scottish government's stance seems to be that if the evidence fits, use it – if it doesn't, ignore it.
Amid media reports that the UK government would announce a relaxation of the lockdown over the May bank holiday, Sturgeon insisted that the Scottish government would 'not be pressured into lifting restrictions'. 'It is not an exaggeration to say decisions now are a matter of life or death', she said. And so following Boris Johnson 's television address on Sunday evening on a partial easing of restrictions, Sturgeon announced there would be no such relaxation in Scotland.
Tragically, it is becoming increasingly clear that the decision to enforce lockdown is a driving cause of Covid deaths in Scotland. Without doubt, the elderly have been by far the biggest casualty of the lockdown. From the outset, a policy that demanded that the section of society most at risk from the virus should be confined together in care homes, without first being tested, was a recipe for disaster. Speaking on Radio 4's Today programme this week, John Swinney was unable to confirm categorically that elderly paitents were not being sent back to care homes without first making sure they were virus free.
According to data published by the National Records of Scotland, as of 3 May, of the 2,795 deaths reported in Scotland in which Covid-19 was mentioned on the death certificate 43 per cent had occurred in care homes. Of other related deaths, 49 per cent have occurred in hospital. A staggering 75 per cent of all deaths involving Covid-19 – some 2,000 individuals – have been among people aged 75 or over. There is little doubt that the Scottish government's persistence with telling its citizens to 'Stay home, Protect the NHS, Save Lives', will continue to prove fatal for Scotland's elderly.
Even Sturgeon's own scientific advisers seem to think continued lockdown is wrongheaded. Mark Woolhouse, professor of infectious disease epidemiology at University of Edinburgh, says a key feature of the Covid-19 virus is that its transmission rate reduces significantly outdoors. The consequence of persisting with lockdown, he suggested, would be further deaths – coronavirus-related or otherwise.
The SNP's persistence with lockdown has little to do with fighting Covid-19 as a disease. Rather, it expresses the party's entrenched antagonism towards the freedoms of ordinary Scottish citizens. As early as 29 April, Martin Kulldorff, professor of medicine at Harvard Medical School, argued that lockdown was not an effective way to fight Covid-19 as a disease. In fact, he pointed out that a policy of lockdown transforms a medical problem into a problem of social control. Once social containment becomes the principal objective, this actually intensifies the impact of the virus on the most vulnerable sections of society.
The recasting of the crisis in this way speaks to all of Sturgeon's authoritarian and technocratic instincts. It is no coincidence then, that exactly a month into lockdown, on 23 April, the SNP introduced its Hate Crime and Public Order Bill to the Sottish parliament. This legislation represents the most draconian attack on free speech and freedom of thought in recent Scottish history.
The hate-crime proposal follows a number of attempts by the Scottish government to curtail and restrict Scottish people's legal and social freedoms. Take, for instance, the Named Person scheme, which was eventually scrapped last year after much of the programme was found to be in breach of human-rights law. Then there was the Offensive Behaviour at Football and Threatening Communications Bill, which was repealed in 2018 after a mass campaign of opposition in defence of civil rights.
These initiatives clearly illustrate the SNP's socially authoritarian instincts. Far from being an exceptional measure taken under exceptional circumstances, the lockdown offers a vision of the SNP's ideal society. The lockdown measures introduced on 23 March are in the same vein as much of the social legislation that the SNP has attempted to introduce since coming to power in 2007. The decision of the SNP to extend lockdown is symbolic of a Scttish political class whose instinct is to cajole, corral and confine Scottish society. And the tragedy that is unfolding in Scottish care homes is a horrific result of that instinct.
Far from treating the Scottish people as the adults we are, Sturgeon's SNP has sought to cynically use the current crisis to undermine the autonomy and freedoms of Scottish citizens further. 'Social distancing' has been a political strategy of the SNP that predates the current Covid-19 pandemic by some distance. The current crisis has only served to speed up this process. The SNP's callous insistence on lockdown and wilful disregard for its harms does not bode well for the Scottish people, young or old.
Carlton Brick is a lecturer in the school of education and social science at the University of the West of Scotland.
Picture by: Getty.
To enquire about republishing spiked's content, a right to reply or to request a correction, please contact the managing editor, Viv Regan.