The terrifying dystopia of the 'new normal'
Let's hope that socially distanced strip clubs, politicians channelling Big Brother and fake crowds don't last forever.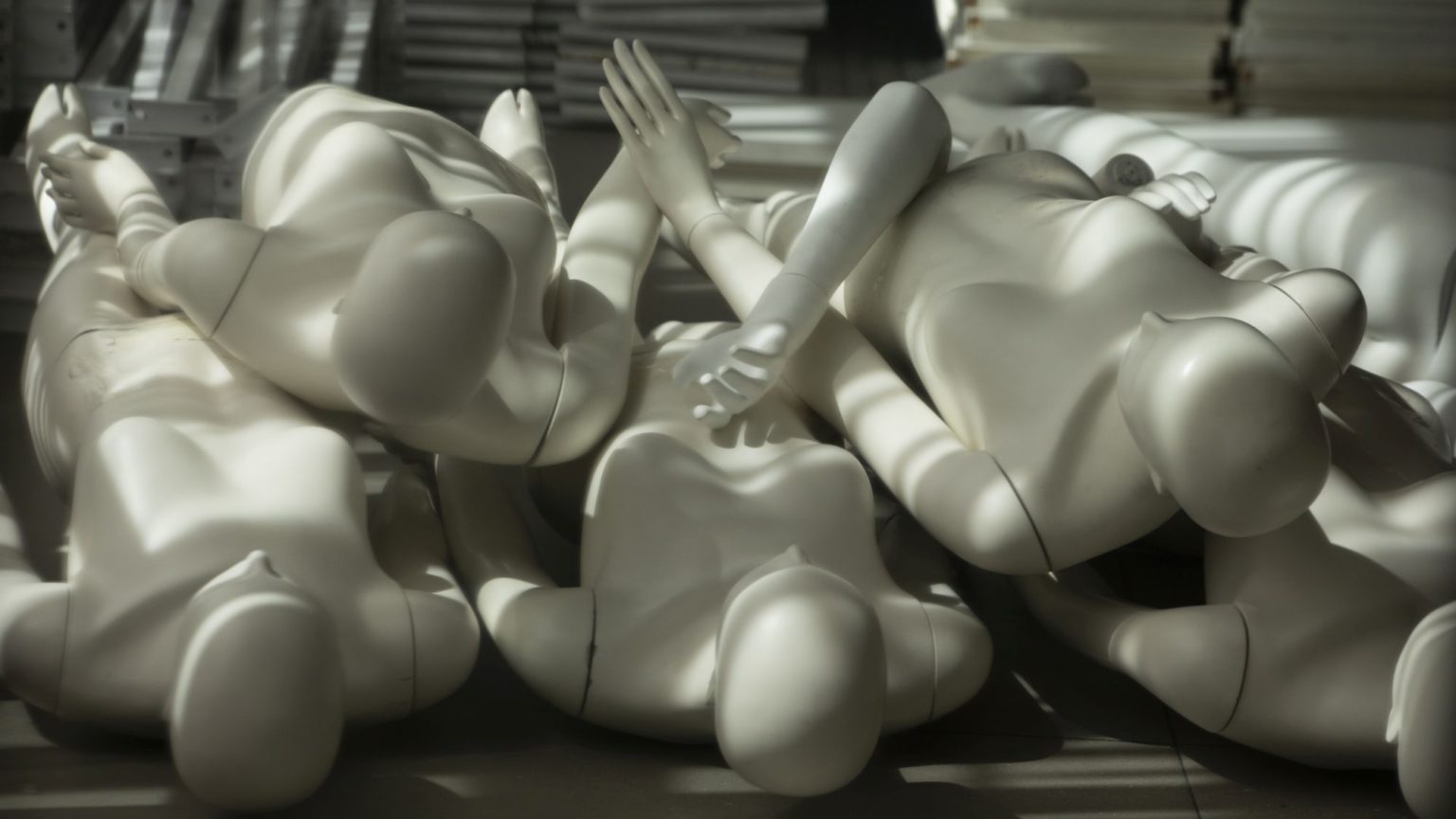 We are constantly told that society will not return to normality any time soon – if indeed it ever will. Instead, we are supposed to get used to the 'new normal'. If the following examples, amusing as they are depressing, are anything to go by, then that new normal will be utterly dystopian.
Drinking, dining and debauchery
A bar in Maryland in the US has invested in large, mobile discs, supported by trolleys, for customers to wear around themselves, allowing them to drink at a safe distance from each other.
Maryland Bar Goers Flock to Seafood Pub in Giant Inner Tubes, Coming Soon https://t.co/o2YPNUnEOd

— TMZ (@TMZ) May 18, 2020
Meanwhile, a cafe in Schwerin, Germany, distributes hats with children's swimming floats attached to remind disobedient patrons not to stray too close to others.
A cafe in Germany has celebrated its grand reopening to customers after lockdown by handing out hats with pool noodles attached to the top in order to maintain social distancing https://t.co/3mXt0v3u3A

— CNN (@CNN) May 17, 2020
In Oregon, USA a strip club found a way around the lockdown rules barring non-essential businesses by diversifying its offering. The club has transformed itself into a drive-thru eatery, which also happens to have mask-clad performers providing entertainment for drivers awaiting their food orders.
These Reuters photos of a strip club in Oregon operating as a drive through takeaway service confirm that we have reached the neon anime sci fi part of our future dystopia. pic.twitter.com/kRKOVz5CWE

— Sean Craig (@sdbcraig) April 30, 2020
Crowd trouble
Many sporting fixtures will be played behind closed doors or in empty stadia, creating an eerily quiet atmosphere.
TV coverage of the NFL is set to feature artificial crowd noise to compensate for the absence of fans. This is 'pretty much a done deal', according to Fox Sports reporter Joe Buck. He also suggested images of crowds might be used to make the experience for TV viewers as close to the real thing as possible.
Get ready for fake crowd noise, virtual fans if stadiums aren't open in 2020 https://t.co/cd89uPraNV

— ProFootballTalk (@ProFootballTalk) May 14, 2020
South Korean team FC Seoul has used an alternative approach, 'accidentally' placing sex dolls – seemingly socially distanced from one another – in the stands, in place of human supporters. The dolls were even equipped with masks to send the right message.
South Korean club FC Seoul have apologised after accidentally using sex dolls as an alternative to real fans: https://t.co/l9tgnCcgFc pic.twitter.com/4a9JzVNX7R

— ESPN FC (@ESPNFC) May 18, 2020
Similarly, the French version of the karaoke show Don't Forget the Lyrics! has replaced its live studio audience with balloon mannequins, some of which have screens to beam in people's faces from home.
This French TV show has solved social distancing issues by replacing its studio audience with creepy balloon mannequins. pic.twitter.com/yZP97N8dOm

— Chuck Thomas (@chuckthomasuk) May 13, 2020
Socially-distanced politics
Serbian president Aleksander Vucic held an online rally via Zoom, giving a speech surrounded by screens showing his applauding supporters.
The President of Serbia just held a virtual rally with his supporters clapping via video stream. Looks very dystopian and creepy.
pic.twitter.com/3O7yuvm9r2

— Sergej Dojcinovic (@Serdjosega) May 16, 2020
The UK's health secretary, Matt Hancock, was channelling Big Brother last month when he made an announcement via a giant screen beamed at socially distanced doctors and health workers. The staff were even formed in orderly lines to receive the wisdom pouring forth from Hancock's supersized head.
Matt Hancock appeared at the NHS Nightingale hospital in Birmingham via videolink.

?: Jacob King / POOL / AFP pic.twitter.com/IaZ1dQ16pb

— Aubrey Allegretti (@breeallegretti) April 16, 2020
The 'new normal' is starting to look like a living nightmare.
To enquire about republishing spiked's content, a right to reply or to request a correction, please contact the managing editor, Viv Regan.