That racist dog walker reminds us that women can lie
There is an uncomfortable racist history in the desire to 'believe all women'.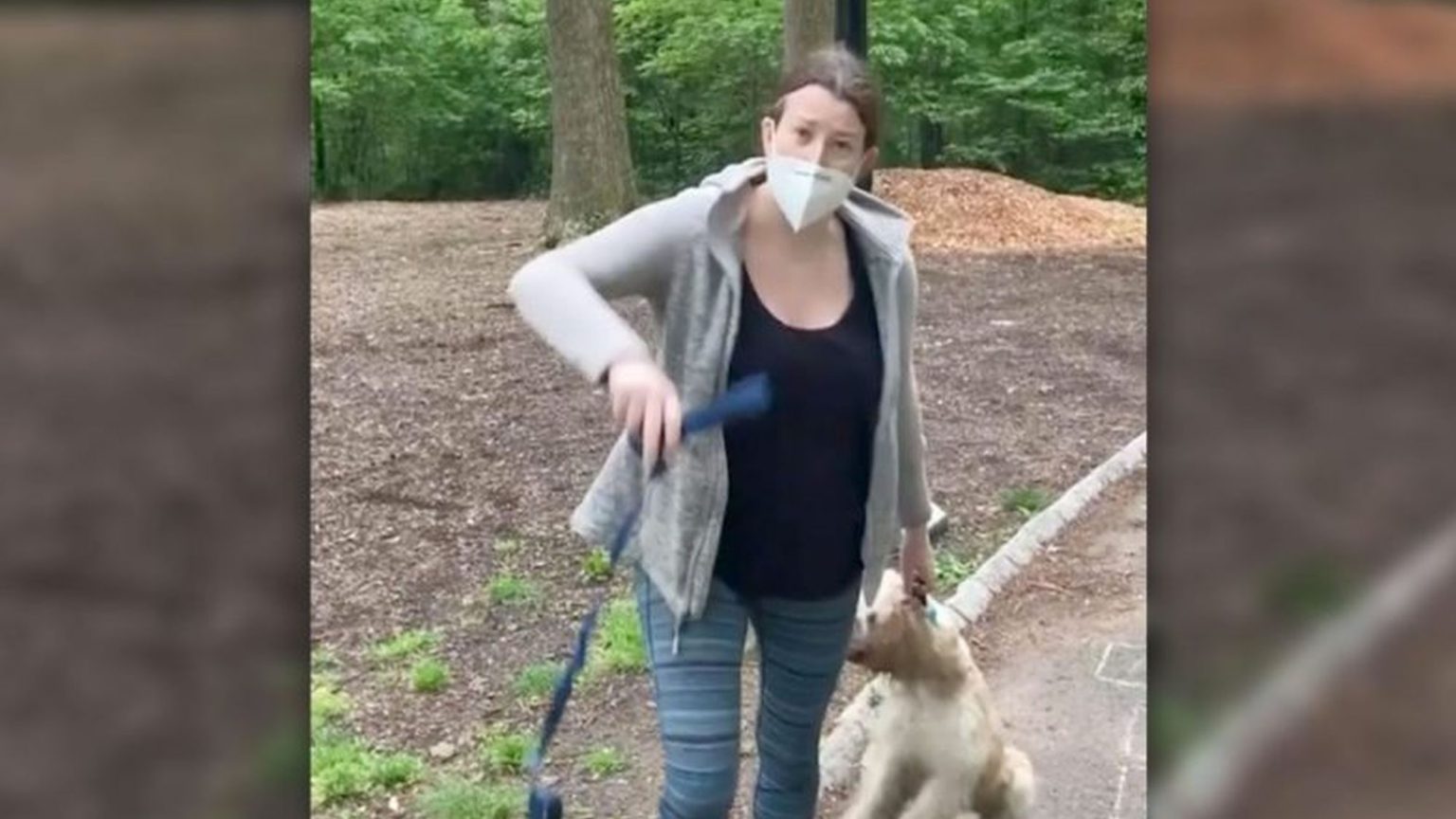 Many seem unwilling to admit the fact that women are capable of telling lies. Recent political movements, particularly the #MeToo movement, promote slogans and hashtags like #BelieveWomen or #IBelieveHer. They play to an image of women as angels. In reality, we women are capable of all kinds of things – good and bad – just like men. A recent lie, told by a dog-walker in New York, reveals the dangerous consequences of believing everything a woman says.
Last week, a video of an altercation between a white female dog-walker and a black male birdwatcher went viral. Chris Cooper had been walking through the Ramble in Central Park, New York, a much-loved spot for wildlife enthusiasts where dogs are supposed to be kept on leads. Cooper bumped into a white woman whose dog was not on the lead and he asked her to adhere to the rules. When she refused, he began filming the altercation on his phone. The woman threatened to take his phone and then called the police, while Cooper remained calm and polite. When she realised she wasn't going to win this particular battle, the woman lied, telling the police in a hysterical shriek: 'There is a man, African American… he is recording me and threatening me and my dog… please send the cops immediately.'
Some have found the video shocking – others have reminded people that this is hardly surprising at all. There is a long and ugly history of white women lying about what black men have done to them in America. Most infamously, 65 years ago, 14-year-old Emmet Till was beaten, murdered and dumped in the Tallahatchie River in Mississippi because Carolyn Bryant told her husband Till had flirted with her at a grocery store. No one asked whether Bryant had lied, no one questioned whether a young boy deserved to die for looking twice at a white woman, and no one has ever been convicted of Till's murder. In 1949, four young black teenage boys – since known as the Groveland Four – were falsely accused of attacking and raping a white woman. Two were murdered, two were jailed; all were pardoned posthumously in 2019. In 1989, the Central Park Five (five teenage black and Hispanic men) were wrongfully convicted of the rape and assault of a jogger based on coerced and false confessions. The case was recently adapted into a Netflix series called When They See Us. At the time, Donald Trump spent $85,000 on adverts calling for the five boys to face the death penalty.
There are more recent examples, too. Many liberals love and defend Title IX – the legislation which polices sexual-harassment claims on university campuses – despite the fact that black male students have been falsely accused by their white female peers on too many occasions. For instance, AJ Johnson and Michael Williams were acquitted in 2018 after four years of hell. They had been falsely accused of rape by a white woman who, it appears, was embarrassed that she had engaged in group sex. Justin Browning and Alphonso Baity were expelled from the University of Findlay, leaving their sporting careers in tatters, just one day after an uncorroborated accusation of rape was lodged against them. Kwadwo Bonsu was a student at the University of Massachusetts who was accused of sexual harassment and assault after a white woman decided that the consensual blow job she gave him had 'violated her'. Title IX is supposed to offer protection for female students, but as I have explained before on spiked, the policy of believing women without the necessity of evidence or context means that injustices abound – and minorities are overrepresented among those accused.
Christopher Cooper's video of the woman in the Ramble lying to the police is a reminder of the stain of racism in America. On the same day, Minneapolis police officer Derek Chauvin knelt on George Floyd's neck until he was dead. The only thing Floyd was accused of was using a fake $20 bill at a grocery store.
The woman in Cooper's video knew the implications of the lie she was telling. At best, she wanted to use the threat of police violence to scare Cooper off; at worst she was trying to elicit a brutal police response by signalling that a black man was threatening a white woman. If Cooper had not been filming, this could have played out very differently.
Cooper has acted incredibly graciously in the aftermath of this event. He has accepted the woman's apology and has even come to her defence by arguing that her life shouldn't be ruined by one interaction.
Nevertheless, incidents like this bring home the danger of the post-#MeToo desire to believe that all accusers of harassment, assault or rape are survivors and victims who are telling the truth. We know that rape and assault still happen, and is disproportionately carried out by men against women. But we also know that women – like men – have the capacity to do terrible as well as wonderful things.
Police racism in the US is a serious issue that must be dealt with – but we also need to accept that there is a history of women knowingly weaponising prejudice. We should stand in solidarity with everyone fighting against racism today, and argue for the destruction of unjust systems – and that includes Title IX.
To enquire about republishing spiked's content, a right to reply or to request a correction, please contact the managing editor, Viv Regan.