The pointlessness of toppling Edward Colston
This bizarre war on the past will do nothing to carve out a better future.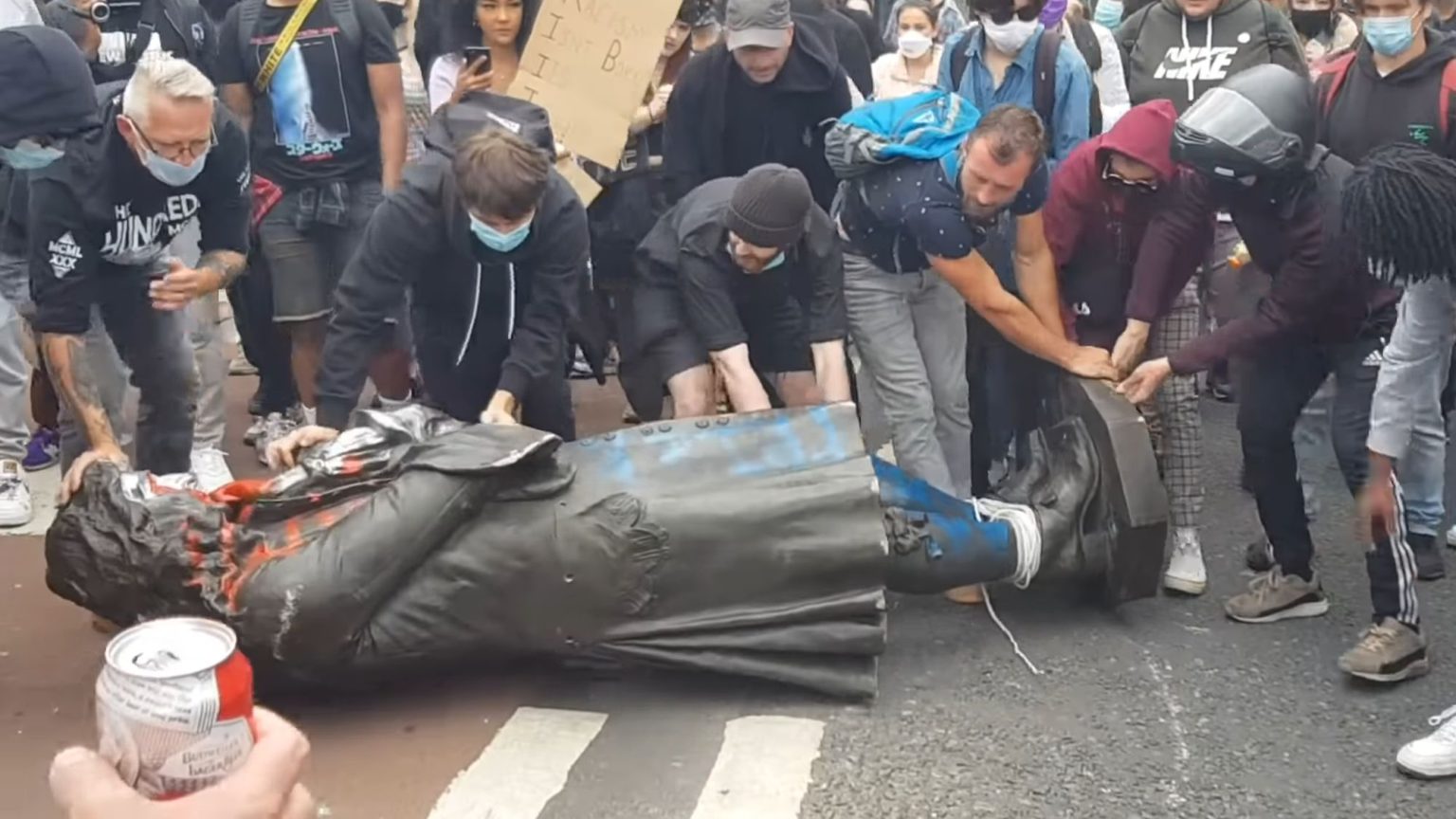 Few will lose sleep over the toppling of the statue of Edward Colston, the 17th-century merchant, philanthropist and slave trader, by protesters in Bristol yesterday.
He was a member of the Royal African Company, which transported around 80,000 men, women and children from Africa to the Americas. They were branded like cattle. Thousands didn't even survive the crossing, such were the inhuman conditions they were kept in.
But we shouldn't celebrate the toppling of the statue, either. For it symbolises some of the more strange and regressive aspects to this new 'anti-racist' movement that has burst on to our streets and TV screens in recent days.
The enduring status of Colston in Bristol is a source of long-running controversy. Born in the city, he used his ill-gotten wealth to fund almshouses and schools. His name is immortalised on street names and buildings across the city.
More than that, there are still annual ceremonies held in his honour; the plaque on that now-vacant plinth declares him one of Bristol's 'most virtuous and wise sons'.
Some have long argued for explanatory plaques to be added to his monuments, to put his legacy in context, or for the statue to be moved to a museum. In any case, it is (or should have been) a matter for residents to decide.
But the frenzy with which a mob of protesters yesterday pelted the statue with paint, ripped it down, stomped on it, rolled it to the harbour, and then tipped it into the water was, frankly, unhinged. It reportedly took place little more than 90 minutes after the city's planned Black Lives Matter march began.
That so much energy was invested in this stunt speaks, at best, to some pretty barmy priorities – on the part of these supposed radical protesters and the commentators who greeted the moment Colston hit the water with glee and clapping emojis.
The most charitable reading of it is that it was a kind of mob virtue-signal – a bold statement that slavery was bad; a showy piece of gesture politics that will not improve the lives of black Bristolians in any meaningful, material way.
But it is actually much worse than that. This growing obsession with what are, at the end of the day, inanimate objects is one expression of the stifling politics of victimhood that has engulfed anti-racist politics, and a warped view of history that accompanies it.
Like the Rhodes Must Fall campaigners at Oxford before them, who in 2015 campaigned to have Oriel College's statue of the long-dead colonialist Cecil Rhodes removed, these protesters believe these statues are not just reminders of a more racist past, but also of our almost-as-racist present.
As one writer put it, celebrating the toppling of Colston, 'history is not confined to the past'. 'Modern Britain was literally built by slavery and colonialism', she says. 'Our relationship to historical figures like Colston is important because these figures wrote the blueprint for the world we exist in today.'
History here is not something we should work to understand, to better understand the past, to guide our actions in the present, and to shape our hopes for the future; rather, it is a kind of dead weight around the necks of the historically oppressed that continues to impact upon their descendants in the here and now.
Where previous radical movements saw ordinary people as having the ability to make history, today they are presented as forever burdened by it. The huge leaps forward achieved by popular struggles for equality are downplayed; hundreds of years of progress are, to use a favoured word of these identitarians, 'erased'.
This tendency to see history as a simplistic morality play, and to see every facet of history and modern life as tainted by racism, also leads to the jettisoning of far more positive, if flawed, historical figures.
For months, students in Manchester have been agitating to have a statue of Mahatma Gandhi taken down, due to his racist views about Africans. Now there is talk that Westminster's Oliver Cromwell statue should also get the Colston treatment, due to his persecution of the Irish.
That even the father of the biggest democracy the world has ever known, and the man who toppled the king and transformed England into a republic, can be reduced to just two more racists suggests almost no historical statue is safe from these Year Zero zealots.
This bizarre war on the past will do nothing to change the present or carve out a better future. Worse, it risks ingraining a sense of profound pessimism that insists almost nothing has changed for 400 years, and that ordinary people in general, and minorities in particular, are the near-permanent victims of history.
Forget Colston – it is this bleak, debilitating worldview that needs to be toppled.
Tom Slater is deputy editor at spiked. Follow him on Twitter: @Tom_Slater_
To enquire about republishing spiked's content, a right to reply or to request a correction, please contact the managing editor, Viv Regan.