'Social distancing will damage our children'
Liz Cole, founder of UsForThem, on the devastating impact of Covid measures on children.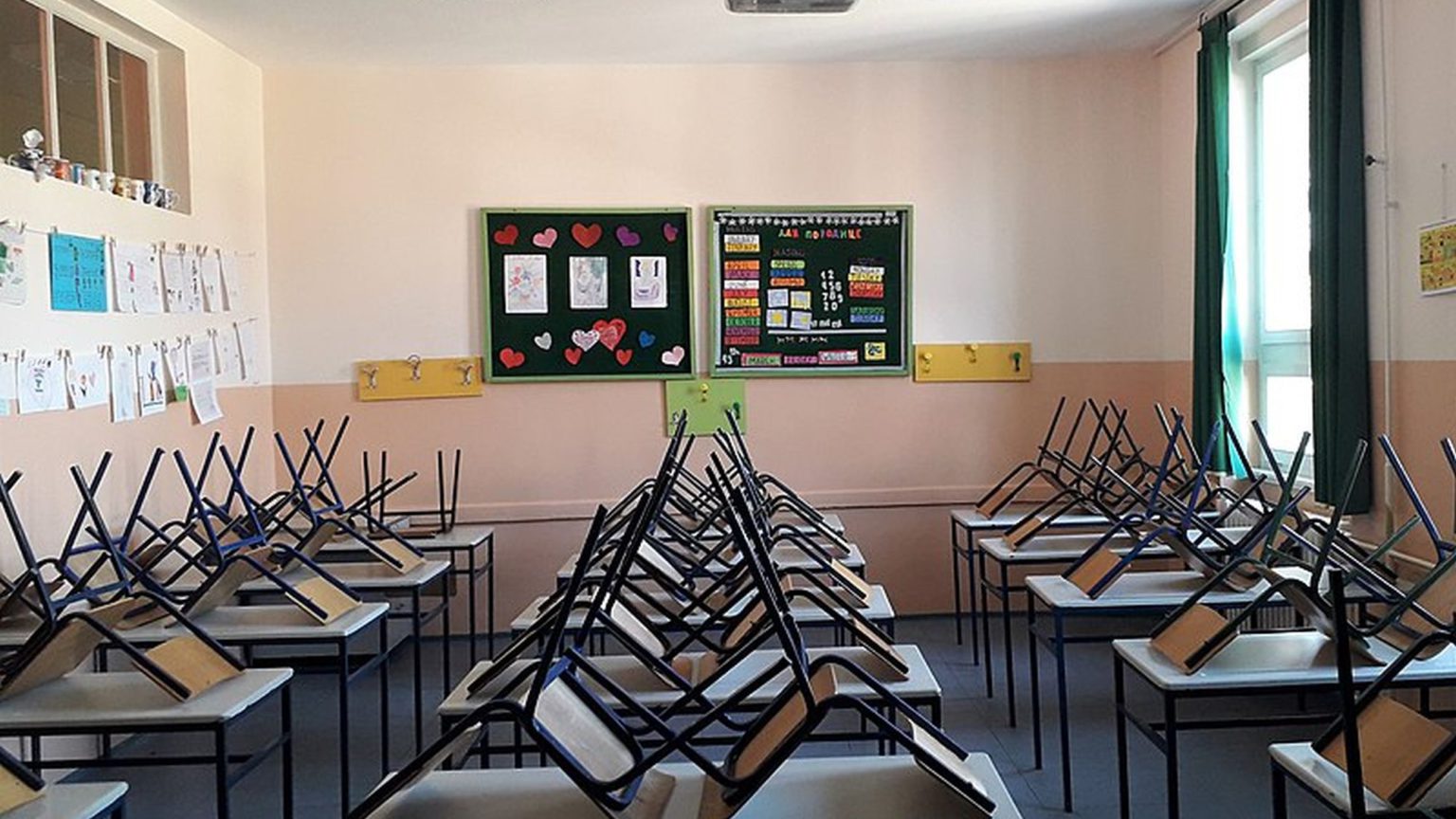 After nearly three months of closure, some schools are reopening in the UK. For lots of children and parents, this is a welcome end to a difficult period of homeschooling and of isolation from both friends and teachers. However, some parents have raised concerns about the social-distancing measures that have been put in place as conditions for schools to restart teaching. Liz Cole is one of the founders of UsForThem, a new campaign group that is calling both for all schools to reopen without delay, and for social-distancing measures to be abolished. spiked caught up with her to find out more.
spiked: What impact are the lockdown and school closures having on children?
Liz Cole: The impact on children has been very well documented. The closures have affected the education of a whole generation of children. But it has also been acknowledged by the government itself that almost seven in 10 respondents to a Department for Education survey reported school closures had impacted on their child's mental health. Almost three in 10 said it had impacted on their child's physical health. That survey was published back in April.
There was also a piece in the Guardian discussing the breakdown of safeguarding of children. School is often the safest place for children to be. One of the arguments being made is that provision is there for vulnerable children to be in school, but we know that many vulnerable children have actually not been in school. The government has admitted it has no evidence for how many vulnerable children are actually in school and where those children are.
There is also a growing body of evidence about the longer-term mental-health impact on young people. There is a paper by Loades et al, which suggests the loneliness resulting from these disease-containment measures, including school closures, will be associated with subsequent mental-health problems. It points out that the length of loneliness is a key factor, so as time goes by, this is only going to get worse.
The government really needs to be taking this into account. Of course, most schools are going to be unable to open for full-time education with these social-distancing measures in place, and we are now hearing that disruption is likely to continue into next year. This is a real concern for children's wellbeing.
I am a parent of two daughters. One has gone back to school, into a socially distanced environment. But the other has got no date for her return, and I can see the impact on her. We are in a good position because we have a garden and she is able to use a laptop to do work remotely. But she is working in isolation, and has no contact with teachers in any meaningful way. It is very hard as a child to keep positive and keep your wellbeing up, and that does worry me.
We have received some really troubling messages from people whose children are struggling with depression. Every day that goes by with schools closed, more damage is being done to children. And now we are talking about extended disruption and there is a lot of uncertainty about when this will end – that is very worrying.
spiked: Is it unrealistic to expect parents to keep homeschooling their children?
Cole: There is a thread on Facebook at the moment where parents are talking about feeling really guilty, because they have not been able to homeschool their children or have been finding it really hard to do it. Keeping up children's motivation and keeping a structured environment is really, really hard.
But the other aspect here is that many parents are also struggling with their own mental health and wellbeing. As time goes by, it is going to be much, much harder for parents to have the resources to draw on to support their children. While I know that many teachers are in school, key workers' children are in school and remote teaching is being provided, from what I have seen from the messages we have got, the content of that is quite variable. We have physical school settings for a reason. It is about peer support. It is about working together in groups. It is about having structure and developing attachments.
spiked: Are the social-distancing measures proportionate to the threat of Covid-19?
Cole: When we talk about proportionality, we weigh the benefits of whatever the intervention is against the harms. We do not believe these measures are proportionate to the risk. Let us look at the social distancing between children. These measures will harm children, and there is a vast amount of evidence for that. We know about the damage that has been done from isolating children for 12 weeks. Instead of sending children who are already damaged by lockdown back into a supportive, familiar environment, we are sending them into an alien one.
Social-distancing measures also seem to be being applied differently in different settings, which points to the lack of a clear directive being given by the government. We are hearing about 'bubbles', in which children can be split into groups, and those groups are not allowed to mix with one another. It seems very standard now that desks are two metres apart in schools. There are no soft toys, and there seems to be a question mark over books. Some schools are having children remain two metres apart at break time, and even wearing hula hoops. There is no sport or PE. Kids can pick up a ball, but nobody can catch it.
A British Medical Journal article stated that in any decisions affecting children, the needs of children should be a primary consideration, as per the UN Convention of the Child. But how do the present measures look to a child? Sitting two metres apart means you cannot work in a group. You cannot confide in a friend. There is no imaginary play. In some very extreme cases – and this is going beyond the social-distancing remit – it means being greeted by teachers in full PPE. One parent told us that her three-year-old was going into nursery and was greeted by three teachers in PPE. The child then saw the tape marks all over the ground and screamed and had to go home.
Children are largely unaffected by the virus itself – that is well established in the data. The mortality rate among children is very small, and they are a tiny percentage of confirmed cases. We have not found a single case where a child has passed the virus to a teacher. Children's role in viral transmission is being overstated. If we look just at the measures versus the risk to children, we can very clearly say that this is disproportionate. But we have to disentangle these things because this is not where the argument about proportion seems to be made.
The Department for Education's guidance on coronavirus protection in schools features a set of controls. It has four points. Three of them are: not going to school when you are unwell, hand-washing and hygiene, and cleaning the school. The social-distancing measure is the fourth one in the list. Given that we have three other measures we can use to suppress transmission, we have to ask if this fourth measure is proportionate to the damage that we know it will do to kids. We support respectful safety measures that do not damage children, but social distancing will damage them. Some of these nuances are not coming through in the discourse at all.
spiked: Are schools in poor areas with fewer resources going to find it harder to operate in this context?
Cole: Yes. Again, this is the variability of all of this: variable ways that the measures are being applied, variable resources that schools have available to do this. Obviously, private schools are going to be much better placed to implement these measures with more limited disruption. It is just deepening all of the inequalities that we know about. We know now that parents are beginning to make contingency plans for the children where they have the resources and the wherewithal to do so. But not every parent is going to be in that position. We are going backwards.
There are obviously also knock-on effects on gender equality and a whole host of other things, too. And the resources that the school has available will have a huge effect. If they had larger classes to begin with, then they are not going to be able to create these bubbles. We have actually heard about people who have gone into school, called back as part of the phased return, who went in for one day and then had to be sent away again because the schools could not support those people being in school. They had to keep places open for the children of key workers.
spiked: What has the experience of reopening schools been in other countries?
Cole: Many countries have reopened schools, with and without social distancing. First of all, there have not been spikes in new cases where schools have reopened. Norway, for example, opened schools in May with social distancing between children, but they have now rolled back those measures. In Sweden, schools have been open throughout the crisis and they have not had social distancing in place between children in schools. Cases of coronavirus have continued to fall there. They have just focused on the sensible, respectful hygiene measures. The Netherlands has also had schools open without social distancing between children. There is a false impression that social distancing is a given between children and that that is the only way for schools to be open. We know there are countries where they have either not done it at any point or did initially but have now chosen to end the measures and focus on hygiene.
There is another point which we are hearing about, which is the presence of infection clusters in schools. There is always a lot of attention where cases do emerge in schools. But there is a really good researcher called Alasdair Munro, who has written a number of papers about this. He posted a very sensible thread on Twitter, pointing out that these clusters are rare enough to be newsworthy. There are tens of thousands of schools open in countries where there is still active Covid-19, and recognising that is more informative than focusing on the clusters that are being splashed all across the papers.
What I find very shocking about all of this is the lack of discourse. What we have here is a situation where we are implementing damaging measures, and yet nobody in a position that would traditionally advocate for children has been asking whether they are proportionate. That is why we started the campaign, because, far from wanting to step into this situation, we just felt there is such a gap in public discourse that we had to do something.
With that in mind, we have written to the education secretary and we have an open letter to him on our website. We have also written to the Children's Commissioner, and we have written to a host of children's charities as well. We want to understand why these questions are not being asked.
Liz Cole was speaking to Paddy Hannam. Find out more about UsForThem here.
To enquire about republishing spiked's content, a right to reply or to request a correction, please contact the managing editor, Viv Regan.