Enough with this authoritarian gesture politics
Ten years in prison for desecrating a war memorial? The Tories have lost the plot.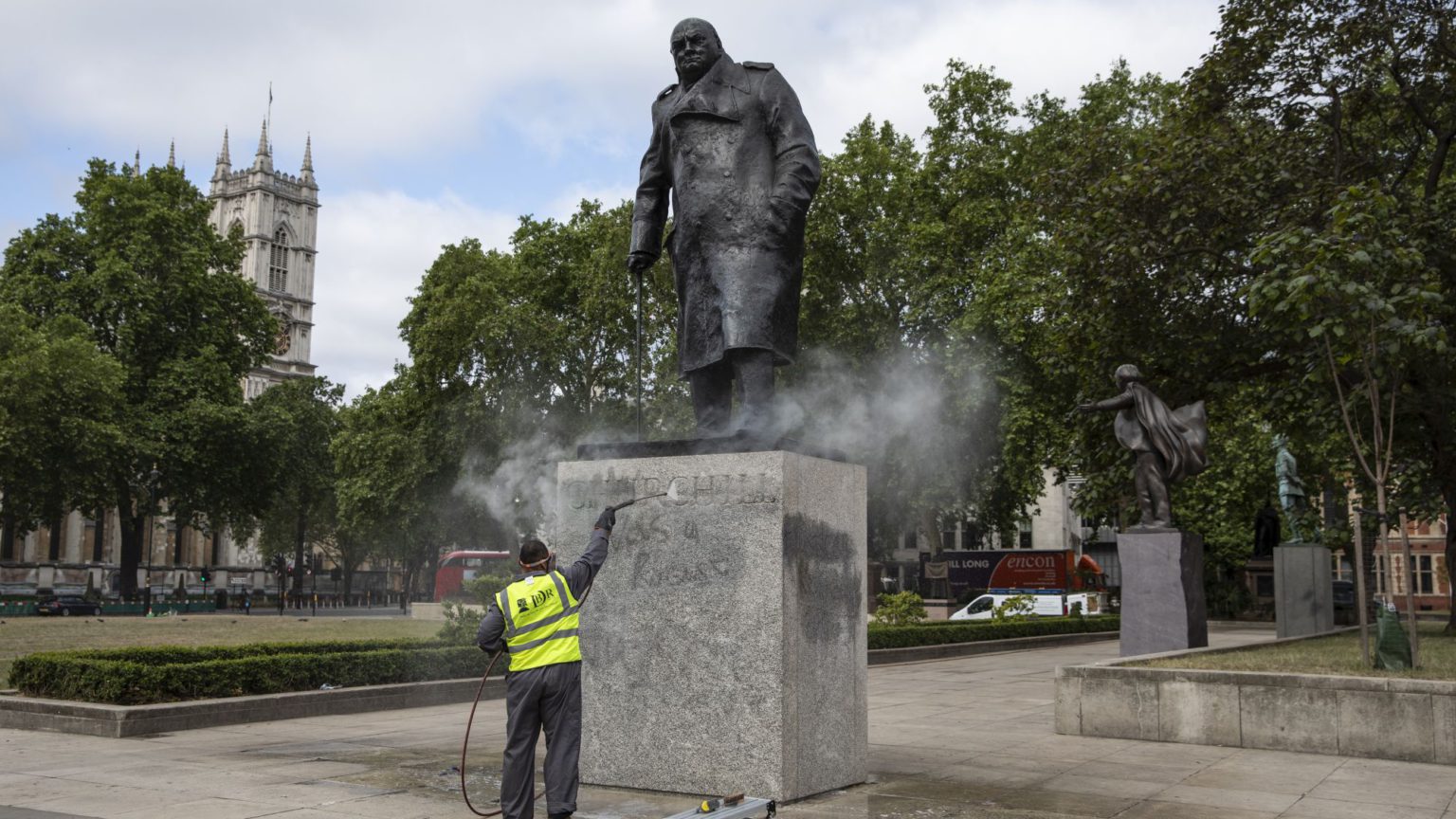 The Tories are in disarray. On the defensive over the Covid crisis and our neverending lockdown, flatfooted in their response to the culture wars roiling the country, Boris Johnson's party looks increasingly incapable of showing firm leadership. As a result, it now seems given to showy, authoritarian gestures – from the late-in-the-day corona travel quarantine, which few seem to think will work, to the frankly mad idea of banging people up for up to a decade for desecrating war memorials.
As the Sunday Telegraph reported yesterday, justice secretary Robert Buckland, home secretary Priti Patel and attorney general Suella Braverman are mulling proposals to create a specific offence for desecrating war memorials. More than 100 Tory MPs have already backed a new Desecration of War Memorials Bill, which Tory backbenchers Jonathan Gullis and James Sunderland will present to parliament next week.
This all follows the defacing of Winston Churchill's statue and the Cenotaph in Westminster during Black Lives Matter protests two weekends ago. There is increasing pressure, in the words of Ben Bradley MP, for the Tories to be a 'staunch defender of our culture and our heritage', and 'to take as strong a stance on law and order today as we did in the election'. The plan has also received Labour's backing.
One idea being considered is to amend the Criminal Damage Act to make desecrating war memorials a specific offence, exempt from a stipulation that damage costing less than £5,000 be treated as a lesser offence. This mirrors a Private Members' Bill, introduced in the 2009-10 parliament, which didn't complete its course through parliament in time for the 2010 election. That bill also proposed a maximum penalty of 10 years in prison.
For a party that likes to think of itself as devoted to freedom, this is remarkably authoritarian. The punishment would far outweigh the crime. As unpleasant as some people may have found the spray-painting of Winston Churchill's statue, or the botched attempt to burn the Union Flag on the Cenotaph, such petty, delinquent behaviour simply does not warrant such a draconian response.
There is also no good reason to treat criminal damage done to war memorials more harshly than criminal damage done elsewhere. Doing so surely risks bringing political considerations into how a particular crime is punished, imposing an almost religious reverence of these objects, and what they represent, on to what should be a neutral process – that of punishing those who damage public or private property.
As is so often the case, this recourse to showy authoritarianism reveals a profound weakness. In response to criticism that the government is failing to ensure that the police are enforcing the laws we already have, it is cooking up eye-catching new ones. Incapable of staking out a strong moral position amid this new culture war about the past, it is just cracking down harder in an effort to look tough.
We are living through a public-health, economic and social crisis all at once. We need strong leadership, not this draconian gesture politics.
Tom Slater is deputy editor at spiked. Follow him on Twitter: @Tom_Slater_
Picture by: Getty.
To enquire about republishing spiked's content, a right to reply or to request a correction, please contact the managing editor, Viv Regan.