Black Lives Matter has no place in the Premier League
Bringing the culture war into football is a terrible idea. Just look at the US.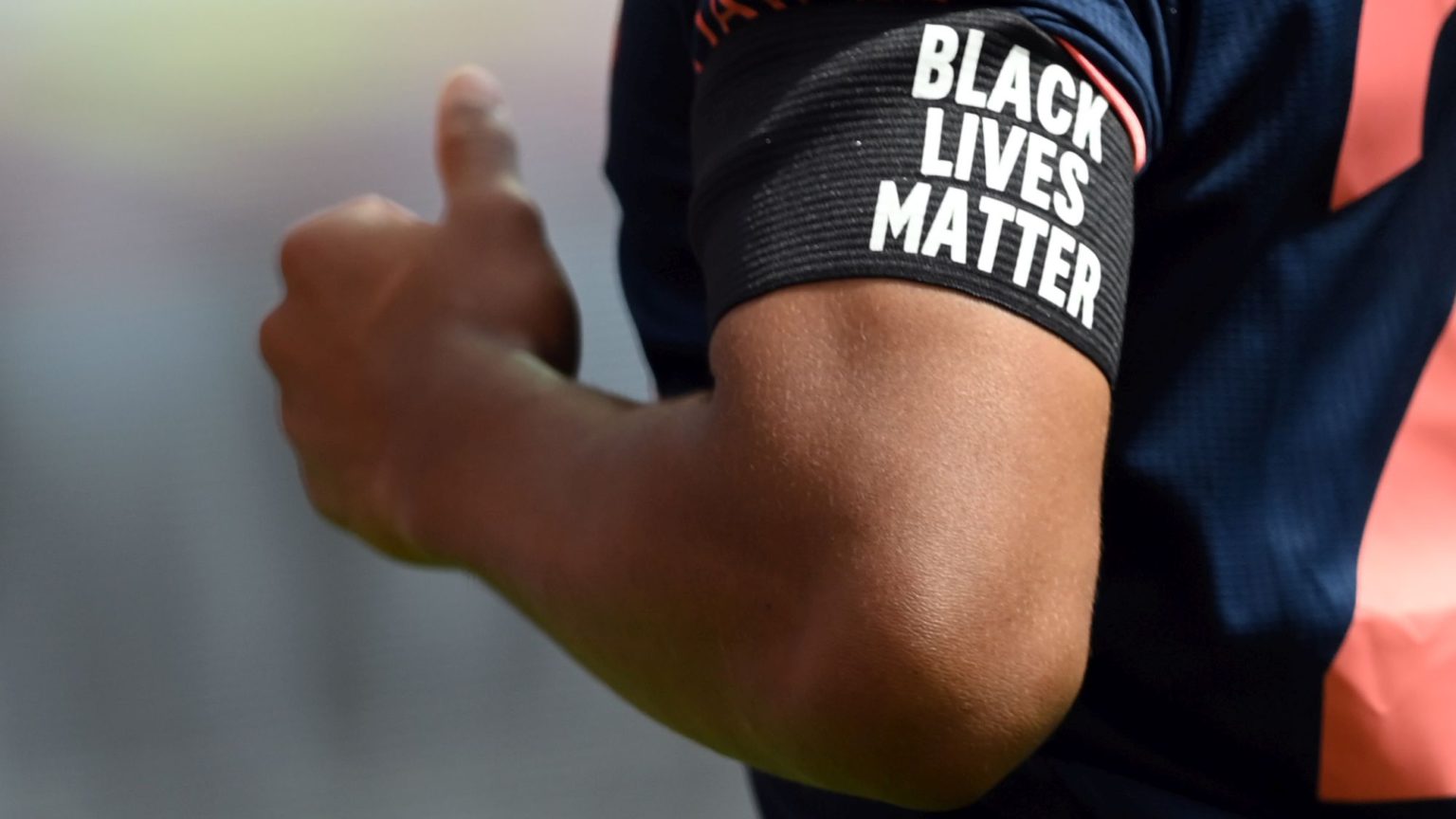 Premier League players are set to replace the names on the backs of their shirts with 'Black Lives Matter' for the next 12 matches.
To question the wisdom of this move, of course, opens you up to questions like, 'Who could possibly be against that?' and 'Are you some kind of racist?'.
The answers are yes, I'm probably against it, and no, I'm not a racist, thank you.
Everyone except a few idiots is on board with the idea of eradicating racism from football.
I was lucky enough not to witness it in the many matches I went to at Old Trafford as a child (maybe Man United just have the best fans).
The only thing I saw that came close was when a man screamed at David Ginola for being a 'French b*****d', before minutes later rapturously singing a tribute to the, if anything, even more French Eric Cantona.
But you cannot deny its existence. We have all seen the incidents, if not in person then on TV. Often at tense away games in certain European countries. Bottles and other shrapnel thrown, banana skins lobbed on to the pitch, booing, chanting, and so on – it's horrible to watch.
And it must be even more horrible to play through. Last year, in a game against Bulgaria, the England team almost walked off the pitch and abandoned the match in the first half. There is definitely an argument for doing that.
I'm not saying it's the same, before you tweet me, but it reminds me just a little bit of my work over the past nine years as a stand-up comedian dealing with hecklers. Usually you destroy them with your wit, then carry on and smash the gig, humiliating them with your skills and getting the win.
But occasionally you get someone so persistently moronic and disruptive that you just have to say enough's enough and walk off. I've only done it once in nine years, but it felt pretty damn good.
If the England team chose, in a given match, to win by 'letting the football do the talking', or set an example by walking off, I would be behind them.
That this fairly hardcore strategy has recently been considered reveals that previous attempts to get rid of racism from football have not been entirely successful.
There have been various campaigns, usually with catchy, on-brand themes such as 'Kick it Out', 'Show Racism the Red Card', 'Grab Racism in the Nuts on a Corner when the Ref isn't Looking', and so on (one of these is made up).
These slogans have the advantage of being something everyone can get behind. They are non-political and commonsensical. Though whether they work is another matter.
The premise that you can get rid of racism in football with a campaign saying that it's a bad thing is obviously questionable. But apart from the efficacy of all this, it's hard to imagine anyone having a problem with the attempt.
But then we come to Black Lives Matter. Which, let's be honest, is a very different kettle of fish.
Having failed to stamp out racism from matches, and under the same political pressure every other corporation is currently under not to appear 'silent' on the issue of racism, the Premier League has decided to welcome an organisation that, among other goals, aims to defund the police and 'disrupt the Western-prescribed nuclear family structure requirement'.
These policies would be disconcerting in any context, but in the world of football they sound even more incongruous.
Anyone who's ever been to a football match knows the importance of police presence. You're taking thousands of people determined to let off steam after a hard-working week and pitting them against each other in symbolic tribal warfare – there's always a chance it might kick off.
In a future world where the police have been defunded, it could get very ugly.
As for the 'nuclear family', going to the football is one of the best family pursuits we have. Especially, traditionally, as a way for men to bond with their sons.
You can't beat 90 minutes of not having to talk about feelings while calling a group of highly skilled millionaires the c-word. And a pie break in between! If that's not what Britain is all about, I don't know what is.
So what do these aims of the Black Lives Matter movement have in common with football?
Imagine if the players came out one day with 'IRA' on their backs, or 'Free Palestine'.
Lots of people may be passionate about those causes, but they are, dare I say it, a touch divisive.
Whether Black Lives Matter is quite in that league we could debate, but the point still stands.
BLM is also, of course, fervently anti-capitalist. Yet it is hard to think of a more ruthlessly capitalistic figure than the Premier League footballer.
I have literally just tried to do it, and I've come up with: Jordan Belfort in The Wolf of Wall Street, Boba Fett the bounty hunter, Scrooge, and any British expat who thinks you're a 'mug' for not living in Dubai.
I'm not saying players shouldn't earn whatever they can. They're often from tough backgrounds, they have families to support, and if that's the going rate, then why not?
It's just that it would take the average Marxist university lecturer about 10 years to earn what many Premier League footballers make in a week. Now these same players are about to erase their own names in a collectivist homage to their new comrades.
All very silly, but is there any real harm in it? The answer is: probably.
We've already seen from the NFL in America that many sports fans just don't want their leisure activities clouded by politics.
People taking the knee, not taking the knee, honouring the flag, dishonouring the flag. It all creates conflict and bad feeling of a level that goes beyond what sport is supposed to be about – namely, coming together, having fun, and sticking a couple past Liverpool (or, to avoid appearing biased, Man City).
No one, again except for those few occasional idiots, is pro-racism. No one wants to see it at a football game. But they also don't want to see highly controversial political groups using their pastime as a platform.
The Premier League is going down a dangerous route, one that has proven negative consequences.
But are there any positives to this new development?
I suppose if you're in favour of the politics of Black Lives Matter, then you'll like it. Or if you don't know about their politics and assume it is just anti-racism, then you'll also think it's wholly positive, though in that case you'll be deceived.
There is also the possibility, and here I can only take a guess, that if you're a footballer who has suffered racism, it might make you feel more comfortable to go out there with a team of fellow soldiers all overtly backing you on the issue.
But that has already been the case with previous campaigns, or in that Bulgaria match where the England team and manager were clearly prepared to walk off before halftime if necessary.
So it is unclear to me that there is any benefit to this latest gesture by the Premier League.
The argument that this is about racism simply isn't true. It is a case of a specific political outfit using most people's strong distaste for racism as a way to smuggle in their own brand of left-wing politics.
I'm not sure that has a place in football, or any sport. To me, the only battle on the football pitch should be between the two teams, rather than the more contentious and slippery war between competing political ideologies.
United vs City. Liverpool vs Everton. Corporation vs slightly differently branded corporation. That is the beautiful game we all know and love.
Nick Dixon is a stand-up comedian and writer. Follow him on Twitter / Instagram / TikTok: @nickdixoncomic
To enquire about republishing spiked's content, a right to reply or to request a correction, please contact the managing editor, Viv Regan.