We cannot let them call time on our pubs
The coronavirus lockdown is only the latest blow in decades of attacks on our pubs.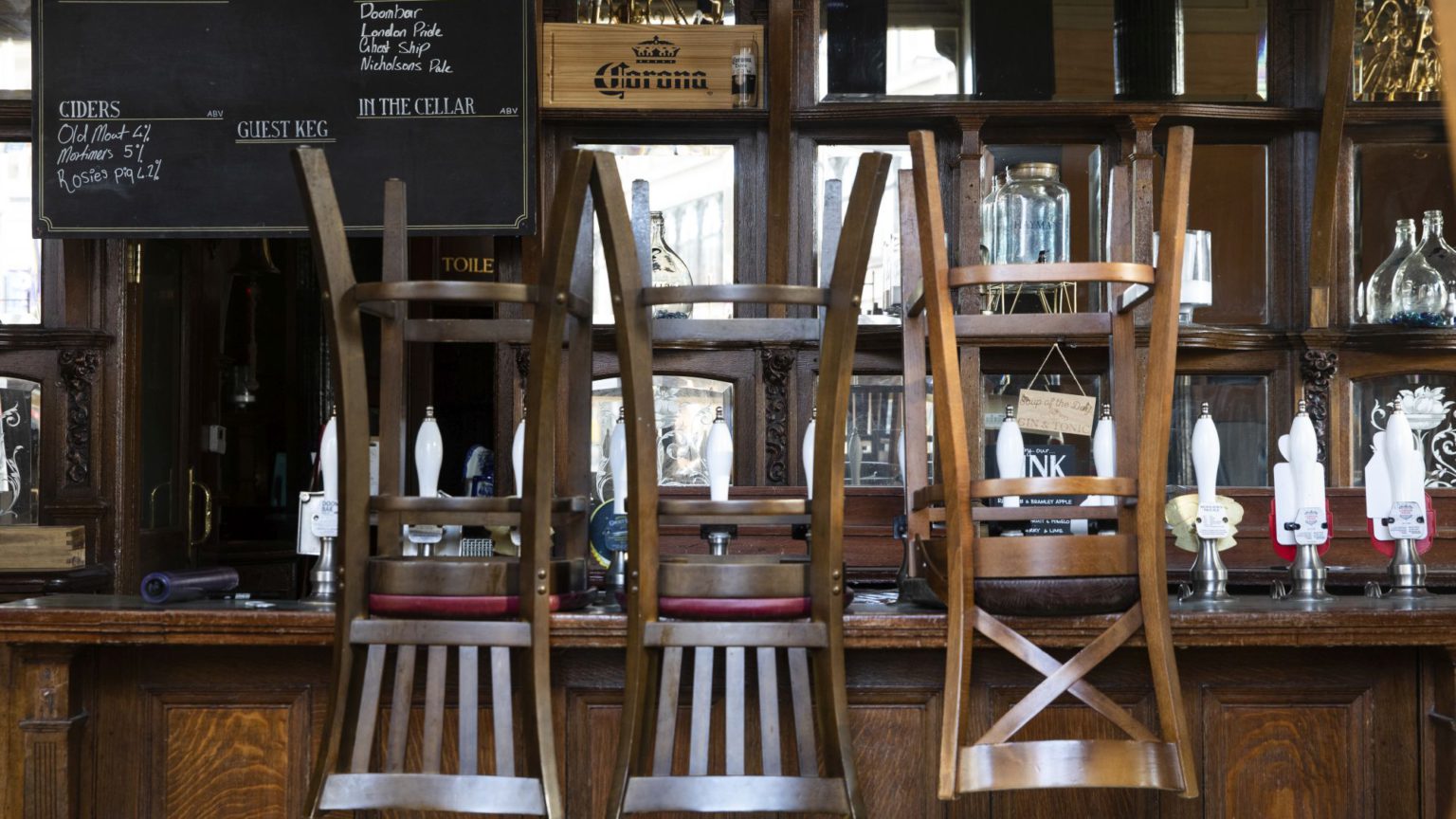 19 March 2020 was a fateful day. It was the last trading day before the Covid closures for the central London pub where I work. The staff were divided into teams and assigned responsibilities for shutting down the premises. It fell to myself and a colleague to handle the fate of the beer cellar.
The quantity of ale, lager and cider we were forced to condemn that day was enough to make any hipster weep. Everything already open was doomed. Even full kegs and barrels – their contents untouched – were consigned to oblivion. Gallon upon gallon of perfectly good drink, lost to the world forever.
This was a scene replicated in pubs and bars up and down the country. It has been reported that a horrifying total of 70million pints have been wasted as a result of the lockdown. At the time of closure, my pub optimistically kept hold of any booze with a sell-by date later than April, hoping we might be permitted to reopen by then. When we eventually return, we will have to conduct another purge, and cast countless more drinks down the drain. But we will also have to think about our accounts, and what the future holds for those, like us, operating in a sector taking what is only the latest in a long series of heavy hits.
Last orders
Even before coronavirus, the British pub industry was in decline. In fact, it has been so for decades. There was a time when six big British brewers competed for dominance of the UK market. Bass, Scottish and Newcastle, Allied, Courage, Whitbread and Grand Metropolitan were the main players, each with thousands of pubs. To younger generations, these names will have little meaning – all are now subsumed within larger, foreign-owned businesses. But in their heyday, these titans owned pubs on every street corner.
There are no national-scale independent British brewers left. Most of the mid-level independent operations have now disappeared, too. It was recently announced that Marston's – the company responsible for beers such as Pedigree, Hobgoblin and Wainwright – is selling a majority stake in its brewing business to Carlsberg, and shifting focus to its pub estate. Last year, Fuller's – of London Pride fame – sold its brewing business to the Japanese giant, Asahi. Greene King –
the largest pub operator in the UK – sold its entire business of pubs and breweries to a Hong Kong investment vehicle.
Some of this is due to trends resulting from globalisation that have been felt in every industry. The regional brewers have also suffered from the rise of small-scale craft beers. But, perhaps surprisingly, the most important reason that all the major British brewers have been bought out by overseas firms relates less to foreign competition itself and more to legislative changes made in the late 1980s.
The Beer Orders of 1989, introduced by Margaret Thatcher, were intended to create some competition in a market deemed to be excessively dominated by a small number of brewers. The main stipulation was that brewers were to be banned from owning more than 2,000 tied pubs each – that is, pubs whose tenants were obliged to stock the brewers' products. The other stipulation was that the pubs they did own should be allowed to stock beer from other providers. The short-term result was that major brewers were forced to sell huge numbers of pubs to newly founded pub and bar companies, which themselves had no brewing businesses.
It was under these circumstances that familiar names like JD Wetherspoon, Lloyd's and Punch Taverns were born. Rather than more independence for pub tenants in choosing what to stock, and therefore greater choice for customers, the main impact of the Beer Orders was the loss of thousands of tenanted pubs to the new pub companies. These pubs became largely uniform, losing much of their character, and all of them were directly run by the pub companies, rather than let to tenants. In a huge number of cases, therefore, pubs with limited independence became pubs with no independence.
In the longer term, the industry has changed drastically from the days before the Beer Orders. The loss of vast chunks of their pub arms cost the major brewers dearly. Profits declined as they were forced to compete with low-cost brands like Wetherspoon, and eventually they all opted for the security provided by takeovers by or mergers with international firms. Most such takeovers led to the closure of many of the old breweries that had for so long formed a key part of the brewers' identity.
Should we care? We all appreciate the remarkably low price of a pint that Tim Martin offers. Surely lower costs for the consumer can only be a good thing, especially in a world where a pint becomes more bank-breaking every year?
To be sure, the chain pubs have given us reliable, affordable brands. But the industry's transformation has come at a great price – and not just to the big players. Independent pubs struggle to compete with the likes of Wetherspoon, because their buying power is so weak in comparison to the nearly 900 pubs Tim Martin brings to the table. When you consider some of the pressures independent pubs are already under – the huge challenge posed by cheap supermarket booze, for example, and the associated increase in people drinking at home rather than in pubs – it becomes possible to see how easily the presence of a Wetherspoon pub down the road could push an independent pub into the red.
But the Beer Orders are not the only act of government that has heavily impacted the drinks sector. More recent legislation has affected every pub from Land's End to John O'Groats.
Lights out
Next came the smoking ban. In March 2006 in Scotland, April 2007 in Wales and Northern Ireland, and July 2007 in England, it became illegal to smoke in all enclosed workspaces, including, among other businesses, pubs, bars and restaurants.
The impact on pubs has been enormous. Smokers, who made up a disproportionately large chunk of pub custom, became less likely to go to pubs. Many opted to drink at home where they could smoke freely – often in poorly ventilated rooms, not uncommonly shared with children. Those smokers who continued to attend pubs started to leave earlier, preferring to return home to smoke over standing outside in the cold and rain.
It did not take long for the impacts to be felt. In 2012, after five years of the ban in England, nearly seven out of 10 licensees wanted a change to the law so that pubs could be permitted to have separate smoking rooms. By 2017, 10 years after the ban became uniform across the UK, over 10,500 pubs had closed – nearly a fifth of all British pubs.
There are plenty of factors at work in these trends, rising costs among them. Significantly, the 2008 financial crisis and subsequent recession had a huge impact on pubs, and the fact that these two factors came shortly after the smoking ban means we have to be careful when assessing the effect of that ban on closures.
However, as a 2017 report by Forest
highlights, there was a big jump in pub closures in the year after the ban came into force in England and Wales – before the financial crisis hit and certainly before most of its effects began to be felt. In England in 2007, 1.3 per cent of the country's pubs closed, and in 2008, a further 2.5 per cent closed. Wales experienced an even more marked change, with almost one per cent of its pubs closing in 2007 and roughly three per cent closing in 2008.
Clearly, the smoking ban has hit pubs hard. Whatever the health benefits may have been – and there is debate over those, too – they came at a cost to an industry already in decline.
The lockdown
Fast-forward a decade and pubs find themselves in unprecedented territory: forced to close so as to restrict the spread of coronavirus, and facing significant restrictions when they reopen. Most pub staff have been furloughed, allowing pubs to reduce their costs during the crisis. But the fact remains that pubs have had no income for several months, putting aside whatever they can make through takeaway food and drinks sales.
Even if insurers pay out for the lockdown period – which is far from certain – those pubs will still have to shoulder the financial burden placed on them in the run-up to the lockdown, caused by people following the government's advice to stay away. As was well reported at the time, the initial government policy of allowing pubs to stay open but discouraging customers from attending was the worst of both worlds, as it left empty pubs unable to fall back on their insurance.
On top of that, many reopened pubs with social-distancing measures in place will struggle to make a profit. It is hard enough to run a pub with a solid turnover as it is. When there are limits on the number of punters who can be present at any one time, this becomes even more difficult.
For some pubs, it will be impossible to comply with the strict requirements being put forward as conditions for safe reopening. In most cases, limited bar space means one member of staff cannot move past another without getting pretty close to them. Bar surfaces tend to be narrow too, meaning the distance between staff and customers is small. In kitchens, space can be even tighter. Social distancing is unrealistic for lots of pubs and bars. It will be difficult to enforce and hard to obey. Unless the government is prepared to send inspectors to every pub, it is hard to see it sticking.
As we move into the summer months, we reach what is usually one of the busiest periods in the pub calendar. If there is any sun in the season ahead, sales will benefit, as patrons relax with cold beers in hot pub gardens. But those sales will be kept limited if there are too many public-health restrictions. Whether the weather is good or not, this summer could still be a financial washout for pubs.
Staff also look like they will get the short straw, facing the prospect of reduced hours as well as having to perform table service for most customers. This is not how pubs work. The fact that patrons order at the bar is what most distinguishes pubs from the drinking establishments of other countries. This new measure would completely change the nature of the job for pub staff.
Furthermore, the limits on the capacities of pubs due to social distancing will not just damage profits — they will also hit staff. In some pubs, particularly those with dining sections where service charge is paid, extra income made from gratuity is split between staff. Fewer customers being allowed in pubs means less extra cash to supplement staff incomes.
Some might be inclined to say that such a situation is unavoidable, and that we cannot return to pub normality any time soon without risking people's health. This may be true, though in the absence of evidence from Europe of a major second spike of Covid-19, despite bars reopening, it is at the very least questionable.
If the government insists on maintaining financially crippling rules, then it must try to make it easier for pubs to cope in other ways by redressing some of the burdens placed on pubs. The government could, for example, make up for lost pub incomes by providing a major cut to duties on alcohol or by substantially reducing pub rates. Though alcohol duties have been frozen and cut in recent years, those changes were not sufficient even before coronavirus hit, let alone now. A bigger intervention is needed.
Pubs form a vital part of many British communities. Much has been said about the pandemic of loneliness among the elderly in our society, but not enough effort is being made to protect a key institution that can combat that trend: the pub. And it is not just the elderly that suffer. In rural areas, the local pub may be the only social space for miles around. Even in cities, pubs are central to local communities.
Brilliant initiatives exist to help keep pubs going and to encourage community ownership. Organisations like the Plunkett Foundation are an enormous help. The Long Live The Local campaign has also done great work in lobbying for an easing of the tax burden on our pubs. These efforts are to be greatly encouraged. But they are not enough.
We need the government to reject the moralistic narrative which condemns the pub and drinking as evil, and instead support what is one of the most crucial industries for our social cohesion. Whether grungy watering holes or palatial gastropubs, all pubs play an important role in our lives, and it is time that people in power recognise it.
Paddy Hannam is a spiked intern.
Picture by: Getty.
To enquire about republishing spiked's content, a right to reply or to request a correction, please contact the managing editor, Viv Regan.