Black Trans Lives Matter: a slogan in search of a cause
Three murders in a decade are tragic. But there is no 'epidemic' of trans people of colour being killed in the UK.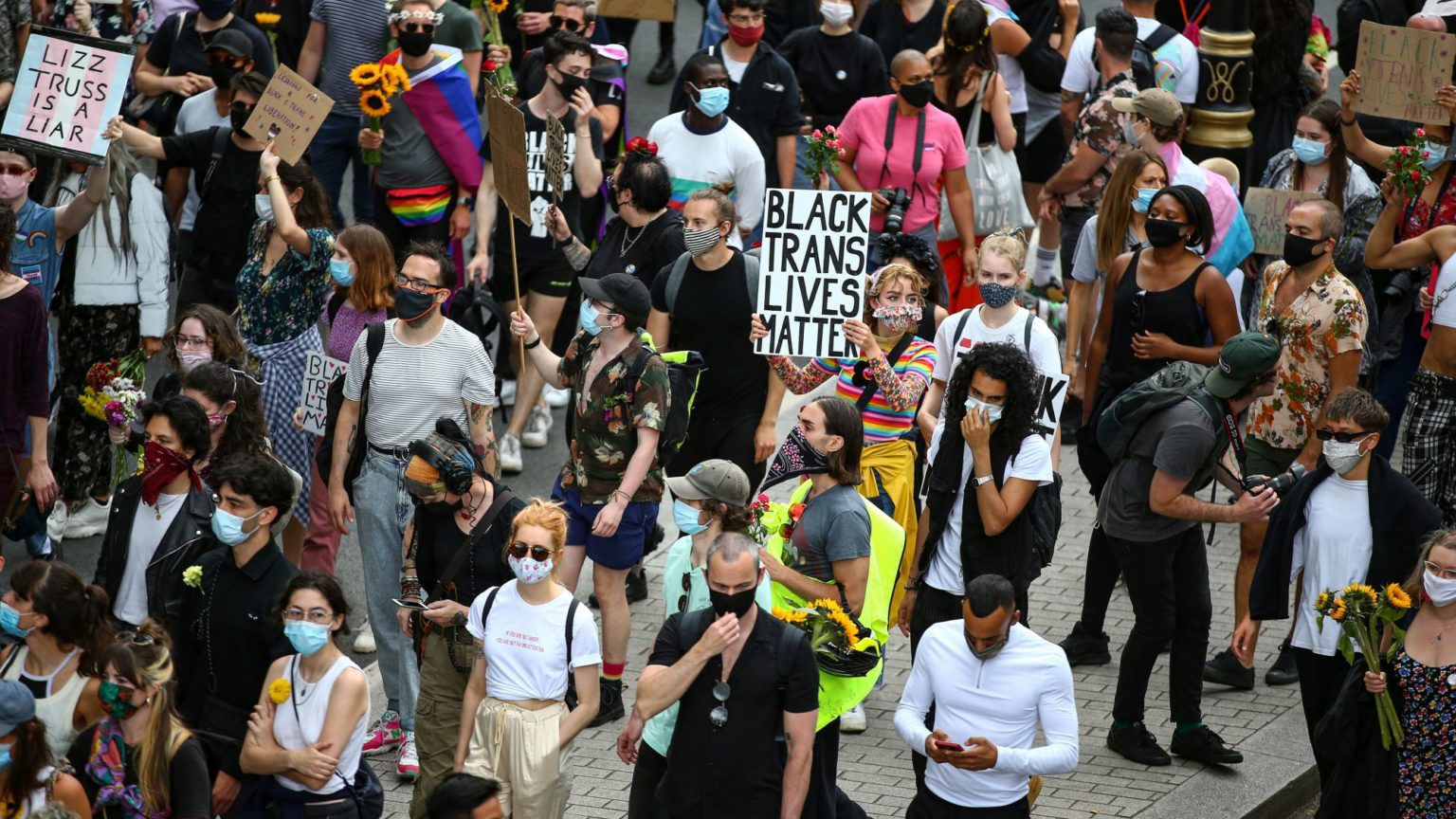 Remember the George Floyd tragedy? That was the ostensible driver for the resurgence of the Black Lives Matter movement, which for the past month has reverberated around the world. The UK erupted in protest (and counterprotest) for several weekends, and a miniature cultural revolution is underway in our institutions.
All right-thinking people were horrified by Floyd's murder, and so a show of solidarity was understandable from anywhere in the world. Many are also angry about racism in Britain, which is an equally valid concern. However, many of the tropes from the US marches – particularly about the police shooting and suffocating unarmed black victims – don't quite translate so easily from the US experience. Every country has its distinct problems (and successes) when it comes to race relations.
The latest US import to be embraced by British activists is Black Trans Lives Matter. Tens of thousands marched in the US on 14 June, drawing enormous crowds in Brooklyn, New York and in Hollywood. The previous week, two black trans women had been killed within 24 hours of each other: Dominique 'Rem'mie' Fells was found dead and dismembered in Philadelphia; Riah Milton was shot during a robbery.
On Saturday – two weeks after the US march – a Black Trans Lives Matter march was organised in London. Thousands attended. It is possible that Brits were sufficiently moved by these two deaths in America to go on a march, even though they didn't get anywhere near the UK press coverage of Floyd's death.
Naturally, the march's organisers claim we have the same problem of black trans people being murdered in Britain. But do we? 'We shouldn't delude ourselves into thinking this doesn't happen in the UK – we know for a fact that it does', one of the BTLM organisers told the BBC.
The BBC names the most recent black trans person to be killed in Britain as Noami Hersi. But what it doesn't include is that this murder took place two years ago, in 2018. What is it about a horrific death that took place two years ago that is motivating Londoners to protest about it now?
In fact, over the past decade, only two other trans people of colour have been killed in the UK. In 2015, Vanessa Santillan, from Mexico, was killed by her partner. In 2010, Sonia Burgess was pushed in front of a train. Sonia's killer, Senthooran Kanagasingham, was also trans and was found guilty of manslaughter, having suffered from paranoid schizophrenia. However tragic an event, it was clearly not down to transphobia.
Are trans people on the whole likely to be targets of murder? The Office for National Statistics (ONS) does not produce official statistics on trans homicides. (In fact, when responding to a Freedom of Information request, the ONS once said the sample size is so small that it would 'be equivalent to releasing personal details'.) But there are monitoring groups like Transrespect versus Transphobia's Trans Murder Monitoring project, which collects names of the trans people who have been murdered for the annual trans day of remembrance.
Channel 4 News used the TMM data to work out that just nine trans people (of all races) were murdered in the UK between 2007 and 2017. This gave an average of one victim per year (an accurate predictor of what would happen in 2018 and 2019 as well). Combining this data with an estimate of the trans population, it worked out that a trans person would have a one-in-200,000 to one-in-500,000 chance of being killed in a year. That sounds frightening. But for the average adult in England and Wales, the odds of being murdered in any given year are significantly higher, at one in 100,000.
In fact, even in the US, where the number of trans people being killed is higher than in the UK – with the annual number of murders hovering somewhere between 20 and 30 per year – the situation is not as grave as it appears. The Human Rights Campaign – an LGBT advocacy group – has claimed there is an 'epidemic' of transphobic murder. This claim is regularly repeated in the press. But as Wilfred Reilly demonstrates, using the HRC's own data, the trans murder rate is about a quarter of the murder rate for America as a whole.
None of this is to say that trans people have it easy, and do not face discrimination or even violence. But the claim that people are being murdered en masse for being trans or for being black and trans, particularly in the UK, does not stack up.
So why the marches? The claim is clearly not born of a real, observed phenomenon. Instead, it comes from intersectionality – which has now become the dominant way of understanding social relations. The logic of intersectionality dictates that black trans people face two overlapping, intersecting oppressions, and therefore find themselves at the bottom of the victim hierarchy. This may well be true for income, jobs, housing provision, mental health – you name it. But it is observably not true for murder, which is the issue being campaigned about.
With Black Trans Lives Matter – particularly its UK iteration – what we have is a movement driven by the expectation and perception of victimhood, based on certain characteristics. And once the marches for plain old 'Black Lives' had exhausted themselves, a new, more oppressed (and therefore more valorised) identity group was on hand to be championed.
Not coincidentally, the people doing the championing happen to be overwhelmingly white. Black trans people (and arguably even black people more broadly) are playing a largely symbolic role in this middle-class intersectional fantasy. Black Trans Lives matter is a slogan in search of a cause.
Fraser Myers is a staff writer at spiked and host of the spiked podcast. Follow him on Twitter: @FraserMyers.
To enquire about republishing spiked's content, a right to reply or to request a correction, please contact the managing editor, Viv Regan.