Football and Black Lives Matter don't mix
The Premier League's embrace of BLM is deeply hypocritical, and an insult to football fans.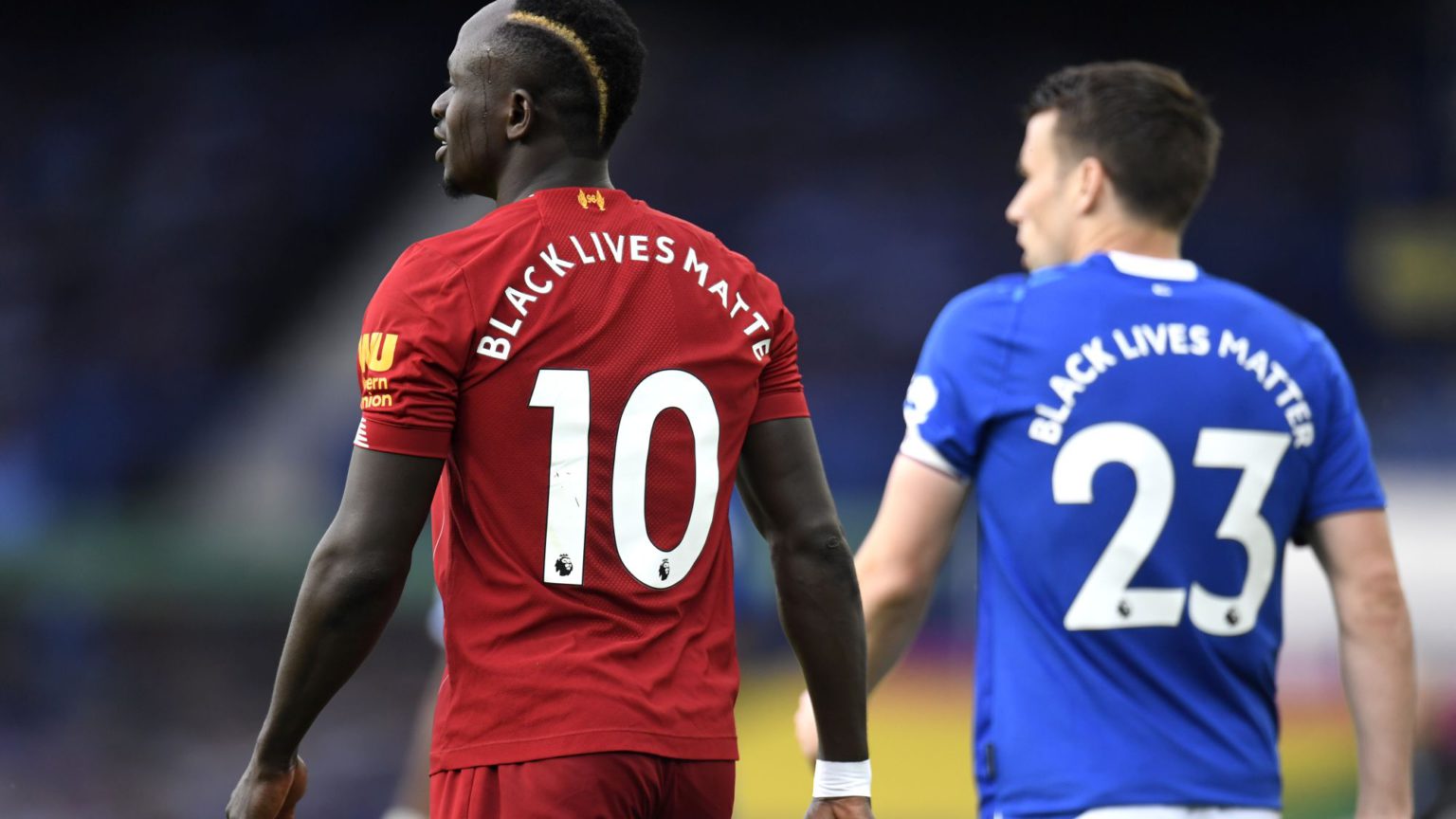 For the first 12 games, the slogan 'Black Lives Matter' replaced the players' names on the back of their shirts, before shrinking to a logo thereafter. And just ahead of each kick-off, players and staff have been earnestly 'taking the knee', with some raising a tentative fist, Black Power-style.
Sky Sports, BT Sport and other UK broadcasters have flashed up BLM messages and graphics during ad breaks, while anchors have intoned sombre monologues on the need to 'educate' ourselves about racism. And some pundits have even indulged in that most middle-class of BLM rituals: the self-flagellating, self-aggrandising display of contrition. 'I'm angry at myself now', admitted one-time Liverpool thigh-studder Graeme Souness, before pleading: 'What can a man of 60-plus do to be more part of the cause?' What indeed, Graeme.
It has made for a spectacle replete in political kitsch, from the parody of decades-old protest to the formulaic repetition of saccharine sentiment. It looks virtuous. It feels progressive. It sounds moral. But, like all kitsch, the Premier League's BLM parade is not what it claims to be
And what a claim. The Premier League says it is supporting the 'players' single objective of eradicating racial prejudice wherever it exists', and that it is 'unequivocal in the belief that there is no room for racism in our competition, football as a whole, or the wider community'.
These are big, virtuous words. But that means they just ring more hollow. The Premier League may now be cosplaying as a BLM protester, but it is continuing to act as a corporate, commercial entity. Which is what it is: a corporate, commercial entity. Its single objective is not 'to eradicate racial prejudice wherever it exists', but to maximise the profits of its 20 members, mainly through the broadcasting deals it strikes with the likes of Sky, NBC Sports and Amazon.
That is why, between 2018 and 2022, the Premier League will have lined its members' coffers with half-a-billion pounds' worth of Qatari state capital – because it sold its Middle East and North Africa broadcasting rights to beIN Sports, which is owned by Qatar. Yes, Qatar. A gulf statelet that actually practices something close to the 'systemic racism' BLM merely preaches against. How else should one describe the treatment of mainly African migrant workers under a Qatari employment system that strips them of all rights, and pits them to work for low-to-no pay, on, among other projects, brand new football stadia. But, hey, no doubt they will appreciate seeing Brighton and Hove Albion's first team, paid in part by their Qatari state oppressors, taking the knee, and reassuring them that black lives really do matter.
And then there's the small matter of the prospective owner of Premier League club Newcastle United — namely, Saudi Arabia's Public Investment Fund, which is financing 80 per cent of a £300million takeover. The PIF is effectively the Saudi state's sovereign wealth fund, and its chairman is Crown Prince Mohammed Bin Salman. That means a Premier League football club will be owned by an Islamic theocracy — one, moreover, that is not only literally crucifying and beheading domestic dissidents, but is also prosecuting a war in Yemen that has cost the lives of over 100,000 'people of colour'. It seems that when it comes to Premier League business, some black lives matter less than others.
Of course it's not the Premier League's responsibility to sort out conflicts in the Middle East, especially when the British state has long allied itself with the House of Saud, providing it with arms and political support. Only a few weeks ago Oliver Dowden, UK secretary of state for culture, media and sport, ducked a question on the Newcastle takeover, and pledged the government's support for 'Saudi Arabia's continued diversification efforts under its Vision 2030 strategy'. Which is one way of describing the aerial bombardment of Yemen's hospitals.
But if it is not the Premier League's responsibility to sort out the world's ills, then why is it dressing itself up as if it is? Why is it, aided and abetted by its media partners, posing as an anti-racist crusade? And why is it therefore inviting the charges of gross hypocrisy that will surely come its way?
In part, it's because, as Apple or Amazon have discovered, embracing BLM has seemed an easy, no-cost way to burnish corporate reputations. As Fraser Myers explained on spiked, capitalism, long bereft of ideological justification, suddenly has a cause.
But in the case of the Premier League the sense of cause, of mission, is perhaps even greater. This is because of the role football has played, since the 1990s, as a means for our political and media elites to address, inculcate and discipline football's traditional constituency: the working class. And the principal form this has taken is 'anti-racism', hence officialdom's ever-increasing obsession, shared by an excitable media class, with the much-trumpeted rise in fans' alleged racism during a period in which the number of actual match-going racists has clearly dwindled.
That is why the Premier League has been so blind to the obvious hypocrisy in its BLM stance. Because it is not really interested in the devastating warmongering of its members' prospective owners, or the brutal, borderline racist employment practices of its partners. Indeed, it is not really interested in tackling actual discrimination. Rather, it is interested, almost myopically so, in targeting fans, addressing them as if they have been doing something wrong, challenging them to fess up to prejudices they never knew they had. It's like a showtrial conducted on a mass scale. Those overseeing it – in the media, and beyond – are simply convinced of fans' guilt. 'As the current political climate shows', writes one columnist, 'many of those [fans'] views are problematic'.
You don't have to support those Burnley fans who flew the horrible alt-right-ish 'White lives matter' banner over the Etihad stadium last week to understand that constantly telling fans stuck watching the match at home that they're racist, or that their views are 'problematic', is going to get peoples' backs up. Because that is what is happening. People are being beaten around the head with the charge of racism. They are being told that their views are 'problematic', that they need 'education' or 'correction'. And they are being treated as such by the Premier League and its media partners, while an affluent political and cultural establishment, still reeling from Brexit, cheers them on. It certainly grates.
The sooner the now empty stands echo once again with the noise of supporters, rather than aggressive sanctimony, the better.
Tim Black is a spiked columnist.
Picture by: Getty.
To enquire about republishing spiked's content, a right to reply or to request a correction, please contact the managing editor, Viv Regan.