Bubba Wallace and the wave of dubious hate
The NASCAR driver mistook a garage door pull rope for a noose.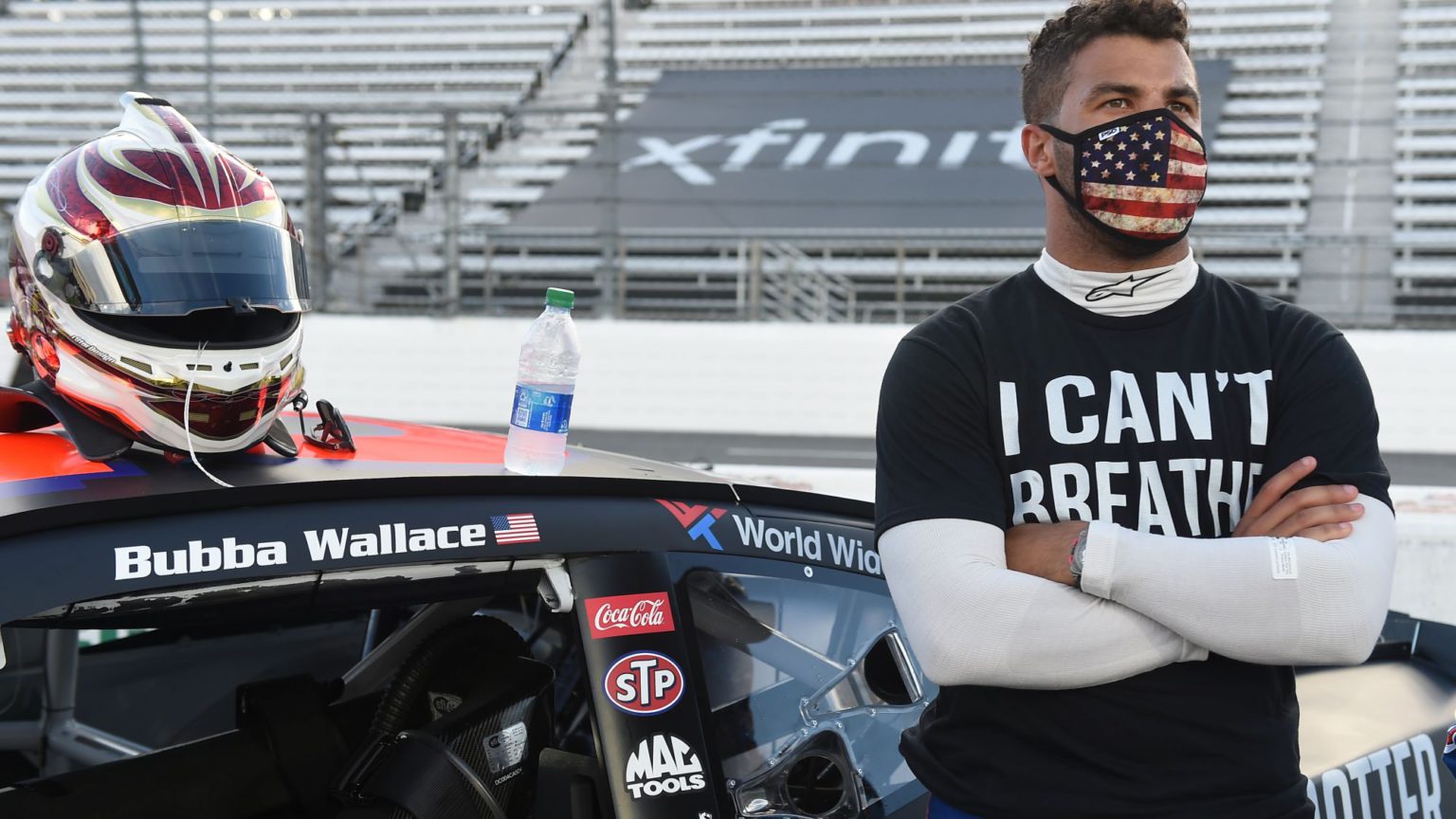 So, it happened – again.
On Tuesday, 23 June 2020, the US FBI announced that no hate crime had been committed against NASCAR's Bubba Wallace. Wallace, the American stock car racing circuit's best (never to say only) black driver, discovered a rope tied so as to resemble a noose inside his racing garage on Sunday 20 June. After an African-American member of his team reported the 'noose' to NASCAR top brass, the immediate reaction was international and apoplectic. NASCAR issued a press release and public statement denouncing the rope, Wallace appeared live on The View and CNN with Don Lemon. In a genuinely moving display of support, drivers and pit crew for almost every other car entered in a major 21 June race at Talladega Speedway walked slowly behind Wallace's vehicle before the event began, in a nationally televised display of solidarity.
And then, almost inevitably – NASCAR garages are protected by some of the world's best closed-circuit camera systems, and fans were banned from the track for all of June due to Covid-19 – the rope in question turned out not to be a noose. It was a garage door pull, used to shut vehicle bays, which had apparently been in that garage since October 2019. Having been tied using a slip-knot, it did to some extent resemble a hangman's noose. However, close-up photographs of the thing indicate that a human adult would have had trouble forcing a hand, much less a head, through it. Further, according to CNN Online, 'a thorough sweep of the 29 tracks and 1,684 garage stalls' turned up at least 11 other pull ropes tied using complex knots – although honesty compels me to note that none looked as 'noosey' as the rope in Wallace's stall. The FBI tersely and correctly summarised the entire situation thus: 'No federal crime was committed.'
The Wallace incident does not stand alone among dubious accusations of racial and class abuse during just the past two weeks. On 18 June, police in Oakland, California, took down five ropes attached to trees in that city's popular Lake Merritt park, after citizens reported 'nooses' to the cops and on social media. However, a black resident almost immediately stepped forward to note that he put the ropes up as exercise equipment… and that they in fact looked nothing like hangman's nooses, with one having a large piece of plastic PVC pipe dangling from it.
One day before, on 17 June, a black man claimed that he and a friend had been provoked into fighting with and beating a white Macy's manager by the shopkeeper's unprompted use of the word 'nigger'. However, by 26 June, both the beating victim and a friend who was on the phone with him at the time had stated for the record that no racial slur was ever used, and police had issued an arrest warrant for the black male responsible for 'an unprovoked attack'. Meanwhile, over on the other side of the political spectrum, the claim by a group of New York City Police Department officers that they had been served bleach by activists working at the local Shake Shack similarly collapsed: an investigation by the NYPD found no crime, and detectives posited that their unlucky colleagues probably just drank milkshakes from a machine that had recently been cleaned.
This is nothing new. Early in 2019, I wrote an entire book, titled Hate Crime Hoax, about the all-too-frequent phenomenon of high-profile racial incidents turning out to be flamboyant misunderstandings or out-and-out fakes – and more than a dozen notable cases have taken place since that publication. While absolutely no one doubts that mundane incidents of racist violence, located outside a country bar or tough black club at closing time, actually take place, it is also indisputable that a great many media stories of non-fatal racial conflict have turned out of late to be false. Over the past five years, the shortlist of these would have to include: Bubba Wallace, Jussie Smollett, Covington Catholic, Erica Thomas and the alleged grocery store harangue, the DC 'dreadlock cutting' case, the lovely young black girl who claimed she was urinated on by white bigots in Michigan, the 'JCC' bomb threats, Yasmin Seweid and the hijab-tearing train attack, the Rolling Stone rape hoax, and the burning of Hopewell Baptist. Nor is this a pattern unique to this decade. Any connoisseur of the genre has to be aware of OG cases like Duke Lacrosse, Sabrina Collins, Azalea Cooley, and Tawana Brawley.
Whatever the percentage rate might be, the sheer fact that there are enough of these very high-profile stories to fill a 300-page book raises some questions. The first might be: what are the signs of a likely hate-crime hoax? While there are several poker tells here – the involvement of known activists on left or hard right, the absence of any corroborating evidence in camera-laden US or UK cities – the most obvious to me is the unlikely cinematic story. Real crime tends to be stupid and mundane: local teens clumsily stole a bicycle from my porch this week, for example; street fighters often clumsily break their own hands throwing punches. In contrast, Juicy Smolliet dreamed up a story where two big men wearing bright red MAGA hats, and carrying a noose and a gallon bottle of bleach through a Chicago nightlife district, attacked him at 2am during a blizzard – but he fought off both of them without ever dropping his Subway tuna salad sub (admittedly a fine sandwich). I ask: what are the odds of that scenario having ever actually taken place?
As a specific sidebar, it is worth noting that a consistent sub-theme of such ridiculous stories is the invocation of archaic racist symbols no longer in regular urban use even on the hard right – nooses, Klan robes, (incorrectly drawn) swastikas, and so forth. There clearly is a knuckle-head right, just as there is a bomb-thrower left, and it would frankly be no surprise to see Proud Boys polos, Confederate or old English flag tattoos, or Pepe or Groyper masks represented among a group of lads brawling with Antifa. But there simply aren't many active members of the Ku Klux Klan today – even in the deep American South, much less in Lorain County, Ohio, our northern ally of Canada, and most of the other places where members have been 'spotted' of late. 'Klansmen' reported on Lorain's Oberlin College campus turned out to be a group of students playing a prank; similar sightings on Bowling Green's campus turned out to be pieces of lab equipment behind a window blind; and those sighted at the University of Missouri in 2015 apparently never existed at all. This pattern, no doubt, extends beyond those three fine schools.
Why would anyone do this at all? Why falsify such a crime? Again, there are several common answers: insurance money, to have a laugh, general anger at a campus opponent of a different gender or race. But there is also one broad and very common answer: we have attached a considerable value to victim status in the modern US and UK. Those who exaggerate or falsify hate incidents must by now be aware they are very unlikely to be punished or even mocked for doing so. Jussie Smollett, a second-tier actor at best before his hoax, led off Good Morning America in the immediate aftermath. Even Bubba Wallace, by all accounts a good guy and no hoaxer in any real sense, probably did more top flight TV during the past week than the previous entirety of his career.
Further, underlying individual claims by such alleged victims, an entire industry exists to publicise incidents such as these. It is no exaggeration to say that, for amoral fundraising purposes, Al Sharpton and Shaun King, and the Southern Poverty Law Center and the Council for American-Islamic Relations and all the rest, want – need? – that garage rope to be a noose. Without ever sinking to disgusting abuse of real victims, ordinary citizens should be aware of this incentive, and when someone claims they were attacked by the Ku Klux Klan in center-city Chicago, consider asking questions beyond: 'How terrible! How can we apologise?!'
To enquire about republishing spiked's content, a right to reply or to request a correction, please contact the managing editor, Viv Regan.