How Kanye could unite America
The semi-serious case for a West presidency.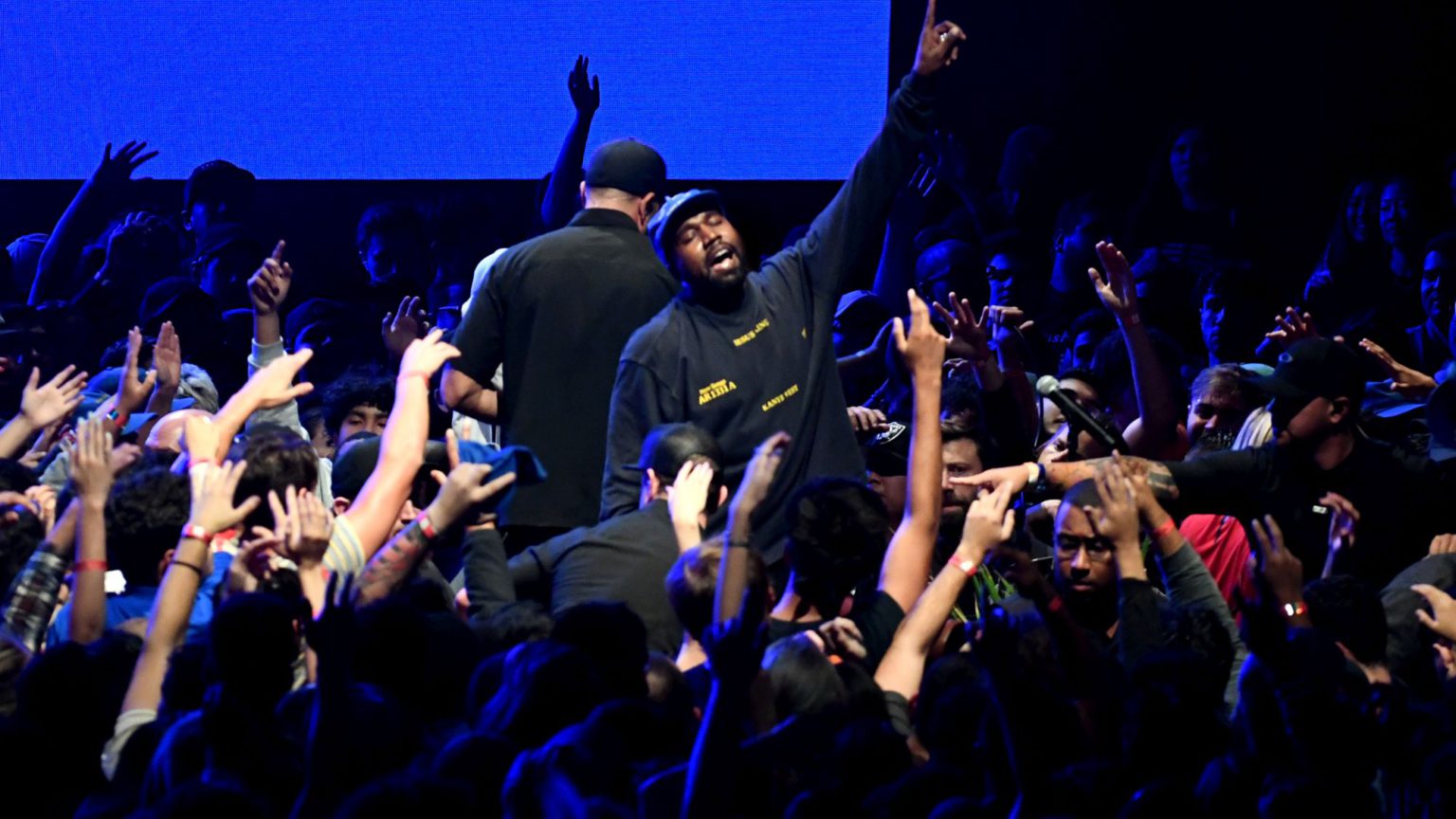 So, Kanye West says he is running for president.
On Saturday the Chicago rapper, producer, designer and self-touting successor to Walt Disney tweeted: 'We must now realize the promise of America by trusting God, unifying our vision and building our future. I am running for president of the United States! #2020VISION.'
Now, I know what you're thinking. He's a celebrity, he's controversial, he's never held elected office and he's given to long, incoherent, self-aggrandising rants. It could never work.
There's also speculation as to whether or not this is even a serious bid, or just part of promotional strategy for his next album. And buzzkill political experts have already cast doubt on whether he will even be able to get on the ballot nationwide.
But whether or not West has got his ground game in order, he is nothing if not sincere. He has been talking about running for president for years, and he has said the reason he controversially embraced Trump is that his 2016 win proved President West might be possible.
He also already has some big endorsements – including from Elon Musk, who some have jokingly touted as a possible VP pick. Now, West Musk 2020 might sound like a bad idea for a Kanye aftershave brand. But stranger things have happened.
Plus, given the atrocious choice being offered to America at the moment, between an increasingly geriatric Joe Biden and an increasingly erratic Trump, perhaps a Kanye candidacy deserves a hearing.
Given this election looks bound to be fought along culture-war lines, with America again riven by racial tensions, West is arguably better equipped than either Trump or Biden to heal the divides that have grown ever wider in recent weeks.
He has more counting in his favour than the doubters would have you believe.
Days before his presidential announcement, West was receiving plaudits for his blistering new track, 'Wash Us In The Blood'. Accompanied by a haunting video, it is a reminder of just how brilliant the man is – something that his neverending controversies can never dent.
But it was also a reminder that, despite his meetings with Trump, his 'slavery was a choice' thing, and his intellectual flirtation with Candace Owens, West has not become some right-wing culture warrior, entirely dismissive of concerns about racism.
His sparse, piercing lyrics on the track point to the legacy of slavery and the debilitating effect of mass incarceration on black communities. As one critic put it, it's a call for the Biblical deliverance of black America from centuries of evil.
At the same time, West is also clearly rankled by contemporary racial politics. In a long 2018 interview with hip-hop radio host Charlamagne Tha God, West questioned the tendency, which has burst into the mainstream of late, to wallow in the sins of the past rather than focus on the future and black empowerment:
'We definitely are dealing with racism, but I want to push future concepts… It's like, when you just see, like, all the slave movies. It's, like, why you gotta keep reminding us about slavery? Why don't you show us, put Michael Jordan on a $20 dollar bill.'
Perhaps he's been a little inconsistent since then, given 'Wash Us In The Blood' also 'reminds us about slavery'. Or perhaps West has stumbled on precisely the right formula to appeal to both sides and move America forward. We will find out more in the debates.
His potential strengths as a candidate don't end there. West may well be able to bridge the religious, as well as the racial, divide. He is still (begrudgingly) beloved by godless coastal types, but he is also a passionate Christian. His last album, Jesus is King, was a front-to-back gospel record, a smut-free exhortation for people to embrace Christ.
In 2019, he started putting on weekly 'Sunday Service' shows – events that were part concert, part performance art, where he and a choir, decked out in matching outfits, would do his more religious songs, as well as Christian rewrites of songs ranging from No Doubt's 'Don't Speak' to Nirvana's 'Smells Like Teen Spirit'.
Mad as it might sound, it actually all looked rather beautiful. Indeed, West and his Chicago protégé Chance the Rapper have essentially mainstreamed Christian rap in recent years, a hitherto embarrassing and largely unloved subgenre.
Of course, while Kanye has claimed his music from now on will be devoted to Jesus, he may well revert back to his former, more foul-mouthed self. Until recently he was as likely to be rapping about Jesus as he was his desire to attach a GoPro to his penis, so he could relive his sexual exploits in slowmotion.
But deep down everyone loves a shagger. And given Trump's easy capture of the evangelical vote in 2016, despite his own sexual peccadilloes, the 'grab em by the pussy' tape, and the fact he struggles to name a single verse from the Bible, perhaps Christian voters will also see past Candidate West's earthly sins.
Now, being president is not all about moral and spiritual leadership. Politics and policy matter, too. And on this front West is, admittedly, a little thin on the ground. But here, again, his instincts suggest he wants to cut down the middle of a polarised America.
His support for Trump doesn't seem to have been an endorsement of The Donald's more controversial policies. Fellow rapper TI, who confronted West about his MAGA phase in 2018, claims West didn't even know about the travel ban when he raised it.
Rather, he seems to like the idea of President Trump – who is, in his words, a fellow bearer of 'dragon energy' who proves anything is possible in America. So we'd be wrong to presume he would naturally go down the same right-populist path.
Speaking of his potential presidential run back in 2018, West mused that it would be 'the Trump campaign and maybe the Bernie Sanders principles'. Perhaps he's angling to embrace the 'red and blue' politics that the political scientists tell us is such a winner these days.
One thing he definitely does care about, though, is prison reform – as does America's future First Lady. His wife Kim Kardashian, who is studying criminal law, has successfully leveraged her relationships with Jared Kushner and Ivanka Trump to get the president to commute the sentences of a number of people languishing in prison on decades-old charges.
Indeed, while some might balk at the idea of a Kardashian in the White House, she has in the space of a few years done far more for social justice than many snobby liberals, wont to sneer at her and her husband, will manage in their entire lifetimes.
If she could forge consensus on this issue within the Trump White House, there's no telling what four years of a West presidency might achieve.
Kanye West is, of course, not going to be president, even if this bid turns out to be legit. But as a divided America prepares to pick again between two terrible options, he may turn out to be the unlikely unity candidate Americans never knew they needed.
Tom Slater is deputy editor at spiked. Follow him on Twitter: @Tom_Slater_
Picture by: Getty.
To enquire about republishing spiked's content, a right to reply or to request a correction, please contact the managing editor, Viv Regan.