The last pandemic couldn't even stop Woodstock
The Hong Kong Flu is now largely forgotten because governments didn't use it to disrupt our lives.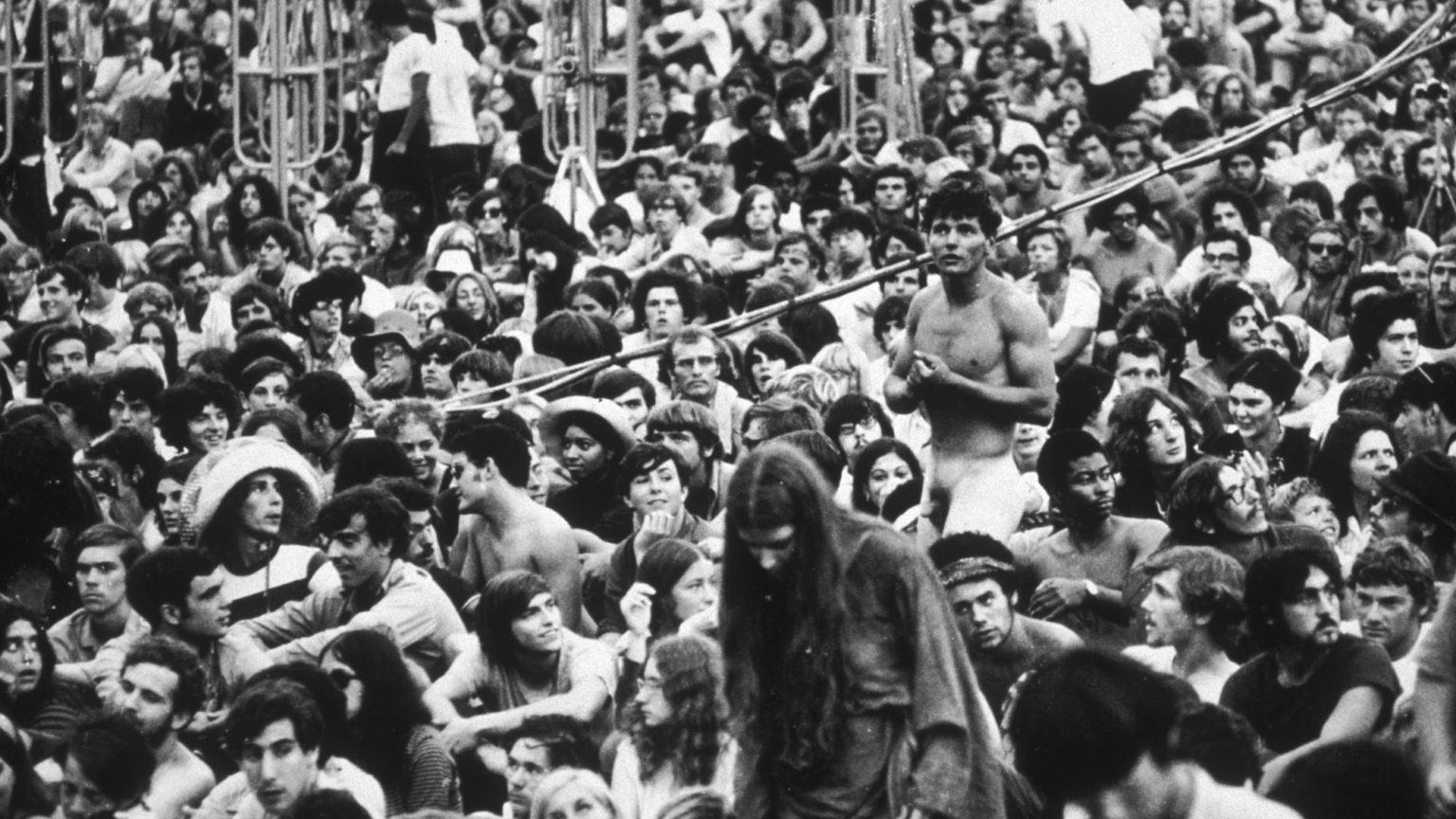 This week, 51 years ago in 1969, over 400,000 young people turned a muddy, manure-filled cow pasture in Bethel, New York into a small nation of love, peace and rock'n'roll. This was, of course, the legendary Woodstock. Two months later, half a million people took over Washington, DC for the Moratorium March – the largest anti-war protest in the history of the USA. But what is always unmentioned is that these watershed moments happened during a global pandemic – the Hong Kong Flu pandemic (or the 'Mao Flu' virus, as some Western tabloids dubbed it at the time) which raged from 1968 to 1971.
Everyone remembers Woodstock, the Vietnam War, the civil-rights and anti-war protests, the Stonewall Riots, and, of course, Apollo 11 and the moon landing. But no one remembers Hong Kong Flu, the pandemic that killed 100,000 Americans – more than the total number of US soldiers killed in the Korean and Vietnam wars combined. Half the deaths were among people younger than 65 – the reverse of the Covid-19 pandemic, where the vast majority of those affected are elderly. Hong Kong Flu also killed around 30,000 in the UK and between one and four million people, globally.
Looking back from our Covid era to that time, the most remarkable thing about the Hong Kong Flu pandemic is that it hardly features in the memories of those who experienced it. In December 1968, the New York Times described the pandemic as 'one of the worst in the nation's history'. Yet it's as if it never happened.
Few would recall that this virulent virus claimed the lives of the CIA's first director, Allen Dulles, and silver-screen legend, Tallulah Bankhead. Even the most fervent animal-rights activist is unlikely to know that three orcas at SeaWorld in San Diego came down with a bad case of Hong Kong Flu. Shamu, the world's most famous killer whale, had to be fed 375 antibiotic pills, stuffed inside mackerels, every day. No one remembers that in December 1968, Apollo 8 commander, Frank Borman, was struck down with H3N2 while in orbit, on his way to the moon. It is forgotten that he caught this from President Lyndon B Johnson, whom he met before embarking on the mission. President Johnson and his vice president, Hubert Humphrey, both had the disease while in the White House. Hospitals were overrun. New York City's blood bank was depleted, which forced hospitals to cancel both elective and life-saving surgeries. Absenteeism in the workplace was up by 50 per cent. In Europe, garbage collectors in West Germany were burying bodies because the undertakers couldn't keep up with the demand. Corpses in Berlin had to be stored in subway tunnels.
In Britain, something like 30,000 deaths provoked very little government intervention or even press headlines. 'Influenza deaths 101 in week', stated The Times on 6 January 1968, in an article tucked away on page three. It noted a call for more emergency beds and that more than 80 deaths in one week in Southampton had exceeded the town's birth rate for the first time since 1965. In December that year, in a frontpage column, The Times reported how the growing concerns of medical experts about the pending threat were simply dismissed by health officials who claimed the impact would be mild.
On 14 December 1968, in a frontpage article, 'Flu epidemic expected in New Year', The Times reported the Medical Research Council arguing that the pandemic would be milder than the Asian Flu pandemic of 1957. The Council stoically advised readers not 'be a martyr by going to work. The best thing to do is to go to bed for a couple of days.' By Christmas 1968, The Times reported in its business section that industry had welcomed the possibility of sufferers from Hong Kong Flu being able to draw sickness benefits without immediately providing medical certificates. This would encourage employees 'to keep away from work when they get the symptoms rather than come in and spread the germs'. In the end, the Department of Health and Social Security issued a warning that there would be no nationwide relaxation of the normal rules for medical certification in the event of an influenza epidemic. In short, life went on as normal, in sickness and in health.
The contrast with Covid-19 is striking. There was no mention of a New Normal. There were no lockdowns, no enforced social-distancing or mask-wearing. There were no furlough schemes, no shop closures and state bailouts of industries hit by stricken employees. Stock markets didn't go into meltdown. Politicians were hardly mentioned in the coverage. The media were, if anything, surprisingly sedate. The health threat was never politicised. Medical experts just got on with it. So did the public.
The point in all this is not to make any direct comparison between H3N2 and Covid-19 as diseases. It is the cultural and political context that was so different, and that's what needs to be remembered.
In 1957 and 1968, virologists did not understand the genetic mechanisms behind the emergence of new pandemic strains, which is why, when the Asian Flu pandemic occurred in 1957, it was initially thought this influenza virus was a variation of the H1N1 influenza virus of 1918. The reaction to Hong Kong Flu might appear to have been too relaxed by today's standards. But the fact that public-health authorities in the USA and the UK made no effort to mitigate the spread of the infection by, for instance, introducing border checks or strict isolation measures, reflected a different attitude towards health threats. This was understandable mainly because in both the 1957 and 1968 crises, apart from in New York as described above, hospitals elsewhere in the USA, as well as those in the UK, were never overwhelmed. There was no equivalent of the current pandemic's Bergamo experience. During the 1968 pandemic, although patient numbers increased by three per cent, hospitals coped with the influx. Indeed, the only real strategy considered by health authorities in the UK and the USA was vaccination, but the vaccines arrived too late in both the 1957 and 1968 influenza pandemics to make a difference.
What this contrast highlights is that the experience of such health threats is always a social phenomenon which is mediated through the public's cultural imagination.
Back in the Sixties, the precautionary culture that exists in the 21 century had not yet taken hold. Woodstock took place a few months after the first wave of the Hong Kong Flu, even after New York had declared a state of emergency (without any shutdowns of businesses or schools, it should be noted). In fact, it could be argued that the historical context of Woodstock – the Vietnam War, civil rights and the emergence of the counterculture – was an instinctive act of social solidarity, an act of collective defiance in the face of what was an established health threat at the time. It's not what was smoked or taken during Woodstock that made people forget the Hong Kong Flu pandemic. It was the fact that they did not experience a health threat as vulnerable victims. Whatever we might think of their antics today, they believed they were making history and were changing the world. A mindless virus was not going to inhibit their aspiration for radical change. This difference is critical.
Looking back is important, not for nostalgic purposes, but because it sensitises one to some key differences. Understanding why Hong Kong Flu is a forgotten pandemic helps explain why Covid-19 not only features so large in the contemporary imagination, but why it will endure for years to come.
The contrast reveals how our cultural imagination has shifted from a sense of agency to one of vulnerability. Hong Kong Flu did not come to dominate the cultural and political imagination, because it was not allowed to.
The contemporary culture of fear with its underlying assumption of a state of vulnerability has normalised a disaster consciousness. The Covid-19 lockdown was waiting to happen. Its roots lie way beyond the peculiarities of a novel, unknown virus. The sense of vulnerability has meant that society now assumes that an increased inability to cope with adversity is the default. It is not just that there is an unconscious expectation of disaster. It is worse than that. It is the assumption that when disaster comes (and it will), society will not be able to cope. Which is why, despite all the science and advances we have made in understanding viruses since the Hong Kong Flu, the dead weight of precaution and risk-aversion grips politicians and experts alike.
During the Hong Kong Flu, dealing with uncertainty was the order of the day. Today we might think of this as a cavalier attitude towards a real threat. But there were grounds for some resilience. A health threat did not come to dominate life in the way it has today. When vulnerability informs the social imagination, nothing else can compete. It has an iron grip on what society regards as the choices before it. Which is why the very idea of mitigating Covid-19 is now ruled out – eradicating Covid-19 is now the only game in town. Which means that any spike in cases, regardless of the fact that 99 per cent of people who contract Covid-19 will survive the illness, is regarded as a failure of policy. This is a true dead-end – a bottomless self-fulfilling spiral from which there is no escape.
This is why remembering the Hong Kong Flu pandemic (and why it has been forgotten) is so important. Some may say it tells us our politicians and experts have become more responsible and proactive. But really what it shows is that the crisis around Covid-19 is manmade. It was not inevitable. Nor are we dealing with an unknowable accident of evolution that has us cornered. In the past, human agency and a desire to change the world, not a sense of passive vulnerability, managed to transform a health crisis into just another of life's experiences that we had to go through in order to get to where we felt we wanted to be.
That manure-sodden cesspit in a field represented something much greater than a hedonistic escape from reality. It represented human agency – covered in shit, perhaps – which banished a health crisis into the dustbin of history, where it belongs.
Dr Norman Lewis is a writer and managing director of Futures Diagnosis.
Picture by: Getty.
To enquire about republishing spiked's content, a right to reply or to request a correction, please contact the managing editor, Viv Regan.