Melbourne's slide into Covid dystopia
The perverse lockdown has destroyed democracy, liberties and the economy.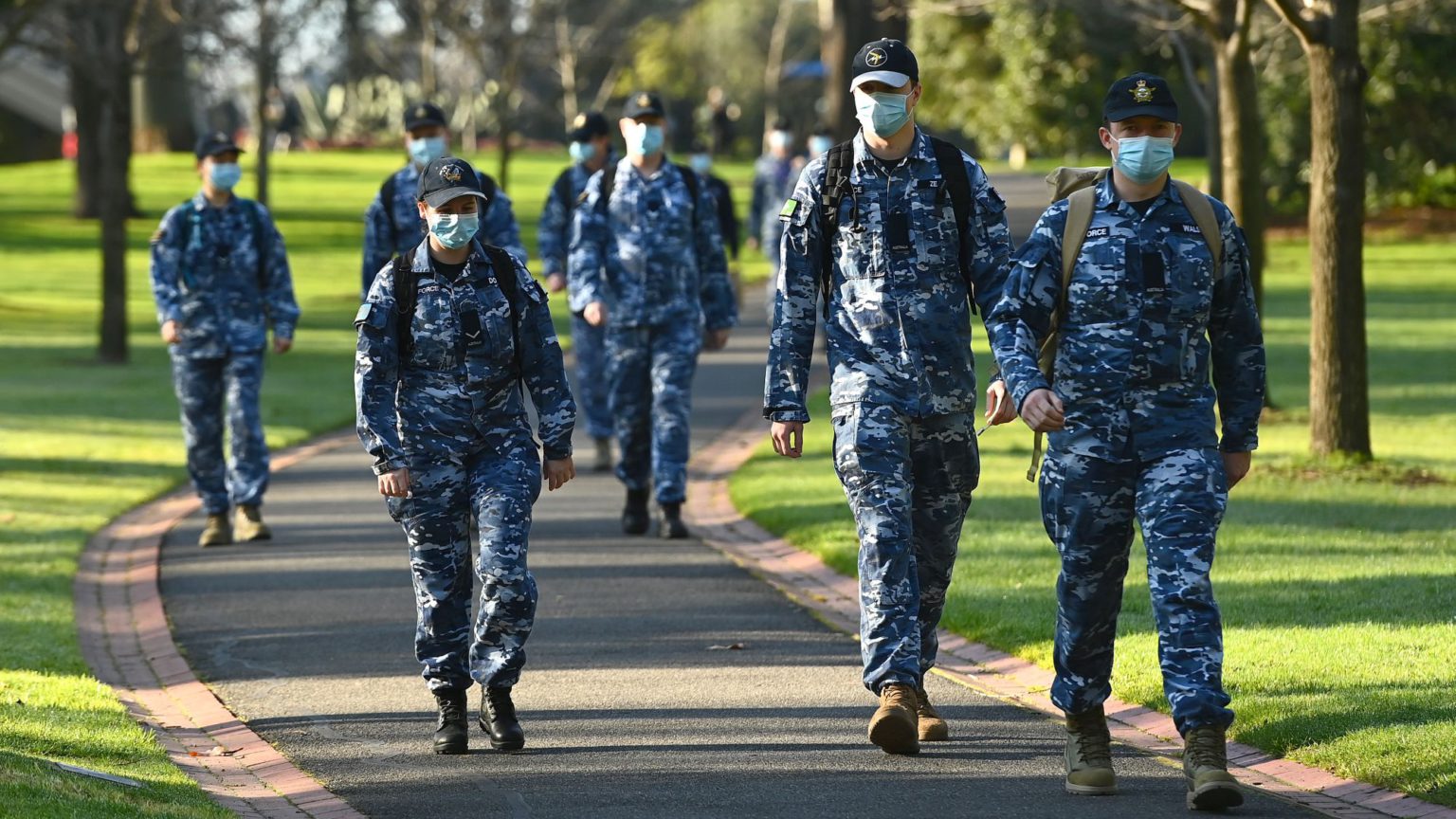 A couple are watching their child play in a playground. They are fined by the police. They are further than five kilometres from their home.
A man leaves his home at 9.30pm to buy some cigarettes. He too is fined: $1,652. He has left his house during the city-wide curfew, which comes in at 8pm.
On Facebook, two men plan a protest against Victoria's restrictions. Police execute a search warrant and seize their mobile phones and a computer. One is charged with incitement because he wanted to organise a protest – public gatherings are limited to two people and only for exercise (physical, not of our basic rights).
This is the situation in Melbourne, Australia's second-largest city, right now. In a supposedly liberal democracy. On 2 August, Daniel Andrews, the premier of Victoria, announced that Melbourne was in a 'State of Disaster', and as of that evening would move to 'Stage 4 Restrictions'. This meant that workplaces and shops not deemed 'essential' had to close. Melburnians are forced to stay within five kilometres of their homes, can only leave the house for exercise for one hour per day, and only one member of a household can go shopping – once per day. And we cannot leave our homes between 8pm and 5am. Any workers walking around outside of these times, or outside of the geographical confinements, must carry a government-issued 'permitted workers' permit.
This is the most perverse destruction of civil liberties this city has ever seen. Even in wartime we haven't seen anything like this. With just four hours' notice, the entire city was effectively placed under house arrest. Livelihoods have been destroyed, social connections have been shattered, and for many, hope is lost. The effects have been devastating from the outset, and will be devastating for years to come. The Institute of Public Affairs estimates that an additional 300,000 jobs will be lost during this Stage 4 Lockdown – on top of the 168,600 people who have lost their jobs since restrictions began in March.
All this is happening without a shred of democratic oversight. The lower house of the Victorian parliament has shut down on health advice. Not moved to Zoom like the UK – simply shut down. Democracy is now a health hazard that politicians won't expose themselves to. The upper house remains open despite the Andrews government's attempts to get it closed. When his ministers turn up, they have refused to answer questions about the handling of the virus – on health advice.
There has never been a more important time for democracy in Victoria. We need answers. When will Stage 4 end? When will restrictions in general end? Once we leave will we ever come back to Stage 4? How many destroyed lives are acceptable in the fight against coronavirus? Are the draconian restrictions proportionate with the health risk?
The only semblance of democracy we have is the premier's daily media conferences. Except these are attended not by elected parliament members whose voters have been thrown out of work, but by journalists. And many journalists are happy for the lockdowns to continue. Those journalists who are standing up for the affected and are asking tough questions are facing the wrath of Daniel Andrews' worshippers on social media. When journalist Rachel Baxendale dared to ask tough questions of Andrews over the tragic mishandling of the state's hotel quarantine scheme, the hashtags #thisisnotjournalism and #istandwithdan started trending on Twitter.
Unbelievable mishandling led us to Stage 4 restrictions. Private security guards were hired to oversee hotel quarantine, instead of the police or army. The main company providing the guards was not on the government's panel of preferred security providers, but was likely chosen anyway for reasons of 'social inclusion' (rather than say, 'experience'). The government won't tell us why exactly. But it expects us to trust it can navigate its way out of this crisis it has created.
In fact, that's what we have been asked to do for this whole pandemic – trust the elites. The government doesn't need to be held accountable, apparently – it has our best interests at heart. Don't question whether the restrictions are proportionate to the health risk – the governments' advisers know best.
Back in May, Australian prime minister Scott Morrison famously said 'we're all in this together'. What was cringeworthy then is now completely disingenuous. Mainstream Victorians have paid far more of a cost for these restrictions than the elites of society have.
IPA analysis has found the real unemployment rate – which includes those who are out of work but are actively seeking and available to work, those who have left the labour force since March, and those who are employed but are working zero hours – is 13.1 per cent. Meanwhile, 14,000 jobs have been added to the public sector around Australia. Of the politicians and senior members of the public service who have kept their jobs, not one has taken a pay cut. In fact, politicians and tens of thousands of public servants in Victoria have seen their pay increase. But we are all in this together. The elites stay in their jobs and lecture the rest of us on how to balance public-policy priorities. They say they have got it right. Have they?
How things have changed. Melbourne has been awarded the title of the 'world's most liveable city', according to the Global Liveability Index multiple times in the last decade. It is now a city with a nightly curfew. A city that has locked its most vulnerable citizens in tower blocks. A city where police officers will ask you if you've strayed too far from your house. A city where you can be thrown out of work if the government says your industry is not 'essential.'
I am writing these last paragraphs as the sun sets on another bleak day in this city. There is a woman on the street outside taking her compulsory mask down so the person she's calling on her mobile phone can hear her. I am surprised. Seeing someone without a mask on is now visually confronting, and I'm nervous a police officer will catch her in this minute-long window.
I wonder how long it will be before I see someone without a mask on and not worry that the police will soon arrive.
James Bolt is the co-host of the Young IPA Podcast with the Institute of Public Affairs.
Picture by: Getty
To enquire about republishing spiked's content, a right to reply or to request a correction, please contact the managing editor, Viv Regan.