Of course Corbyn sided with Meghan
Both carry on like entitled princesses who cannot understand why anyone would disagree with them.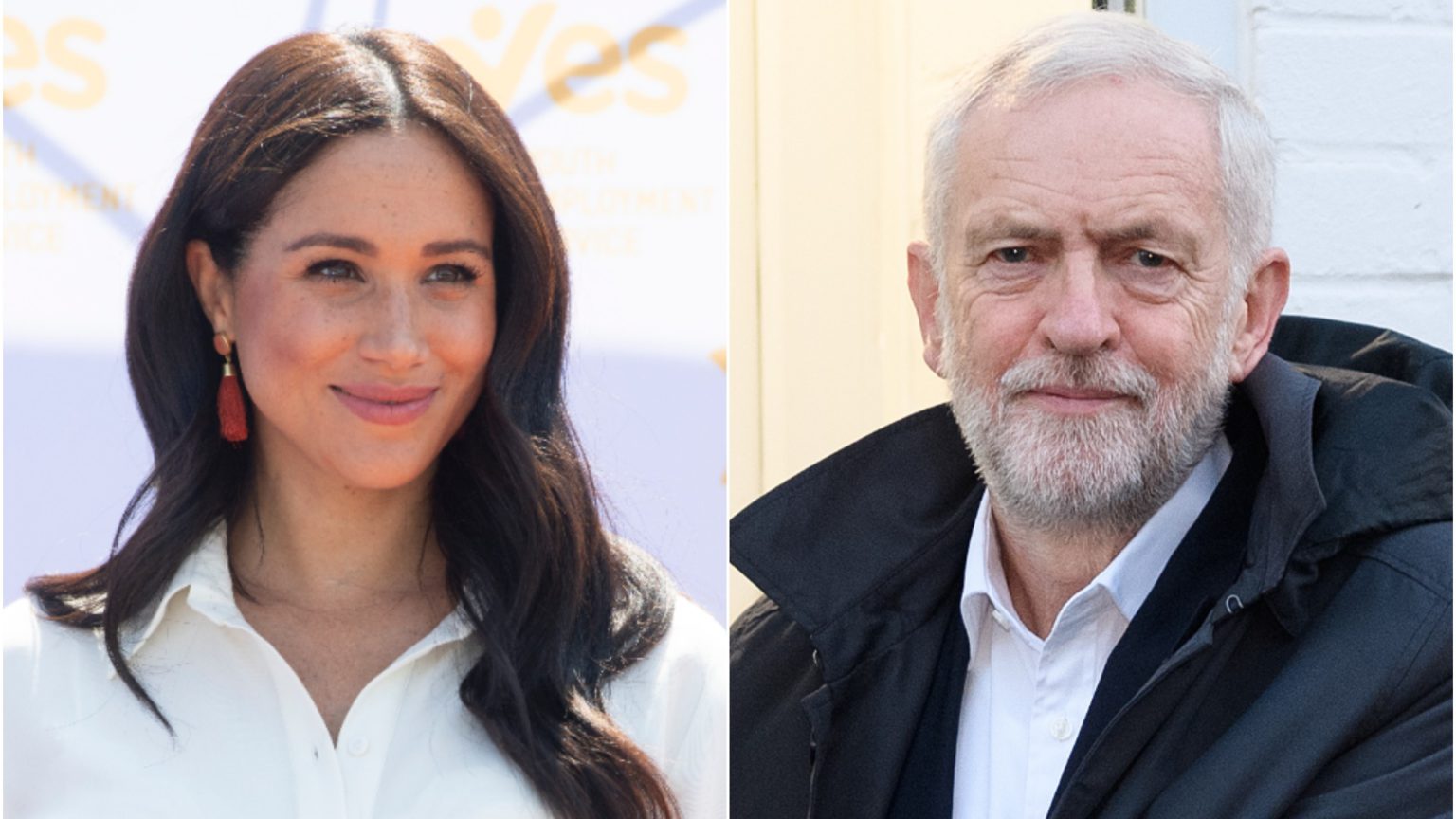 The most enduring myth about Jeremy Corbyn is that he is a man of principle, a conviction politician. During his disastrous leadership of the Labour Party, which ended with him delivering the party's worst election result since 1935, even his detractors felt moved at times to say that, even though he might have been wrong about nationalisation or foreign policy or the defensibility of certain anti-Semitic murals, at least he meant what he said.
This myth was exposed first by Brexit, of course. Corbyn, a lifelong Eurosceptic, didn't only back Remain at the 2016 EU referendum — he also eventually backed a second referendum, aimed at cancelling out the first, in the 2019 General Election. And now we learn that this lifelong republican also got soft on the monarchy towards the end of his tenure, and became quite chummy with Prince Harry and Meghan Markle.
According to extracts published in The Sunday Times from Gabriel Pogrund and Patrick Maguire's upcoming book, Left Out: The Inside Story of Labour under Corbyn, Corbyn and his wife, Laura Alvarez, 'privately offered sympathy for the duchess's treatment at the hands of the tabloid press'. The two couples reportedly met on 9 March, at a service at Westminster Abbey.
This wasn't just a passing remark, either. Alvarez gave Meghan a book of verse by Juana Inés de la Cruz, the 17th-century Mexican poet and nun known for her proto-feminist views and needling of the colonial establishment. 'In Juana, Alvarez hoped Meghan might find a kindred spirit', writes Pogrund and Maguire. The Sussexes even sent the Corbyns a note the next day, expressing 'great thanks' to 'Jeremy and Laura'.
The comparison between Juana and Markle, whose primary contribution to feminism is complaining about a soap advert, is sick-making in itself. But the fact that Corbyn apparently moderated his staunch republicanism, just because he agrees with these vacuous royals on the alleged nastiness of the tabloid press, is frankly pathetic.
Back in January, when the Sussexes announced they would be ditching their royal duties, a spokeswoman for Corbyn said he agreed with Prince Harry that there were 'racial undertones' to the coverage of Markle, and that he 'understands how press intrusion can have a negative impact on people and their private lives'. Though, when pushed, the spokeswoman could give no examples of the apparently racist coverage.
The reason for this, of course, is that there wasn't any. As I wrote at the time of Megxit, the argument that the racist British press hounded Markle out of the monarchy is based on a handful of examples, wrenched out of context and repeated ad nauseam. Before Harry and Meghan began pronouncing on political matters, the coverage across the British press was overwhelmingly positive.
The Corbyns, then, weren't showing solidarity with a victim of a brutal, racist establishment — they were showing solidarity with an entitled royal with a victim complex who didn't like being criticised. The Labour left's obsession with the tabloids, built on the snobbish conviction that the red tops effectively brainwash working people to vote Tory, apparently led Corbyn and Co to develop a weird sympathy for literal royals.
What these alleged radicals seem to have forgotten is that press freedom in Britain was built on the right to criticise (and rip the piss out of) royalty – in ways far less gentle than Meghan has ever experienced. In the 1760s, the maverick publisher John Wilkes would ridicule the royal court, sometimes insinuating the king's mother enjoyed intimate liaisons with the prime minister. For such heresies he was put in the Tower.
That in the most recent battle between entitled, censorious royals and the dirt-digging press (the battle over Megxit) many Corbynistas sided with the royals was very revealing. They essentially put their own petty beefs with the tabloids over their supposedly principled republicanism. And this says far more about the Corbyn project than it does about the press's supposedly shabby treatment of Markle.
Meghan and Corbyn do have a lot in common, but for the worst possible reasons. They both carry on like entitled princesses who cannot understand why anyone would disagree with them. No wonder they forged an unlikely bond.
Tom Slater is deputy editor at spiked. Follow him on Twitter: @Tom_Slater_
Picture by: Getty.
To enquire about republishing spiked's content, a right to reply or to request a correction, please contact the managing editor, Viv Regan.