Whites harassing whites: the new anti-racism
Protesters in Washington, DC harassed diners into showing solidarity with BLM.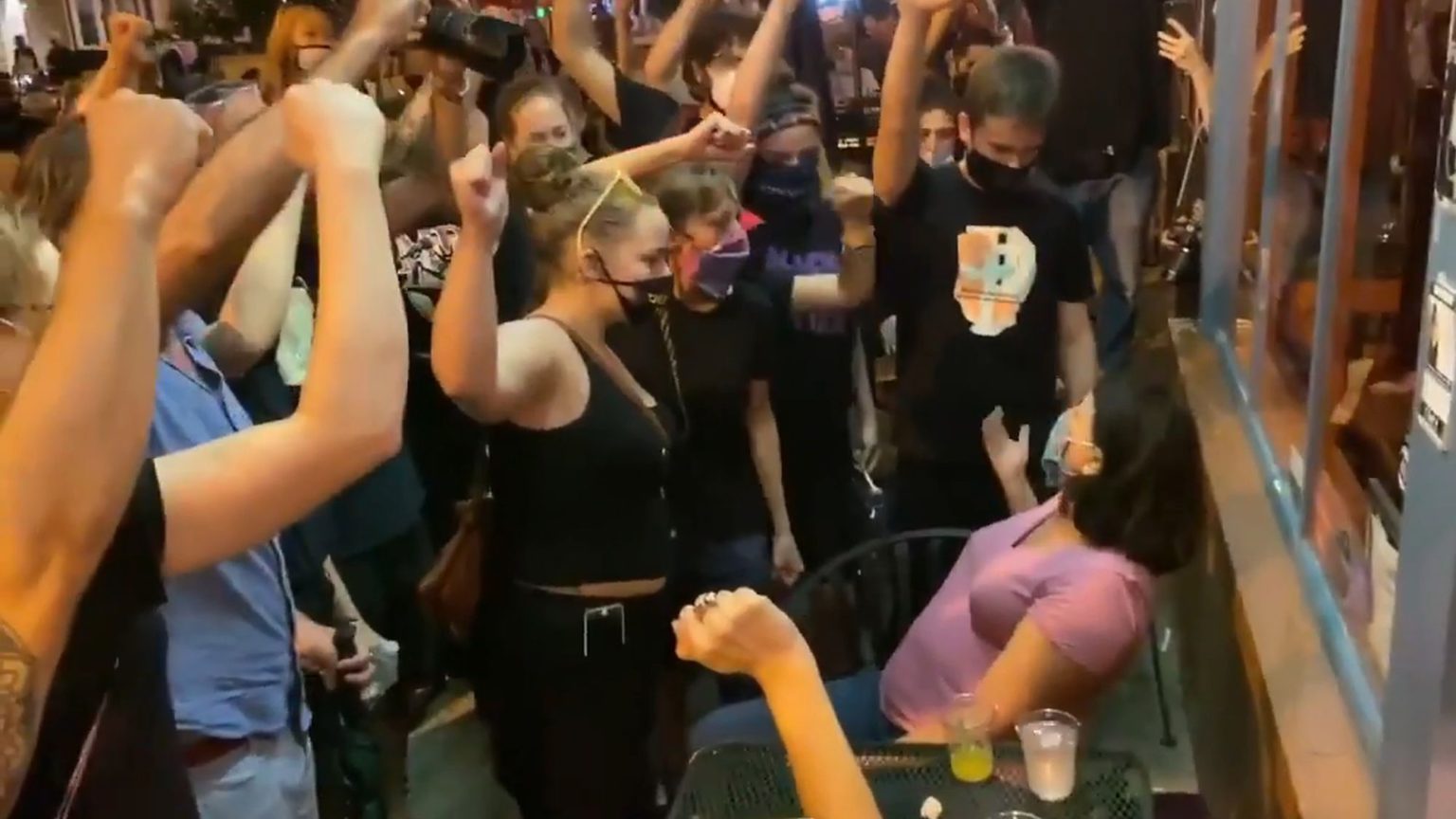 BLM protesters have been filmed harassing diners outside restaurants in Washington, DC. On Monday, Washington Post writer Fredrick Kunkle reported that the activists were trying to coerce customers into raising their fists in salute to their cause.
1) In a scene that played out several times Monday, a Black Lives Matter protest that began in Columbia Heights confronted White diners outside D.C. restaurants, chanting "White silence is violence!" and demanding White diners show their solidarity. #DCProtests pic.twitter.com/fJbPM76vb0

— Fredrick Kunkle WaPo (@KunkleFredrick) August 25, 2020
In the viral clip, activists can be seen surrounding a woman who has refused to raise her hand, with one protester shouting in her face. Chants of 'no justice, no peace' can be heard from the group.
Apparently, justice here consists of forcing random people into making public pronouncements of support for BLM. It seems that winning over hearts and minds is of no interest to these woke identitarians, who prefer instead to achieve their goals through intimidation and the silencing of dissent.
Amusingly – and predictably – the activists in the video are overwhelmingly white, and such bizarre behaviour by white 'anti-racists' is something of a trend now.
In May, footage emerged from Houston, Texas of white people kneeling down and asking black people to forgive them for 'years and years of racism'. A video from June showed white police officers appearing to wash the feet of black religious leaders as some kind of penance for historic abuses.
Aside from demonising dissenters, it is not entirely obvious what these public pronouncements of fealty to BLM are supposed to achieve. Every corporation under the sun has (virtue-)signalled its support for BLM, but none has done anything meaningful to combat racism.
There is no room for debate in the modern anti-racist movement. Only total submission is acceptable. That its footsoldiers have to force their worldview on others reveals how strange and off-putting that worldview is to most people. But it also reveals how superficial BLM is. After all, these public displays of loyalty achieve nothing positive. All they do is chill debate.
Picture by: Getty.
To enquire about republishing spiked's content, a right to reply or to request a correction, please contact the managing editor, Viv Regan.