The black lives we don't talk about
As the BLM culture war rages on, knife-crime victims continue to pile up.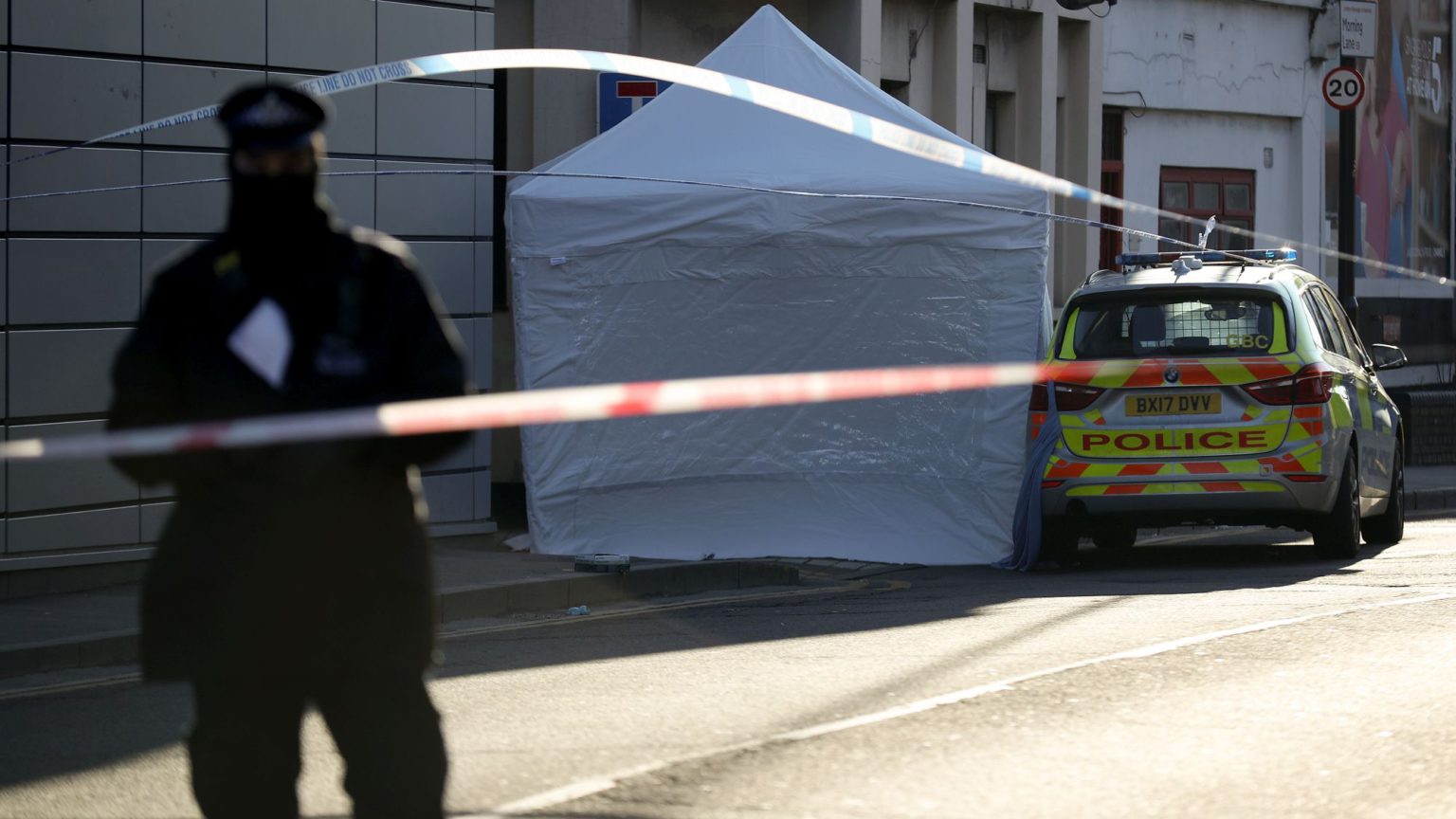 The names Jacob Blake, George Floyd, Trayvon Martin and Mark Duggan have become known across the globe as victims of police brutality. But consider another list: Jeremy Meneses-Chalarca, Louis Johnson, Babacar Diagne. These young men, all from black and ethnic-minority backgrounds, were killed in the most appalling circumstances, yet most people will not know who they are. They do not figure in our discussion of 'black lives'. These are just three of the young men who have died this year in Britain as a result of knife violence.
All of these murders were appalling. The killing of Jeremy Meneses-Chalarca, whose mother was from Colombia, occurred at 5.30pm on Oxford Street. It was watched by 'many witnesses' according to reports. Jeremy, who had turned 17 in July, was chased by an 18-year-old and stabbed to death in the middle of one of London's busiest shopping streets. It barely made the news.
Louis Johnson was stabbed at East Croydon railway station, in front of 'many commuters'. Johnson complained to his friends on the morning of his killing that he had 'been in a scuffle' with a stranger, and he feared he had a 'target on his back'. A 16-year-old boy has denied murdering Johnson and is set to stand trial. It appears – although the details are very sketchy – that nothing more than a minor disagreement between the two young men resulted in murderous violence.
Babacar Diagne was just 15 at the time of his death. He was found dead on grassland in Coventry. A 15-year-old girl is among the nine people who have been arrested in connection to the death. The motive for the attack remains unclear. Again, it was barely reported.
What is striking about so many killings today is how brazen they are. Andre Bent, 21, was murdered last year during a mass brawl in front of a nightclub, following a performance by the rapper MoStacks. The person who filmed the killing can be heard laughing and mocking Bent as he is being stabbed. This year, Enroy Ruddock boasted about allegedly murdering 21-year-old Emmanuel Lukenga over Snapchat. The murder of Karl Gallagher in Smethwick in April this year was captured on film and widely circulated. Much of this violence is happening out in the open, often in the middle of the day, where the public are able to capture the killings on camera.
These young men, who are all from ethnic-minority backgrounds, simply don't figure in the debate around Black Lives Matter. On the rare occasions these deaths are discussed, we only ever hear predictable arguments on two sides of a culture war. One side blames absentee fathers and other 'cultural factors' like violent music. The other side blames economic degradation and cuts to youth services. The men and boys who die in these incidents simply fall into the background.
There is a precedent for this. Stuart Hall – whose work I have returned to recently for spiked – had a name for the young men who died in British custody suites during the early 1970s. He described how the liberal majority viewed these men as 'ragamuffins', who most likely deserved their treatment by the police. Their deaths did not cause significant outrage because they were easily dismissed as troublemakers. The specifics of the deaths went undiscussed. They were not worthy of moral consideration.
Today, it is the victims of knife crime who are society's 'ragamuffins'. They are ignored by the BLM movement because they do not fit easily into a narrative of victimhood. We cannot talk about their killings, their lives, their motivations or their backgrounds.
The lack of discussion has led to deep confusion about why these men are dying. Shaun Bailey, the Conservative candidate for mayor of London, argues that companies should be forced to carry out drug tests on their employees to help slow the drug trade. He assumes this would, in turn, help combat the knife-crime problem. But as has been pointed out elsewhere, many of the deaths in our cities have nothing to do with dealing cocaine to middle-class households. Many knife attacks – like those which killed Louis Johnson, Andrew Bent and Emmaneual Lukenga – appear to be motivated mainly by minor social disputes and social-media 'beefs' which spiral out of control.
Commentators are reluctant to address the most disturbing specifics of today's violence. The academic and rapper Akala is typical in this regard. He went viral with his views on youth violence last year. His argument is that: 'The social indicators for serious youth violence have remained identical for almost 200 years: poverty, domestic abuse, lack of education – and expulsion from school.' He then says almost half the people in prison today in Britain were expelled from school as children, compared with just one per cent of the population as a whole. Akala has some good points to make about knife crime. But the view that it is all down to 'social indicators' – a view shared by a number of commentators – creates confusion rather than clarity.
First, the picture is far more complicated. Home Office research into serious violence from July 2019 analysed the indicators found to be significantly associated with weapon carrying and use at the age of 14. Important factors included gender, the number of siblings in a particular household, the onset of puberty and the frequency of truanting.
The report then analysed the indicators found to be significantly associated with 'Serious Violence Linked Behaviours' (SVLB) which were self-reported at age 18. This found that 'child mistreatment' was a significant factor. So was the 'father's marital status'. Interestingly, the number of siblings in a household was more significant in leading to SVLB than many other household-related factors. As the report puts it, 'those with no siblings and those with four or more siblings were generally more likely to report weapon carrying / use than those with one sibling'.
The report also found that 'truancy' was a more significant indicator of weapon carrying and use than school exclusion. An earlier Home Office paper from 2015 on gang and youth violence similarly found that 'running away and truancy' were strong risk factors for youth violence. This earlier report contained an additional finding which is rarely talked about: 'Across the age groups, individual factors (such as low self-esteem) as opposed to their contexts (such as coming from a low-income family) were found to be the most powerful signs of risk.' In other words, individual traits and decisions are better indications of a young person's risk of serious violence than what we might call 'social indicators'. In this vein, it's interesting to note that Akala and others focus on exclusion rather than truancy. This reflects a desire to deny the agency of those involved in knife crime.
Of course, these Home Office reports do not give the full picture. We should not rely on them to dictate our approach to solving serious youth violence. But it is also important to understand what we do and do not know. I am happy to be corrected, but I have not found any serious evidence to support the claim that social indicators have 'remained identical across 200 years', as Akala argues. After all, it is hard to see how something like exclusion from school could be an indicator of youth violence in both the 19th and 21st centuries, given that most of the population 200 years ago did not attend school.
The impulse of many commentators is to deflect questions about what is specific about today's killings. They would rather focus on the abstract factors which provide continuity between the violence that occurred between, say, the Mods and Rockers on Brighton beach and the young men on London's council estates.
Akala's policy proscription is one-word long: Glasgow. The 'holistic approach' adopted in Scotland led to a rapid decline in serious youth violence, he argues. 'Intervening early' with counselling, good jobs and youth services was the best solution, he says. He is not alone in venerating Glasgow. This 'public-health approach' is often held up as 'what we should do' about knife crime. But it is not all it seems.
Glasgow's 'holistic approach' generally refers to the establishment of the Violence Reduction Unit in 2005. Since then, the VRU has been providing mentoring and employment opportunities to gang members and running educational sessions in schools.
The VRU is hardly unique in offering state-sponsored mentoring and employment opportunities to young people. But more importantly, Glasgow's reforms were not as benign as they are often presented. By 2010, stop-and-search rates in Scotland were around four times higher than in England and Wales. Seventy per cent of recorded searches were undertaken without reasonable suspicion. Scotland also introduced sentencing guidelines in 2016 which allowed those carrying knives to be jailed for five years. While the maximum sentence was only handed out very rarely, the average prison sentence for knife possession also increased by around 85 per cent between 2008 and 2018.
The appeal of this public-health approach is that it allows us to continue to treat young men as a problem to be managed, rather than as moral agents. Judges in murder trials routinely refer to the 'law of the jungle' when describing the environments in which these killings occur, as though they are happening somewhere far away from the streets of our major cities. Academics and commentators refer to a 'gang culture' in which otherwise appalling behaviour can be, in some respects, rationalised. These are both attempts to treat young ethnic-minority men as though they live in a separate moral community to the rest of us. Those who refer to 'gang culture' are often making well-meaning attempts to explain inexplicable behaviour. But the effect is to exacerbate the feeling among these men that they are, in some sense, exiles from the society around them. The American intellectual John McWhorter often makes this point in the US context. A refusal to discuss the details of these killings reflects a culture of low expectations, which almost expects that young black men will carry on murdering each other.
This problem is exacerbated by the tendency to see young ethnic-minority men as heavily victimised by wider society. While it is right to see some of these men as suffering from material deprivation, we should also recognise that a narrative of victimhood can provide this violence with an implicit justification. If young men are told to believe that all of society is geared against them, it is not hard to see how this can cultivate a sense of grievance which has the potential to translate into serious violence. There can be little motivation to obey the laws of a society which you believe has been built to keep you down. In reality, many victims and perpetrators of this violence are in fact upwardly mobile – many are flourishing in higher education and some are even materially wealthy.
It is also worth considering how these killings reflect the profound importance placed on individual self-esteem by wider society. The fact that so many of these killings arise from social-media spats and social disagreements suggests that these men take their self-esteem and reputations very seriously. They are hardly alone in this. Today's therapeutic culture continually reminds us that our sense of self-worth is essential to a happy life. It is not hard to see how a culture which venerates individual self-worth can encourage young men to think that personal slights and knocks to confidence are worth killing for. This also goes some way to explaining the very public and performative nature of many of these attacks.
If we are to understand these killings, we must at least talk about them on their own terms. We have to look seriously at the young men involved. We should recognise that these young killers are not forced to behave the way they do by economic hardship or a lack of youth services. They make choices. Taking this starting point allows us to take these young men seriously, as our fellow citizens, and to confront these crimes head on. Until we do, young men will continue to die. And their deaths will continue to be back page news.
Luke Gittos is a spiked columnist and author. His latest book, Human Rights – Illusory Freedom: Why We Should Repeal the Human Rights Act, is published by Zero Books. Order it here.
Picture by: Getty.
To enquire about republishing spiked's content, a right to reply or to request a correction, please contact the managing editor, Viv Regan.