The implacable grandeur of Eugene McCabe's Ireland
The late McCabe distilled with great economy the universal existential themes faced by us all.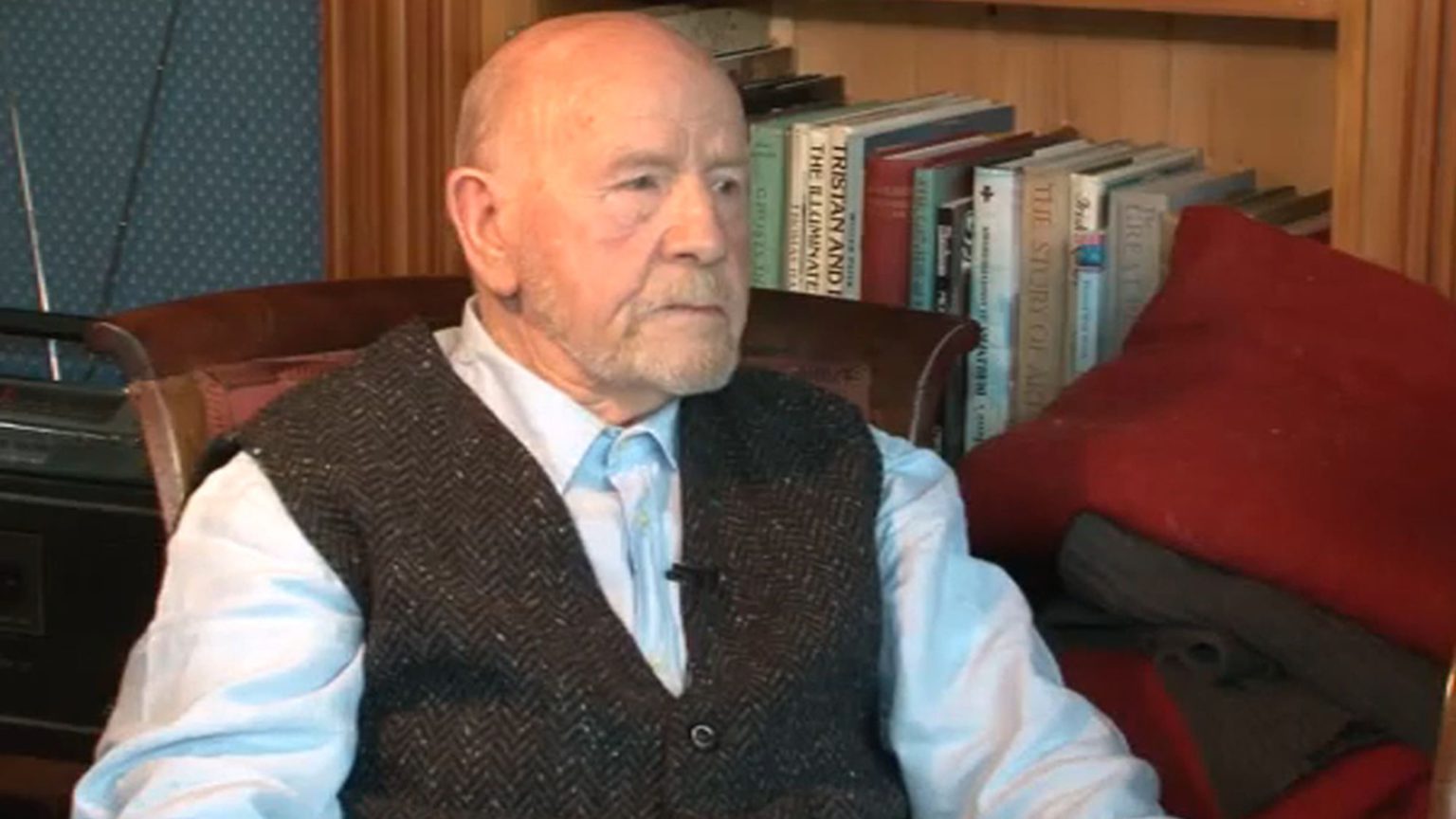 The great but largely overlooked writer, Eugene McCabe, has died aged 90, leaving several books of spare, unflinching short stories collected together in Heaven Lies About Us, a number of significant plays, and the stunning novel Death and Nightingales (1992), which was adapted for a critically acclaimed miniseries by the BBC last year. Set in the Irish border country of 1883, around the time of Parnell and the Invincibles, the novel was described by fellow writer Colm Tóibín as 'one of the great Irish masterpieces of the century'. Tóibín said McCabe only wrote masterpieces because he only wrote when he was ready. In fact, he enjoyed the challenges of living and farming in the unforgiving landscape known as 'the murder triangle' during the Troubles much more than writing about it.
McCabe's breakthrough play, King of the Castle, won the highest accolades at the Dublin Theatre Festival, alongside Brian Friel's Philadelphia, Here I Come!, while equally offending the conservative Catholics of the League of Decency in 1964. In 1977, RTE televised this controversial play about sex, greed and pride, in which a wealthy but impotent farmer recruits a younger virile man to impregnate his wife. RTE continued to give McCabe regular work: he wrote scripts for drama series The Riordans. He also wrote children's books, and the non-fiction work Shadows from the Pale: Portrait of an Irish Town (1996). But perhaps the writing that comes nearest to the bone and displays his finest mastery of form and language is to be found in the Christ in the Fields trilogy: 'Cancer', 'Heritage' and 'Seige'.
In 1973, McCabe rewrote these short stories as screenplays for RTE and they were shown under the title Victims. 'Cancer' is a perfect short story: like others he wrote, it turns on one devastating line and distills with great economy the universal existential themes faced by us all. It opens with a British Army helicopter swooping down to read a local car registration plate. McCabe worried it would be too expensive to film for television, but to their eternal credit RTE producers did not balk at McCabe's clear-eyed portrayal of the bitter struggle as it was being fought out between the British security forces / UDR and the Provisional IRA with the inevitable involvement of local Protestant and Catholic farming communities along the border.
McCabe's writing has not received the recognition it deserves because, at the height of the conflict, it was forthright and honest about the terrible fear and roiling hatred that seethed between close neighbours on both sides, and also about the reasons why these tensions ran so deep. When McCabe was interviewed by Colm Tóibín at Patrick McCabe's surreal Flat Lake literary festival in Clones some years back, he told how Brian Friel had insisted they had a duty to write about the Troubles, so while others, including 'famous Seamus' Heaney, went on to write mostly about another time and place to great acclaim, McCabe set down in stark, bleak but irrefutably beautiful prose the truth about the war in Ireland as lived by its border people. These hard-bitten, hardworking characters drawn so vividly in his pages propel stories so compelling that it is impossible to look away, despite the frightening but inescapable violence they both suffer and initiate; it is a shock to close the book and discover they are not actually there.
One such character is Dinny McMahon, who reaches over a Protestant bar counter in 'Cancer' to throw good whiskey down the sink, saying 'I'd as lief drink with pigs', having heard UDR man George Hawthorne whipping up anti-Catholic hatred in the snug. Dinny appears again in 'Heritage', grimly facing down the local gentry Colonel Armstrong in front of his hunting party. When the colonel declares his hunting and shooting rights 'for this townland and all the townlands from Inver to Corrawhinny', Dinny replies: 'Well I have shooting rights here in my two hands, that's how you got yours, and if you want now I'll show you how it works.' He then raises the gun and points it directly at the colonel's head. Armstrong backs off, declaring Dinny a lunatic. 'We've hunted this stretch before', he says, to which his Catholic gun-dog trainer replies: 'Before Sixty-Nine.'
In his essay 'Derry Again, in slow motion' from Hunger Strike: Reflections (2006), McCabe wrote 'the gratuitous use of the word "wretched" seems the abiding Tory establishment's response to all things Irish, a gross, ex-Empire arrogance still dormant in the closet'. This attitude is rendered with great clarity in McCabe's stories. While he admittedly writes from the Catholic side, he is careful not to offer any solutions. The second story, 'Heritage', is remarkable in that it flips from the Catholic to the Protestant viewpoint, demonstrating an equally intransigent if more terrifyingly violent personification in the UDR blacksmith George Hawthorne, while his nephew Eric's position is portrayed with great empathy and understanding. Looking up towards Catholic territory, Eric sees:
'a dim, hidden country, crooked scrub ditches of whin and thorns stunted in sour putty land; bare, spade-ribbed fields, rusted tin-roofed cabins, housing a stony-faced people living from rangy cattle and welfare handouts. From their gaunt lands they looked down on the green border country below watching, waiting.'
The similarities in dialect and flinty bluntness of both Protestant and Catholic characters mirror each other so closely that it is all the more disturbing to witness the savage threats of violence carried out as promised in these stories.
The final story pivots on the IRA siege of Colonel Armstrong's big house at Inver. In one of the brilliantly intense exchanges, the colonel's wife asks the female IRA volunteer if she likes Dylan Thomas. The volunteer replies, 'Not as much as Kavanagh'. Tapping the kitchen table and then nodding towards the dresser, she continues: 'I prefer this to that… Scrubbed deal to a Welsh dresser.' This is a good image to describe the aesthetic appeal of McCabe's writing. Everything in the house shouts colonial rule, but the brutality of Gallagher, an IRA man at his most implacable, is cruel at the same time as it is a direct result of British rule, represented by the army forces waiting outside the house and the political and cultural establishment held hostage within it.
The Irish Times' fulsome tribute to McCabe quoted President Higgins, Fintan O'Toole, the Irish minister for arts and culture, Catherine Martin, and others at length, but it was wrong to sum him up as 'a stern critic of violent extremism and sectarianism'. McCabe knew the people he wrote about intimately and he did not reduce the Irish War to a squalid tribal feud nor condemn those caught up in its fierce enmities. His steady and penetrating gaze is preserved in his astonishingly lucid writing and, for that, his readers and re-readers will be forever grateful. A Camus quote on the flyleaf of Heaven Lies About Us sums up the creative force of McCabe's writing better than I can: 'If there is a sin against life, it is not perhaps so much to despair of life, as to hope for another life and to lose sight of the implacable grandeur of this one.'
Bernie Whelan is a writer based in London.
Picture by: YouTube.
To enquire about republishing spiked's content, a right to reply or to request a correction, please contact the managing editor, Viv Regan.