People must have the right to mock Muhammad
Charlie Hebdo is right to republish the cartoons that caused such barbarism in 2015.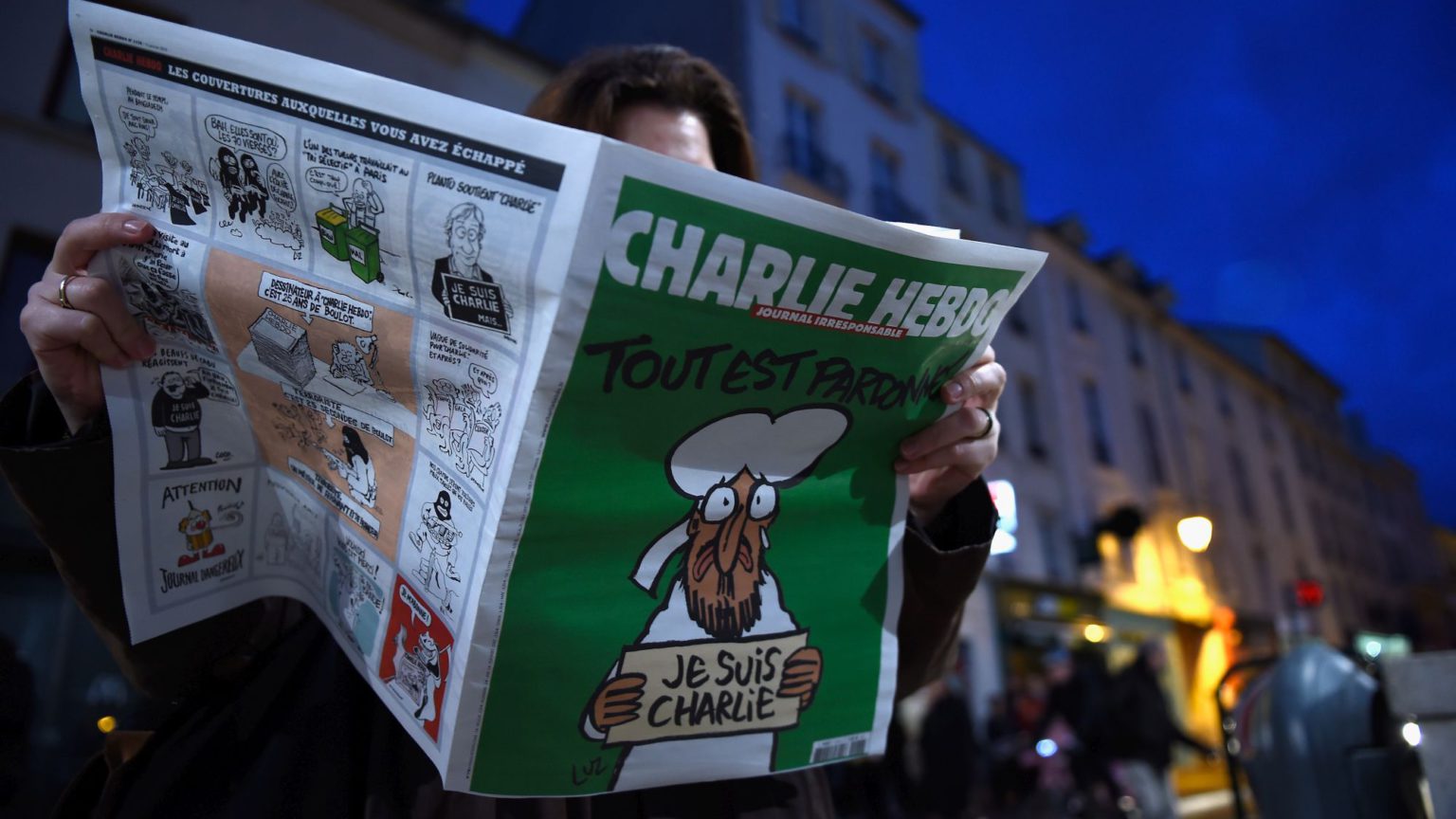 Charlie Hebdo is at it again. Once again the famously fuck-you French magazine has published caricatures of the Prophet Muhammad. And not any old caricatures. It has published the ones that made it a target for radical Islamist fury and mass murder in January 2015, when two al-Qaeda-inspired gunmen stormed into its offices and massacred 10 of its cartoonists and writers for the 'crime' of blasphemy, for the 'sin' of mocking the Prophet. Have Charlie Hebdo's new editors gone mad? What are they thinking republishing the Muhammad-mocking cartoons that led to that act of deranged slaughter just five years ago?
They're thinking, it seems, about freedom, and in particular freedom of speech, and about the importance of upholding this central value of civilised societies even in the face of threats from violent religious extremists. Charlie Hebdo is right to republish the cartoons. It has, predictably, received a lot of flak. The radical Islamist corners of the World Wide Web will be full of rage and splutter. Leaders in Muslim-majority countries will hotly denounce the heretical French satirists. Indeed, Pakistan has already condemned Charlie Hebdo. Its foreign ministry declared on Twitter that this 'deliberate act to offend the sentiments of billions of Muslims cannot be justified as an exercise in press freedom or freedom of expression. Such actions undermine the global aspirations for peaceful coexistence.'
Actually, the republication of the cartoons can absolutely be justified in terms of freedom of expression. This is unquestionably a free-speech issue. The right to doubt, question and even mock all gods, prophets, ideologies and fads is essential to a free society. The exercise of this right will sometimes cause offence, sure, but people feeling offended is an infinitesimally small price to pay for living in a society in which you have the right to express your views, whether you're an irreligious piss-taking satirist, a hardcore Islamist, or just a regular person. Hurt feelings pale into insignificance in contrast with the essential and empowering nature of freedom of expression.
As for jeopardising 'peaceful coexistence' – it isn't Charlie Hebdo that is doing that; it's Pakistani officials. There were lethal riots in Pakistan in 2015 when Charlie Hebdo published a cartoon of Muahammad just a week after the massacre (now that's bravery). It is wilfully reckless for a Pakistani ministry to seek to make political mileage from publicly denouncing Charlie Hebdo once again given the violent hostility to that magazine that exists in parts of Pakistan. Charlie Hebdo is merely exercising its freedom to speak and publish – it has always been its enemies and its haters who were the ones who stirred up violence, mayhem and censorship.
Also, Charlie Hebdo is not, as Pakistan and others claim, republishing the cartoons as a 'provocation'. No, it is republishing them as a matter of historical record, as a reminder of the daft, ridiculing images that encouraged two radical Islamists to engage in a barbarous assault in 2015. This week, you see, the trial begins of 14 people accused of being accomplices to the Charlie Hebdo killers. And to mark the start of the trial, Charlie Hebdo is reminding people what this event, what this massacre, was all about: a handful of cartoons making fun of Muhammad.
As the editorial in this week's issue says, the cartoons 'belong to history, and history cannot be rewritten nor erased'. To refuse to show the cartoons when 14 people are on trial for allegedly assisting in the slaughter of the people who helped to produce the cartoons would be an act of 'political or journalistic cowardice', the mag says. It is right. There is a public trial of people who allegedly helped to facilitate one of the grimmest, most medieval attacks on individuals and liberty that has taken place in Europe for a long time; to hide away the content that these people were so bloodily infuriated by would be bizarre. It would represent a memory-holing of the events of January 2015.
Of course, alongside its desire to show things that are of historical importance, Charlie Hebdo is republishing the cartoons in order to demonstrate that no one, not even threatening radical Islamists, should be allowed to curb or chill freedom of speech. As its editorial says, 'We will never lie down. We will never give up.'
This is a message not only to intolerant Islamists, but also to the intellectual elites of Europe. They said 'Je suis Charlie' for about five minutes in 2015, before then going back to their old view that un-PC speech is a problem, that criticism of Islam is 'Islamophobia', and that campuses and public life in general should be cleansed of so-called transphobic, homophobic and other offensive forms of speech. Charlie Hebdo is confronting the cowardice of the cultural elites as much as (if not more than) it is saying another 'screw you' to radical Islamist movements that think they can use menace to prevent the expression of ideas they don't like.
Indeed, as the trial of the alleged accomplices begins this week, it is worth asking whether there were other accomplices to the Charlie Hebdo massacre, too. Not violent accomplices; not people who provided logistics and weaponry, as these 14 are accused of doing. No, intellectual accomplices, moral accomplices, a cultural worldview that had already demonised and even criminalised 'offensive' speech and 'hate speech' long before the two gunmen stormed the Charlie Hebdo offices. This massacre didn't happen in a vacuum. It happened at a time when PC censorship was growing, censorious wokeness was emerging, and the bizarre idea that people have the right not to be offended was being institutionalised in universities and in political circles.
Our intellectual elites have a great deal to answer for. They have abandoned the ideal of freedom and especially freedom of speech. They have rebranded certain moral views, political opinions and even biological facts as 'hate speech' deserving of punishment. They have mainstreamed the idea that questioning Islam and its practices is 'Islamophobia', a fancy term for blasphemy. They have helped to nurture a climate across Europe where you can be No Platformed from campuses for expressing unorthodox views on anything from immigration to climate change, where people have been arrested and fined for mocking Islam or denouncing homosexuality as a crime against nature, and where 'wrongthink' is cleansed from social media on a daily basis.
This machinery of political correctness was also an accomplice to the events in Paris in 2015. That massacre can be seen as the armed wing of political correctness, the nadir of the reactionary, regressive idea that people and ideologies have the right never to be questioned or ridiculed, and that anyone who does question or ridicule them deserves to be punished – whether that is by being hounded, sacked, arrested or, in the one-step-further outlook of the Islamist killers of January 2015, murdered.
Charlie Hebdo is right to continue insisting that freedom of speech, including the right to offend, is something really worth fighting for. Whether this freedom is being undermined by armed gunmen, government censorship or woke mobs, we all suffer when the liberty to express ourselves is betrayed. So let's say it again: Je suis Charlie.
Brendan O'Neill is editor of spiked and host of the spiked podcast, The Brendan O'Neill Show. Subscribe to the podcast here. And find Brendan on Instagram: @burntoakboy
To enquire about republishing spiked's content, a right to reply or to request a correction, please contact the managing editor, Viv Regan.