The bizarre rise of woke kids' books
Andrew Doyle discusses Titania McGrath's new book, My First Little Book of Intersectional Activism.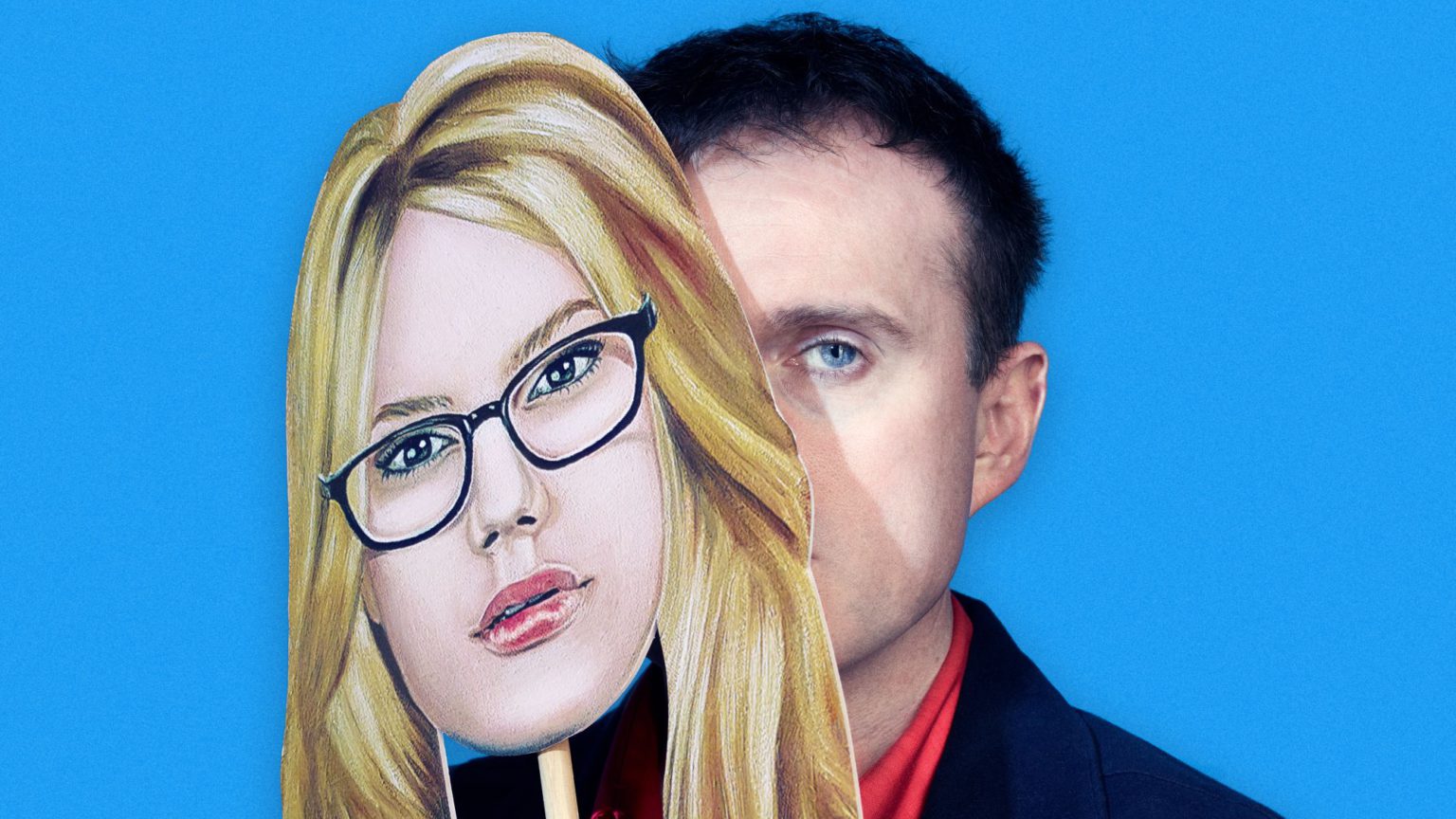 As the culture war rages on, a new and worrying trend is emerging: the politicisation of kids' literature. From Feminist Baby to The Little Girl Who Gave Zero Fucks, woke titles aimed at small children have become bestsellers, largely, it seems, because parents want their kids to have the 'right' opinions.
Andrew Doyle is a comedian, spiked columnist and creator of the satirical woke Twitter sensation, Titiana McGrath. Titiana's new book, My First Little Book of Intersectional Activism, has just been released. spiked caught up with Andrew to discuss the book, why he wrote it, and what woke activists' weird new obsession with kids' books says about their belief system.
spiked: What spurred you to write this book?
Andrew Doyle: It was Ed West (deputy editor at Unherd) who first alerted me to the proliferation of woke children's books, and it made sense to me that Titania would try to write one herself. She had already been giving parenting advice in many of her tweets. For instance, she pointed out that on her nephew's fifth birthday she had smashed up 20 per cent of his presents with a hammer to teach him how it felt to be a casualty of the gender pay gap. As Titania put it, 'he was so grateful he actually cried'.
I find the politicisation of children's literature hilarious and sinister in equal measure. There have been so many examples recently, including books like Antiracist Baby, Feminist Baby and The Little Girl Who Gave Zero Fucks. The Guardian columnist Afua Hirsch even wrote a kids' book in praise of anti-Brexit Supreme Court judge Baroness Hale. We are, quite rightly, wary of the religious indoctrination of children, so it seems strange that more people aren't concerned when it comes to indoctrinating children with this new fashionable dogma. As religions go, the social-justice movement is one of the more fundamentalist and illiberal.
spiked: Why do you think adults are increasingly foisting politics on children?
Doyle: From a strategic point of view, it makes complete sense. I've always felt that adult autonomy depends on effective socialisation in childhood. This means teaching them a core body of knowledge, but also how to think critically. The idea of critical thinking and reasoned debate is anathema to this cult of social justice, because, once scrutinised, their ideas quickly collapse. So if they can get hold of children's minds at a young age, it'll be difficult for others to deradicalise them.
I imagine a lot of it is also well-intentioned. Many of these activists genuinely think they are improving society, while at the same time fostering division, resentment and rehabilitating a new form of racism. That's what is so tragic about the whole thing. I'm certain that the authors of Who Are You? The Kid's Guide to Gender Identity, which is aimed at kids aged three and over, sincerely believe that children should be told that there are infinite genders. They see no contradiction in telling children that gender is socially constructed and yet is simultaneously the most important aspect of their existence. It's really a terrible idea to teach children unproven and shoddy niche academic theories as if they are incontestable truths. More than anything, it's just poor educational practice.
spiked: The book runs through Titania's woke heroes. Could you tell us about a few of them?
Doyle: There are chapters on 24 icons who have all, in Titania's view, promoted social justice. These include Greta Thunberg, Robin DiAngelo, Meghan Markle, Emmeline Pankhurst, Hillary Clinton and Joseph Stalin. She also focuses on people of colour who have made a success of their lives, such as Nelson Mandela, Mahatma Gandhi, Jussie Smollett and Abū Bakr al-Baghdadi. She leaves out Rosa Parks, because she's worried that she gets too much attention already and is stealing her thunder.
One of her favourite chapters is about Mary Whitehouse, who was one of the major precursors to the current social-justice movement. She pioneered the view, now so common among these bourgeois woke activists, that evil ideas in art and the media should be censored in order to protect the gullible masses. As Titania puts it, 'Poor people are like lemmings; they don't know what's best for them, they follow each other blindly, and they sometimes live in tunnels.'
spiked: Titania was recently banned – again – by Twitter, alongside other satirical accounts. Is there a clampdown going on against anti-woke satire online?
Doyle: She's had about 10 suspensions now, including two seven-day suspensions and a permanent ban (which was reversed). Twitter never informs people why they have been banned – they simply refer to their nebulous 'terms of service' – and then they wonder why people accuse them of political partisanship. In Titania's case, it's difficult to escape the conclusion that they have a problem with satire that mocks social justice.
On the day of her last ban, at least 10 other satirical accounts were suspended. She's one of the few to have been reinstated. It's highly unlikely that all of these accounts violated the exact same terms of service on the same day, so we have to assume it's a deliberate strategy. One possibility is that with the election coming up, Twitter wants to clamp down on accounts that might make Joe Biden or the Democrats look foolish, although they really don't need any help from us to do that.
spiked: Your critics accuse you of punching down with Titania. What do you say to that?
Doyle: I'm always surprised by that accusation, but if you have an understanding of how satire works it's unlikely that you'll fall into that trap. The whole driving force behind Titania is my hatred of bullies; it's an exercise in punching up at the powerful activists who give themselves the role of speaking on behalf of others. That's why Titania is a privileged white woman who, as she puts it, is 'brave enough to stand up for the rights of minorities, even when they don't know what's best for themselves'.
Although the kind of extreme ideologues I'm satirising are relatively few in number, they have disproportionate clout in all of our major cultural institutions: education, advertising, publishing, the media, the law, the police, the arts. People often make the mistake of assuming that the only way to punch up is to attack the government currently in office. Well, that's one way of doing it. But ideological control often comes through ostensibly non-political means. As it happens, I don't object to comics who choose to punch down in their comedy. It's just not something I've ever done. It's counterintuitive to me.
spiked: Why is it so important that we mock wokeness? Is there something that satire can achieve here that perhaps debate and discussion cannot?
Doyle: At the heart of the social-justice ideology is a rejection of Enlightenment values in favour of 'lived experience' and 'new ways of knowing'. The activists believe that all human interaction is underpinned by power and prejudice and that they are uniquely qualified to detect and remedy these invisible structures of inequality. This is why they are impervious to reason, because reason is, in of itself, a white male heterosexual Western construct. You can't argue with someone whose belief system has left them this myopic. So satire seems as good a way to challenge it as any.
It comes back to the question of standing up to bullies. More often than not, my targets are the horrendously vicious online activists who attempt to intimidate others in the name of tolerance. This is why in the book Titania offers this advice: 'if you're going to be a social-justice activist on Twitter, always make sure that you announce your pronouns in your bio. That way, when you're calling your opponents evil lowlife scumbags, trying to get them fired, or gloating if they die, everyone will know that you're actually incredibly compassionate.'
My First Little Book of Intersectional Activism, by Titania McGrath, is out now. Order it on Amazon.
Andrew Doyle was speaking to Paddy Hannam.
Listen to the latest episode of Culture Wars, Andrew's podcast, below:
To enquire about republishing spiked's content, a right to reply or to request a correction, please contact the managing editor, Viv Regan.