The UK press is already on XR's side
The 'billionaire-owned', 'right-wing' press is full to the brim with climate-change alarmism.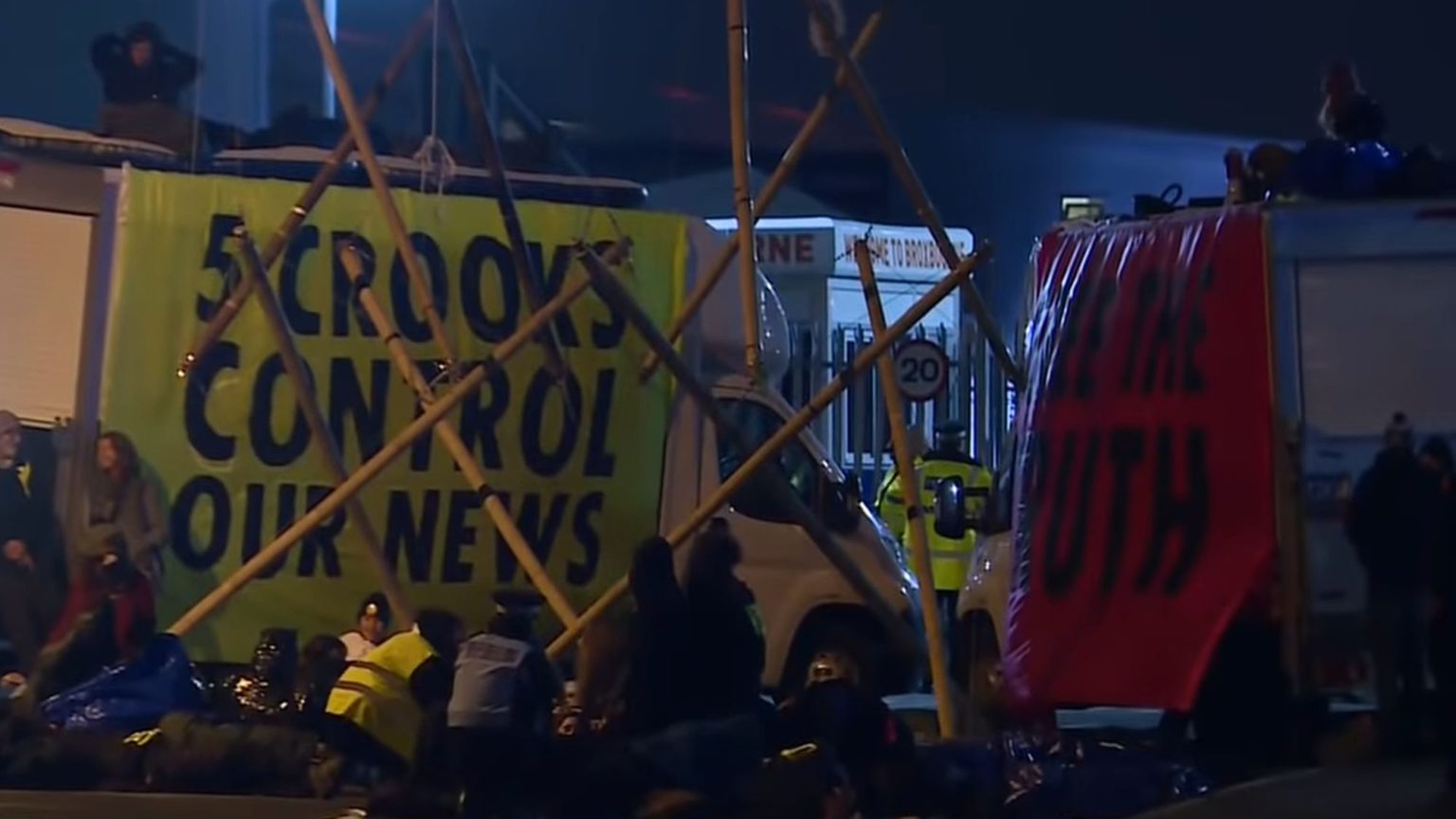 Extinction Rebellion's decision to block the delivery of certain 'right-wing' newspapers across the UK on Saturday morning has been rightly condemned as a violation of press freedom by politicians and the print media alike. The Telegraph announced that it 'will not be silenced', prime minister Boris Johnson said XR's actions were 'completely unacceptable', while Labour leader Sir Keir Starmer declared that 'the free press is the cornerstone of democracy and we must do all we can to protect it'.
Yet while the press criticised XR's actions, they were also keen to display their own support for the environmentalist agenda. The Sun claimed that it had highlighted 'climate change for years', and pointed out that Saturday's blockaded edition even included a comment piece by broadcaster-cum-eco-alarmist David Attenborough. The Telegraph urged XR to 'welcome this government's drastic carbon-emission plans'. And The Times carried a piece by Robert Colvile, from the Centre For Policy Studies (CPS), who outlined his support for 'carbon taxes, emissions offshoring, the hydrogen revolution, clean-air zones, green tech', and stated that he was very concerned by 'humanity's alarming impact on the planet'.
And this is what is striking about Britain's free press. When it comes to climate change, our newspapers all toe the same environmentalist line, publishing countless pieces supporting the green agenda while repeatedly warning of 'humanity's alarming impact on the planet'. On this issue, there might as well not be a free press. Such is the green consensus, there might as well be just one political party, one newspaper and probably just one journalist.
Not that XR activists seem to have read many newspapers recently. They genuinely seem to think the 'billionaire-owned', 'right-wing' press is pumping the public full of so-called climate-change denial. But, as the media's response to XR makes plain, nothing could be further from the truth. Newspapers, from the Sun to the Telegraph, are thoroughly in favour of the green agenda.
Take CapX, an online magazine founded to make the case for capitalism. One might expect it to be at the forefront of so-called climate-change denial. And, yes, its editor John Ashmore has been critical of XR, saying that its apocalyptic framing of climate change is likely 'to make the public despair' rather than 'take meaningful action'. That the public should take meaningful action to combat climate change is not in question, however. In fact, Ashmore shares with XR an environmentalist worldview. He just disagrees with its tactics. Indeed, the pro-capitalist Ashmore even seems to share XR's view that a radical transformation of our economic system is needed, praising the government's law pledging to achieve a net-zero economy by 2050 – 'an extraordinarily radical change in the structure of the British economy'.
What is incredible is the government's commitment to cut greenhouse gas emissions in the UK to almost zero by 2050 – this 'extraordinary radical change in the structure of the British economy' – has effectively passed without comment, criticism, dissent or debate on the pages of the British 'free press'. The papers agree. The journalists agree. The think-tanks agree. The broadcasters agree.
Despite XR's claims, the British press propagates near enough the same message on climate change. As the papers present it, climate change really is the biggest problem facing mankind, and we must do everything we can to mitigate its worst effects, even if that entails economic immiseration. There is no dissent. And no diversity of opinion. And this is a massive problem. Editors', journalists' and think-tankers' decision not to contest the environmentalist basis on which deep changes to society are being made is depriving the public of a forum in which to question and debate climate change and green policymaking.
We should call out XR for its anti-democratic stunts. But until newspapers start living up to Starmer's claim that they are 'a cornerstone of democracy', they shouldn't be surprised when many of us stop buying them.
Ben Pile blogs at Climate Resistance.
Picture by: YouTube.
To enquire about republishing spiked's content, a right to reply or to request a correction, please contact the managing editor, Viv Regan.