There's far more to British history than racism
The BLM version of history is a wilful misrepresentation of the past – and present.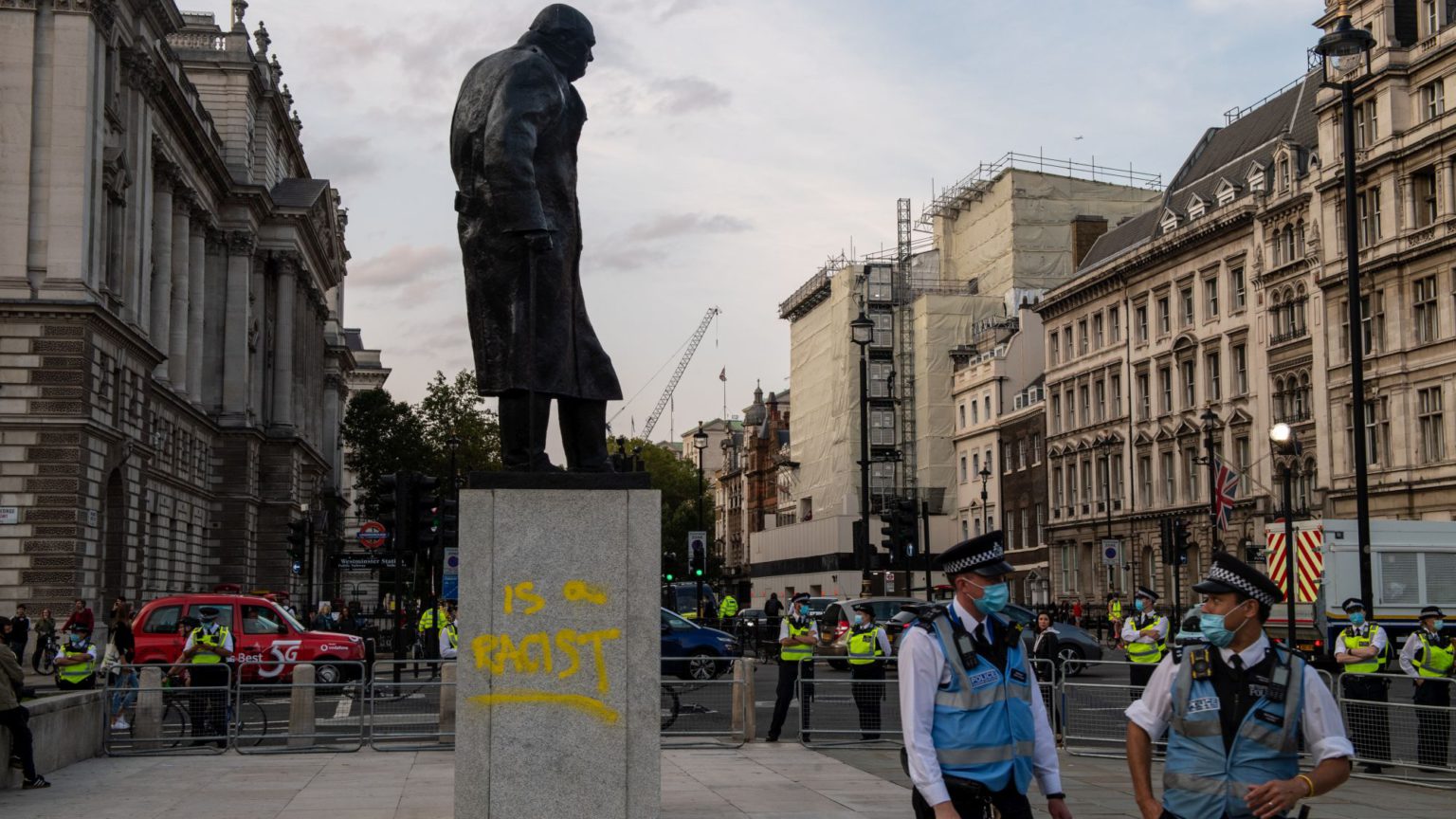 With the passing of summer, the events surrounding the killing of George Floyd have changed status. The current affairs of June and July are now September's lessons in history. But what, in these admittedly early days, have we learned from our responses to the tragedy of Floyd's death?
Judging from Extinction Rebellion's graffiti attack on the Winston Churchill statue in Parliament Square, a couple of months after Black Lives Matter protesters did likewise, the short answer to that question is: not very much. But there is a longer response, too. And it is worth thinking about.
Looking back, one of the most striking features of the coverage, to me as a historian, was the way in which certain elements of the protests picked their targets. Admittedly, some of these were entirely predictable: the men and women of the police force, for example, faced some of the brunt simply for doing their jobs. But most of the fury, interestingly enough, was directed at the past. Or, more precisely, a version of the past almost totally at odds with reality. I talk here not of the US fallout, by the way, but of the illegitimate ripple effect felt in British cities. And of the attacks on our statues in particular. The usual suspects headed the charge: the performative professional protesters, the white, middle-class, private-education crew. In short, the identitarian mob.
At no other point in my lifetime has British history been under such focused and sustained siege. And not just on the streets. Replete in half-baked conclusions, the battle raged concurrently on social media, too. There was opposition, of course, some of which has since developed into platforms, like the excellent Save Our Statues campaign.
But the overall tenor of the debate pointed to a disturbing, decades-old trend that has dominated not just what many people think about the past, but how they perceive it. The dominant strands of this historiography are selective and emancipatory. They are concerned with power: how to identify it, how to overthrow it, how to imbibe it. They depict struggle in the face of adversity. They measure the myth of progress through the endeavour of the underdog. The fabric of our national history – the broader context – serves as a drab and hostile backdrop against which minority performers can shine. On these terms, then, the argument against preserving our grand narratives would seem a strong one. It effectively says that historical figures like Winston Churchill and Robert Baden-Powell matter only as case studies in privilege and prejudice. Beyond that, they are unworthy of serious consideration.
All this is to misunderstand the nature of history. It is, at best, a semi-legible scrawl, impossible to read along straightforward lines of virtue and villainy. That is not to debase the currency of power discourse, which facilitates what historians call 'micro' exploration, and allows fresh perspectives and uncovered histories to emerge. But if power is the only mechanism through which to interpret the past, then the victim-oppressor binary itself becomes a tyrant. And a capricious one at that. What is acceptable today may well constitute an expression of hate tomorrow, and, like white images of Christ, be disappeared amid next week's frenzy of indignation.
You see the problem. The more selective your treatment of history, the more partial your appreciation of your own behaviour. Back in June I watched with a kind of grim fascination as BLM protesters transformed the Churchill statue, decorating it with epithets and symbols that made a mockery of the contribution to freedom it was erected to commemorate. The activists responsible no doubt left self-awareness at home that day. And nowhere was the tragic irony of the situation more neatly captured than in the word 'racist', crudely daubed on the plinth. Elsewhere, in Glasgow, you may recall, a hammer and sickle scarred its Robert Peel statue. Another gesture made in the name of social justice, no doubt.
Three months on, ironies still abound. And they are all the more tragic. If one thing has come out of the George Floyd killing, it is that we should as a society be seeking to cling to the ties that bind. Yet all the while we deconstruct, stay in our lanes, and speak only in our identitarian turn, without ever thinking about the long-term consequences of fragmentation. Which raises the question: how might we meaningfully define the collective pronoun, the 'we' that unites us within the context of our nation state? The answer to the conundrum, for those who care to find it, lies in a re-articulation of our history. It used to be a tale of virtue (we did, after all, abolish slavery), but for a sizeable minority it is now a saga of vice.
There are many reasons why British history should now be interpreted in this way, some of which are rooted in genuine feelings of associated guilt. But others are purely selfish – even narcissistic. And they are not without serious consequence. The rush to exhibit sophistication, to demonstrate moral worth by self-abasement, has resulted in what Roger Scruton described as 'a culture of repudiation'. It is a false, vain position. And it tells less than half the story. We must not forget 17th-century slave trader Edward Colston and the unsavoury aspects of our history he has come to represent (although the removal of his statue in Bristol will enable us to do just that). But neither must we ignore William Wilberforce.
Quite simply, it is a lie to maintain that Britain is egregiously racist. That her history is one of shame. That systemic racism characterises each organisation, all the institutions, and every single public body. But that seems to be the default position. Misrepresentation of the past has resulted in a misunderstanding of the present. A wilful misunderstanding, in some quarters, but a misunderstanding, nonetheless.
It seems to me that we are fast approaching a point of no return. But if we stop hand-picking events and personages from the past and measuring them against the latest current of intersectional orthodoxy, or plotting a linear history against a necessarily temporary definition of virtue, we might just have a chance. Otherwise, a scenario in which any meaningful version of history has been removed, like an 'offensive' statue from a public square, is all too easy to envisage.
Dr Philip Kiszely is a cultural historian. He is the author of Hollywood through Private Eyes: The Screen Adaptation of the 'Hard-Boiled' Private Detective Novel in the Studio Era (2006) and founding co-editor of international peer-reviewed journal Punk & Post-Punk. He has written for a variety of publications, including the Journal of British Cinema and Television and the Journal of Popular Television.
Picture by: Getty.
To enquire about republishing spiked's content, a right to reply or to request a correction, please contact the managing editor, Viv Regan.