We must all fight for liberty
It shouldn't fall to conspiracy theorists to protest against lockdown.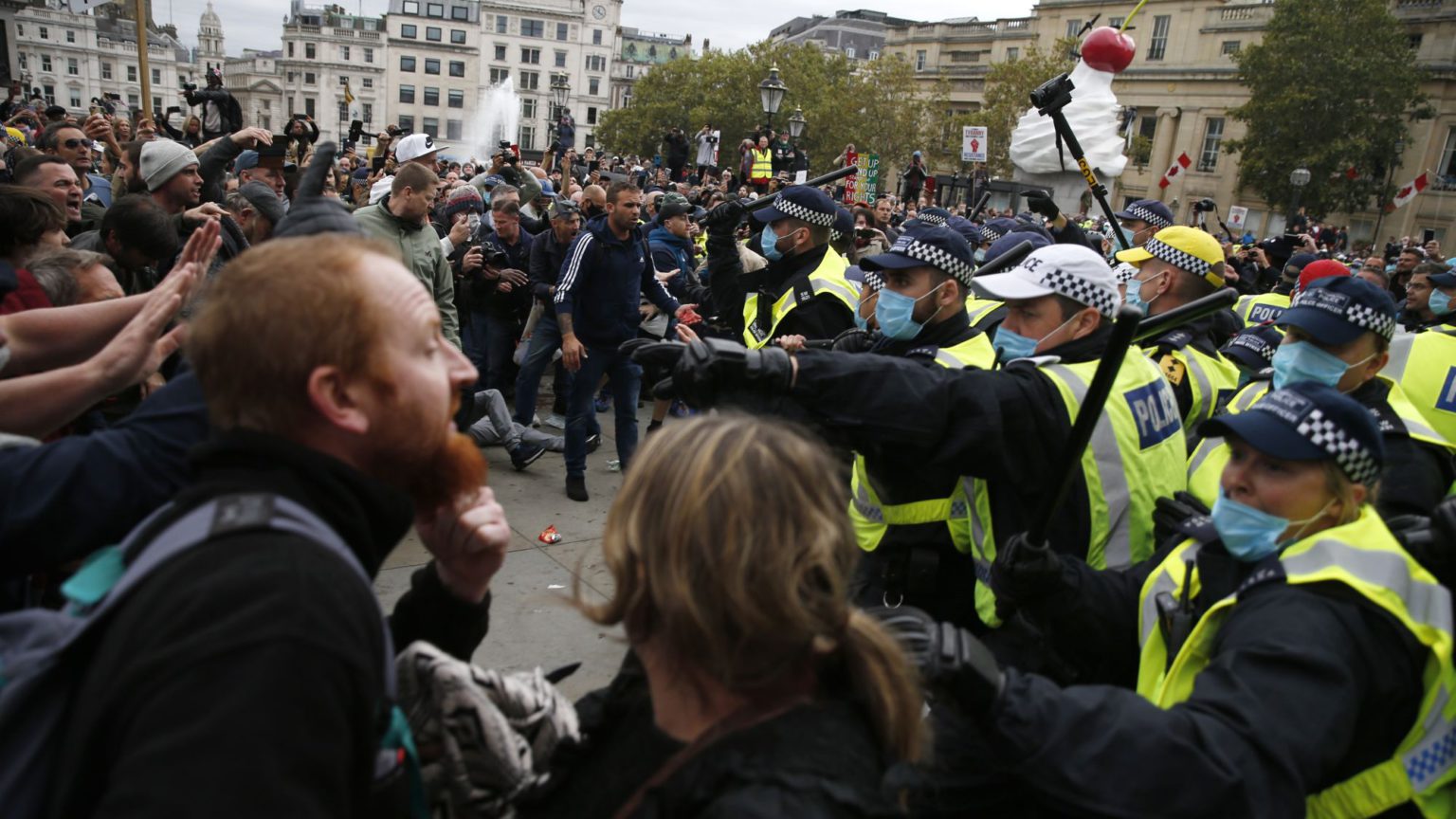 At the weekend, I attended the 'We Do Not Consent' protest in Trafalgar Square against the UK government's Covid restrictions. There have been a number of demos before, but with 18million British citizens under some form of local lockdown measures, this was the largest rally yet. Several thousand people attended.
Walking through the crowd, it was a bit like a smallish music festival (the smell of weed was wafting around), but also a lot like Occupy and various anti-globalisation demos. Protesters were holding up banners or cheering and booing along to the speeches (cheering David Icke and Piers Corbyn, booing the BBC and vaccines). It is a worrying sign of the times that protesting against authoritarianism has fallen to people with conspiratorial views. While some banners at the rally warned of 5G radiation, vaccines with microchip implants, and viral hoaxes, others simply said things like 'spread facts not fear' and 'wake up'.
I do not subscribe to any of the conspiracy theories about the virus. I was at the demo to see for myself the nature of these protests, and whether the media are right in branding them a bunch of nut bags.
It's fair to say that there was a mix of views among those attending. I know that several of my friends who have never considered themselves 'political' came along. Like many who attended, they were concerned about the readiness of the government to jettison our freedoms.
While it would be easy to sneer at some of the conspiracy theorists, we would do well to remember how much conspiracy theories now permeate the mainstream. The idea that dubious cabals are controlling society from above is talked about in the mainstream media and within the establishment itself. The Carl Beech saga showed that politicians and police chiefs can fall for conspiratorial theories about elite paedophile rings. In fact, Beech's case is not a million miles away from the wacky theory I encountered at the demo, which said the Covid restrictions are a cover for 'children being kept under Hyde Park'.
While I am also concerned by the popularity of anti-vaccination views, it is again worth remembering that the MMR / autism junk science was first published in a prestigious medical journal and then popularised by the mainstream press.
Those of us who are worried about the loss of freedom and liberty need to be able to engage with those who have similar concerns. That does not mean flattering mad ideas under any circumstances. But we should recognise that there are many in the wider public who are trying to work things out and are therefore worth talking to.
We are all having to grapple with really difficult questions around public health, statistics, models and science at a time when public trust for our governing institutions is greatly diminished. The government, for its part, has not helped itself. Its claim that it is always following 'The Science' sounds mostly like an attempt to avoid scrutiny. For instance, everyone can recognise the unscientific irrationality of measures like the 10pm curfew, which will not only harm many of our world-leading hospitality businesses, but has also, conversely, caused people to crowd together after last orders.
The opposition to the Covid measures also presents an opportunity to shape and create an alternative, better way of doing things in future. But we can only do that by understanding the context in which coronavirus arrived – a context which is far more mundane than the conspiracists allege.
Over the years, our society has become obsessed with risk and safety. Individuals are increasingly isolated and insular, while broader social and political networks have frayed. There is also a predisposition to catastrophism – challenges facing humanity (from weapons of mass destruction to 'superbugs') tend to be presented in the most frightening way possible.
The hyperregulation of our lives in recent years needs challenging, too. Policies like Public Space Protection Orders have stifled public life and limited freedoms for all citizens in public space. In many ways, the recently introduced 'rule of six' and 'Covid Marshals' are just a continuation of this trend.
Pointing these things out, having these arguments with people, even with those who some would prefer to write off as 'bonkers', is important. Instead of attacking people for their conspiratorial views, we should try to win them over to more rational views.
As I walked around the demonstration, I reflected on various concerns I have about the Covid debate. I happen to agree with what many sceptical scientists have said publicly, such as Karol Sikora, Sunetra Gupta and Carl Heneghan. But those of us on the sceptical side must be careful not to fall into the trap of saying 'these experts are right', simply because of our political predispositions. There is a great deal of discussion still to be had on how best we can protect care-home residents and people in high-risk categories, while ensuring that the majority of people can go back to work and society can get on its feet again.
While I was mulling all of this over at the demo, the riot police came in to move the protest on, citing non-compliance with social distancing. This raised broader questions about the rules, regulations and enforcement. To what extent are these corona rules genuinely there for the benefit of the public and of society? Why have they not been debated in parliament properly? And, most importantly, what are we, the public, going to do to challenge them?
The only way out of this mess is for there to be a proper public debate about what level of risk we are prepared to tolerate. That it has fallen to conspiracy theorists to organise protests against these measures is a damning indictment of the state of liberty in this country.
Alan Miller is a writer. Follow him on Twitter: @alanvibe.
Picture by: Getty.
To enquire about republishing spiked's content, a right to reply or to request a correction, please contact the managing editor, Viv Regan.