A sh*tshow of a debate
Are these two grouchy old men really the best America has to offer?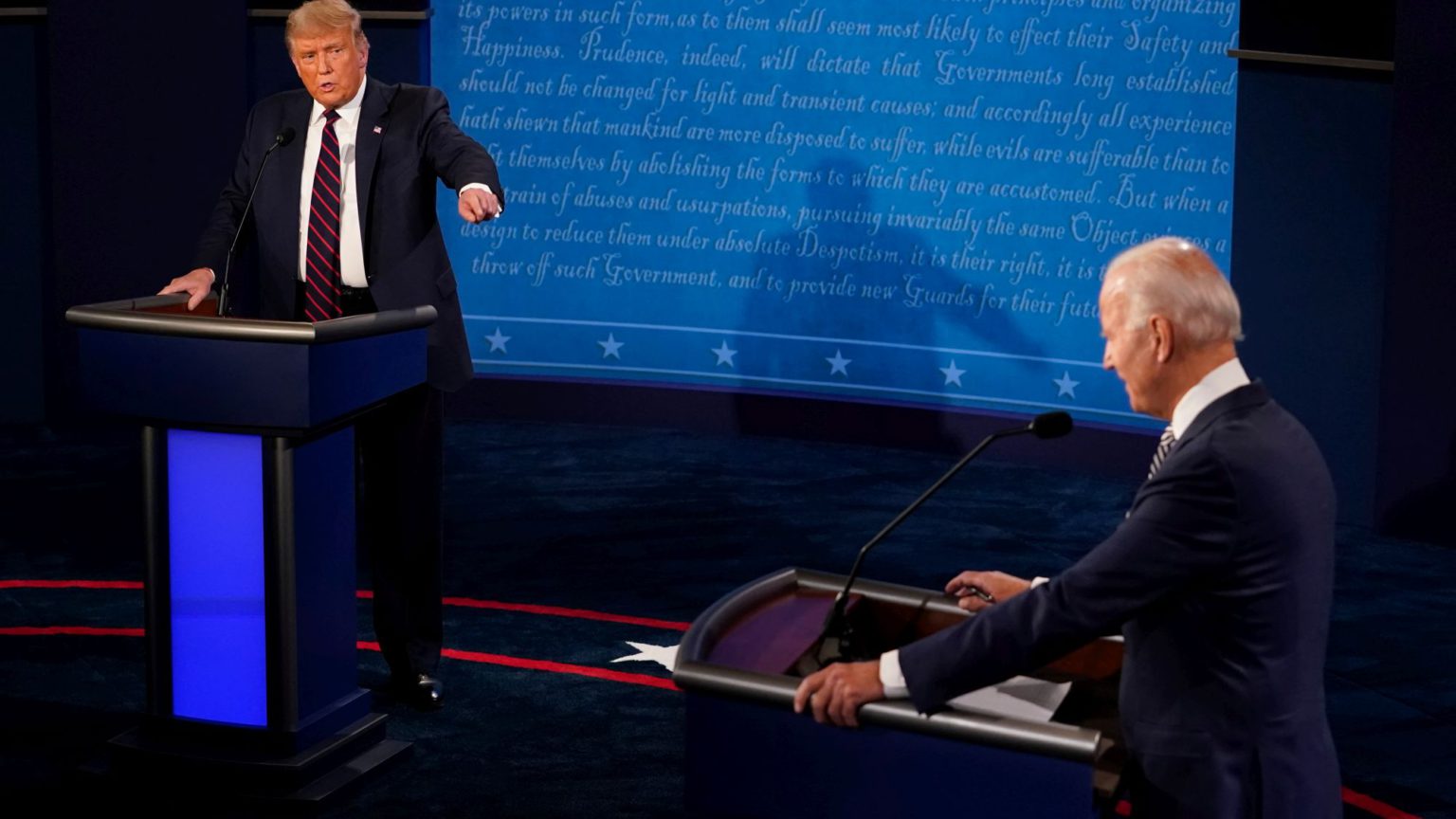 Awful. Painful to watch. Embarrassing. There are so many negative terms you could use to describe the first Trump-Biden debate. Dana Bash on CNN called it a 'shitshow' and that's probably the most apt description.
After the debate, we are no more enlightened about the political challenges facing the US. You could barely hear the two candidates, as they talked over each other and threw insults back and forth. This was mostly Trump's fault, as right from the start he decided he would hector and interrupt Biden at every opportunity. When Biden said to Trump, 'will you shut up, man?', it felt like he was speaking for us all.
In the few moments that Trump did shut up, Biden was not impressive, offering little of substance and often fumbling his words. He is clearly past his prime. But Trump wasn't able to take advantage, because he was not in command of his facts or arguments. The moderator, Chris Wallace, teed up a number of topics that Trump could have easily capitalised on – including riots in Portland, 'critical race theory' training in government agencies and Biden's plans for another Covid-19 shutdown – but he was too incompetent to make articulate points.
As I have written before on spiked, if November's election becomes focused on Trump and his personality, he is going to lose. His loutish behaviour in last night's debate will have encouraged voters to see the election as a referendum on Trump himself. His demeanour posed the question to viewers: do you want to watch four more years of Trumpian chaos, like you're witnessing tonight? While in 2016, his unconventional ways could have been viewed as fresh and transgressive – a blow against the staid establishment – now his made-for-reality-TV act just feels tired.
If you had to say who 'won' the debate, it had to be Biden – not because he presented any coherent or inspired ideas, but because he at least appeared rational and presidential, while Trump raged like a madman. Going into the debate, Trump was behind in the polls. He needed to win over independent and undecided voters. And there are relatively few of those this election – a higher percentage of people this year, compared with 2016, say they have already made up their minds. But his debate performance will have persuaded few and repelled many.
Biden, on the other hand, didn't need to shine in the debate – a draw would have been enough, given his lead in the polls. Before the debate, Trump had lowered expectations about Biden by saying he was not all there mentally. All Biden had to do was not appear senile. And on the night, he passed that minimal test.
But in another sense, neither of the candidates won – and all Americans lost. Just looking at these two grouchy old men shouting at each other, neither of which could present a clear plan for the country's future, you had to ask: what the hell has happened to this country? Are these two men the best leaders our political system has to offer? The debate no doubt filled many Americans with despair.
I recall the debates about American decline in the 1980s and 1990s, which, in retrospect, overstated the case that America's standing in the world was slipping. But last night's debate was a moment when our country's decadence became starkly apparent. It was a sorry sight.
Sean Collins is a writer based in New York. Visit his blog, The American Situation.
Picture by: Getty.
To enquire about republishing spiked's content, a right to reply or to request a correction, please contact the managing editor, Viv Regan.