'I'm paying £9,000 to stare at a screen in my room'
Ieuan Joy reports from the Manchester student lockdowns.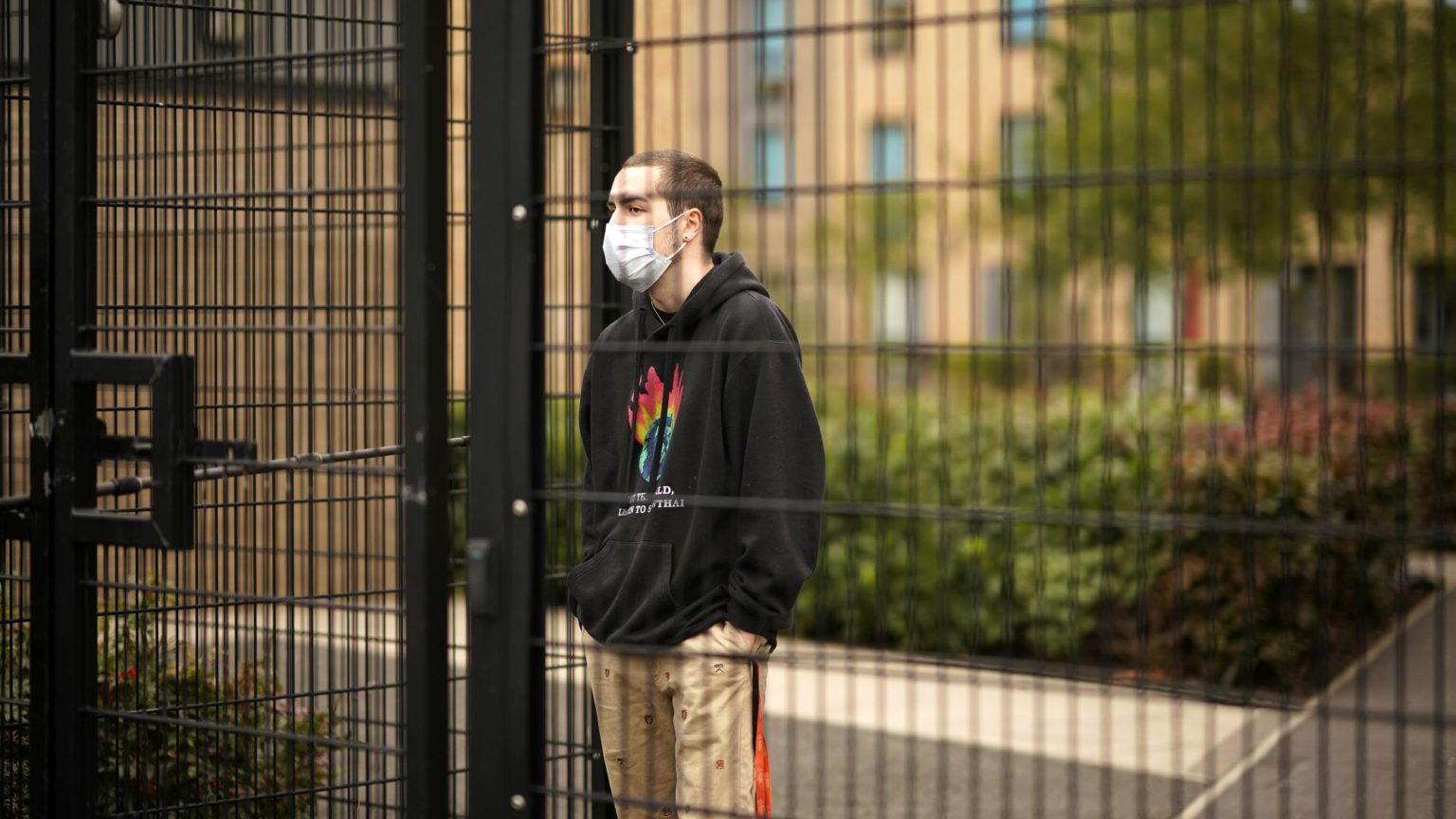 Cambridge Halls, a Manchester Metropolitan University (MMU) student residence, now feels more like a prison than a home. The windows are plastered with post-it notes protesting against the government and the university's handling of the Covid crisis. Inside the halls, hundreds of students are locked down, unable to leave their new home only days after moving in, because of an outbreak at the university.
I speak to some students through a gate, which makes it feel even more like a prison visit. The first 'inmates' I meet are three newly bonded flatmates. Beth, an 18-year-old biology student from Milton Keynes, tells me how the lockdown here first started: 'We were just sent an email telling us to go back to our flats immediately. We were about to go to the pub, but then, out of nowhere, everyone was told to stay in.' She says they were lucky to have gone shopping right before the lockdown, as there were no food-delivery slots available when the quarantine was first announced.
'It's been strange, but our flat's been great', Mercy, an 18-year-old fine-art student from Southampton, tells me. 'We hang out most evenings to make it feel more normal. We try to get each other out of our rooms… it's so easy to feel trapped.'
Roxanna, an 18-year-old graphic-design student from Brighton, is not impressed by MMU's response. The outbreak was 'predictable', she says, as 'uni students were always going to socialise'. The halls have been placed in isolation for 14 days, but no one knows what happens after that. 'Will there be other lockdowns? Are people going to go home? Will they even be allowed home?', Roxanna asks.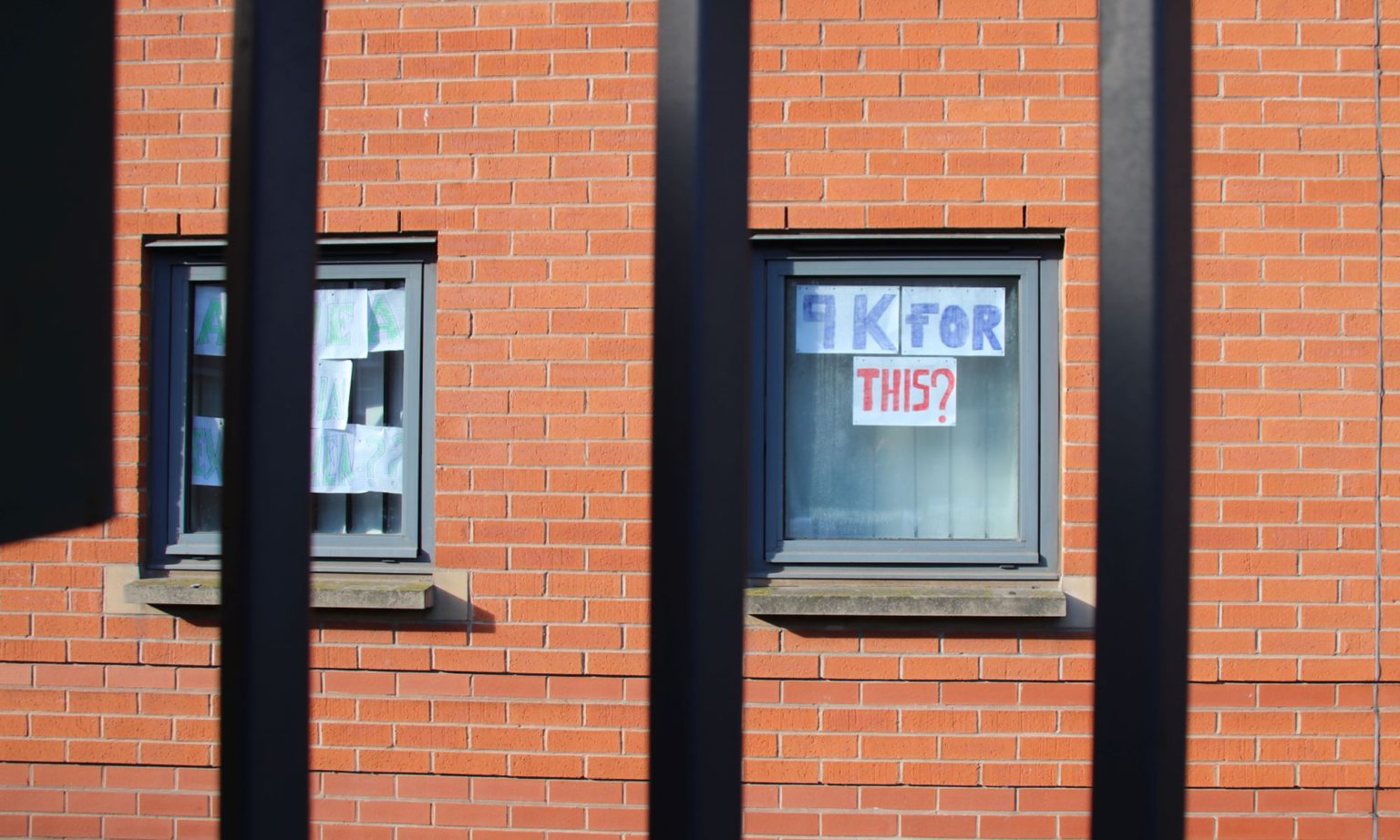 Even though MMU had months to plan for a situation like this, students are clearly still in the dark. It did, however, act quickly and decisively when it came to the protest posters in students' windows. The students were sent an email telling them to take them down. Then, after this was reported in the press, the university backtracked. In some students' view, the bad press has helped push the university to communicate more to students and to offer more support.
Despite the difficulties caused by the lockdown, Roxanna is happy with her course and the quality of the teaching. 'The department has been amazing – it has prepared really well. I do a practical course and will still have access to the materials I need and to studios once lockdown is lifted', she says. Both Mercy and Beth are also impressed with how well their lecturers have prepared for the challenges of teaching during the pandemic – particularly in contrast to how the accommodation has been handled.
A student waves at me through a window filled with post-its, comparing his halls to 'a zoo'. Sam, a 24-year-old digital-media student from north London, tells me that when the lockdown was announced students had about 10 minutes to stock up on supplies: 'Everyone just got a disgusting amount of booze. The bloke in front of me easily bought £300 worth. Everyone was getting pissed and throwing crazy flat parties.'
Down the road, the University of Manchester has also sleepwalked into disaster, despite the chaos unfolding earlier at MMU. As soon as I arrived at Weston Halls, I was roped into doing a milk run for a flat who had all tested positive. The only way they had been able to get fresh supplies was by asking strangers like myself for help.
One of the students living in the flat is Miriam, an 18-year-old English student from Newcastle. 'I've still not had my timetable even though lectures start next week', she says. 'It was going to be a mix of online lectures and face-to-face seminars, but now the future is uncertain.' She is particularly worried by the government's suggestion that students could be told not to go back home. She says a lot of people plan to go home once their self-isolation is over, but as things stand, they will still be charged around £6,000 for their accomodation. 'We don't get reimbursed if we go home', she says.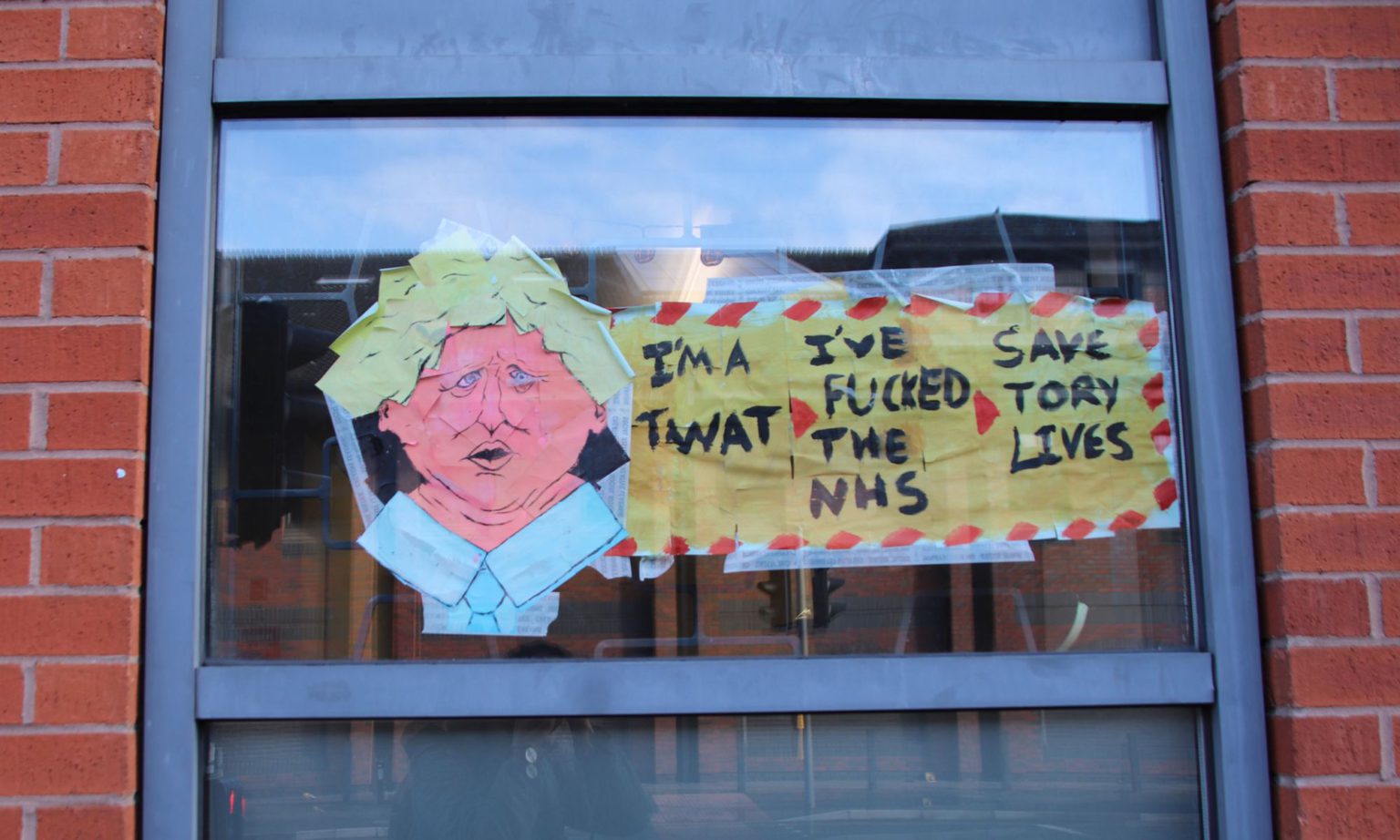 Lauren, an 18-year-old maths student from Dudley, is annoyed at how students have been blamed for the university's outbreak. In her view, it was more likely a consequence of poor management than students misbehaving. 'We think we caught the virus from our first week here. We had flooding, and everyone got put together in a small room', she says.
Lauren claims they have had little support from the university since catching the virus. 'That's why we've been writing on the windows and stuff – we've all been going crazy. A girl in another flat put "Fuck Boris" in her window and was then told to take it down.' Like the MMU students, first-years at Manchester were also apparently warned about their window displays.
The girl responsible for the offending poster is Emily, a first-year history student from Coventry. 'I hate that we have been blamed', she says. 'We have been out once to a bar with social distancing.' She says she isn't upset that she can't go clubbing – 'I'm annoyed because I'm paying over £9,000 per year to stare at a screen in my room'.
When contacted for comment, both MMU and the University of Manchester said they have updated their Covid guidance and are offering more support to those locked down. But it should not have taken media pressure for them to do right by their students. Students have every right to be outraged by the shambolic handling of these outbreaks.
Ieuan Joy is a student journalist based in Sheffield. Follow him on Twitter: @JoyIeuan.
Pictures by: Getty, Ieuan Joy.
To enquire about republishing spiked's content, a right to reply or to request a correction, please contact the managing editor, Viv Regan.