Wasn't Covid supposed to kill Trump's chances?
Many voters share Trump's aversion to lockdown, mask mandates and rule by scientific decree.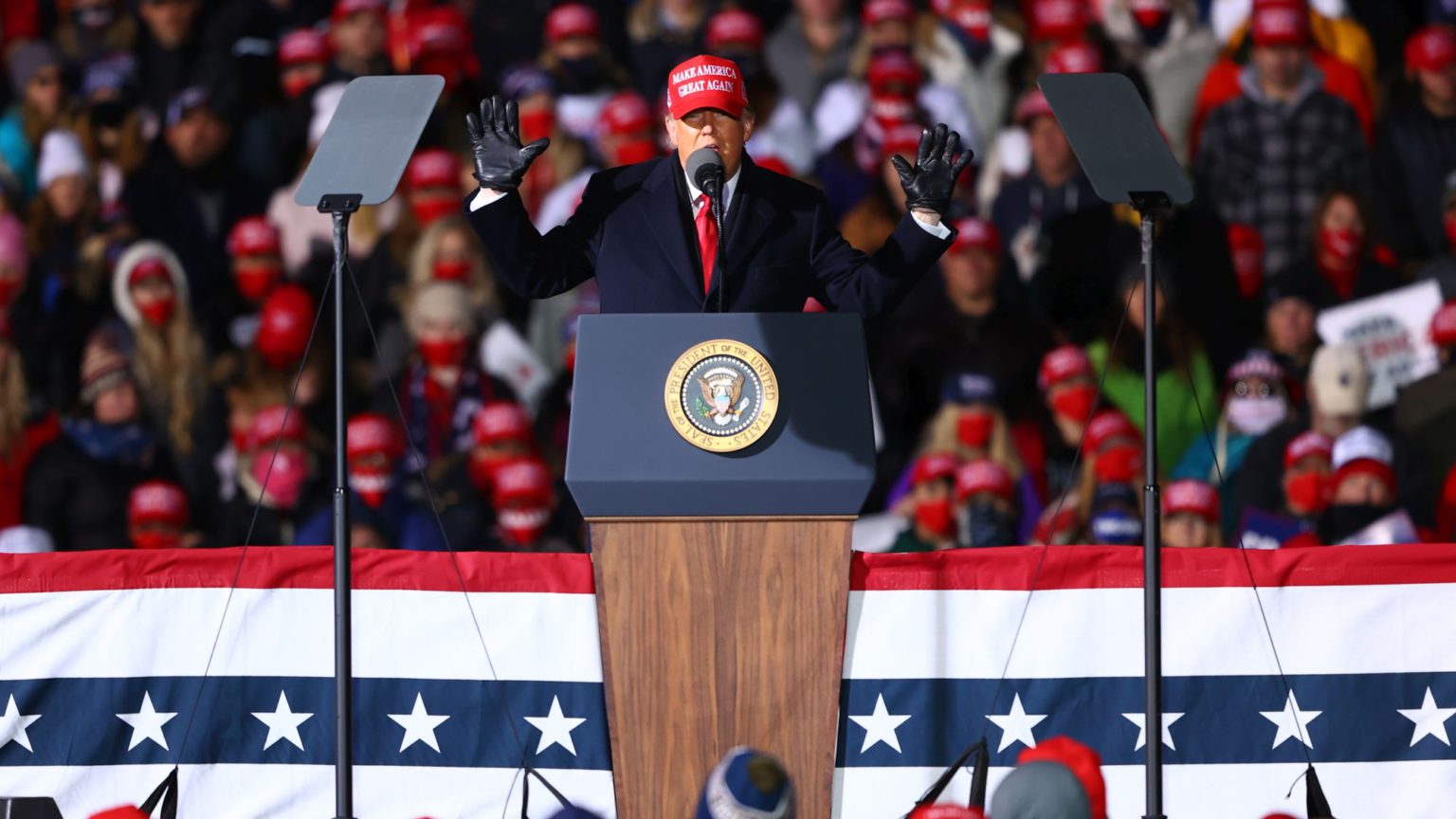 It was 'the pandemic election'. 3 November was billed as an opportunity for voters to reject Trump's irrational, scientifically illiterate mishandling of coronavirus and opt instead for Biden's altogether more sensible, expert-backed, precautionary approach. Or, at least, that's how things were supposed to have played out.
We might not know who will be the next American president, but the closeness of the contest shows this was far from the resounding rejection of Trump's pandemic leadership commentators had fantasised about.
Certainly, Trump and Biden could not be more different in their attitudes to coronavirus. For months, Biden stayed home and campaigned from his Delaware basement. When he emerged, he was so firmly committed to mask-wearing that the Washington Post declared the mask had become a 'symbol of Biden's campaign'. Trump didn't only spurn face masks — he also hosted a 'superspreader' event at the White House. He caught Covid, recovered, and promptly resumed touring the country and holding rallies.
It's not just optics. Biden's views on the Supreme Court and fracking may be fuzzy but his policies on coronavirus are crystal clear. He wants to mandate mask-wearing and introduce a national testing plan; he backs lockdowns and plans to issue 'scientific reopening guidelines' for schools and businesses. Trump, on the other hand, has flirted with backing the Great Barrington Declaration – a move that led him to be branded 'the pro-infection candidate'. According to the Atlantic, Trump's handling of the pandemic has been 'so lax as to effectively cede the country to a virus whose spread is controllable'.
The election was posed as a chance for America 'to choose how bad the pandemic will get'. A vote for Biden was 'an opportunity to avert further incompetence'. Re-elect Trump, on the other hand, and 'he will continue to downplay the threat of the coronavirus and more Americans will fall ill'. Biden in the White House would herald 'a return to responsible, reliable and steady leadership'. It would take the pandemic out of the terrain of politics and place it firmly in the hands of science. Policy would be determined by experts.
And if voters were still not convinced, there were yet more statistics to scare them into seeing the error of their ways. Just this week, researchers at Stanford University calculated that 700 people had died, and a further 30,000 people had become infected with coronavirus, as a direct result of attending Trump rallies. The oh-so-scientific and objective message is that Trump has blood on his hands. Never mind standing for president: Trump should be tried for murder.
It was assumed that death tolls and infection data and pictures of a maskless Trump shaking hands with supporters would have voters flocking to Biden. In fact, newspaper columnists fawned, people were so terrified of catching coronavirus that they wouldn't be lining up to cast a vote at all. They would mail their choice in weeks before election day itself. Scared voters would overwhelmingly back Biden and a pandemic response led by scientists. This was the script. But, we now know, it's not exactly how things turned out.
For a start, people did go out to vote in person and in huge numbers. Although more than 100million people cast their ballots before election day, tens of millions still lined up on Tuesday. In places like Wisconsin, people not only voted in person but got together in bars and restaurants to watch the results come in. The Financial Times sent a reporter to Kenosha in Wisonsin. On election night, he found a group of about 40 citizens, 'many of them wearing red or blue Make America Great Again baseball caps… hunched over plates of cheese, sausage or pepperoni pizza'. 'Virtually no one wore a mask', the brave journalist notes: 'Meanwhile, the pandemic raged outside: over the past month, Wisconsin has been one of the US states worst hit by the latest surge in Covid-19 cases'. The results for Kenosha are now in: the county backed Trump.
This was repeated across America. Contrary to the expectations of commentators and campaigners, in counties with the highest rates of death from coronavirus, Trump performed better than in 2016. Far from being terrified into backing Biden, far from trembling at the danger posed by the superspreader in the White House, more people voted for Trump in the pandemic election than they did in 2016. For some, this is further evidence of the 'terminal insanity' of all US citizens. They see no other explanation for people rejecting masks, lockdowns and rule by experts. Why have four more years of politics when you could have rule by scientific decree?
2020 was indeed the pandemic election. It was one in which a great many voters heard Trump urging Americans not to let coronavirus 'dominate your life' – and decided that he was right. It was an election in which many voters weighed up the risks involved in closing down the economy, shutting schools and universities, preventing people from seeing friends and family, and decided this was not a path they wanted to go down.
This was the coronavirus election. But not everyone did as they were told and voted out of fear. It seems that many turned out for Trump because of his handling of the pandemic – and not in spite of it. They decided to take their chances on Trump rather than handing themselves over to rule by scientists. It's just a shame that citizens elsewhere have to wait a while longer before being able to exercise the same choice.
Joanna Williams is currently researching hate crime in her role as director of the Freedom, Democracy and Victimhood Project at the think tank, Civitas.
Picture by: Getty.
To enquire about republishing spiked's content, a right to reply or to request a correction, please contact the managing editor, Viv Regan.