The strange beatification of Saint Kamala
How did this hardline prosecutor achieve woke sainthood?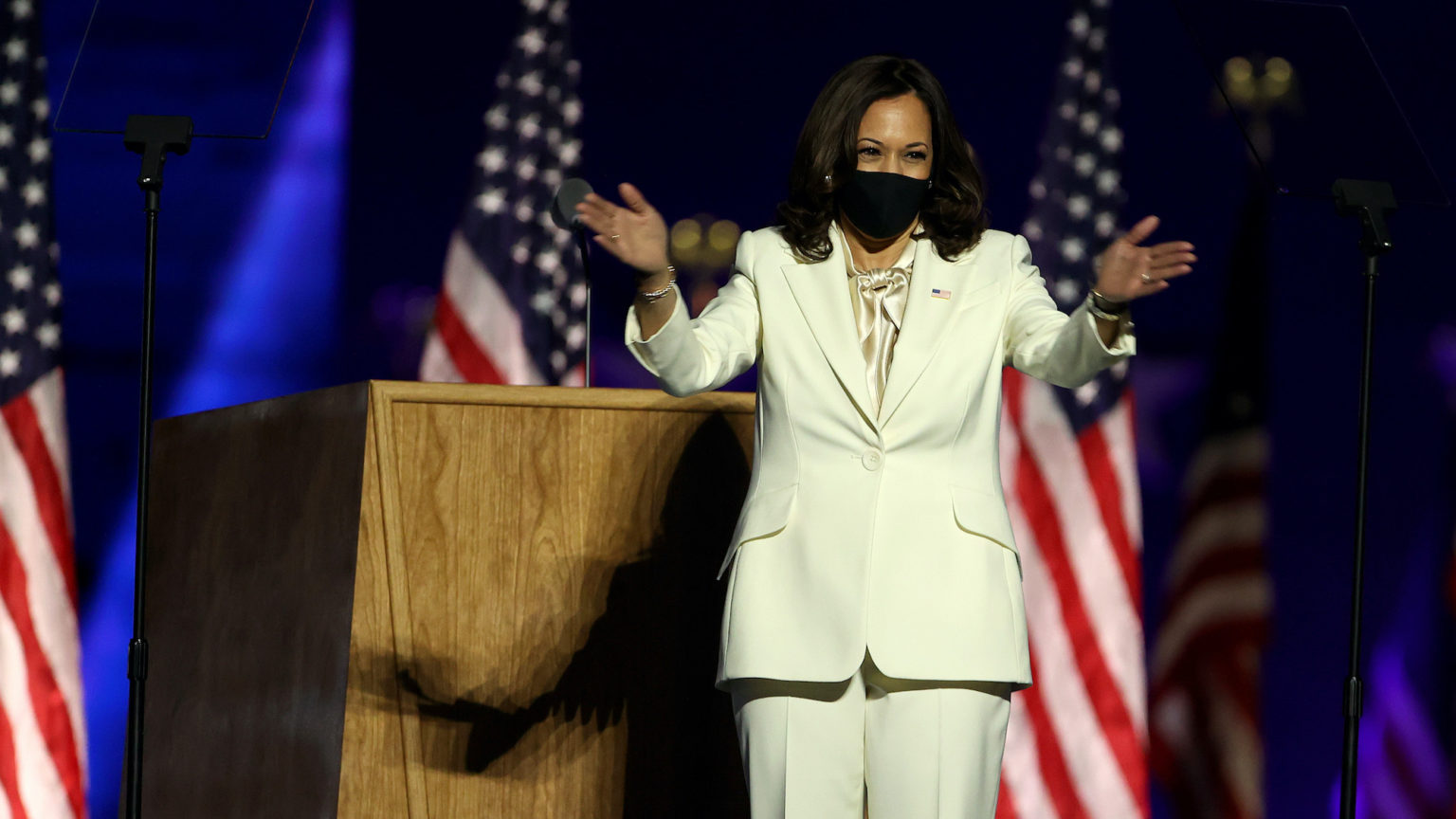 Kamala Harris is the first woman to be elected vice president of the United States: an achievement that has been met by an outpouring of praise and admiration. She's a history-making woman of colour – an Indian American who breaks the glass ceiling while looking fabulous in a pantsuit and pearls. She's a trailblazer who inspires joy, a role model for 'little girls' and is 'the modern beauty icon the world needs'. She's formidable, intelligent, compassionate, ruthless, ambitious, capable and pragmatic.
Count column inches alone and you would think it was Harris, not Joe Biden, who had scored the biggest ever popular vote in US electoral history. The video clip of Harris speaking to Biden on the phone, mid-country walk, informing the septuagenarian, 'We did it, we did it Joe. You're going to be the next president of the United States!' has been viewed countless times. As the BBC made clear: 'Her words are about him but the history of the moment is hers.'
Being elected the first female vice president is no mean feat. But Harris is not the first woman, or even the first woman of colour, to walk through the corridors of the White House. And it's hard to imagine commentators getting quite so excited if Vice President Ivanka was to be inaugurated come January. There's clearly something else driving the Kamala love-in and it's not difficult to work out what.
VP-elect Harris is the polar opposite of Donald Trump. Through the eyes of the opinion-forming set, she is everything he is not. To them, Trump is an embarrassment. He's an uncouth, old white man, an orange-faced buffoon with a cotton-candy comb-over and a McDonald's gut. They see him as 'a kleptocrat, an oligarch, a xenophobe, a racist, even an authoritarian', a narcissist, a 'literally-Hitler' fascist who dog-whistles to far-right activists. And Harris is not. But for those of us who believe in democracy, the recent beatification of Harris should set alarm bells ringing.
It might seem like ancient history now, but it's worth remembering Harris was not successful in gaining the Democratic nomination to run for president. Last year, in a run-off debate, she pointedly attacked Biden, accusing him of backing race-segregationists and being opposed to 'bussing' black children to schools in more prosperous white neighbourhoods back in the 1970s. Harris spoke passionately about her personal experiences of bussing and racism. Yet, just weeks later, she signed on as Biden's running mate. Asked about this pivoting on The Late Show, she laughed and shrugged it off: 'It was literally a debate!' It turns out, she hadn't meant a word she had said, it was all just a bit of wordplay. While Trump is labelled a hothead whenever he is inconsistent, Harris's elastic values have earned her praise for pragmatism.
So, what do we know about the VP-elect? Harris presents herself as the daughter of immigrants who attended civil-rights rallies as a toddler in a stroller who then became 'a criminal-justice reformer, an ally of Black Lives Matter and a defender of America's most vulnerable citizens'. But there's something missing from the middle of this virtuous straight line, and that's the years Harris spent as a Californian prosecutor – a 'top cop' with a reputation for toughness. On her watch, parents of truanting school children, sex workers and victims of trafficking were put behind bars in record numbers. Harris's crackdown on crime led to African-Americans being incarcerated at a rate that 'remains more than five times their share of California's population'.
Fast forward to the summer of 2020 and Harris was keen to forget this inconvenient past in her rush to support Black Lives Matter. She described the movement as 'essential for the evolution of our country' and praised its 'brilliance' and 'impact'. 'I actually believe that Black Lives Matter has been the most significant agent for change within the criminal-justice system', she said. Presumably, that's the same criminal-justice system that Harris made a career out of building.
But forget the past. Harris 2.0 has clearly gone woke. Her newfound attachment is to all things critical race theory. Having noted that people of colour are disproportionately impacted from Covid-19, she announced legislation 'to support bias and anti-racism training for workers involved in the Covid-19 response'. I'm sure people with jobs that can't be done from home, who live in overcrowded housing and struggle to afford health insurance, will be grateful that their death-bed nurse has undergone anti-bias training.
Harris is determined to make clear she is newly progressive. She is no longer the Californian attorney general who voted to prevent transgender prisoners from having gender-reassignment surgery. No, Kamala 2020 proudly announces her pronouns (she / her, in case anyone was in any doubt). She may be the first woman to be elected vice president, but if Harris now thinks anyone can be a woman, and trans women belong in women's jails, she is in no position to champion women's rights.
Kamala Harris is definitely not Donald Trump. She may well be far worse. Where Trump is full of politically incorrect bluster, Harris is a woke authoritarian. On her watch, parents might be jailed if their kids skip school – but at least prosecutors won't assume their pronouns. Poor black people will still die from coronavirus – but they can rest assured that health professionals will have checked their privilege. Raising a family on the minimum wage will still be a near-impossible struggle – but at least the new occupants of the White House bend the knee to Black Lives Matter. Enjoy the adoration now, Kamala. It may not last long.
Joanna Williams is currently researching hate crime in her role as director of the Freedom, Democracy and Victimhood Project at the think tank, Civitas.
To enquire about republishing spiked's content, a right to reply or to request a correction, please contact the managing editor, Viv Regan.