The pandemic has empowered the petty
Too many have taken too easily to telling others what they can and can't do.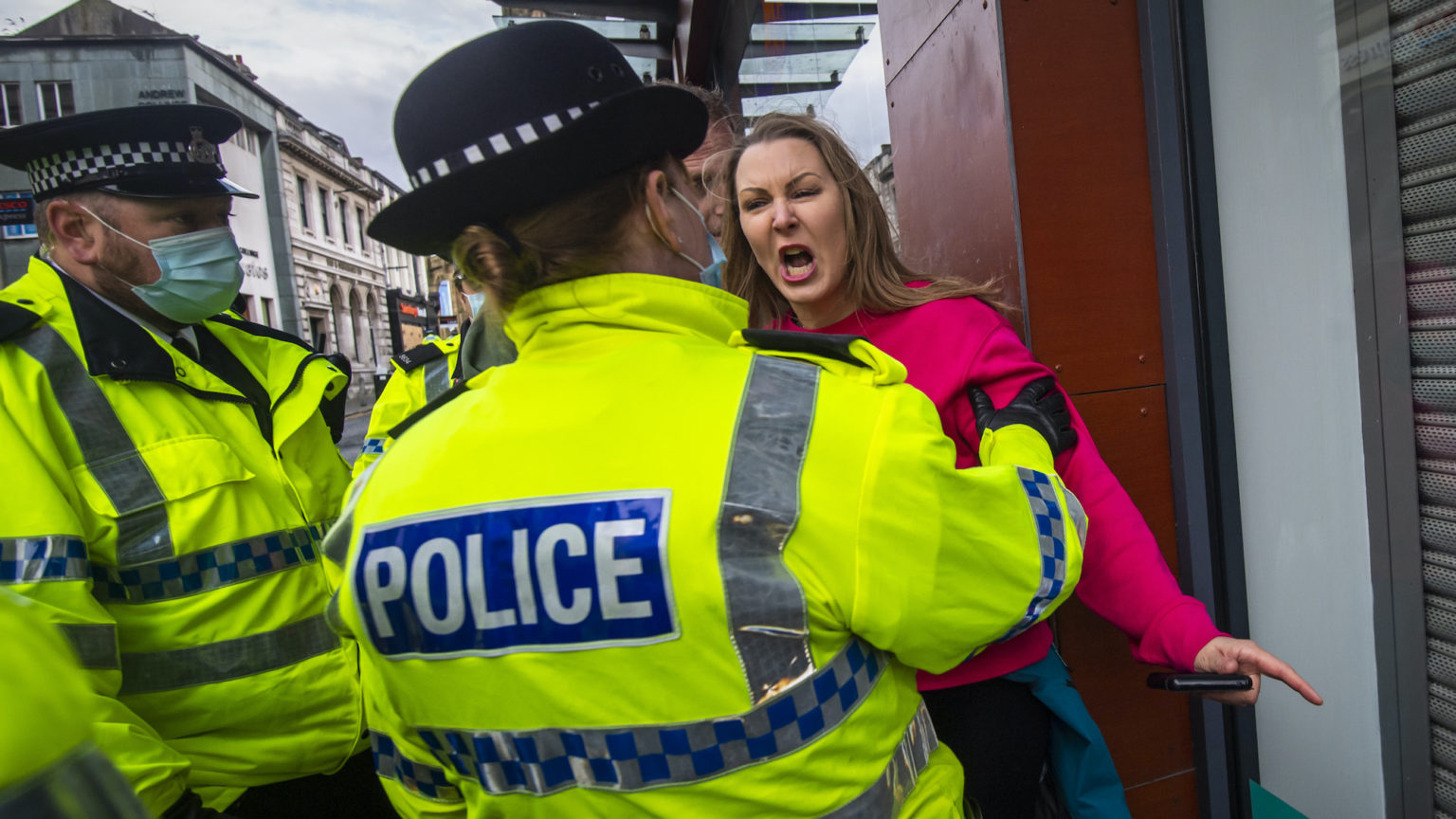 The woman behind the entrance to the shop silently sways her head from side to side, indicating that I may not come in until someone has come out. The man at the post office counter says 'not that way' when I try to exit, as I fail to notice the directional arrows on the floor.
I overhear a Radio 2 phone-in while queuing in a pharmacy, with a government spokesman telling listeners what they are and are not 'allowed' to do. A few weeks back, there was a woman patrolling the aisles of carriages on the train, checking if passengers were wearing masks. Because I was eating, I had lowered mine. She gave me her blessing, that I was indeed 'allowed' to do this.
These are just a few of my own recent encounters during the pandemic. You will have had similar experiences of being told what you are 'allowed' to do – my contender for the most hated word of 2020. You will have been subjected to people bossing you around – whether they be officials, shop staff or mask enforcers from the general public – of others exerting their power over you.
Of course they are only following government instructions, but you know that many derive pleasure from their new roles as enforcers. Human beings have always loved assuming positions of power. It satisfies an instinct to dominate others. It affords them the thrill that comes from telling other people what to do – by belittling, humiliating and even inflicting pain on others. The Stanford Prison Experiment is a metaphor for the human condition. Power has forever gone to people's heads.
Lockdown apologists will say that the government is only trying to do the right thing. But we know that many in government, and the scientists advising it, are intoxicated by the power now at their disposal. As the Daily Mail's political sketch-writer Henry Deedes observed this week, health secretary Matt Hancock's discordant smiling and look of delight at Monday's press conference is telling. He revels in the spotlight and marvels at his own authority.
Never mind that the coronavirus showed signs of wearing itself out before Lockdown 2. Forget this month's vaccine breakthroughs. The appetite of our power-hungry masters is both insatiable and palpable. Hence the belief that the government will seek a harsh tier regime virtually indistinguishable from the current lockdown beyond 2 December, and another lockdown proper in January.
But back to our everyday vexations. The notion that power is exerted in small ways not immediately obvious will be known to most humanities undergraduates, and those familiar with 'woke' culture, which is heavily indebted to the theories of Michel Foucault, who argued that power was ubiquitous and invisible. This has manifested itself in the belief in 'microaggressions' and 'safe spaces', those havens from omnipresent white, male power.
Foucault called himself a disciple of Friedrich Nietzsche, who believed that power was the defining force in life. Except Nietzsche was more concerned with power as inherent in individuals. As he wrote: 'The world is the will to power – and nothing besides! Even in you yourselves are this will to power – and nothing besides!' Nietzsche thought the desire to dominate was both a good and a bad thing. Good for the self, in that it could spur us to become better and stronger people, immune to the injunctions of the herd. But potentially bad for the self, in that others seek to dominate us.
'Pleasure arises from power. Happiness consists in the dominant, dawning consciousness of power and triumph. Progress: the strengthening of the type, that capacity for great willing.' This is good advice for the self, a spur to improvement. But whenever I'm told what I am 'allowed' to do, or physically inhibited by those exerting their Will To Power, I am reminded of Nietzsche's cautionary sentiments.
---
Why pollsters get it so wrong
During my time at university in the 1990s, when I first became familiar with Foucault's teachings, I had to study a course on statistics, in order to better assess historical documents and modern politics.
As befitting Foucault's sceptical philosophy, we were told to be wary of opinion poll findings, because people are more inclined to declare support for a more socially acceptable political party. People were less likely to say that they intended to vote Conservative in the UK, or Republican in the US, because that doesn't make for a good public image. Pollsters, we were told, adjusted their statistics to account for this.
To judge by the 2016 Brexit vote here or this month's US presidential election, pollsters are failing to adjust accordingly. In the latter case especially, the polls woefully underestimated support for the unfashionable candidate. (Another reason for the discrepancy is that young, liberal undergraduates are more likely to respond to opinion polls.)
I've heard and read many people doubt the YouGov poll finding that 72 per cent of people support Lockdown 2. The figure doesn't ring true for me either. We are manifestly behaving differently this time round. The streets are busier, with people going out just because they can and want to. We no longer do those ostentatious displays of social avoiding in open spaces. The majority only wear masks when and where it is mandatory.
The dubious YouGov poll has an obvious explanation. It's unfashionable to say that you are opposed to lockdown. People fear appearing a callous 'granny-killer'. They fear association with anti-mask fundamentalists and anti-vaccine conspiracy theorists.
---
'Fisher people' won't catch on
As reported in the Daily Telegraph, BBC Radio 4's Today programme has taken to calling Britain's endangered fisherman 'fisher people'.
Logically speaking, the BBC's non-sexist initiative is correct. There are females who fish, even if they are more likely to be anglers than harvesters of the sea. And 'firefighter' has supplanted 'fireman' with no great fuss. Yet the awkward, robotic construction 'fisher people' is less elegant, less romantic.
Gender-neutral descriptions can also be a source of confusion. Those unfamiliar with movies might be surprised to learn that Sean Young of Blade Runner fame is an actress. Likewise, Lionel Shriver would be better described as an authoress. People called Robin, Alex and Sam face this kind of difficulty all the time.
Is there a solution? As is the case with language in the vernacular, it is normally about what rings true and what sounds right. 'Fisher people' fails on both counts. And after all, we still use 'princess' and 'duchess', which are both the feminine form. 'Prince Kate' or 'Duke Meghan' will never catch on.
Patrick West is a spiked columnist. His latest book, Get Over Yourself: Nietzsche For Our Times, is published by Societas.
Picture by: Getty.
To enquire about republishing spiked's content, a right to reply or to request a correction, please contact the managing editor, Viv Regan.