Appeasing Iran
Why are so many keen to downplay Mohsen Fakhrizadeh's role in Iran's nuclear-weapons programme?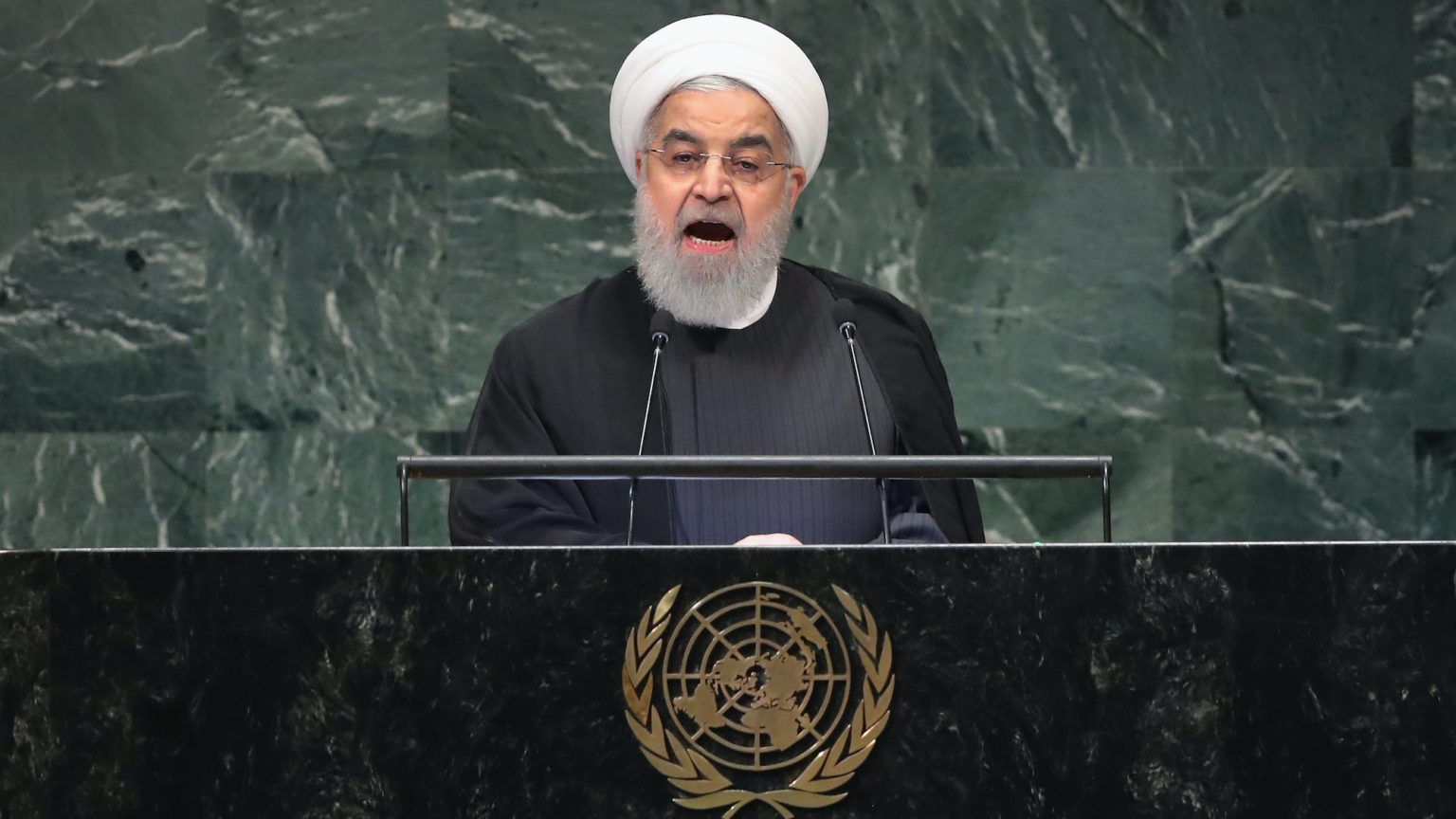 In a tweet, Ayatollah Ali Khamenei described Dr Mohsen Fakhrizadeh, the Iranian nuclear scientist who was killed last month, as a martyr. He was killed by 'brutal mercenaries' and he sacrificed his life for a 'divine reward', Khamenei said. In response, the human-rights lawyer and executive director of UN Watch, Hillel Neuer, wrote: 'Your regime was so busy beating up peaceful protesters, arresting women for not covering their hair with the compulsory hijab and jailing and torturing human-rights activists and their lawyers, that you forgot to protect your own nuclear mastermind.'
Mohsen Fakhrizadeh was, in truth, very well protected by the Iranian regime. But he and his bodyguards were ambushed by a strike force that had spent a huge amount of time perfecting the split-second operation with precision timing and coordination.
Former CIA director John Brennan condemned the 'criminal and highly reckless act' and suggested it risked 'lethal retaliation and a new round of regional conflict'. Yet as CIA director, how many 'criminal and highly reckless acts' might he have authorised in his time?
Brennan was clearly attempting to turn this crucial international incident into a political jab at Donald Trump, the man who fired him in 2017. Brennan called on Iran to 'resist the urge to respond' and wait for a 'responsible American leadership' to return to the global stage. But who is Iran going to respond to anyway? If you are thinking the US, from its bases in the Gulf, or perhaps Israel or Saudi Arabia, then much of the world would probably support, at least initially, any counterstrike to an attack from the Iranian regime.
The European Union also condemned the killing. Yet when thousands of peaceful Iranian protesters were brutally beaten and killed on the streets of Tehran, what did the EU have to say?
Fakhrizadeh was not just a civilian nuclear scientist, despite much of the mainstream media suggesting as much. He was the most senior Iranian nuclear scientist, a brigadier general in the Iranian forces and in charge of the nuclear-weapons programme. This changes the context completely.
Still, most people in Iran were unaware of who Fakhrizadeh was until quite recently. In fact, it was Israeli prime minister Benjamin Netanyahu who made him famous by announcing his name on TV in April 2018. Several months before that, Israeli agents managed to break into an Iranian warehouse in a commercial district of Tehran. They disabled the alarms, broke through two doors, cut through dozens of giant safes and managed to get out with tonnes of secret materials. They managed to take some 50,000 pages and 163 compact discs of memos, videos and plans.
It became instantly clear to Iranian guards that someone had stolen much of the country's nuclear archive, documenting years of work on atomic weapons, warhead designs and production plans. In late April 2018, Netanyahu announced the results of the heist, after giving Trump a private briefing at the White House.
Trump then abandoned the 2015 Iran nuclear deal a few days later, arguing that the documents proved Iranian deception and an intent to resume bomb production. This was the right move but it continues to strain relations between the United States and its European allies.
These key documents confirmed what inspectors from the International Atomic Energy Agency (IAEA), in report after report, had suspected. Despite Iranian insistence that its nuclear programme was for peaceful purposes, it had worked in the past to systematically assemble everything it needed to produce atomic weapons.
'It's quite good', Robert Kelley, a nuclear engineer and former inspector for the agency, told the New York Times, after he was shown some of the documents: 'The papers show these guys were working on nuclear bombs.'
Yet more than two years on, Iran continues to fly under the radar, violating the 2015 nuclear agreement. And the IAEA is very concerned. Nevertheless, the EU continues to ignore Iranian violations and is encouraging Joe Biden to rejoin the deal.
On this issue, Israel, Saudi Arabia, the UAE, Bahrain, Omar, Qatar and others agree that Iran's goal of acquiring nuclear bombs must be stopped at all costs. If not, it will set off a nuclear arms race across the Middle East within a very short time.
Mohsen Fakhrizadeh was the man who was central to Iran's strategic objective of attaining a nuclear bomb. He is probably as much a loss to the regime as Imad Mughniyeh – the founding member of Lebanon's Islamic Jihad Organisation and number two in Hezbollah's leadership, who was assassinated by the Israelis in 2008 – or Major-General Qasem Soleimani, commander of the Quds Force, who was assassinated by the Americans in January this year. Several experts across the Middle East believe Fakhrizadeh was such a brilliant nuclear scientist, who was perhaps just months away from finishing a nuclear bomb, that he may be irreplaceable.
But Iran will certainly have back-up plans. The geopolitics of the Middle East just became a lot more intriguing.
James Marlow is a news broadcast commentator and communications trainer. Find him on Twitter: @James_J_Marlow.
Picture by: Getty.
To enquire about republishing spiked's content, a right to reply or to request a correction, please contact the managing editor, Viv Regan.