Scotland's Hate Crime Bill will tear society apart
It is more than an assault on free speech – it also threatens to rip the social fabric itself.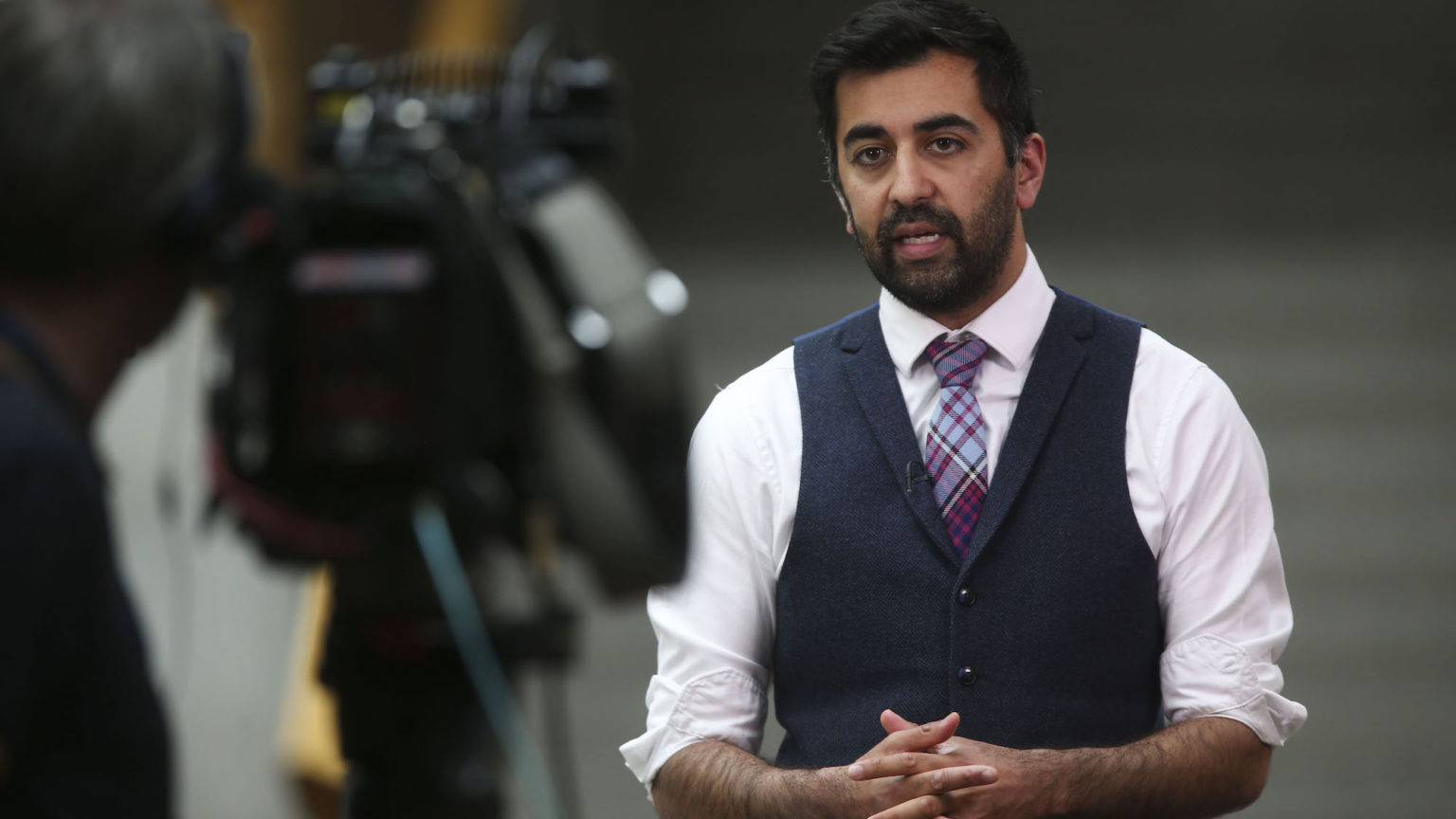 In November Stuart Smith, a 63-year-old invalid from Gretna Green, Scotland, was found guilty of a hate crime against Scottish justice secretary Humza Yousaf. Yousaf is the politician responsible for championing the Scottish National Party's controversial Hate Crime Bill. Following the Bataclan nightclub massacre carried out by Islamic extremists in Paris in 2015, Smith tweeted: 'Humza Yousaf, good Scots name. I am sure he is 90 per cent backing Muslim killers. Be having a whip round for terrorist families soon.'
Smith was convicted of behaving in a threatening or abusive manner aggravated by religious prejudice. He will be sentenced in December. On Smith's conviction, Yousaf said: 'For this man to suggest my loyalty would be to anyone other than those affected was devastating. It's validation. It means a lot.'
A few days later it was reported that Yousaf and the Scottish government had an 'open mind' to making further amendments to the Hate Crime Bill. In particular they were prepared to cede ground on sections of the bill that would make theatre owners, performers and actors culpable for 'stirring up hatred' during the public performance of a play. A number of high-profile members of Scotland's arts community, many of them SNP supporters, have voiced their concerns over this part of the bill.
Campaigners against the bill have cautiously welcomed this apparent U-turn. However, speaking to Scotland on Sunday, Yousaf said he saw no reason why actors and directors who stirred up hatred should be exempt from prosecution, but added that there were existing laws that could be applied, thus making the clause in the bill unnecessary.
Both these examples are worrying. That Smith has been successfully prosecuted for a hate crime, and that Yousaf can be seen to be 'backing down' on aspects of the bill because he feels confident that there are provisions elsewhere in Scottish law, clearly illustrates the already deep juridification of speech and self-expression in Scottish society.
More worrying still is the fact that Yousaf considered Smith's conviction a form of personal 'validation'. Yousaf has made great play of his personal investment in pursuing the Hate Crime Bill and regularly draws attention to the abuse he and his family have been subject to on social media. In October he reposted a number of abusive tweets he had received that refer to him as 'scum paki' and 'pakikunt', and which mock the personal tragedy of the miscarriages he and his wife have suffered.
Speaking to the Scotsman on Sunday in November, Yousaf claimed: 'I am 99 per cent sure the vast majority of the people who make death threats against me and my family are just keyboard warriors, but that one per cent of my brain worries and it's enough to keep me awake at night.'
Being subjected to abusive messages on social media is terrible and something that no reasonable person would ever condone. Still, Yousaf's determination to pass the Hate Crime Bill as part of some kind of personal vendetta should also be condemned. His personal tragedies are being weaponised in an effort to legitimise a dangerous legislative precedent. The Hate Crime Bill signals how far the Scottish government is willing to go in its war on equality in Scottish law.
The Hate Crime Bill, if passed, would have consequences far beyond the regulation of what we can and cannot say. The worldview that has so far shaped this bill begins with the premise that Scottish society is fractured, broken and divided, and we need protecting from each other. This legislation affords SNP misanthropy the status of a legal norm. It promotes social division and encourages individuals to see themselves as victims, and other people as aggressors.
The Scottish government claims the bill would make Scotland a fairer and more equal place. In truth, it would institutionalise discrimination. The bill undermines the idea of equality in the law, which is necessary to combat inequalities and injustices. This will create greater inequality and provide the legal basis for further attacks on Scotland's rights, liberties and freedoms.
You do not make the vulnerable or those who face discrimination more equal in society by making them less equal in law.
The Hate Crime Bill would introduce a series of seven 'protected characteristics', which would allow the Scottish courts to punish a hate crime much more severely than other offences. Offences committed against victims who are covered by these 'protected characteristics' would be subject to a higher tariff. The 'protected characteristics' are age, disability, race, religion, sexual orientation, transgender identity, and variations in sex characteristic. There are plans to introduce more at a later stage.
Both the creation of protected identities and the increased sentencing tariff for 'proven' hate crimes create an explicit inequality in the application of law. Hate-crime legislation such as that being pursued by the Scottish government is indicative of a trend that has seen British society move from governance by the rule of law towards subjugation by rule by law.
The idea of the rule of law, or common law, is the dominant model that has shaped the British legal system. It is based on an understanding that as social actors we, and our relationships with others, are regulated via a common contract. The common law is an agreement between individuals to abide and conduct themselves according to the norms and values of society. These norms and values are shared as they develop out of the socialised interactions and exchanges that members of society have with each other. Under the rule of law, the law is a reflection of a common culture. Based on an already existing presumption of equality, it relates to and treats members of society the same, regardless of their economic, social, political, biological or cultural backgrounds.
Under rule by law, by contrast, legislation no longer approaches society as a cohesive whole. Rule by law conceives of society as fractured and broken, made up of individuals who are constantly at each other's throats and who cannot be trusted. As such, legislators seek to impose new codes of conduct and value systems that have little if anything to do with the way people actually live. The Scottish Hate Crime Bill is really a form of moral engineering imposed from above by an increasingly unaccountable elite.
The legal institutionalisation of 'protected characteristics' is very dangerous. It creates a hierarchy of victimhood and encourages individuals to see themselves as victims before the law. Moreover, it promotes divisive competition between groups and identities that are compelled to compete for the 'protected' status. Increasingly, 'protected characteristic' is interpreted as a way of conferring social recognition and self-validation on particular groups. Seeing oneself as a victim of hate crime, and having this enshrined in law, becomes the way in which individuals begin to recognise themselves and seek validation in wider society. This is a very worrying trend. Already there have been complaints that certain groups have not been granted the status of 'protected', and hence are not 'recognised' or validated as victims.
In September, Bòrd na Gàidhlig, the public body in Scotland responsible for promoting Gaelic, made representations to the Scottish government demanding that 'Gaelic speakers and their importance to Scotland's diversity is referenced in the bill', and that Gaelic speakers should be 'included as a protected characteristic'.
More recently, Daily Record columnist Darren McGarvey has argued that the Hate Crime Bill is what happens when 'middle-class politicians draft legislation for middle-class charities and pressure groups — the absence of a class analysis is all but inevitable'. As a result, he says, 'the most vulnerable and persecuted groups in Scotland – the poor, the homeless and drug-addicted – receive zero protection while the government that visits upon them wave after wave of devastation drapes itself in the veil of a benevolent social guardian'. If the Scottish government were serious about combating hate crime, McGarvey concludes, Scotland's poor should be granted the status of 'protected characteristic' too.
McGarvey may have a point about the Hate Crime Bill being the result of middle-class politicians doing the bidding of middle-class charities and pressure groups. But you do not help Scotland's vulnerable by making them a 'protected characteristic'. This simply transforms them into legal victims and robs them of their equality before the law. Without redress to the law as an equal, they lose their agency and their capacity to take control over their lives.
The institutionalisation of victimhood has dire consequences. If the Hate Crime Bill becomes law, it will enshrine fear and mistrust as legal norms, where individuals are encouraged to view themselves as victims and see others not as fellow citizens, with common interests, but as aggressors.
The threat to free speech posed by the Scottish Hate Crime Bill is very real. However, opponents to the bill have so far failed to grasp the far-reaching and damaging consequences of the introduction of widespread 'protected characteristics' on both Scottish law and Scottish society. An individual's right to free speech is dependent on the ability of the law to treat every individual as an equal. Once the law is allowed to discriminate on the basis of a particular characteristic or difference, it can no longer uphold the standard of equality in other spheres of social life, such as free expression or indeed justice itself.
Advocates of the Scottish Hate Crime Bill are keen to present Scotland as an antagonistic society, riven with hate and animosity. It isn't. But this is exactly the kind of society it will become if this legislation goes unchallenged.
Carlton Brick is a lecturer in the school of education and social science at the University of the West of Scotland.
Picture by: Getty.
To enquire about republishing spiked's content, a right to reply or to request a correction, please contact the managing editor, Viv Regan.