How to stop the NHS being overwhelmed
Instead of endless lockdowns, we should look to expand hospital capacity.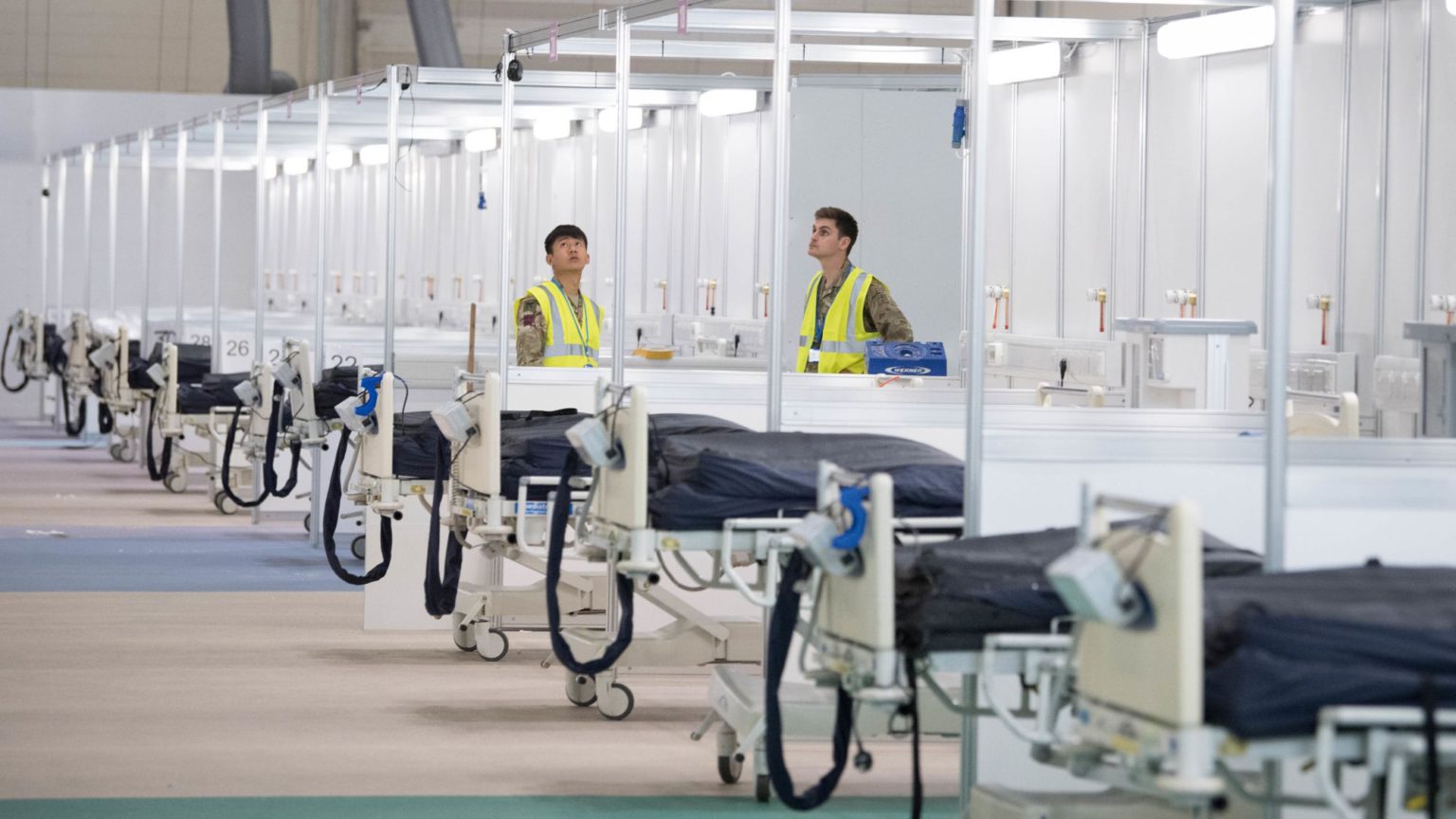 'NHS hospitals run out of beds as Covid cases continue to surge', says the Guardian, echoing the government's main justification for continuing lockdowns – that without them, hospitals will be overwhelmed. But given that wintertime pressure on hospital beds is hardly unusual, it is perhaps more pertinent to ask whether the NHS is fit for purpose.
Indeed, as the UK faces more damaging restrictions and a continuing crisis because of Covid, perhaps we should ask whether, instead of repeated lockdowns to stop the NHS being overwhelmed, we should seek to expand NHS hospital capacity. The government made a start in March with the swift construction of Nightingale hospitals, but these are now mostly mothballed because of a lack of nursing staff. This lack needs to be addressed. For these hospitals, if operational, could act as isolation hospitals for Covid patients, and so enable mainstream hospitals to maintain treatment for non-Covid patients, and stop the high rate of spread of Covid in hospitals. The Nightingales would then be akin to 'fever hospitals', allowing isolation and preventing disease spread, while addressing the needs of sick Covid patients, using the effective treatments, such as steroids and oxygen therapy, that are now available.
But why is there a problem in getting nursing staff to run these Nightingale hospitals? This could surely be solved by deploying nursing students local to the hospital and their nursing lecturers into the frontline of care, and paying them a salary to do so.
There are approximately 30,000 student-nurse places in the UK each year, which, given nursing is a three-year course, means there are about 90,000 student nurses in total (notwithstanding dropouts). Moreover, there are 84 university nursing departments throughout the UK, each with a body of nursing professors, senior lecturers and lecturers, many of whom will be registered with the Nursing and Midwifery Council (although they are not required to work clinically to maintain registration). In this emergency pandemic, it would seem quite rational for these students and teaching staff to be deployed by government to staff the Nightingale Hospitals.
This is not even a novel idea. It in fact constitutes the former apprenticeship method of nurse training, which was overturned by the professional leadership from the 1980s onwards, against the view of ordinary nurses.
The problems in the healthcare sector, and the seeming inability of those leading it to address them, bring to mind similar problems in the education sector, and the role of those Michael Gove once referred to as 'The Blob'.
Toby Young described the blob as follows:
'professionals who have a vested interest in preserving the status quo…. What's remarkable about the educational establishment, both here and in America, is the fact that nearly everyone in it shares the same progressive educational philosophy. They all believe that skills like "problem-solving" and "critical thinking" are more important than subject knowledge…'
Although Young is writing about education, these same words can be applied to the nursing leadership and the current educational model of nurse training in the university, where 'problem solving' and 'critical thinking' (by which is meant thinking according to the current cultural agenda) are considered more important than a biomedically orientated training programme. Processing students in 'management skills' and 'team working' takes precedence over any biomedical input. Each university decides on its own syllabus. There is no common national syllabus for continence care, for example, as discovered by Labour MP Rosie Cooper.
I have written elsewhere of the negative effect on nursing training thanks to its transformation into a university degree, in, for example, The Nurse Apprentice (Ashgate 2001), The Project 2000 Nurse (Whurr, 2001), and the THES. And indeed, the Francis Report on the Mid-Staffs hospital scandal also highlighted the limitations of the university-based model and its ideology of nurse training.
But right now, a revival of the apprenticeship method of nurse training, and its focus on the biomedical model of care, has never looked more necessary. It would provide the staffing necessary to support Nightingale fever hospitals. And student nurses could learn as apprentices on the job, and so deliver professional-level nursing care to the patients, and earn a salary rather than struggling to make ends meet as university students. This is both a win for the student nurse and a win for the Nightingale hospitals. In fact, this model of paid employment is now being requested by student nurses themselves.
After all, these new hospitals are named after Florence Nightingale, whose radical action in the face of a different crisis, the Crimean War, led her later to develop nurse training as an apprenticeship in the UK – a model which was then adopted worldwide. This model was ended by the academicisation of UK nursing in the 1980s, and its move into universities at great cost to the NHS. Perhaps it is time for the wheel to turn full circle and to fill the Nightingale hospitals with Nightingale's methods of staffing and training, the science and art of nursing.
It is not only the nursing profession that has been subject to modern educational ideology and displaced into the university. So, too, has the hospital itself. Over the past 30 years the primacy of hospital care as the fundamental provider of complex healthcare has been displaced by the conception of primary care. The Health of the Nation white paper, published in 1992, set out a strategy for health in England. Health promotion was fundamental to it. Changes in technology and medical treatments were said to warrant a new public-health approach. Since then, a strategy of closing hospitals, in favour of primary healthcare and the rationalisation of services, has been implemented at considerable cost.
But the cost has not just been financial. Primary care is also inadequate for major diseases. Hospitals are needed. And it is this failure of previous policy that this government and its civil-service advisers desperately need to address and rectify.
The expansion and staffing of hospitals should not only be regarded as an immediate response but also as a policy for the long term. This would overturn 30 years of government policy which led to a reduction in hospital beds and an increase in primary care. The nursing academy could provide immediate staff for these new and expanded hospitals, transferring monies paid to the university and its staff to the nurses themselves, as NHS employees. These staff would also perform a key role in the vaccine-delivery programme, which is also under stress. Reframing and reconsidering the nursing academy will not only help us during the pandemic — it will also help us tackle future healthcare challenges, too.
Dr Ann Bradshaw is a retired senior lecturer in adult nursing at Oxford Brookes.
Picture by: Getty.
To enquire about republishing spiked's content, a right to reply or to request a correction, please contact the managing editor, Viv Regan.