The British blockade: another self-inflicted catastrophe
The lockdown has disrupted practically every area of our lives, but this is a new low.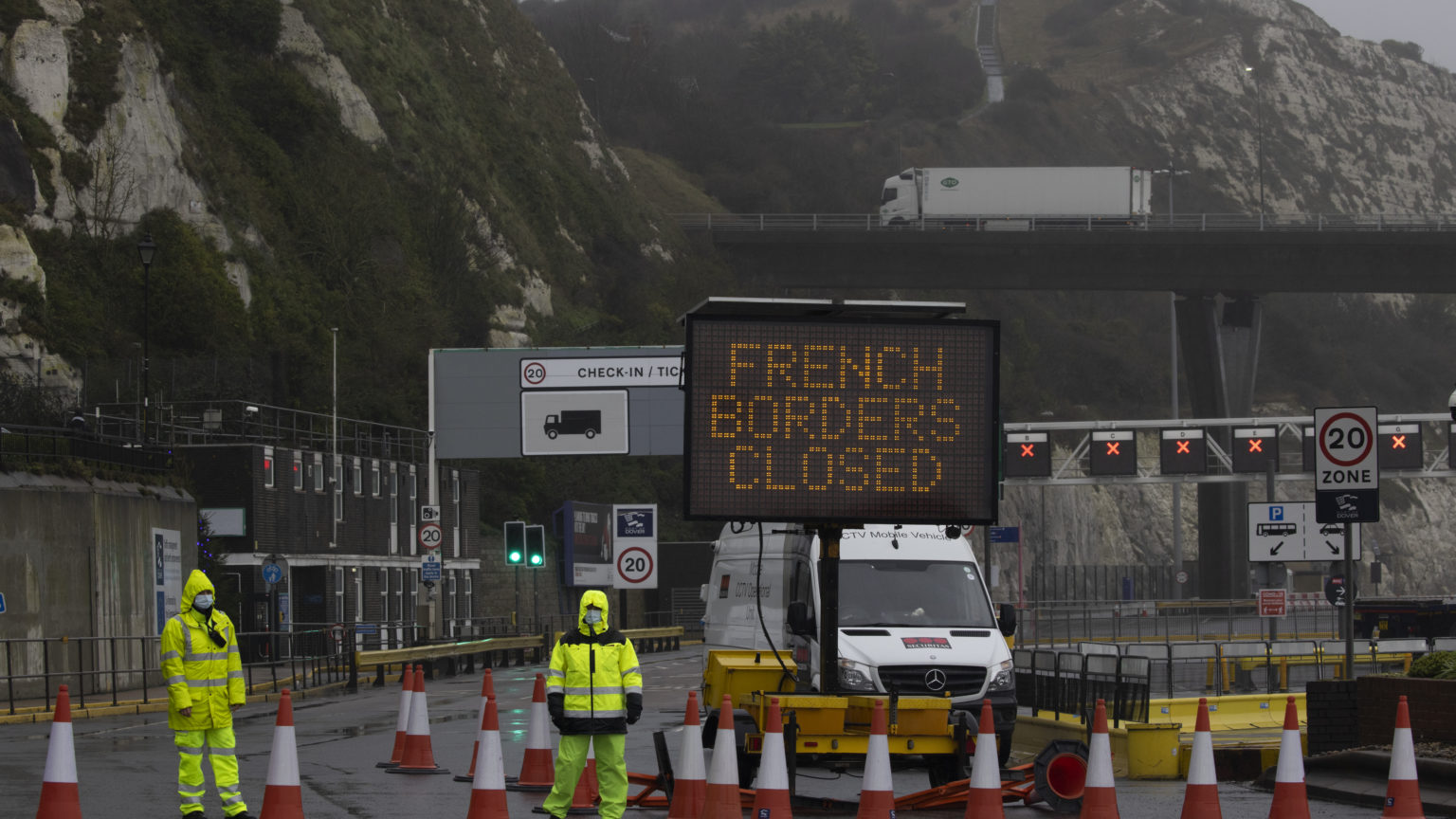 We should never underestimate the British government's ability to turn a crisis into a catastrophe. This has been the story of Covid-19. The virus poses a serious threat to health and to the lives of many. But the government response has disrupted practically every other area of life imaginable.
Since the prime minister's press conference on Saturday, in which he announced new Christmas lockdowns and warned of a mutant, super-spreading strain of the virus, at least 20 countries have imposed bans on flights from the UK. France shut its borders to Britain entirely – except for unaccompanied freight – affecting the 10,000 or so trucks that pass over or under the channel every day.
In a viral tweet, sometime spiked contributor JJ Charlesworth joked that 'There was never any lockdown – there was just middle-class people hiding while working-class people brought them things'. Throughout the lockdown, apart from a brief toilet-paper shortage, the supermarket shelves could always be re-stacked. Everyone's Amazon Prime deliveries arrived on time. Deliveroo and Uber Eats did record business. An army of invisible workers (who nobody clapped for) kept society ticking over. But for the first time, thanks to the French blockade, after Christmas there could be empty shelves where some fresh-food items used to be for the first time all year.
Of course, no one knows how long the blockade will last – if it's just a few days then the effect will not be greatly different to workers going on strike at the ports. Talk of outright food shortages is likely scaremongering. Thankfully, French officials are working on a protocol to allow freight transport to resume. But if this requires hauliers to produce a negative Covid test at the border, or for testing facilities to be set up, some degree of disruption will no doubt continue.
The measures taken against Britain seem inevitable, and yet the government appears to have been genuinely surprised by them. It has spent days warning about the new mutant strain. Boris Johnson announced on Saturday that it was 70 per cent more transmissible than normal Covid. Health secretary Matt Hancock told the media that the new strain was literally 'out of control'. So how did they expect other countries, which have been just as lockdown-happy as the UK, to react? Especially EU countries where vaccine approval has been delayed and not enough doses have been secured.
Even more predictable, and yet somehow more mindless, has been the domestic response to the new strain and to the border closures. Scotland's Remoaner first minister, Nicola Sturgeon, has called for an extension to the Brexit transition period, despite the fact that the current crisis is happening during the transition period anyway. While one Brexiteer has called for Britain to go for agricultural autarky, it has overwhelmingly been the Remain side which has politicised the crisis to push for Brexit to be delayed, if not cancelled outright. Some centrist midwits have even blamed the new virus mutation itself – not just the border closures – on the unsanitised Brexit-voting masses of Kent, which has led to 'Plague Island' trending on Twitter. The government responds to every Covid development by cancelling our freedoms. Its most vociferous opponents respond to every Covid development by calling for democracy to be cancelled, too.
Every time the government ramps up the fear, it adds fuel to the fire of the catastrophe of its own making. Every attempt to control the virus leads events to spiral out of control.
To enquire about republishing spiked's content, a right to reply or to request a correction, please contact the managing editor, Viv Regan.