Lockdown was never the only option
A strategy of protecting the vulnerable could have saved lives without devastating the whole of society.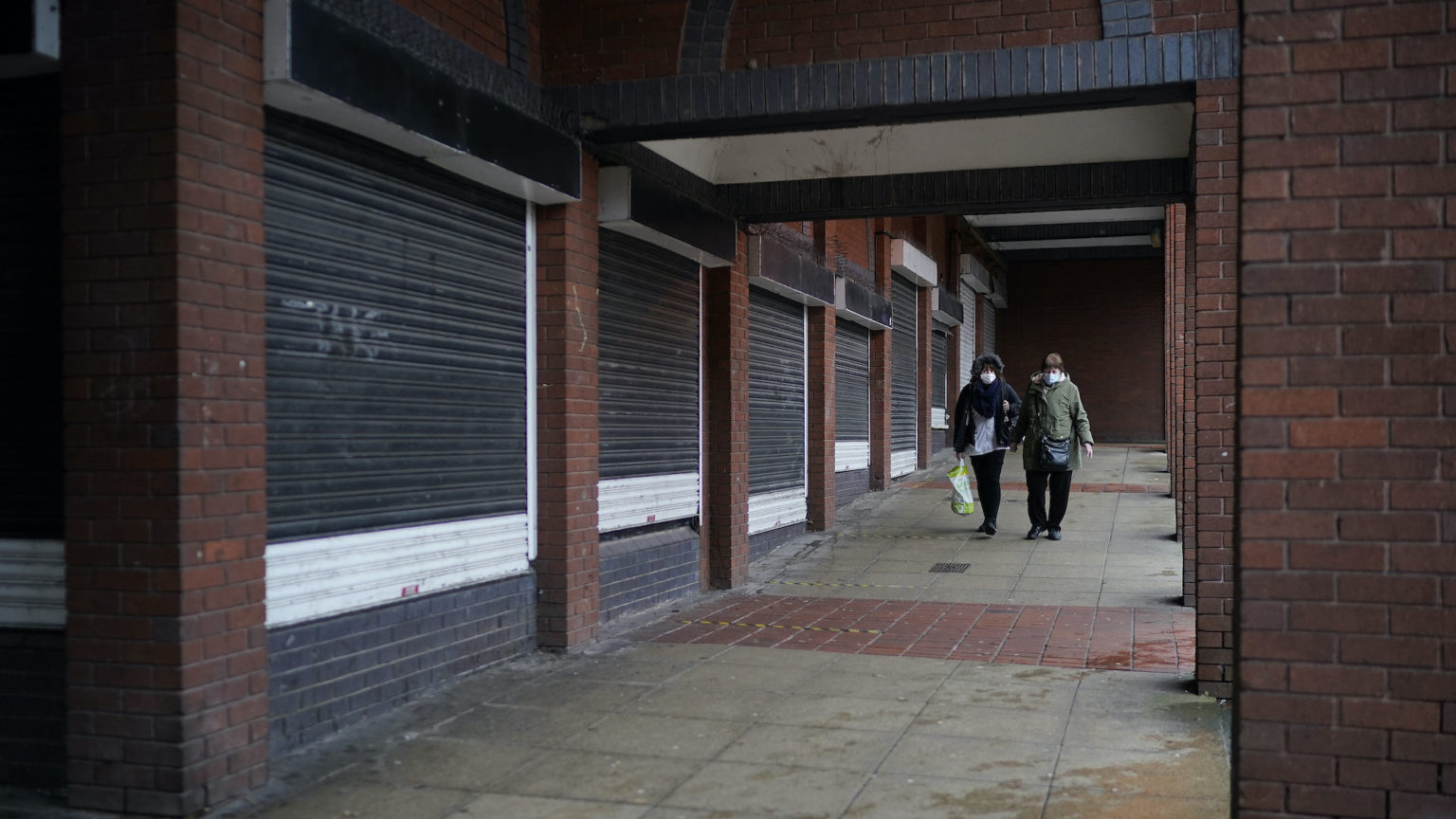 The most blindingly obvious observation anyone could make while living under Britain's third lockdown, after nine months of restrictions, is that we have clearly failed to suppress the coronavirus. It seems that practically the whole world west of Asia and Australasia has fared pretty poorly in these efforts. The extraordinary sacrifices to health, wealth and education made in the name of fighting Covid have not paid off. Many of the countries which have endured the worst death tolls have also enacted some of the longest and most severe lockdowns.
The lockdown sceptics who have spent the past year warning of the dangers of this strategy have been maligned and smeared as 'Covid deniers' or are accused of wanting to 'let the virus rip'. But we at spiked do not oppose action to mitigate the virus; we simply question the authoritarian form that action always seems to take.
In a more rational era, particularly in the supposedly liberal West, you might have expected our representatives to strain every sinew to avoid putting an entire population of healthy people under house arrest. But in a climate of hysteria, the wide-ranging discussion we needed never took place. The only permitted questions were whether we should have locked down earlier, harder and for longer. And the only alternatives to lockdown which caught the government's attention were local lockdowns (remember Tier 4?) and the eye-wateringly expensive shambles that is Test and Trace.
So with that in mind, these are some things we could have tried – because there must always be an alternative to top-down coercion.
Properly protect care homes
In Britain, more than 20,000 Covid deaths between March and June took place in care homes. The peak in deaths in care homes actually came after the peak in hospitals, suggesting that the virus continued to spread around care homes even as the rest of society was locked indoors. Politicians and the media didn't say much about the care-homes carnage until mid-May, some seven weeks into the first lockdown.
Even from the earliest, patchy data from China, it was clear that the elderly were most at risk from Covid. In fact, the elderly are more than a thousand times at risk than the young. SAGE's modellers were aware of this. But they assumed that care homes were shielded because, as Dr Ian Hall admitted to the BBC, 'we never checked'.
In April, instead of protecting care homes, government guidance advised patients to be discharged from hospitals into care homes. A negative Covid test was not necessary, even if a patient had previously tested positive. Instead of being shielded, care homes were thrown to the wolves to free up capacity in hospitals to 'protect the NHS'.
Last week, the Department of Health, once again, issued guidance that elderly patients who have been in isolation in hospitals after a positive test should be discharged into care homes.
Another key problem with care homes has been their casualised workforce. Carers travel from home to home, and if they pick up the virus, they take it with them. Many care homes have since stopped using agency staff as part of their enhanced protection controls. Carers should have been hired for full-time work, and, where possible, paid to live in the homes they were working in for short stints to minimise contact with the outside world. That would have stamped out a significant route of transmission.
But still in 2021, more and more weaknesses are being uncovered in care homes. Inspectors from the Care Quality Commission have discovered multiple serious breaches of infections protocols, including carers being asked to work despite testing positive for Covid-19. Lockdown or not, edlerly care home residents do not have anywhere near enough protection from the virus.
Fever hospitals
Although the data are incomplete, it is clear that a substantial number of Covid infections are acquired in hospitals, a problem that cannot be addressed by a general lockdown. In May, the NHS estimated that 10 to 20 per cent of its Covid patients were infected as inpatients. Between 1 August and 26 November, 16 per cent of infections were hospital-acquired. In some hospital trusts, hospital-acquired infections can represent a third of all Covid cases. Of course, those who are already in hospital are also more likely to be ill and at risk, too.
What's more, the implementation of infection controls, including spacing beds further apart from each other, means that the NHS has actually reduced its capacity at a time when it is facing the unique pressure of a once-in-a-quarter-century pandemic. This winter, there are 7,000 fewer beds to work with than last winter.
One way we could have both increased capacity and reduced hospital-acquired infections would be to have re-established fever hospitals, as outlined by Tom Jefferson and Carl Heneghan of Oxford's Centre for Evidence-Based Medicine. These hospitals were common a century ago though as many infectious diseases have now been vanquished by modern medicine, the hospitals had largely become redundant. But even in their heyday, many fever hospitals remained closed most of the time and were only reopened in the event of serious outbreaks.
The Nightingale hospitals might have been good candidates for this (though we would need a lot more of them). Instead of using them only when existing hospitals started to fill up, they should have been admitting patients as soon as possible, keeping them away from non-Covid patients.
Proper case isolation
For the first time in history, we have quarantined the healthy. But what about those who actually get ill with Covid or who test positive? A very high proportion are failing to self-isolate in line with the rules. Often these are just minor breaches. But these are people we know have the virus and are therefore those most likely to spread it.
Recently, the government has cut the mandatory isolation time from 14 to 10 days and has made some financial support available to increase compliance. But far more needs to be done. There needs to be decent sick pay to make isolation affordable. But we also need to make it easier to take care of other needs like shopping and childcare.
Many in the West have marvelled at China's response to the Covid outbreak. The idea of a city-wide, state-wide or nationwide lockdown had never been tried until January 2020. This aspect of the experiment in Wuhan was quickly adopted as the primary tool used by governments across the world to contain the virus.
What is often overlooked is China's extraordinary efforts in case isolation. The reproduction of the virus stayed constant for a week after Wuhan's lockdown was introduced. But it plunged dramatically when the authorities began to isolate positive cases in central quarantine facilities. Tens of thousands of people were housed temporarily in hotels and student accommodation as well as newly kitted-out sports halls and exhibition centres.
In the West, we could do this on a purely voluntary basis. For many people, if they have their needs taken care of, it will make isolation easier than it currently is. We could provide room and board in hotels. The UK has nearly a million hotel bedrooms with not many tourists eager to use them, and not much business travel. Nothing close to the national effort to keep the nation under house arrest has even been considered, let alone attempted, to fix the fact that vast numbers of the people who are most likely to be infectious are not isolating.
Make shielding liveable
Whenever anyone demands additional protection for the vulnerable, the predictable response is that you cannot just lock up old or disabled people indefinitely. (The same people, of course, argue that it's fine to lock up the whole population, which also includes old and disabled people.) The people who need to be shielded from Covid cannot just be forgotten. Their safety and wellbeing should be the focus of any strategy.
Between August and the third lockdown the advice to vulnerable people was that they should carry on working, despite the risks. A member of the public raised this with the prime minister on the day the Tier 4 lockdown was announced, and all the PM could do was mumble that 'people should take all the steps to protect themselves'. Not good enough.
Shielding should, of course, be voluntary. But we should be doing everything we can to make it livable. Those who would normally have to travel to work should be at home on full pay. Groceries and meals could be delivered for free. For those living in multigenerational households, which makes shielding near impossible with people coming in and out, we could offer rooms in five-star hotels.
Shielders will, of course, want to leave the house and they must have every right to do so. We could make that as safe as possible by forcing supermarkets to set aside certain hours for vulnerable shoppers. And we should provide for free and unlimited journeys in Covid-secure taxis. Some of these ideas were tried in the German town of Tübingen, which before the most recent national lockdown had, despite much looser rules than in other parts of Germany, managed to protect the vulnerable very effectively. Just 10 per cent of those infected in Tübingen during Germany's much deadlier second wave were over 65, compared with 23 per cent nationwide. The cost of such policies are also negligible compared with the lost output and rescue packages needed to sustain long-term business closures.
Some of these proposals might be too late to deal with the immediate crisis in hospitals. But this is not merely academic. Lockdown is demonstrably not protecting those who are most vulnerable from Covid – measures targeted at those most at risk are vital no matter what level of national restrictions we are living under.
More alarmingly, there are still calls from fanatical voices demanding a continuation of lockdown even when the most clinically vulnerable have been vaccinated, by which point the death rate will have collapsed. There is also a very real danger that lockdown will be deployed as the tool for dealing with the next pandemic, or even other threats such as climate change. What is perhaps most tragic about lockdown is that it has demobilised society by shutting everyone indoors, when we should have mobilised the country to the task of protecting the vulnerable.
Fraser Myers is assistant editor at spiked and host of the spiked podcast. Follow him on Twitter: @FraserMyers.
Picture by: Getty.
To enquire about republishing spiked's content, a right to reply or to request a correction, please contact the managing editor, Viv Regan.