Marjorie Taylor Greene is not the only conspiracist in Washington
Russiagate showed that conspiratorial thinking has gone mainstream among Democrats.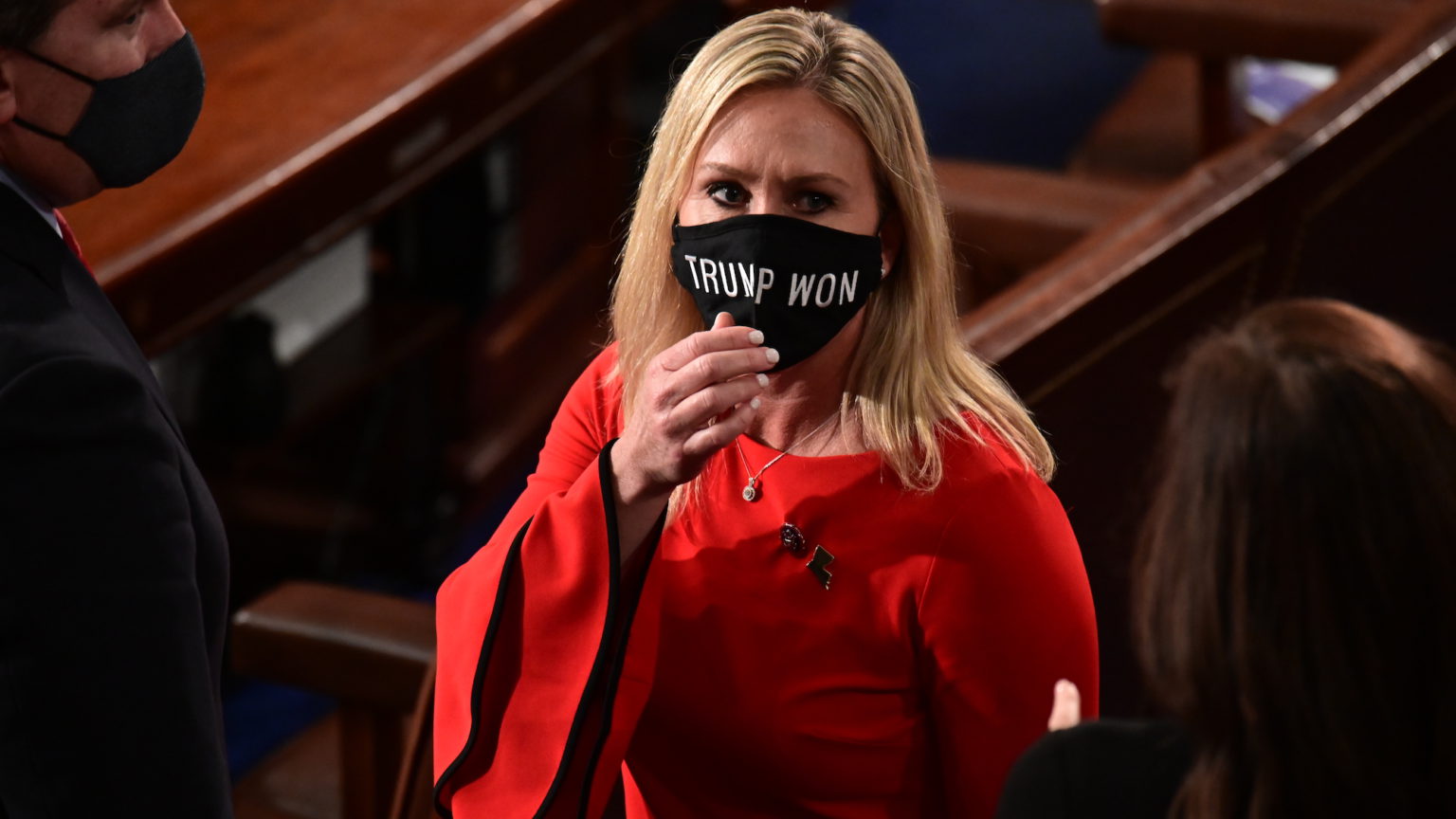 Marjorie Taylor Greene has expressed some kooky, out-there beliefs. The House Representative from Georgia, who was first elected to Congress a few months ago, has endorsed the nutty and conspiratorial theories of QAnon. She has indicated support for the view that Nancy Pelosi, leader of the House Democrats, is a traitor who will be jailed or executed. She has said the 9/11 attack on the Pentagon didn't happen, and that the Parkland, Florida school shooting was a false flag. As if all that crazed stuff wasn't enough, last week it was discovered that Greene speculated in 2018 that California's wildfires were started by the Rothschilds, utilising a space laser.
Greene articulated these cranky views before her election to a safe Republican seat in November. Yesterday on the House floor, she said she regretted her past comments, most of which were found on social media like Facebook, saying they 'do not represent me, they do not represent my district, and they do not represent my values'. The 9/11 attacks 'absolutely happened' and school shootings are 'absolutely real'. She sought to explain that her distrust of mainstream media sources led her to be open to QAnon and other things 'that weren't true'.
But Greene's public avowal of remorse was not enough to forestall the Democrats' vote hours later to remove her from two Committee assignments. It was a largely party-line vote, with only 11 of the 210 Republicans voting in favour. For a party that decried Trump for defying norms, the vote shattered precedent, as it has long been customary for each party to determine the committee seats for their own members. The move raised questions about the wisdom of punishing representatives for statements made before entering Congress. It also set up the possibility of a new tit-for-tat standard, by which the majority party would vote to remove minority-party figures they opposed from committees in the future.
Based on the inflammatory comments made by Democratic politicians in recent years, the Republicans will have no difficulty finding occasions to vote some off their committees in the future. The anti-Semitic comments of representative Ilhan Omar immediately spring to mind. Omar, a member of the media darlings known as the 'Squad', accused Jews of 'hypnotising the world' to support Israel's 'evil'. She said American support for Israel was driven by Jewish money ('It's all about the Benjamins baby'). She claimed US politicians were disloyal, putting their 'allegiance' to Israel above their own country.
As it happens, Omar's brand of anti-Semitism is more dangerous than Greene's. The wrapping of anti-Jewish sentiments in the guise of anti-Zionism is much more popular today than wacky notions about the Rothschilds wielding lasers and controlling everything. No anti-Semitism is acceptable, but Omar's newer version is even more important to combat. But what's more telling is how the respective parties have handled these two cases. The Republicans have denounced Greene, while the Democrats celebrated Omar.
Pelosi appeared on the cover of Rolling Stone with Omar and Alexandria Ocasio-Cortez, and the Squad has been hailed as the future of the party. Omar was elevated to one of the most important committees in the House, the Foreign Affairs Committee. When she released her anti-Semitic outbursts, the leaders of the Democrats in Congress pushed aside a motion to censure her, and instead put forward a bland statement against hatred of all kinds, effectively shielding her from accountability. Many Democrats rushed to her defence (as they do today), claiming that Omar, a black Muslim, was the real victim – of racism.
In contrast, most Republicans want to distance themselves from Greene, who they view as toxic. There has been no hiding behind her identity, no claims that Democrats are picking on her because she is a woman. Mitch McConnell, the Republican leader in the Senate, called her views a 'cancer' on the party.
Beyond anti-Semitism, another argument for shunning Greene is that she has peddled conspiracy theories. Like her anti-Semitic ideas, these theories should be addressed and dismissed. But Democrats could easily be hoist by their own petard on this basis, too. For many years – and to this day – many Democrats, including Hillary Clinton, and media outlets have propounded the theory that Trump colluded with Russia to win the 2016 election. And it seems that years of an expensive investigation led by Robert Mueller, which found zero evidence of collusion, has done little to dispel this notion among the Democratic faithful.
This fantastical conspiracy theory is more of a threat than that posed by Greene's crackpot notions. Most Republican voters don't know what QAnon is and much fewer believe in it. But conspiracies about Russian plots are more dangerous because they have become more mainstream, and are viewed as acceptable discourse.
As an elected official at the federal level, Greene and her views are fair game for criticism. And her crazy ideas should be criticised. But, at the same time, the national, around-the-clock coverage of her in the media has been wildly disproportionate. It's clear that all of the attention on Greene serves a broader purpose: as a way for Democrats and the media to tar the entire Republican Party, and those that voted for Trump in the November election, as extreme racists and lunatics.
The Democrats have promoted a narrative about the 6 January attack on the Capitol being an 'insurrection', and they are happy to use Greene as a way of keeping that narrative going strong. According to this outlook, nearly half the country are white supremacists influenced by nutty QAnon-type theories, and have become so dangerous that they must be treated as 'domestic terrorists'. Saying the Republicans are 'the Marjorie Taylor Greene Party' is just another opportunity for Democrats and the media to justify their recent initiatives, which have ranged from censorship and militarisation of the Capitol to a possible new domestic terrorism law. Opposition to the Democrats today is not a good-faith difference of opinion; it is terrorism in the making.
Kicking one kooky representative off her committee assignments is not the end of the world. Greene can still serve in her role, and she will be judged by the people in two years' time, as it should be in a democracy. Let's not let one nutcase in Congress be the justification for instituting a wave of authoritarian measures.
Sean Collins is a writer based in New York. Visit his blog, The American Situation.
Picture by: Getty.
To enquire about republishing spiked's content, a right to reply or to request a correction, please contact the managing editor, Viv Regan.