The SNP has abused its power
The Salmond Affair shows a government doing everything it can to avoid scrutiny.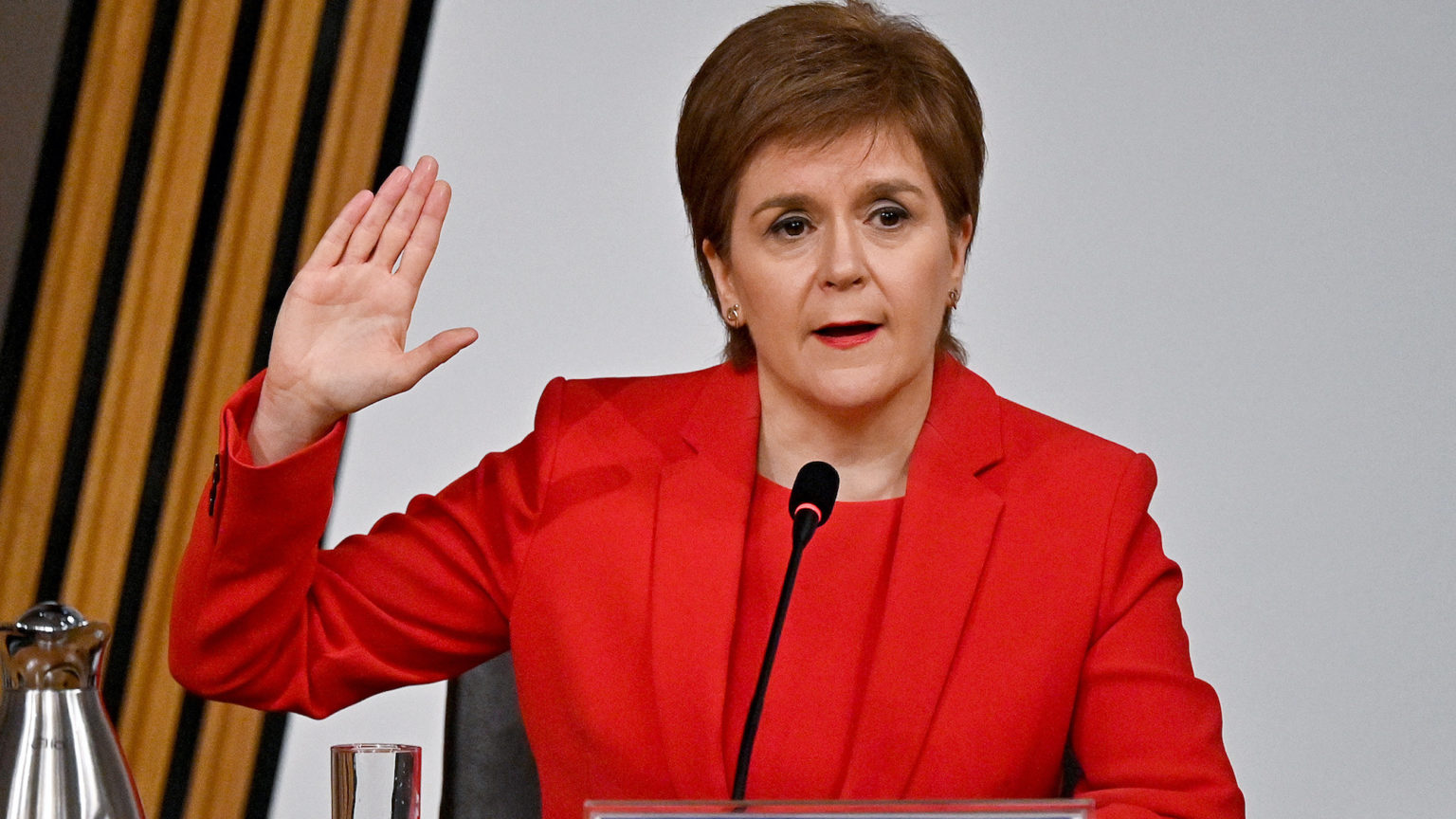 The Scottish government's mishandling of sexual-misconduct allegations against former first minister Alex Salmond, and its subsequent attempt to sweep it all under the tartan rug, is being presented as something it is not — namely, a fallout between former 'besties' Nicola Sturgeon and her former 'mentor' Salmond.
According to this narrative, we need to forget questions of Scottish National Party incompetence, lack of accountability and its worrying politicisation of the law. No, it all boils down to the SNP's toxic office politics. To Salmond vs Sturgeon. To 'he said, she said'.
So, he says the whole affair, from the initial government investigation into complaints against him in 2018, through to the eventual criminal trial early last year, was a 'prolonged, malicious and concerted effort' on the part of Sturgeon's inner circle to discredit him, 'even to the extent of having me imprisoned'.
Sturgeon has a different version of events. As she said this week before the Holyrood committee trying to investigate the government's handling of the Salmond case: 'I would never have wanted to "get" Alex Salmond – I would never, ever have wanted any of this to happen. I had no motive, intention or desire to "get" Alex Salmond.'
So far as it goes, Sturgeon's version is far more convincing than Salmond's. It is absurd to imagine that way back in 2017, with MeToo fuelling the revision of Holyrood's internal complaints procedures, Sturgeon and Scottish permanent secretary Leslie Evans spotted a chance to ensnare such a significant political figure, and someone Sturgeon says has been one of the 'closest people to me in my entire life'. Even when (which remains open to question) she discovered that allegations of sexual misconduct had been made against Salmond, why would his defenestration, and all the dirty linen that would be aired as he fell, be in her or the SNP's interests? As she put it, 'I had no desire for this to be in the public domain'.
Indeed, speaking to the committee, she did a good job of exposing the vanity of paranoid conspiracy theorists like Salmond: 'Even in the days when we were besties, [he] has a tendency to see most things being about him.' She added: 'The [complaints procedure] was not put in place because of Alex Salmond.'
But this focus on Sturgeon vs Salmond is a distraction. Perhaps, on Sturgeon's part, a deflection even. Far more important is what this sordid fiasco reveals about the wretched governance of Scotland, and about the SNP's dogged resistance to any form of scrutiny, even from parliament itself. That is what has been striking throughout the past year, as the Holyrood inquiry into the government's mishandling of the Salmond case has rumbled on: the SNP government's resistance to having its power called to account.
How else are we to judge the behaviour of the Crown Office over the past few weeks? We have seen it redact Salmond's submission to another inquiry (into whether Sturgeon broke the famed ministerial code), thus limiting what Salmond could talk about during his appearance to the parliamentary inquiry last week, and what Sturgeon could be questioned on this week. All of which might have been less suspect if the Crown Office was not run by James Wolffe QC, the Lord Advocate, who also happens to be a serving member of Sturgeon's cabinet. A clearer case of a conflict of interests it is hard to imagine.
What else are we to make of the refusal and reluctance of the government to provide certain documents and pieces of evidence to the inquiry? As Labour's Jackie Baillie pointed out this week, it took parliament's threat of a no-confidence vote in John Swinney, the deputy first minister, for the government to hand over – and even then incompletely – the legal advice it received in late 2018, telling it it was likely to lose a judicial review of the Salmond investigation because of its 'procedural unfairness' due to the person leading the investigation having had prior contact with the complainants. And yet, as we know, the government persisted with an investigation even its own lawyers thought was folly. No wonder Salmond thought the government had it in for him.
What else are we to make of the government's main justification for the obstacles it has thrown in the inquiry's way? It says, backed by the Crown Office, that it has been withholding parts of evidence and redacting documents, in an effort to maintain complainant anonymity. And maybe that is the reason. Yet the Spectator won legal permission to publish Salmond's submission unredacted last month. Increasingly, it looks as if 'maintaining complainant anonymity' is merely the legal means the government has found to impede parliamentary scrutiny. That's why Crown Office head Wolffe's words to the inquiry this week sounded like a threat – 'Any breach of that [anonymity] order – by this parliament, by its members or anyone else – would be punishable as a contempt of court.' Because that's what they were: a threat.
And what else are we to make of the studied forgetfulness of Sturgeon herself during her committee appearance this week? This is a politician renowned for her incision and mastery of detail. Yet when it came to remembering, for example, conversations she may have had with Salmond and his aides about intervening on his behalf, back in 2018, everything seemed to become a little hazy. She said she may have said what Salmond's aide said she said – that she would help him out. But, just to be clear, she didn't mean it. Which clarified nothing.
At the points that mattered, then, Sturgeon did as her government has done throughout the inquiry. She deflected, obfuscated and obstructed. Nothing to see here. Move along.
The problem here is not a conspiracy against Salmond. It is not even really a question of whether Sturgeon might have violated ministerial code by lying to parliament (a question that is the subject of the separate independent inquiry headed up by James Hamilton QC). No, the problem here is that, under the SNP, the Scottish government has become actively averse to scrutiny. It seems willing even to use the law, in the shape of the politicised Crown Office, to shield its own use of power from accountability.
And this resistance to scrutiny, this lack of accountability, goes well beyond the Salmond Affair. It touches on areas of devolved policymaking, too, from education to health. Where is the scrutiny of the failings of Scottish NHS? Where is the accountability for the collapse of educational standards? Partially this is due to the collapse of political opposition north of the border, and a lack of media scrutiny south of it. But it is also a product of the SNP's monopoly of cultural and political power – power that has gone unchallenged for far too long.
It seems Sturgeon and Co have been getting away with wretched governance for years. If anything positive can come from this sordid fiasco, it must surely be this: that at long last, the SNP may finally be called to account.
Tim Black is a spiked columnist.
To enquire about republishing spiked's content, a right to reply or to request a correction, please contact the managing editor, Viv Regan.