Another bad result for Angela Merkel
The status quo in Germany is quaking, but there isn't a fresh movement to take its place.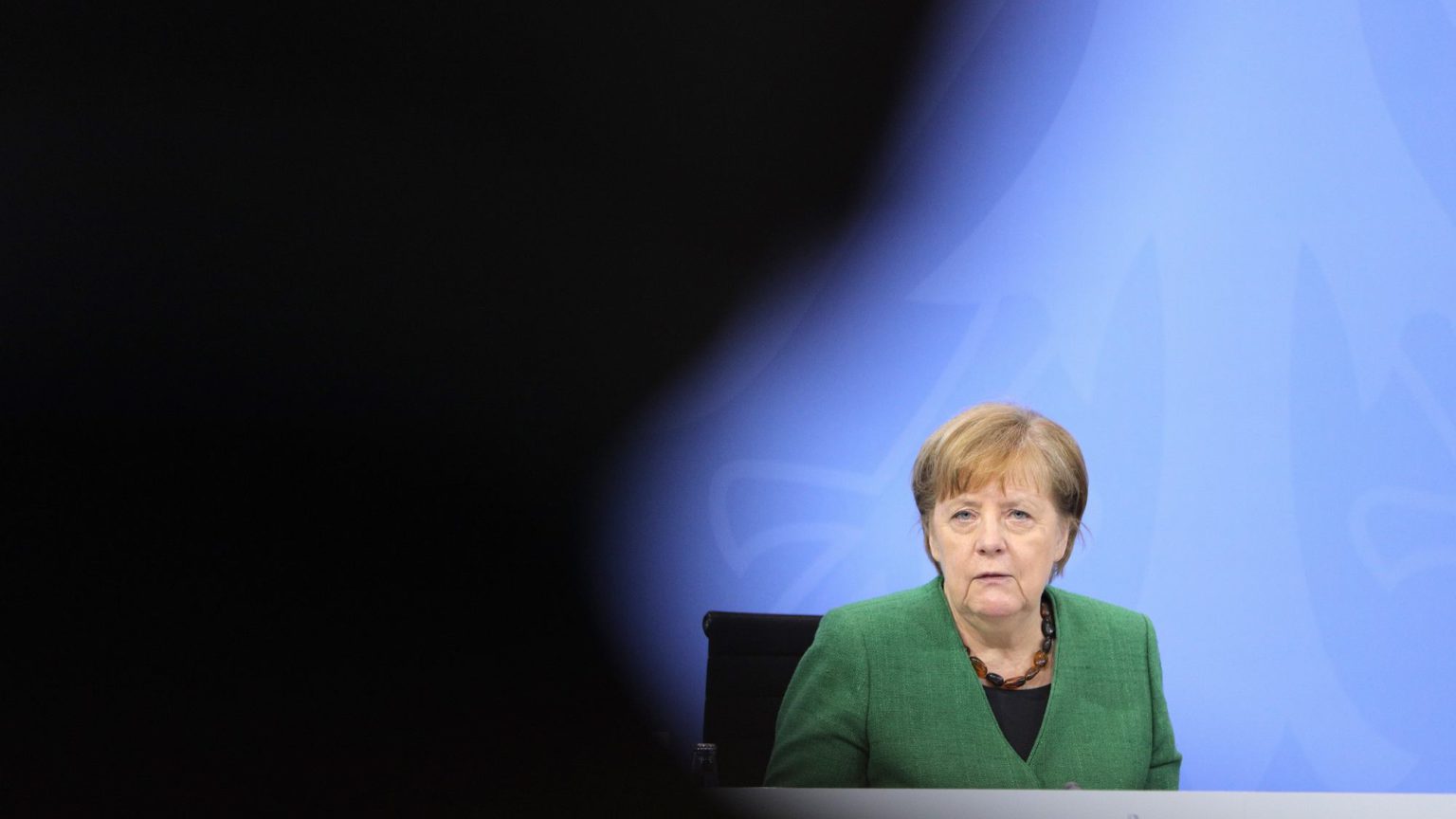 For Angela Merkel's party, the Christian Democratic Union (CDU), last Sunday was yet another bad day. It received historically bad results in two important local state elections. 'With September's federal elections just six months away, the CDU must now reckon with the possibility of being ousted after 16 years in office', writes Daniel Johnson, the former Germany correspondent for the Daily Telegraph.
Voting took place in two south-western states: Baden-Württemberg and Rhineland-Palatinate. Baden-Württemberg is Germany's third largest federal state and an industrial powerhouse. It is home to Mercedes, Bosch and Porsche. There, the CDU won a mere 24.1 per cent of the vote. In the 1980s, it got well over 50 per cent in this region. In Rhineland-Palatinate, the CDU got around 27 per cent, down from 31.8 per cent in 2016.
These disastrous results have increased the party leadership's sense of insecurity. It has yet again postponed the announcement of its candidate for chancellor in the September federal elections. The popularity ratings of all the leading potential candidates have plummeted. In addition to its failures over the rollout of Covid vaccinations – a situation that has been made even more chaotic by the suspension of the AstraZeneca vaccine – the CDU has been riddled by a seemingly endless series of corruption scandals. These scandals have even affected the new party leader, Armin Laschet, who was appointed only two months ago.
The troubles affecting the CDU could be good news for those hoping for political change. And yet, as has often been the case in Germany in recent years, last Sunday's elections did not generate a sense of optimism or a feeling that a new departure might be possible. 'There is no taste for change', said the general secretary of the CDU, despite acknowledging the party's bad losses.
And indeed, in both states, the electorate seemed to confirm, rather than reject, the established order. So in Rhineland-Palatinate, Malu Dreyer of the Social Democrats (SPD) managed to defend her position as the state's minister-president (even though her vote share declined and she achieved the SPD's worst result in the region since 1959). And in Baden-Württemberg, Winfried Kretschmann, a 72-year-old long-time member of the Green Party, was elected for a third term.
The endorsement of Kretschmann in particular – he's a self-confessed Merkel fan – can be seen as a defence of the status quo. His admiration for Merkel is almost embarrassing – in 2015 he said he prayed for the chancellor every day when she was coming under pressure because of the refugee crisis. His 2021 election slogan – 'You know me' – was cheap plagiarism; Merkel used almost the exact same slogan in 2013. And like Merkel, who has been called the crisis chancellor, Kretschmann emphasises crises and dangers. He speaks frequently about the climate crisis, the corona crisis, the structural crisis, the democracy crisis. 'Germans… prefer pragmatism and teamwork', and most voters opted for 'stability, security and familiarity', Daniel Johnson argues.
To an extent, this is true. Johnson's analysis is shared by the blogger and lockdown critic Boris Reitschuster. In an article titled 'Germans vote for business as usual', Reitschuster deplored the fact that the vast majority of voters supported parties that stand for a hard Covid response. 'If you add the Greens, the CDU and the SPD together, that's 66 per cent', he wrote. And indeed, the two re-elected regional prime ministers hardly deviate from the pro-lockdown line of the Merkel government. Yet rather than saying that Germans are hopelessly addicted to the status quo, we should acknowledge that real political change is a hard struggle, and it doesn't happen overnight.
The first thing to point out is that the 'old' parties – that is, the CDU and the SPD – are deeply divided. They have been losing voters faster than we can count. Among those who still vote for them, many will do so grudgingly, out of a sense of loyalty (which is stronger in the west than in the former east). This year's CDU party congress showed that even party delegates are very divided, with nearly half – 466 out of a thousand – supporting a candidate for the party leadership who was arguing for a different approach to both the Covid and the climate crisis. This hardly speaks to a particularly stable status quo.
Then, of course, there is the question of what alternatives are on offer. The answer is: not many. The Alternative for Germany (AfD), which was previously considered the largest opposition party to the green-conservative, pro-EU establishment, has also lost out. In Baden-Württemberg, it got 9.7 per cent of votes, down from 15.1 per cent in 2016. And in Rhineland-Palatinate, it got 8.3 per cent, down from 12.6 per cent.
This is not just due to the threat of state surveillance of the party and its members, as some AfD leaders claimed (though the threat of surveillance is certainly outrageous). Rather, these poor results are a result of the party's own ineptitude. During the pandemic, the AfD has zigzagged and at times called for even more authoritarian measures than Merkel was offering. It has also been tied up in endless internal disputes. Worst of all, it hasn't been able to stop some of its politicians from pandering to hard-right voters. Little wonder, therefore, that though the AfD has obviously established itself pretty well – it is still the third largest party in both of those states – it is far from an attractive option for many people.
The biggest challenge to breaking the status quo, however, is voter passivity. Low voter turnout has played into the hands of the established parties even as it has exposed their weaknesses. It was particularly low in these elections, held under lockdown conditions, in which over 66 per cent of votes were cast by mail. In Baden-Württemberg only 63.8 per cent of eligible voters participated (down from 70.4 per cent in 2016). Against this background, the 'brilliant result' of the conservative-green Kretschmann melts to a mere 20.1 per cent of eligible voters.
In Rhineland-Palatinate, where the turnout was 64.4 per cent, the percentage of all eligible voters who went out to vote for the ruling SPD was just 23 per cent. Of course it is difficult for challengers to the status quo to engage with voters under the current restrictions. This is one reason why it is so essential that restrictions are lifted for the September federal elections.
And yet for all this, last week's elections actually did show that there is a taste for new opposition parties. Perhaps the most spectacular outcome was the success of the Free Voters Party in Rhineland-Palatinate. This relatively new party, made up of locally organised 'voter groups', has been campaigning for, among other things, a rapid easing of the lockdown and more controls on immigration. It gained 5.4 per cent of the vote and six seats in the local parliament. It now hopes to gain ground at the general election, too. Its spokesperson in Rhineland-Palatinate said its success was down to its campaigning strength.
In September, Germany could get a new coalition government which might not include the CDU. But a real dynamic for change can only be generated if more people feel that their vote will truly make a difference. Campaigning, engaging in debates and the formation of new movements for change – all of these will be more important than ever in the federal elections.
To enquire about republishing spiked's content, a right to reply or to request a correction, please contact the managing editor, Viv Regan.