Transgenderism is a form of gay conversion therapy
Young gay and lesbian people are being pressured to 'correct' their bodies.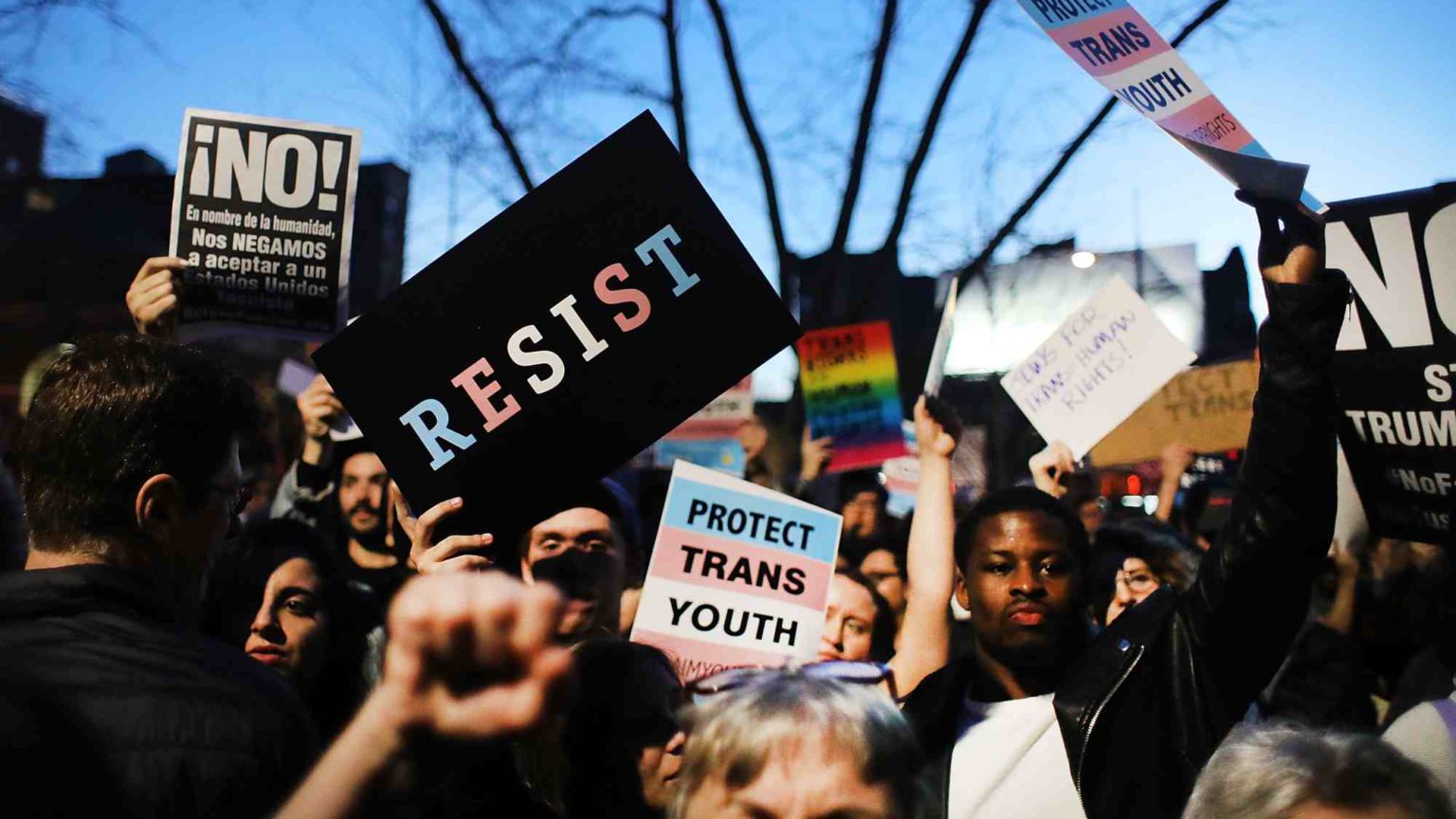 Puppy-kicking is an outrage. We know it happens, we know it hurts puppies, and so we ought to introduce a law against it. We risk losing our standing as a nation of animal lovers if we don't. Only monsters who hate puppies could possibly object – are you a monster?
This is pretty much the argument against LGBT conversion therapy. No one wants to be seen to support something that is clearly unjustifiable, though few are prepared to question whether specific legislation is needed, or indeed how widespread the practice is. Consequently, a petition entitled 'Make LGBT conversion therapy illegal in the UK' went viral, garnering over 250,000 signatures and provoking a debate in parliament.
On Monday 8 March, MPs, some with disarming sincerity and heartfelt testimonies, and others with a wary eye to the online public gallery, competed to denounce the practice. Few missed the opportunity to lever in 'a ban on trans conversion therapy' – a calculated political jab given the frequent accusations of 'transphobia' levelled at the minister for women and equalities, Liz Truss. At the end, reflecting on the debate, equalities minister Kemi Badenoch gave a careful and considered response which was at odds with the febrile tone set by her fellow politicians.
The fallout from this largely manufactured outrage has been dramatic. Last week Jayne Ozanne, James Morton and Ellen Murray flounced from the government's LGBT Advisory Panel, with Ozanne complaining that Truss and Badenoch had created 'a hostile environment for LGBT people'. A widely circulated letter from 'LGBT+ caucuses' across the main parties followed. It lambasted Badenoch for only committing to 'end' conversion therapy rather than immediately agreeing to a ban. On Monday, Conservative MP Crispin Blunt ratcheted up the tension, opining in a piece for Politics Home that, 'Britain's global reputation as a leading light on LGBT+ rights is fading'.
One could practically feel the gleeful scorn oozing off the page, as news outlets over the past two weeks have leapt on the opportunity to bash Truss and Badenoch for not demonstrating the appropriate level of respect to their LGBT-ETC overlords.
The irony is that Truss and Badenoch are the most significant figures in parliament protecting lesbian, gay and bisexual people from conversion therapy. Since the opening of the Gender Identity Development Service (GIDS) at the Tavistock and Portman NHS Trust, a stealth, gruesome form of conversion therapy has been taking place under the watchful eye of clinicians.
Today, many of those who underwent the process of medical or social transition as children and young adults are now desisting from their transgender identities and realising that they are in fact lesbian, gay or bisexual.
Keira Bell, 24, first began to identify as trans at 14. She was given cross-sex hormones at 17 and underwent a mastectomy at 20. Bell has now reclaimed her identity as a woman and is in a same-sex relationship. But mainstream LGBT groups seek to deny the existence of detransitioners as anything more than exceptions. She tells me:
'I think the mainstream has been hoping that we'll just quietly go away so that medical transition can continue to be seen as a really positive, solid solution for all. It's too much for them to admit that they've either been promoting or have been complicit in something that has caused so much harm.'
We are in the midst of a vicious social contagion, with unhappy kids adopting trans identities in huge numbers. In 2009/2010 there were 94 referrals to the GIDS. A decade later there were 2,728 – a rise of 2,634 per cent.
Political pressure from well-funded transgender lobby groups has overtaken clinical curiosity, and the push to affirm young people's identities has led to a raft of resignations at gender-identity clinics. Between 2016 and 2019, 35 staff members left the GIDS, the Telegraph reported. Two clinicians who resigned were quoted in The Times as saying that 'there was a dark joke among staff that "there would be no gay people left"'.
Numerous senior members of staff at gender-identity services across the country have been desperately trying to raise awareness of the poor and unevidenced standard of care. One is David Bell, a consultant psychiatrist and former president of the British Psychoanalytic Society. In his role as a governor at the adult Tavistock Clinic he conducted a review into the GIDS after being approached 'by a large number of staff' with 'very serious concerns'. He has since gone on to speak about treatments for gender dysphoria, telling the Scottish Parliament in July 2020:
'We need to bear in mind that a substantial percentage of these children, if left without intervention, will desist and emerge as gay and lesbian (there is evidence to support this). Thus rapid decisions as regards the provision of medical and surgical intervention is itself a form of conversion therapy, for it brings about transformations in the body, converting it in order to satisfy unexamined individual, family and social agendas, some of which are manifestations of homophobia.'
The key there is 'unexamined' – the work of therapists and counsellors is to examine why the young person or child believes that they are the opposite sex. Gender dysphoria, the condition whereby an individual feels distressed in their sexed body, is rare but real. This, however, does not indicate that a person has somehow magically been 'born in the wrong body' or that they have some mystic gender essence that is at odds with their genitals. In essence, being trans is about as valid a belief as an anorexic person's conviction that they are fat – the belief is genuinely held but demonstrably untrue.
A disproportionate number of those with gender dysphoria are same-sex attracted. The concern among many clinicians is that the therapeutic questioning that is necessary to help people understand and overcome their feelings of gender dysphoria could be interpreted as 'gender-identity conversion therapy' if MPs get their way.
Bev Jackson and Kate Harris of the LGB Alliance explain:
'We hear from therapists who tell us they are pressured to "affirm" teenagers identifying as the opposite sex without exploring, in the appropriate neutral way, the various factors that may be in play. There are certainly victims here. They are especially the many young women who were "affirmed" as teenagers and now realise they are lesbians. We are determined to protect them from this misguided and potentially damaging legislation.'
In 2021, it isn't the Bible-bashers or Koran-worriers who are a threat to young lesbian, gay and bisexual people – it's misguided politicians performing for the woke vote by taking cheap shots at equalities ministers Truss and Badenoch. If 'gender identity' is included in any ban on conversion therapy, we will see even more confused lesbian and gay kids put on the medical conveyer-belt to surgery, sterility and regret. But obviously, only a puppy-kicking monster would object to a ban on LGBT conversion therapy.
Jo Bartosch is a journalist campaigning for the rights of women and girls.
To enquire about republishing spiked's content, a right to reply or to request a correction, please contact the managing editor, Viv Regan.