Bristol: a screech of middle-class entitlement
The clashes in Bristol confirm that the left still doesn't get the importance of freedom.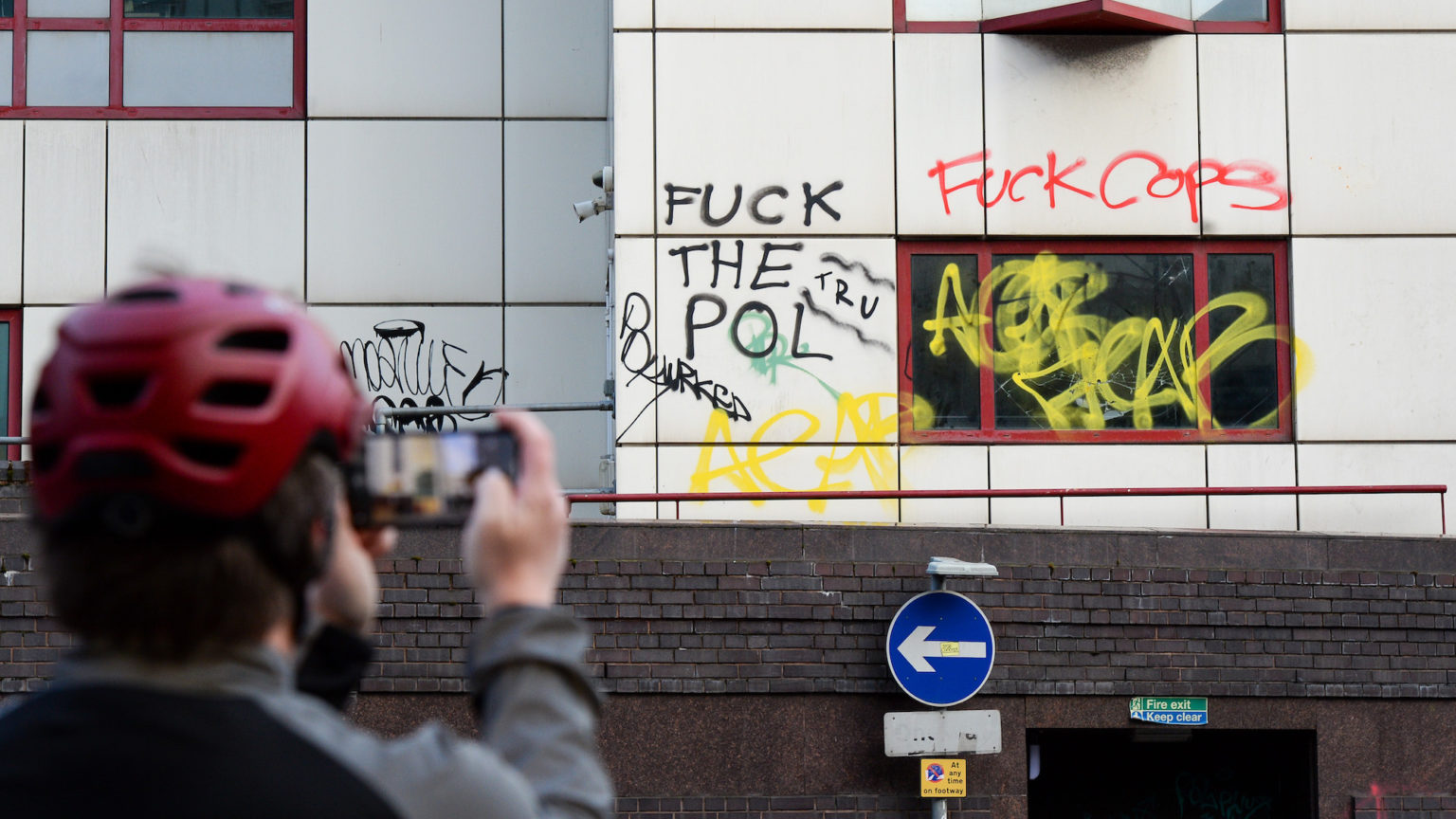 Let me get this right. People who spent the past year cheering on the Tory government as it enforced the most extraordinary authoritarian clampdown of modern times are now shocked that Britain has become an authoritarian country? That's the message of the dimwitted violent disturbances in Bristol. 'Don't let Britain become a police state!', cry leftists who pleaded with Boris to turn Britain into a police state. Who raged against 'Covidiots' for going to the beach. Who laughed as anti-lockdown protesters were beaten and arrested. Who said 'Stop moaning' to anyone who dared to talk about the lockdown's economic crisis and job losses. These people are now stunned that liberty is disappearing. How dumb are they?
Yesterday evening a protest in Bristol against the Police and Crime Bill turned violent. Youths clashed with cops and burnt police vans. They smashed windows at a police station. 'Kill the Bill', they yelled. They've been condemned as thugs by Tory MPs. Others, including notable Corbynistas, have said these kinds of destructive skirmishes are inevitable when you create a 'police state'. But who created this 'police state'? Boris Johnson's government, yes, but it was unflinchingly, ably backed by virtually the entire left. From the Labour Party to the leftish commentariat to the self-styled radical set, the only criticism made of Boris is that he didn't lock down early or hard enough. The oppositional cry of the past 12 months was essentially: 'Remove more liberty! Extend the house arrest! Close the borders!' The leftists currently raging against the 'police state' are shouting at a monster they helped to create.
Where were they when anti-lockdown protesters were beaten and arrested over the past year? After all, protest has pretty much been banned in lockdown Britain, technically if not literally. How could it be otherwise in a country where for a long period of time it was illegal to meet up with people from other households? And where were these Johnny Come Lately warriors against Tory authoritarianism when people were fined for meeting friends outdoors? When cops swept Hyde Park and other public areas and sent people home for no good reason whatsoever? When people, including some experts, were thrown off social media for allegedly spreading 'misinformation'? When the Coronavirus Act was passed, robbing us of our fundamental freedoms? We all know where they were: at home, online, cheering it all on.
This disparity between leftists' shockingly illiberal behaviour over the past year and their sudden newfound discomfort with illiberalism should make us sceptical about the current protests and the support they are receiving in media circles. To me, the Bristol violence smacks of middle-class entitlement. It is less a serious stand against the onerous, illiberal impact of lockdown and more a cry of self-interested rage by sections of society who are determined to protect their rights. On both Clapham Common last week, when police broke up the Sarah Everard vigil, and in Bristol yesterday, what we essentially have are activists and observers saying: 'Wait – you mean this unprecedented assault on civil liberty also applies to me? It also means I can't protest?' They are genuinely alarmed to discover that lockdown isn't only for the little people.
They are not defending the right to protest. If they were, we would have seen them agitating over the past year against the blanket ban on protest. No, they are defending their right to protest. One of the sad facts of modern Britain is that protest – which is such an essential tool of the powerless and oppressed – has become almost exclusively the domain of the comfortable middle classes. From Remoaner protests against democracy to Extinction Rebellion spectacles, protest is the means through which the chattering classes express their elitist, regressive worldview and put pressure on the establishment to further institutionalise this worldview. The reason the Police and Crime Bill makes some of these people feel uncomfortable is that it seems expressly designed to criminalise these kinds of protests, protests that they approve of, notably disruptive XR-style gatherings.
Surely the lesson of the past year is that we need a consistent, principled approach to the question of liberty. The Police and Crime Bill is an insidious and dangerous threat to the right to protest. It potentially criminalises protests that cause annoyance, with severe penalties. But it is the point of protests to cause annoyance, to make a statement and to make it loudly and firmly. This assault on protest must absolutely be struck down. But it must be struck down in the name of freedom for all, not just freedom for people who believe the 'right' thing and organise the 'right' kind of protests. The freedom of expression and the freedom of association have taken a severe beating over the past 12 months, with the support of much of the left. As we come out of this nightmare, we need more voices defending liberty for every citizen and every shade of opinion. Those Bristol twats ain't it.
To enquire about republishing spiked's content, a right to reply or to request a correction, please contact the managing editor, Viv Regan.